10 Unboxing Experiences That Will Inspire You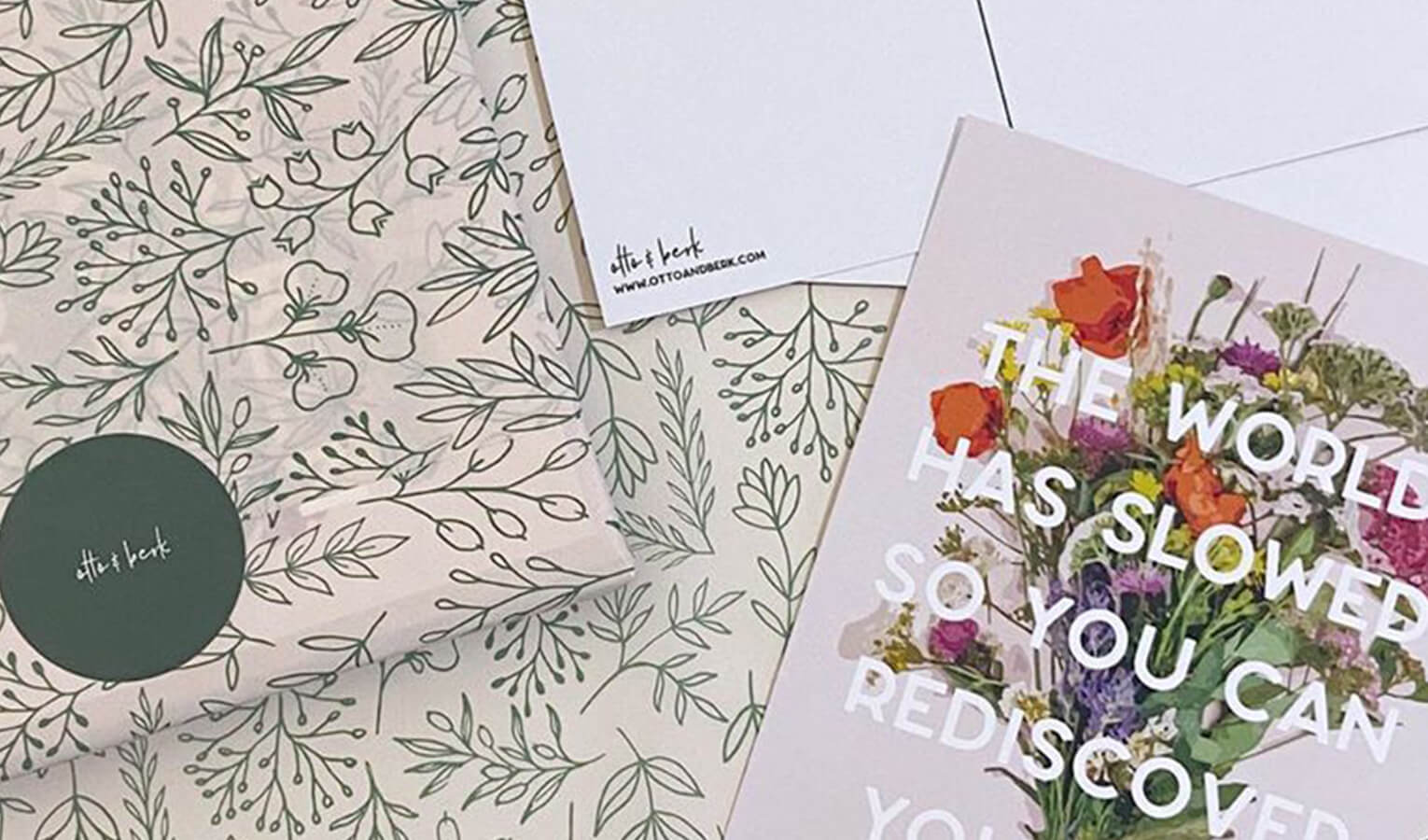 This is a guest post by Elly Strang, digital editor at noissue. They provide custom, sustainable packaging at low minimum order quantities. Learn more about their personalizable packaging options here.
---
Have you ever found yourself filled with excitement and anticipation when opening an online shopping parcel, purely because the packaging was so thoughtfully designed? This effect has a name: the unboxing experience.
Creating a memorable unboxing experience is worth doing for many reasons, one being the aforementioned feeling. Unboxing or unwrapping a parcel is linked to the ritual of gift giving (aka birthdays and holidays) which inspires all of the good feelings in your customers.
It's also a clever marketing tool to showcase the story and essence of your brand. While the digital world is crowded with many businesses vying for people's interest, an in-person experience can't be beaten when it comes to commanding your customer's full attention and gaining their recognition and loyalty.
This is why it's important to make the most of this opportunity and transform your unboxing experience into one that's unique to your brand.
The great news is any business, big or small, can leverage this strategy through design by customizing different elements of their packaging, be it tissue paper, stickers, cards, mailer bags and more. To get the inspiration flowing, we've rounded up ten businesses that have harnessed the power of packaging to create a beautiful unboxing experience.
Tissue paper
Chase Kind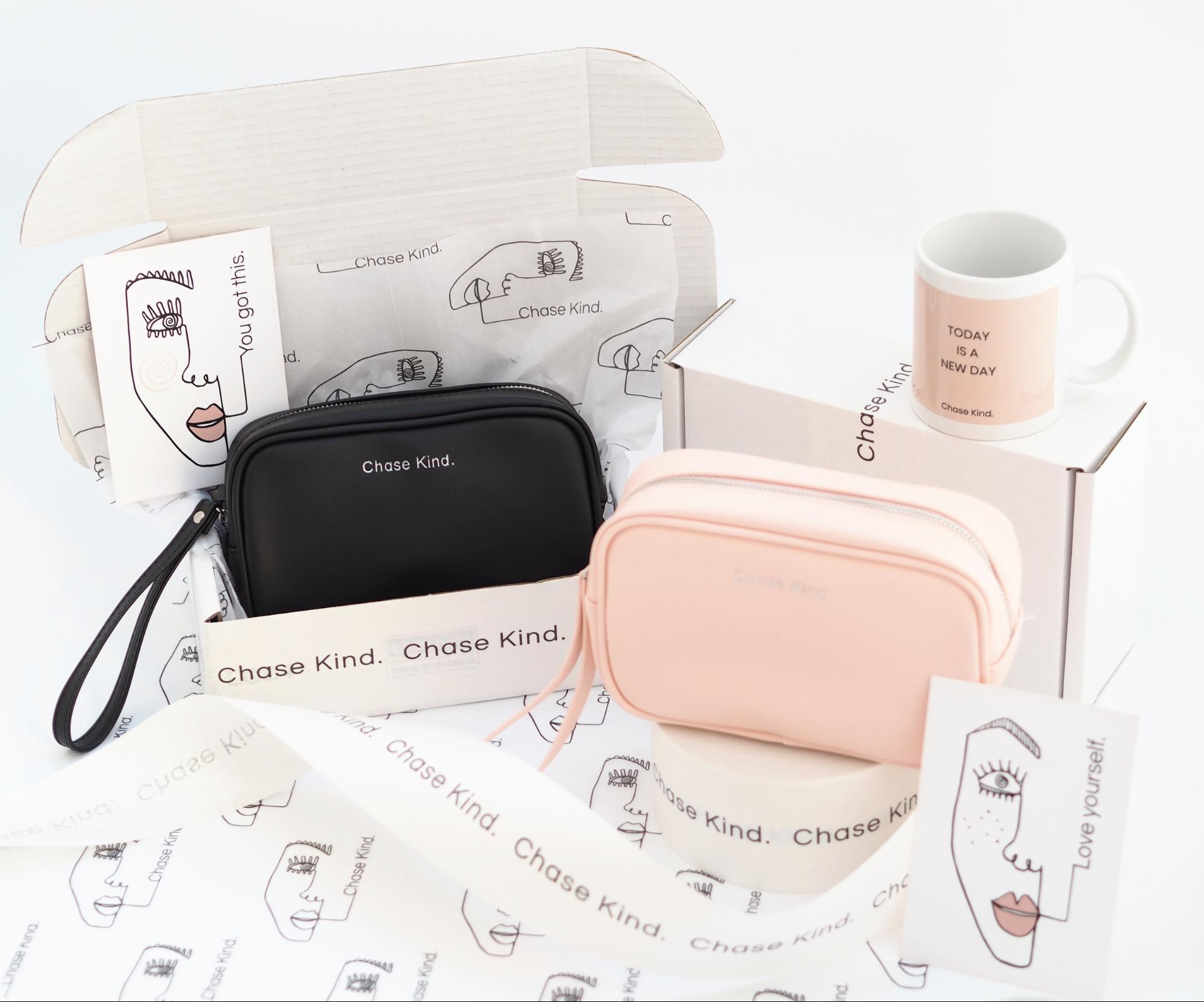 Chase Kind
When it comes to the design of your tissue paper, it's important to keep in mind the types of products you're selling and the color palette, typography and imagery that would be complementary. Chase Kind is a women's lifestyle brand that features products with a sleek, simple design. To amplify their unboxing experience, they've paired custom tissue paper, tape and a personalized card together that features their branding and an illustration of a woman's face. The visual identity of their products and packaging is clearly related through the colors used, while the detailed design balances the minimalism of their products perfectly.
Byron Bay Bath Bombs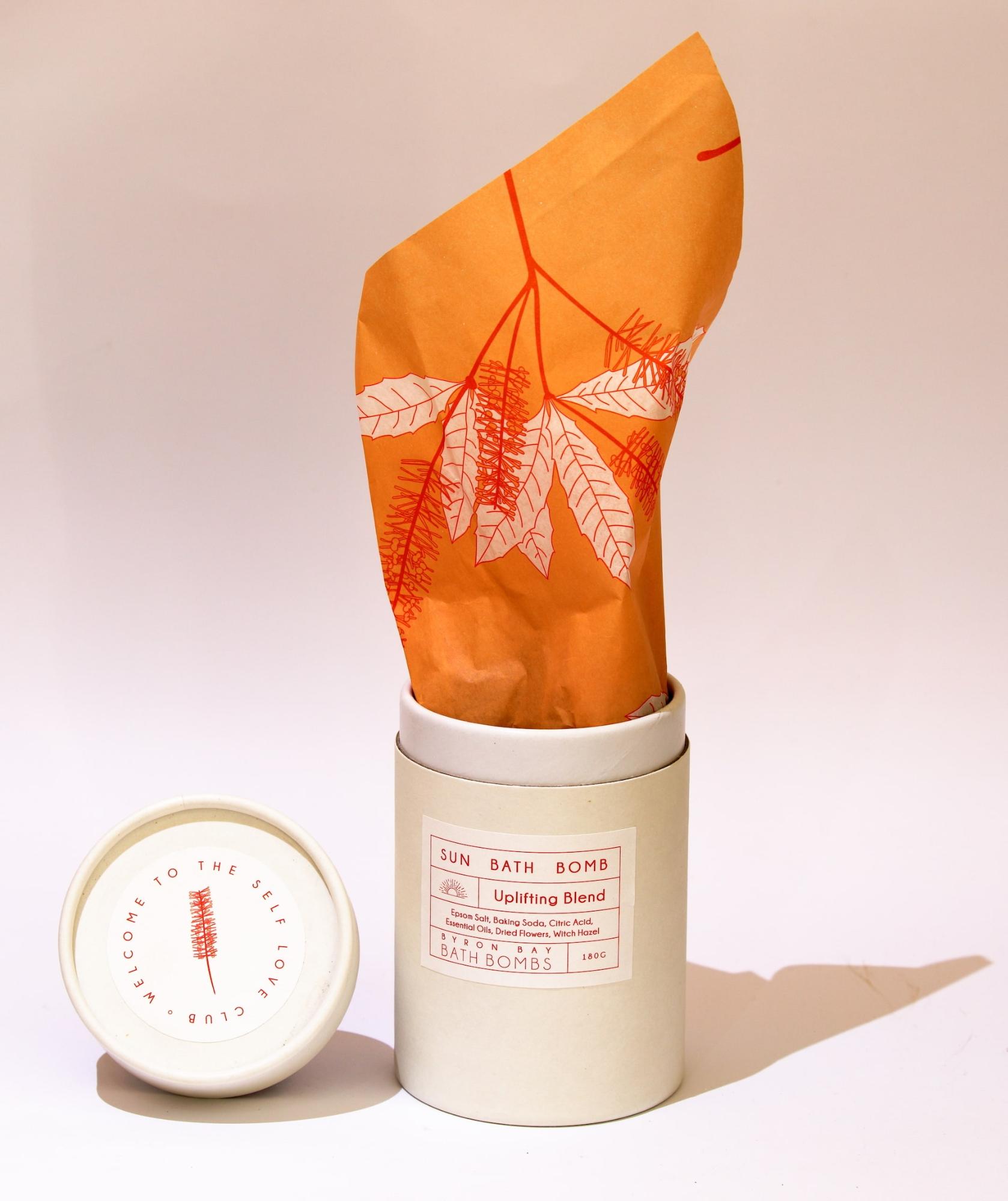 Byron Bay Bath Bombs
Thinking beyond its uses for wrapping a package, tissue paper is an extremely versatile material that can create delight and excitement by unexpectedly appearing in an unboxing experience. Take Byron Bay Bath Bomb's approach: while its outer packaging is a scaled back design that's soft in color, the tissue paper the bath bomb is wrapped in features a vibrant orange design that pops out of the package and allows the brand's personality to shine through.
Emillie Ferris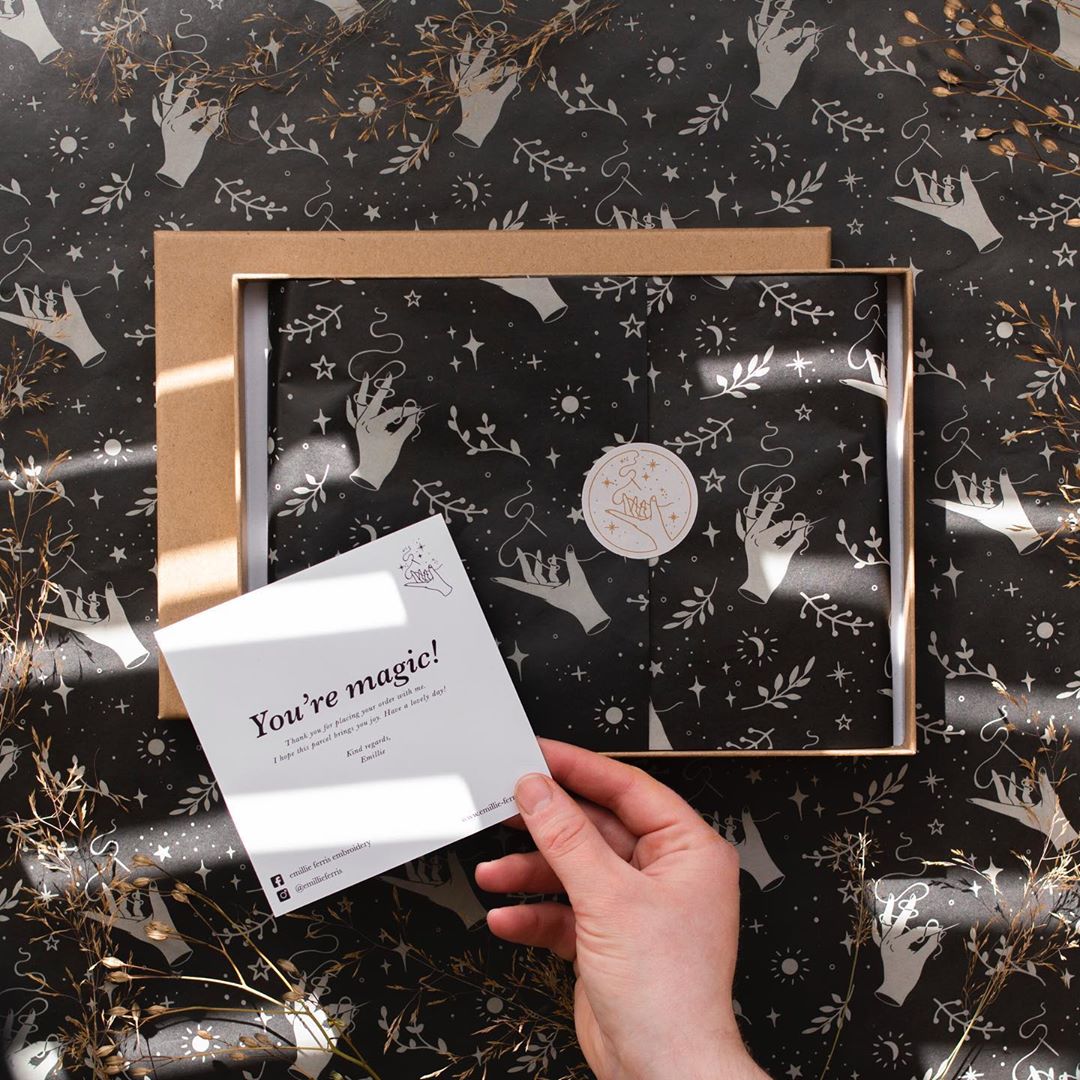 Emillie Ferris
Emillie Ferris is an artist who creates beautifully intricate and detailed embroidery designs. Receiving one of her products would be awe-inspiring enough, but she decided to step her unboxing experience up a notch by creating custom tissue paper that uses illustration to both signal her craft and show off her talents. This design paired with custom stickers and a card that thanks her customers creates a magical, one-of-a-kind experience.
Have A Nice Day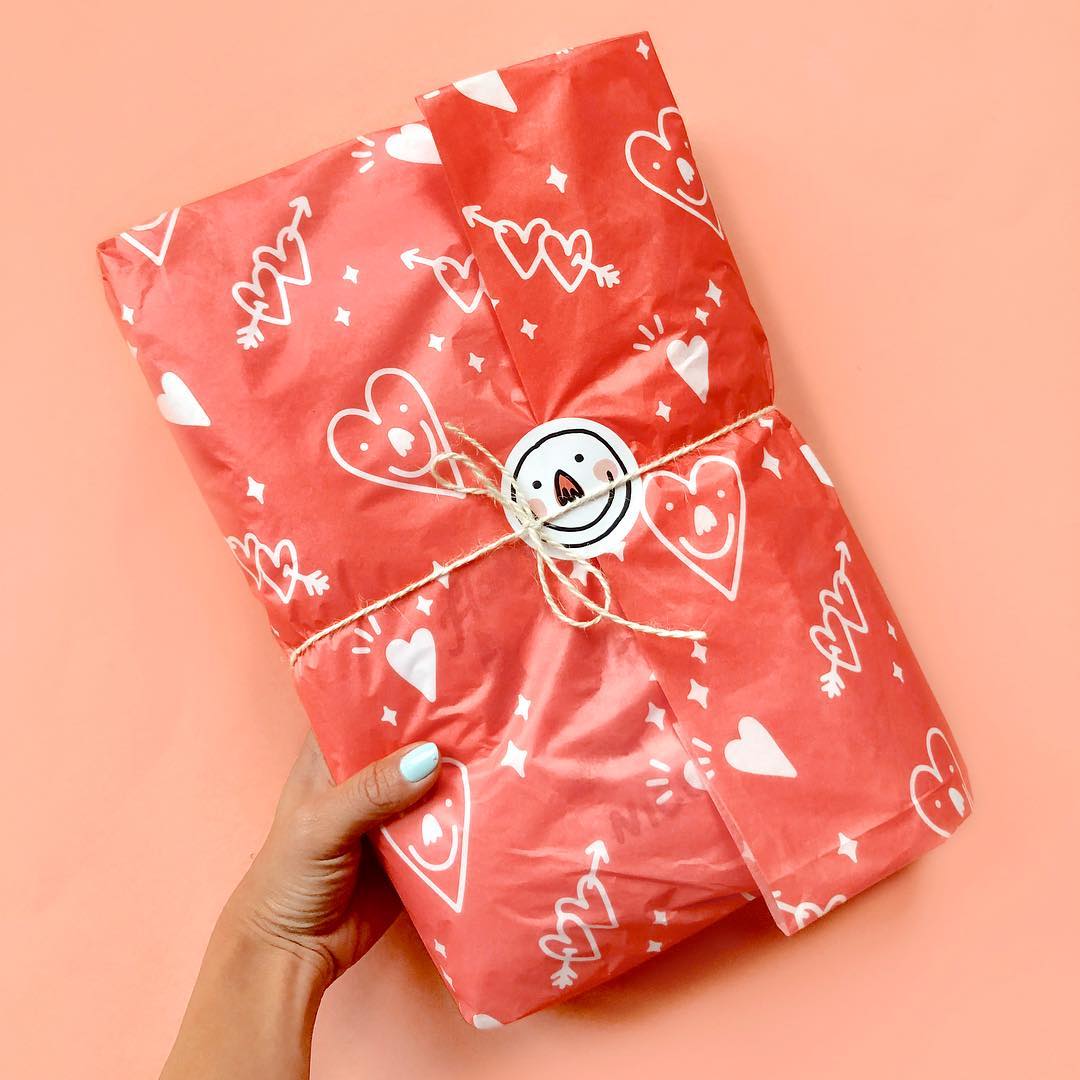 Have a Nice Day
If you're wanting to excite repeat customers about shopping with you, one effective way to do this is change up your unboxing experience for special occasions like the holidays. Online gift store Have A Nice Day created custom tissue paper and stickers especially for Valentine's Day that's on theme for the holidays but also shows off the brand's bubbly, fun personality.
Personalized cards
Melanie Johnnson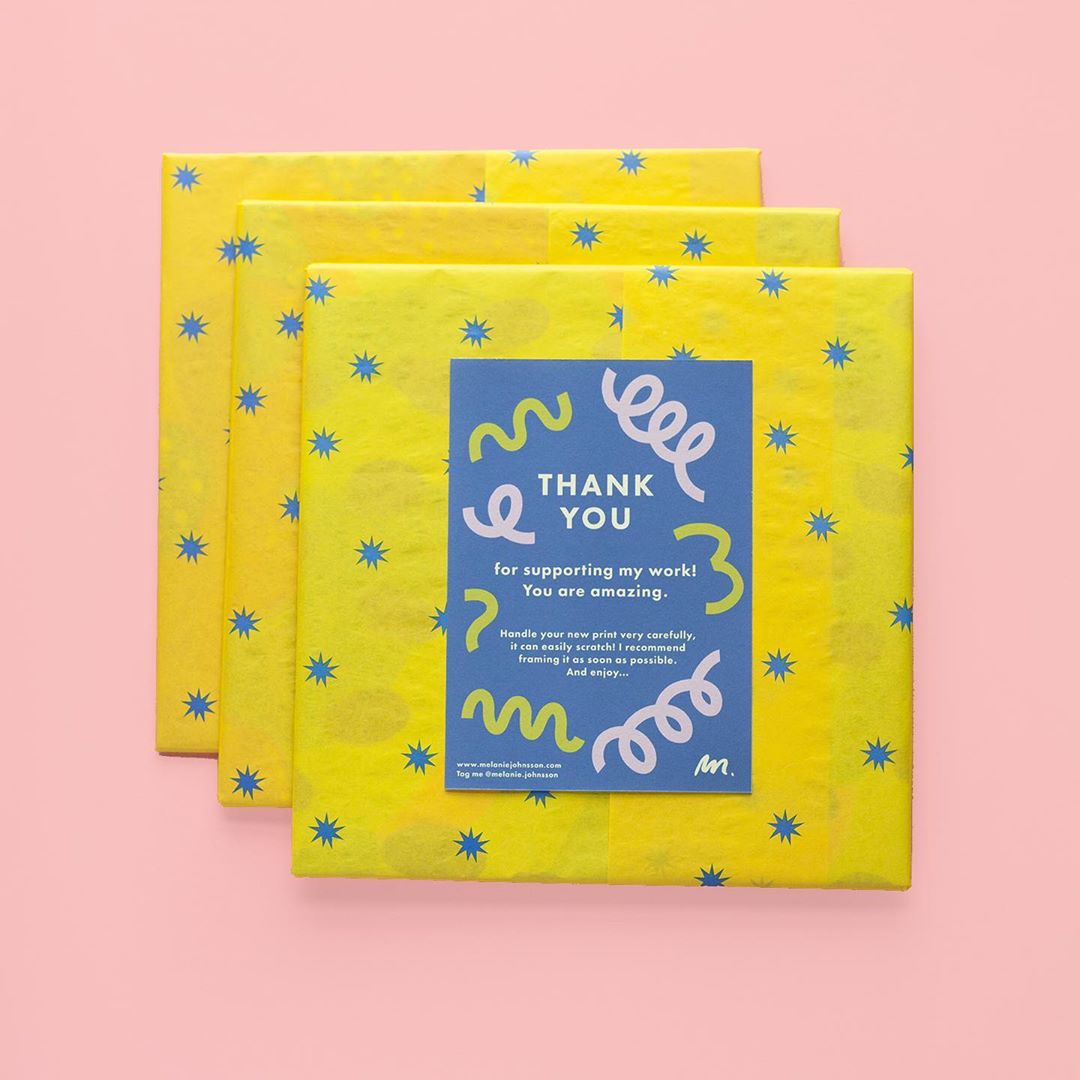 Melanie Johnson
Often with packaging, the focus is on the materials used to wrap or package an item. However, one additional touch that can make all the difference in an unboxing experience is a personalized card. Melanie Johnnson is a designer and illustrator who includes thank you notes with each of her prints that genuinely express her appreciation for the person that has chosen to shop with her, while also instructing them on how to take good care of her prints. This handcrafted approach shows that there's a human on the other end of the exchange who puts time and care into their products.
Otto & Berk
Otto & Berk
What you want to achieve out of your unboxing experience will vary from business to business, but one approach is including an item in your packaging that is less about your company's story and more about providing inspiration. Quotes and illustrations or images work best in this regard, as your customer is likely to hold onto long-term if they like the look of it. Stationery brand Otto & Berk's pandemic-inspired personalized card that states 'The world has slowed so you can rediscover yourself' is a perfect example of this.
Boxes and mailer bags
By
Indeko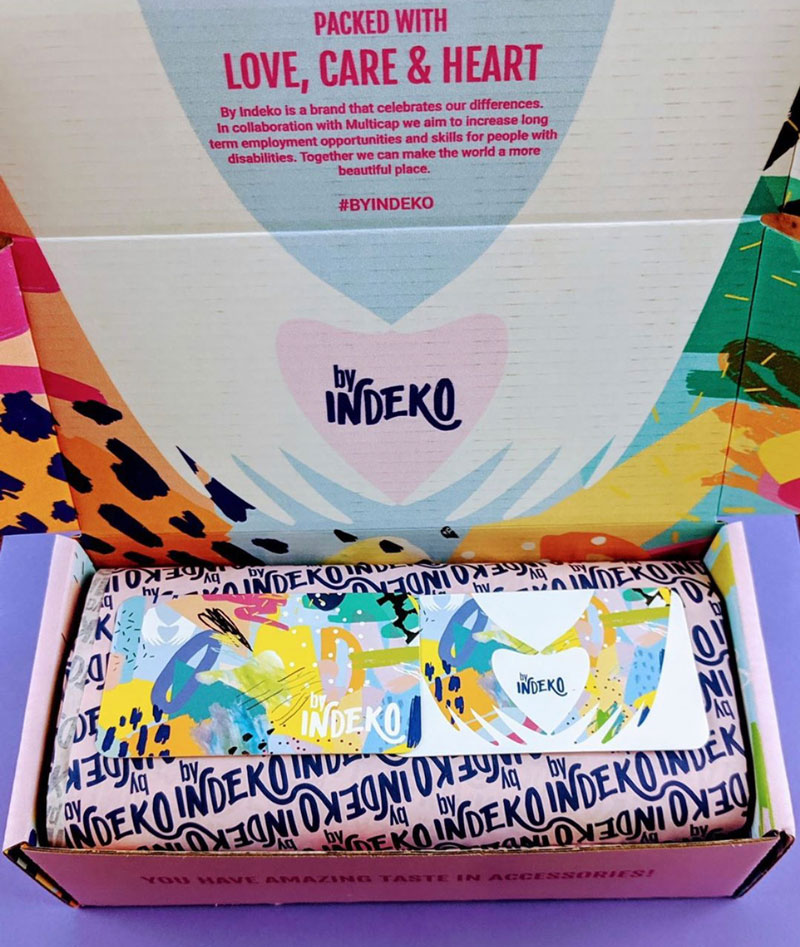 Indeko
While boxes are synonymous with the unboxing experience, plain packaging is a missed opportunity to share what your brand stands for as stock-standard plain brown boxes don't go a long way in exciting a customer or telling your story. Indeko saw their boxes as a blank canvas and have used them to show off their personality, loud and proud. The socially conscious company is all about tapping into the power of creativity to provide jobs to people with disabilities, showing you can be both meaningful in your mission and design-driven when it comes to your visual brand identity.
Cousins Collective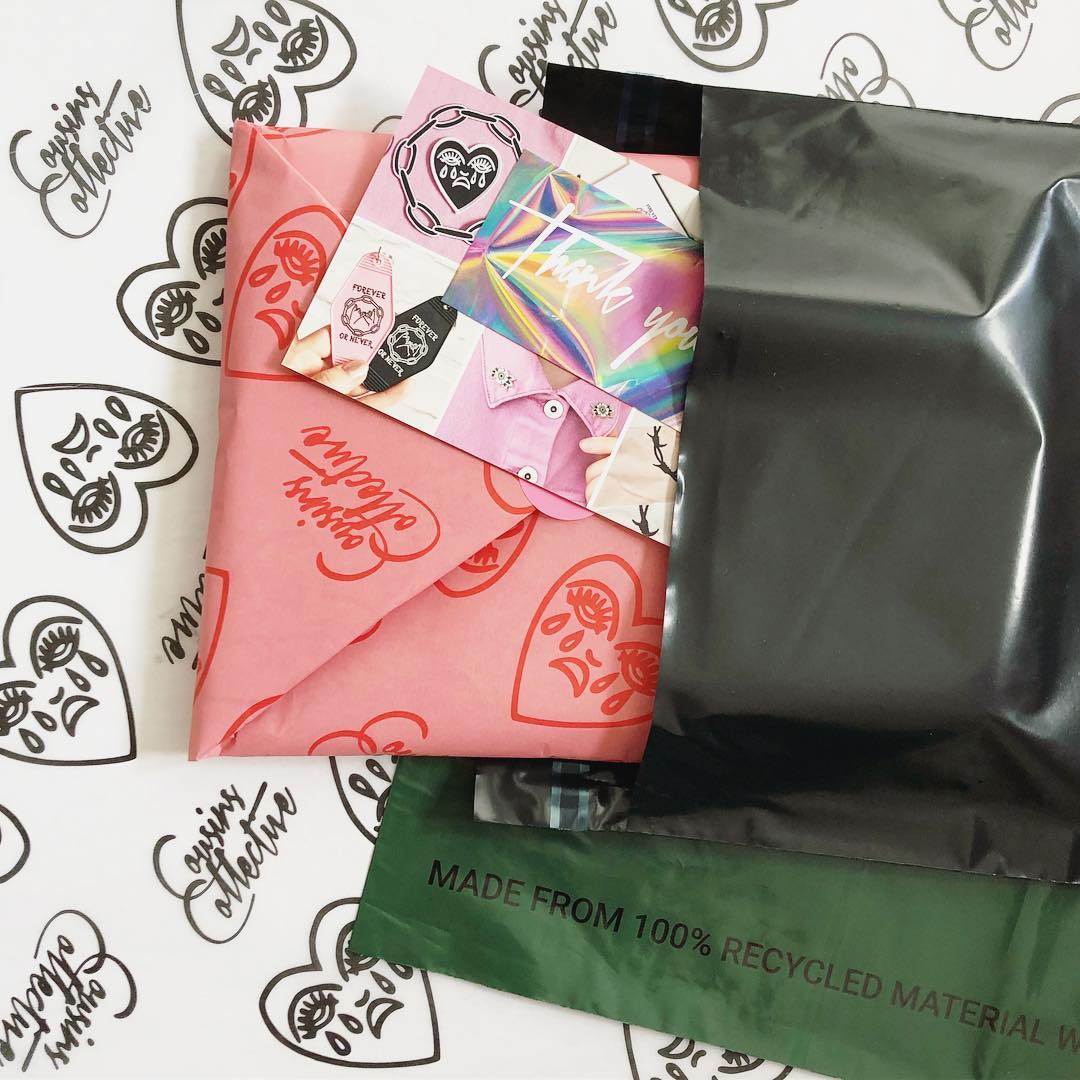 Cousins Collective
The presentation of the different elements of your package is incredibly important to a great unboxing experience, regardless of whether your goods are being posted out in a box or a mailer bag. This means thinking what will happen when the package is opened and how any products or packaging will spill out. Cousins Collective is an ecommerce store that designs products based on traditional tattoo art and its combination of custom tissue paper, stickers and cards let its brand personality flourish from the moment the eco-mailer bag is opened.
Stickers
The Kind Curator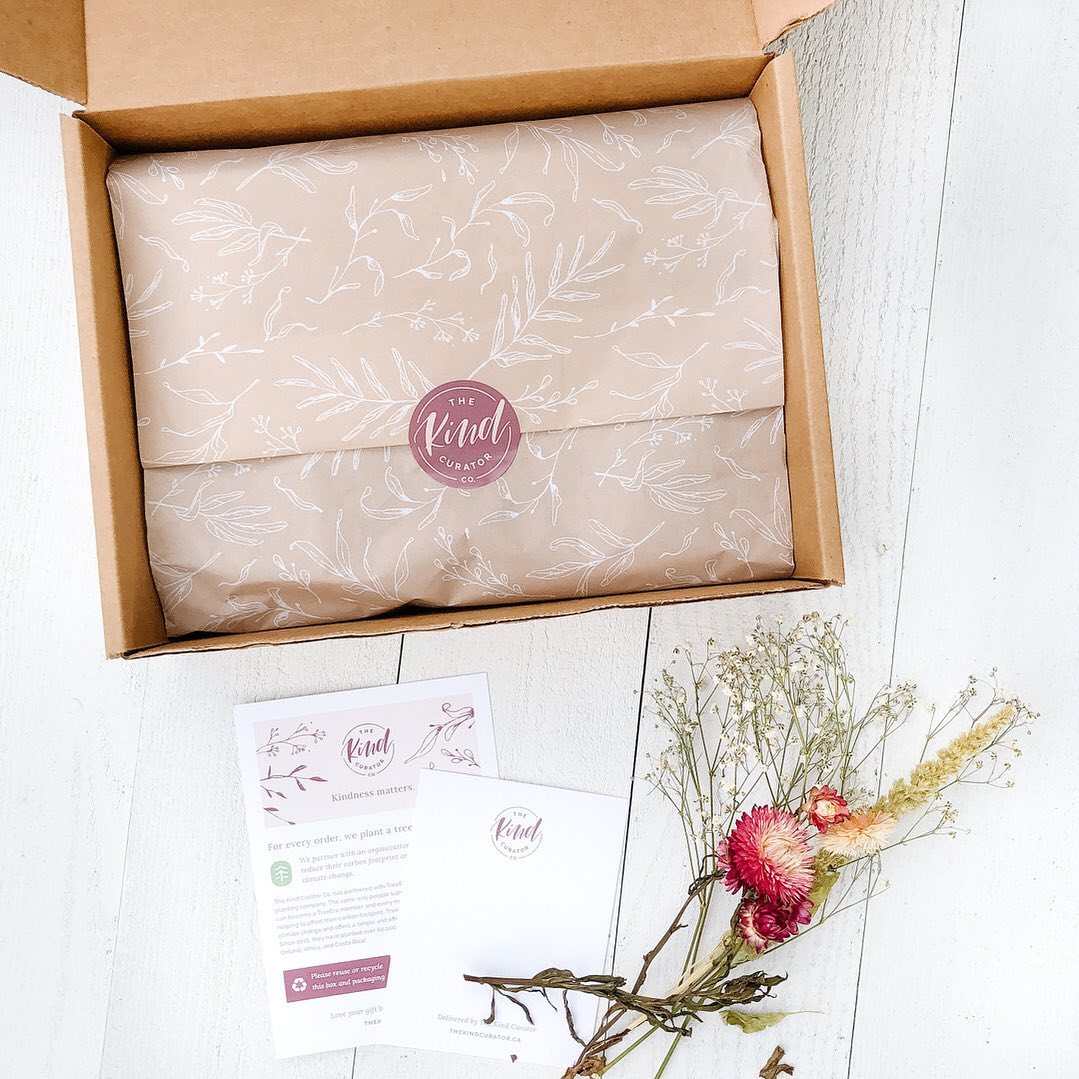 The Kind Curator
Sometimes the smallest touch can enhance a customer's experience, and this is where stickers are king. Often featuring branding or a business logo, they add a curated and a polished look to any unboxing experience. The Kind Curator creates consciously curated gift boxes that feature wellness inspired goods and its sticker emphasizing the most important word in its name, 'kind', adds a beautiful, professional touch to its package.
Charlotte KHM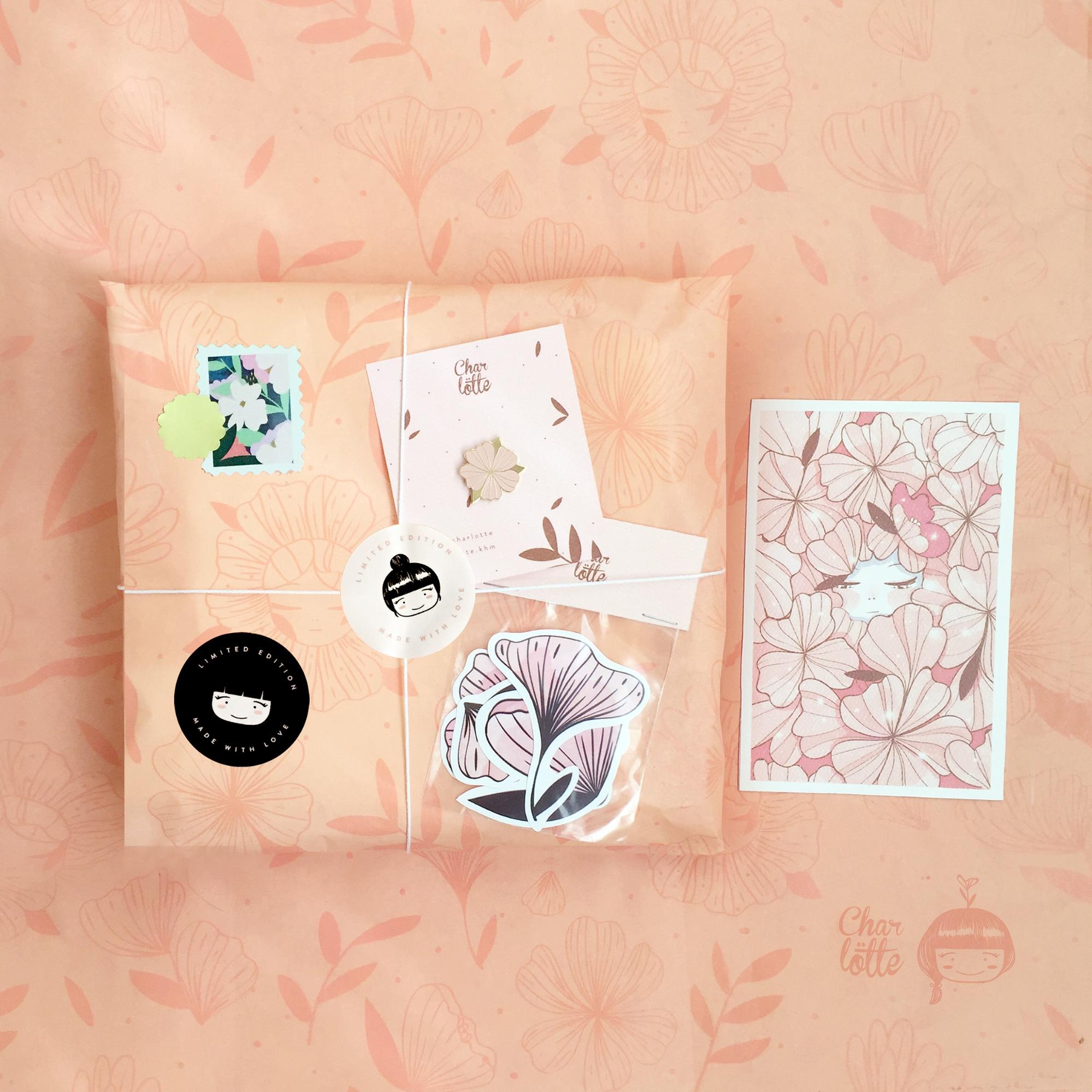 Charlotte KHM
If you want to keep your packaging more neutral in color and design, custom stickers are a great way to add a pop of brand personality to an unboxing experience. Charlotte KHM is an illustrator who has brought her hand-drawn characters right through to the design of the smaller details – her stickers. The result is a creative look completely unique to her brand.
When it comes to creating an unforgettable unboxing experience, custom packaging plays a central role. Using different elements like tissue paper or a custom card can help showcase your brand's personality and leave a lasting impression on your customer.
It also shows them that you've taken time and care to craft a unique experience because you value their spend and want to establish a connection with them – an action that goes a long way in today's world.
Getting started with hand lettering?
Free lettering worksheets
Download these worksheets and start practicing with simple instructions and tracing exercises.
Download now!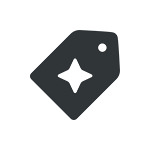 Creative Market