20 Perfect 1980's Typefaces to Evoke Nostalgia
Ask anybody about the 80's and you'll have a variety of reactions. Some will tell you that it was loud and overly dramatic, while others will use the terms tacky and absurd. Truth be told, the 1980's were definitely not for the faint-hearted. Especially when it comes to design, this decade was an explosion of eclectic and unique ideas that could leave your senses overwhelmed — and these fonts alone are enough proof of that.
What's the big deal about the 80's?
Well, the 80's was definitely an expressive era, especially in terms of music, art, fashion, and design. People were beginning to embrace color and form, no matter how eccentric or wild they may be. It was the season for neon colors and big, big hair. This is probably why a lot of designers still use the 80's as an inspiration in their designs. Some opt to capture the wildness of the era and go all out across all elements. As for the others, they discreetly add an 80's element or two here and there, allowing them to blend perfectly with other tamer design highlights. If you're on the lookout for fonts from the 80's, these are ideal options. Each font captures a different element from that era, so you should be able to find at least one on this list that fits the vision you have for your design.
Pin them for later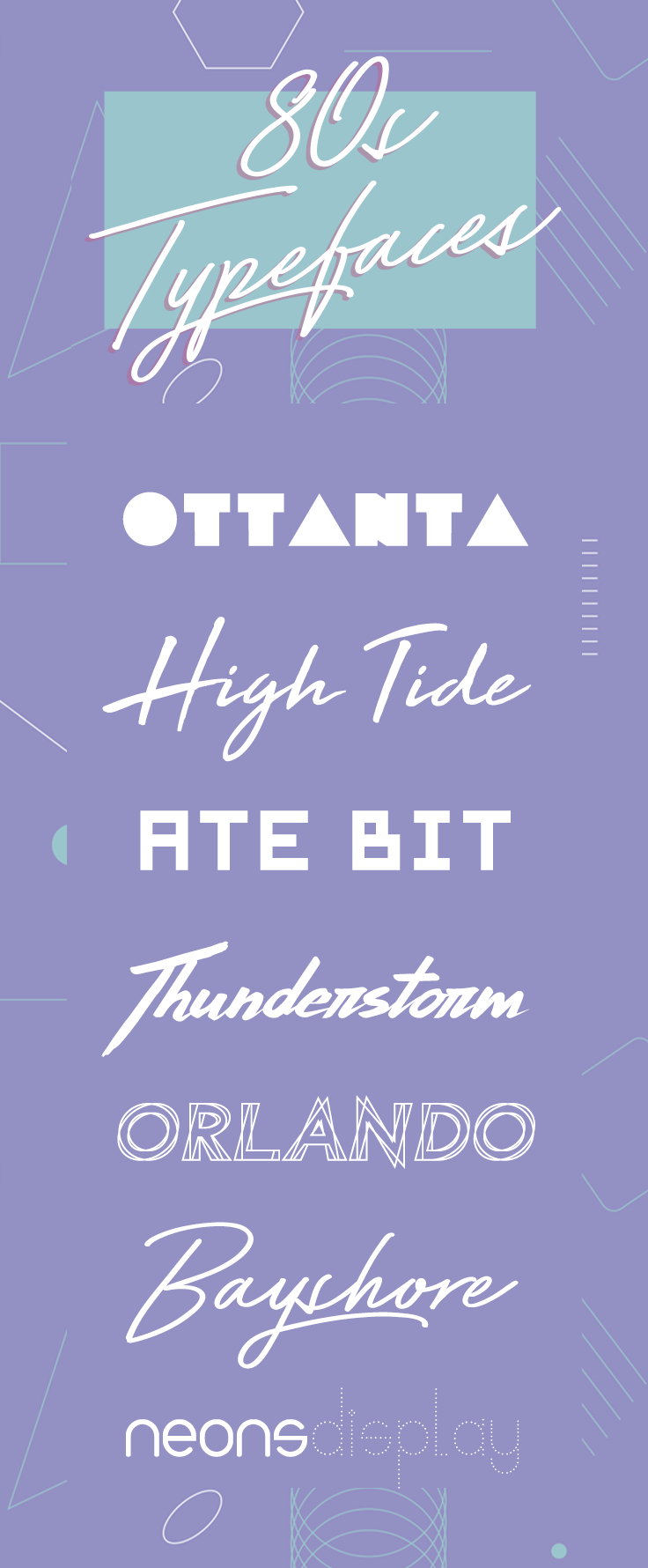 Many of the largest cities were just starting to rise in the 80's, but these cities already had a lot of character in them. Although the hustle was a lot tamer than today's, it was all still very noteworthy, which explains why it was enough to become inspiration for the Newark font style. Sleek, clean, and attention-grabbing in all the right ways, this is one font that's perfect for headlines and magazine layouts.
The 80's also paved the way for a lot of tech-inspired designs, and BitCraft captures how that era's tech looked like. The pixelated style might remind you of Minecraft, but here's one thing to remember: the trendy game is quite new, but the font style is still an 80's original.
Schwager was the original font, but the creators knew that it could use an alternate look. This is why Schwager Sans was created. It applies the same design principles as the original, but sports a trendier look. The design is clean but still manages to maintain the 80's appeal with its added curves.
Just like BitCraft, Ate Bit Font captures old school tech design, but with an interesting twist. It uses interesting alignment approaches and a slimmer look that makes it feel more contemporary than similar designs.
Hacker is the perfect name for this font, seeing how it reminds you of the old black and green codes you might remember from The Matrix. It digs deep into the computer system and shows you what alphanumeric characters look like from inside, a trend that is quite prominent during the era we're highlighting here.
Neon displays were also among the most prominent scenes you would see back in the 80's, something that the font style Neons Display brings back. It's going to be a perfect match for art deco-inspired designs, which were pretty big back then.
Movies back in the 80's paved the way for outrageous designs, and Copper is the best example of it. This edgy font style may be a little too much for regular text, but it works well for titles and headers, especially for event posters, invitations, and other similar formats.
If attention is what you're after, then Orlando is the perfect font for your 80's-inspired design. It embraces everything that the decade promotes: fun, movement, and geometry. This makes it one of the best fonts to use if you're after an 80's feel to your design.
If Orlando is fun, Ottanta is bold. It captures everything the 8o's were about: loud and overwhelming. When used in design, it's ideal if you want something that immediately grabs the audience.
Thunderstorm is a handmade brush font that depicts what the 80's pop culture was all about. It was a decade when people were carefree and experimental in their designs, a huge contrast to the minimalism we now embrace. This makes it perfect if you want your design to stand out.
A real high tide may be powerful and deep, but somehow, this font manages to balance it all out with a gentle and relatable demeanor. The handwritten style is probably the reason, making it a great retro option without being too overpowering.
Not everything about the 80's was loud, and Elaris captures the quiet side of that decade. Simple, elegant and highly professional, this font is a great choice if you want a luxurious title or headline.
Popsky does not just bring a pop of color into your design – it brings a whole lot of vibrance into it. This multicolor font is the perfect asset to use if you want to add character into your design.
Outrunner is reminiscent of disco. Bright, filled with character and vibrant in every single way, people from that decade will feel nostalgic the moment they catch a glimpse of this.
Swiss typography is evident in this font style, with its clean and simple look. That's what makes Articulat CF a must-have for every designer. Its straightforward look makes it easy to fit into any theme or design.
Imogen Agnes is yet another dramatic handwritten script font that gives you that nostalgic feel. It's not just about style or elegance. This actually has a more personal feel to it — reckless strokes that allow you to connect with your audiences more effectively.
The 80's wasn't just bold or daring, it was also fun! Highflier visualizes this side of the decade with its playful, easy curves and the overall cheerful disposition it conveys.
The name itself explains what you expect from the font. It's childish and playful, the best font you can use for light projects that require a cheerful and optimistic approach.
Visby Round shows you what made sans serif fonts appealing in the first place. Simple and playful in its own little ways, it can be used for general text without being too heavy on the eyes.
Another dramatic 80's font, Bayshore will remind you of glaring neon signs in script. Whether it's Miami Vice you'll remember or Baywatch, it's good for that ultimate vintage disco vibe. The 80's were definitely something, as these unique fonts reveal. The great thing about them is that even if it's now 2017, they can still bring life to a number of modern design projects.
---
Products Seen In This Post:
Getting started with hand lettering?
Free lettering worksheets
Download these worksheets and start practicing with simple instructions and tracing exercises.
Download now!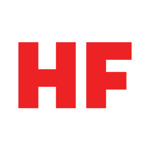 Igor Ovsyannykov
We create fonts, graphics, and produce aesthetically pleasing photos.
View More Posts