20 Creative & Useful "About" Pages
We previously showcased some of the most creative 404 pages out there, and today we're bringing you a collection of some of the best company and personal 'about' pages on the internet. An about page is an important component to any website. This page is supposed to help your audience, customers, and clients figure out just who you are, how they can contact you, and learn a little more about you. If you create a successful about page you can gain more customers or clients, help people find the information they need, and promote the awesome people that work with you!
Funny About Pages
DIY
There's nothing really more to say besides the fact that this about page has some incredibly funny images. In fact, if you click on each of the individual people, you'll see a series of funny images for each one!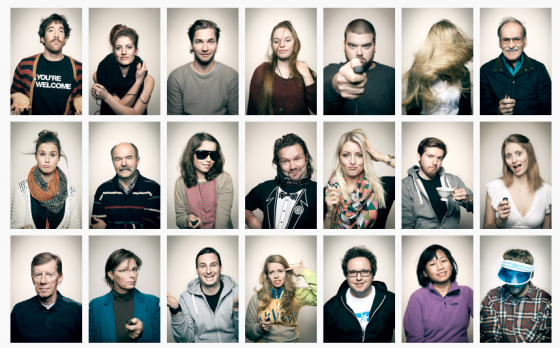 Kick Point
Kick Point is a digital marketing agency in Alberta, and they aren't afraid to admit they're a bunch of crazies. While their about page is pretty funny, it's also incredibly nice and feels like you're really getting to know the company and people behind the company.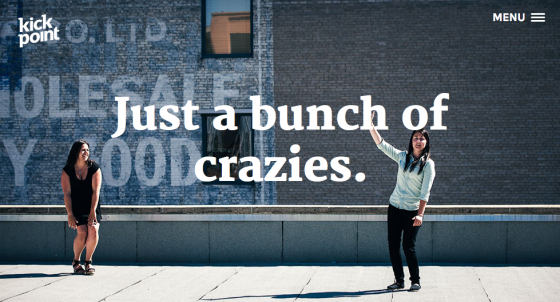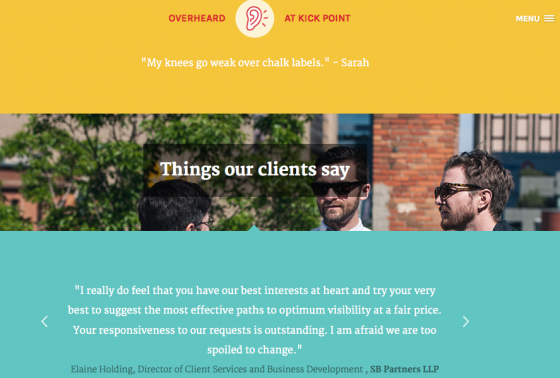 Simple as Milk
The guys over at Simple as Milk are definitely sassy. Their about page is definitely unique and has great and funny copy. This page is the perfect blend of funny and functional.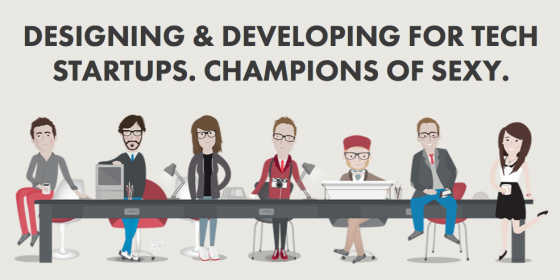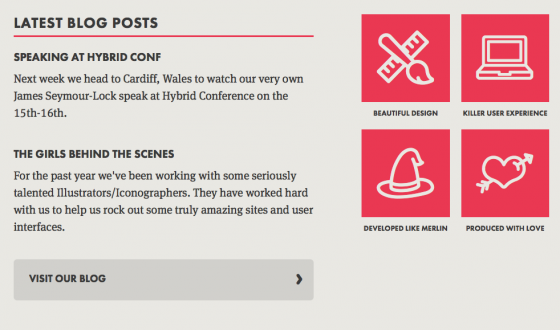 Superfluent
The guys over at Superfluent design came up with an about page that really spoke to their personalities. You get to know little quirks about them as well as hire them for projects!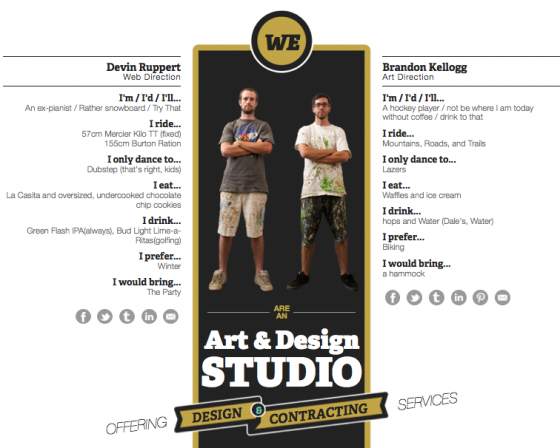 TapMates
Tapmates is a company that creates handcrafted apps, including everything from the icons to actual app development. Apart from their about page providing information about their company and the backstory of their company, they feature some pretty funny images of their employees.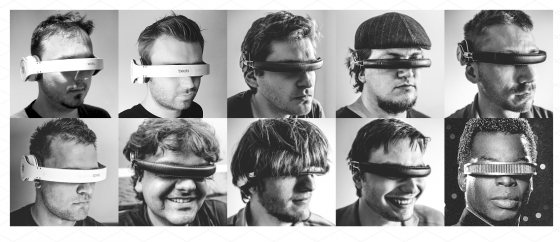 Creative About Pages
Creative Market
Thanks to the amazing Gerren Lamson, our About page looks pretty spectacular. Gerren took the time to create sketches of each of the Creative Market team members for business cards and our About Page.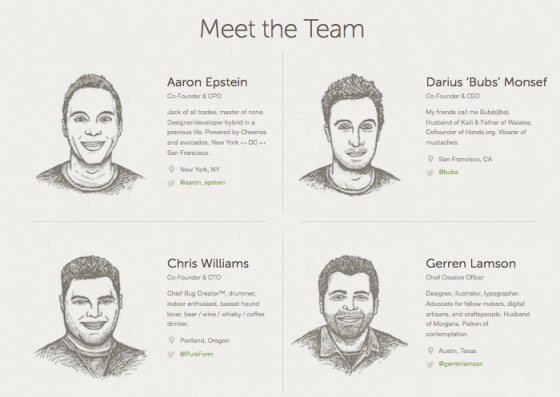 Double Dutch
We hold a special place in our hearts for the folks over at Double Dutch because we used to be office neighbors. Their about page is truly a tribute and example of their cool office environment and style. It's great to see their favorite lunches, and number of beards on display at the office as well. Not to mention the images of their employees are pretty rad.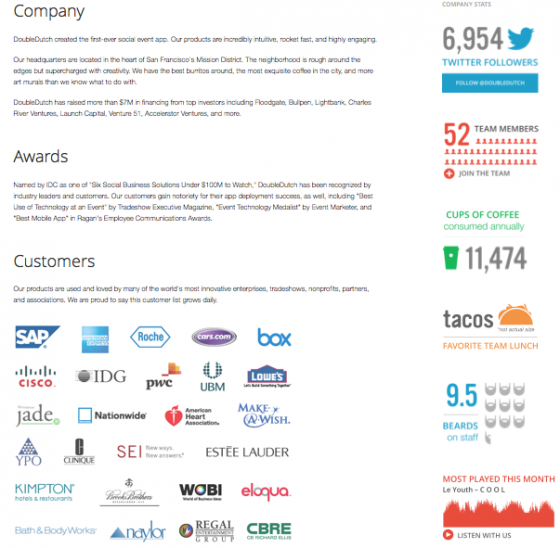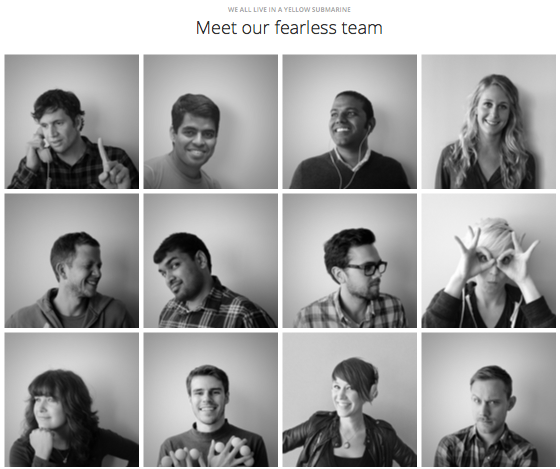 Bright Bright Great
Bright Bright Great is a branding and design agency who has chosen to showcase their team members creatively in a series of mugshots.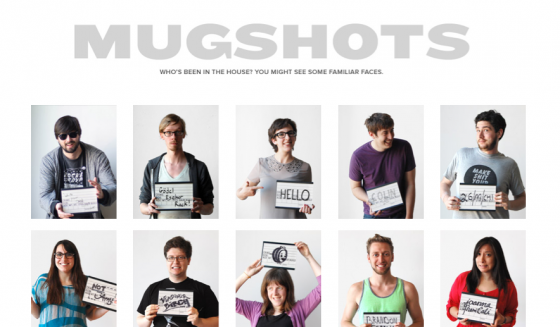 Engine Creative
The guys over at Engine Creative have done an excellent job with their about page. Not only do they provide important information about themselves, but they do it in a fun and interactive way. You'll have to see for yourself…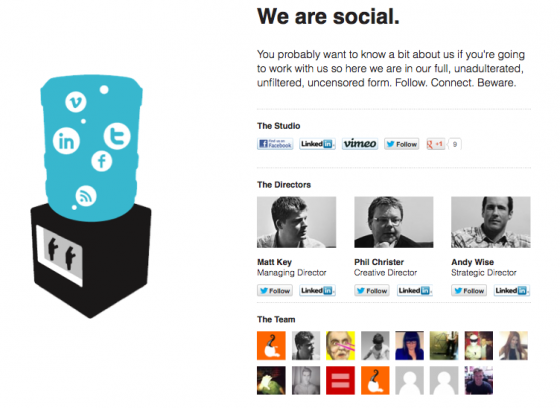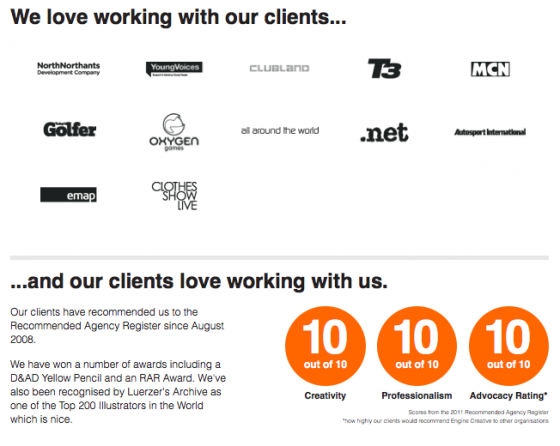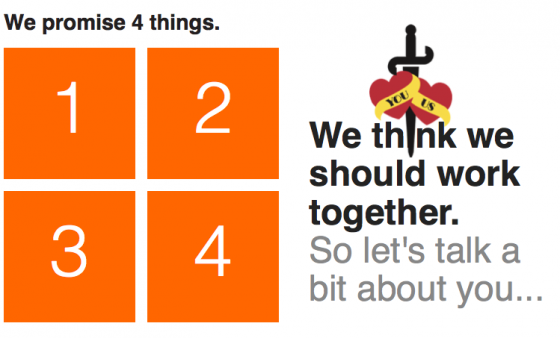 Kitchen Sink Studios
The guys over at Kitchen Sink Studios really know how to engage an audience. Their about page features a very nice looking infographic-styled design that presents information about their history, services, and contact info in a nice and good looking manner. Not to mention they seem really friendly and invite people to go around town to the pubs.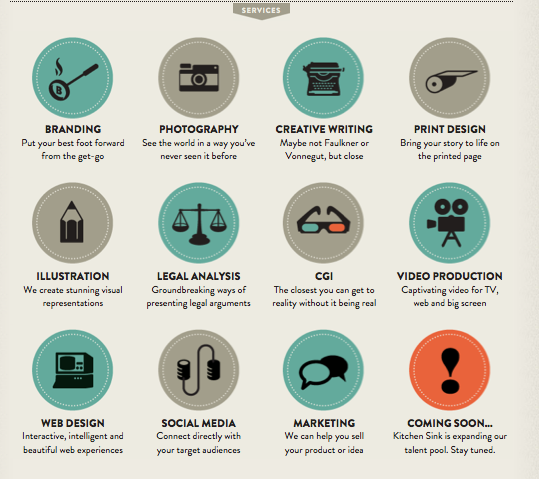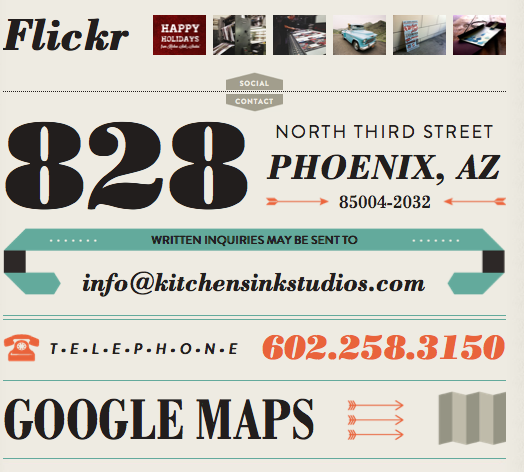 Saddington Baynes
Saddington Baynes is a creative production agency with an incredibly creative about page. When you scroll over the images of all of their team members you get to see short stop-motion video clips.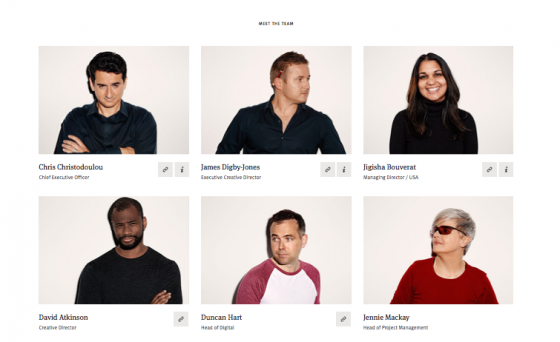 Sajak & Farki
The team members at Sajak & Farki have pretty creative bio descriptions, as well as cool hand drawn caricatures of them. A really unique way to showcase team members.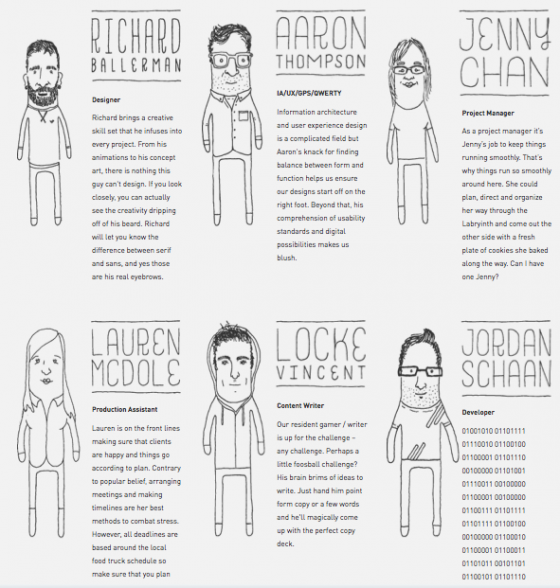 Useful About Pages
ANZ Fisheries
This has to be one of the best about pages I've ever seen. This company does a great job of providing information about all of their products. You can even hover over each product to gain more information and view outside resources. The company also displays their core values and ideology all in one nice looking design, and they have a handy dandy contact area to help you with all of your needs.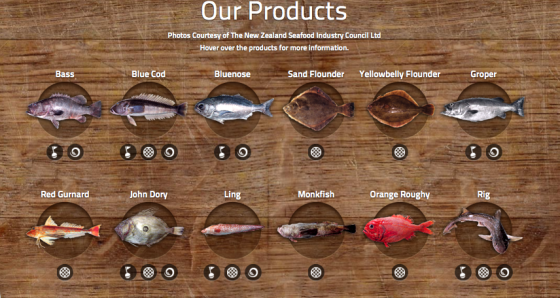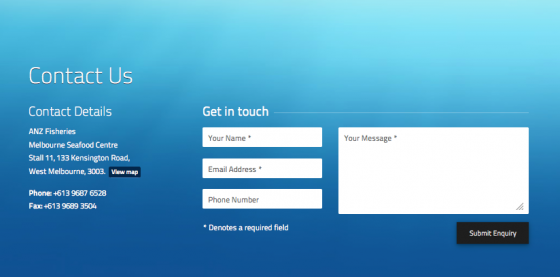 BKWLD
Technically this about page could go in the 'creative' and 'useful' sections. Not only does this about page provide a ton of information to potential clients that is laid out in a simple and easy to understand way, it features a unique video at the top showcasing the employees.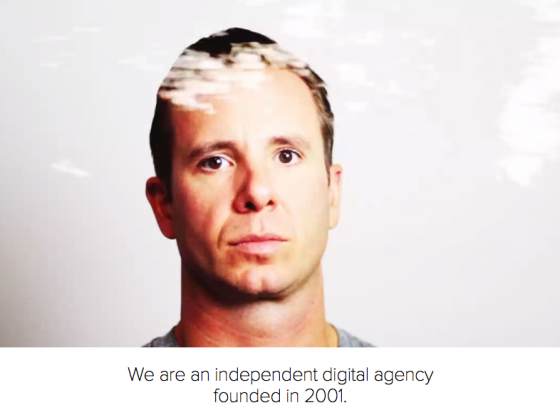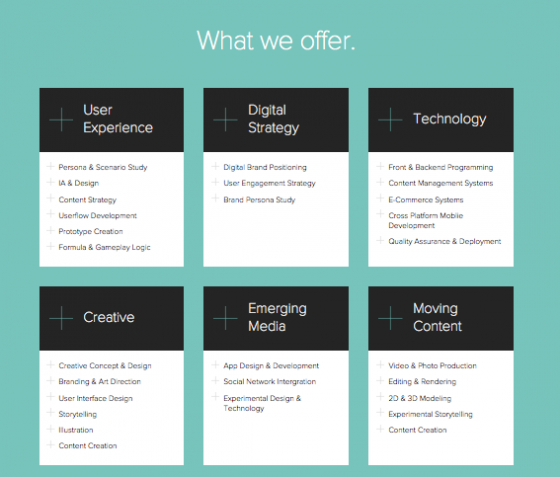 Crane Brothers
Crane Brothers does an excellent job of keeping their about page short and to the point with a minimal amount of information, but just enough to help you get the information you need and find out how to contact them.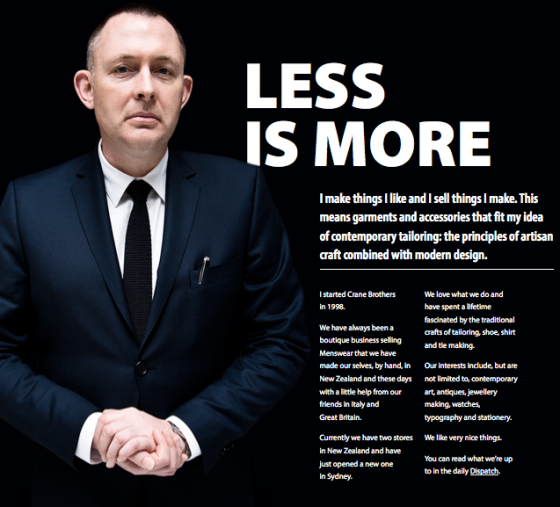 Ever Lovin Press
Ever Lovin Press does a great job of filling their about page with useful information and helps people easily get in touch with their company. Not only does their about page feature behind the scenes information on the company, but it tells you all about their history in a crisp clean way.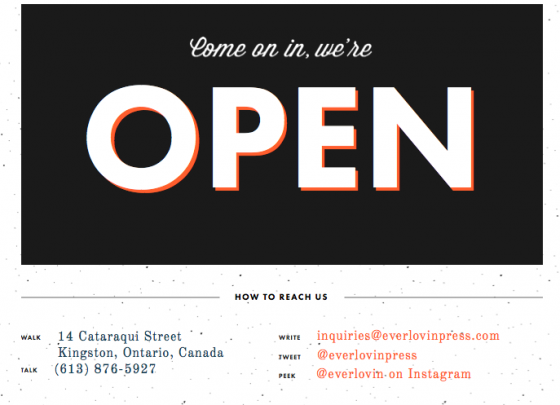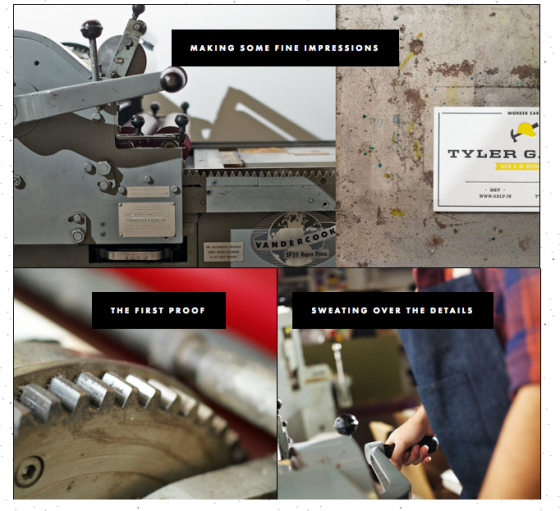 Harry's
What I love about Harry's About Page is that it's incredibly helpful, but it's also a little bit funny and quirky. The brand does a great job with their copy to show you why their product stands out, and tells you just enough information about them and where to get more information.


Jordan Vitanov
Jordan is a designer and digital artist who also works in web development. His about page is perfect for anyone looking to hire him for services because it displays all the work he can do, where his specialties are, how to get in touch with him and more.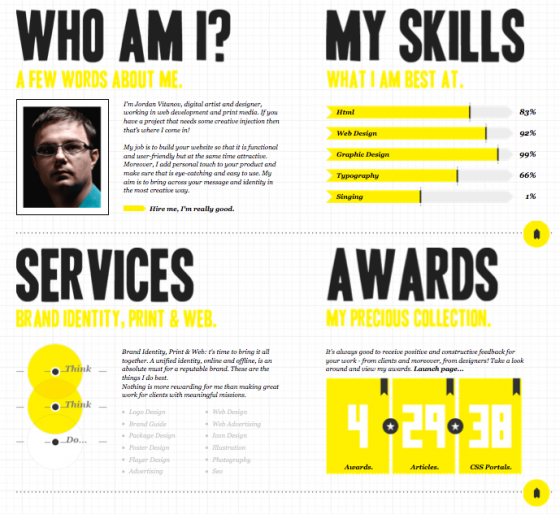 Pointless Corp
What makes Pointless Corp's company about page so useful and fabulous is that it not only looks extremely cool and creative, but it points to all of the things they've created, when they created them, and the purpose of each of their projects.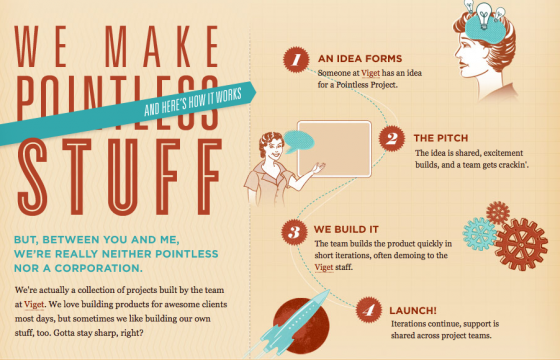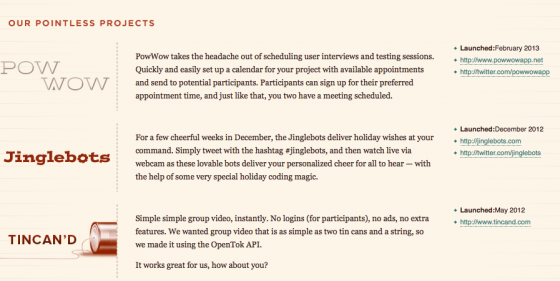 Tobi
Not many companies do as good of a job at creating a successful about page as Tobi. Tobi uses their about page to convey the basics of their company, and help you understand the basics of their company.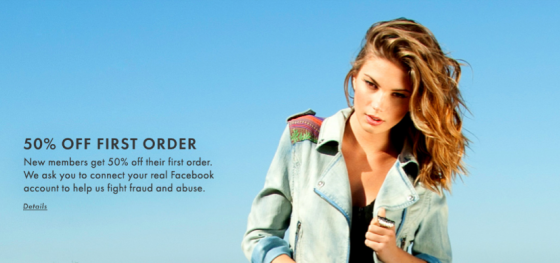 How to Create Useful 'About' Pages
A successful about page should help people understand who you are, what you do, and the roles of individuals or groups in your company so they know who to get in contact with and for what purpose. About pages can help your customers or clients get to know you better and what you do.
Tips for a Useful and Awesome About Page
Have Creative Copy: Make your writing stand out, say something unique.
Say Exactly What You Do: Explain who you are, what you do, and why you do it.
Offer methods of getting in touch: Direct people to different email addresses or contact forms for different information, and showcase all of your social profiles.
Show Off Your Employees: Show that your employees and the creative minds behind your company are what really makes your company stand out above the rest.
Don't leave people with questions: point people to an FAQ section or provide them with a contact form in case they still have questions.
Getting started with hand lettering?
Free lettering worksheets
Download these worksheets and start practicing with simple instructions and tracing exercises.
Download now!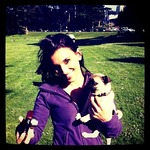 Maryam Taheri
I'm a recent graduate of the University of San Francisco with a degree in Biology and a passion for the creative arts. I love building websites, trying new things, and I have a passion for social media.
View More Posts