20 Photoshop Text Effects That'll Blow Your Mind
If you're a graphic designer, Photoshop is pretty much the most helpful resource out there to help you manipulate images and text for your designs. The following Photoshop type actions will help you make your designs better than you ever imagined.
1. Digital Clay
Digital Clay is one of the coolest type effects on Creative Market. The name describes the effect pretty well: you can make your letters look like they're made out of clay – think Wallace and Grommet or your old Play-Doh set.
2. Felt Craft
Another one of the best textural letter effects on Creative Market is Felt Craft. The effect makes it appear as if letters are made out of stitched felt. One of the coolest parts of the effect is that it has an optional blur action, which makes the letters look more realistic and three-dimensional than a simple font.
3. Sweet Text Styles Vol. 01
With Sweet Text Styles Vol. 01, designers can create realistic 3D lettering in a multitude of styles and colors. The typography effect manipulates texture, effect, noise, and vignette to ensure that your lettering really pops.
4. Long Shadow Graphic Styles
To create a dramatic effect with your text, choose Long Shadow Graphic Styles. Not only does the shadow effect on the lettering make for a cool visual element, but the style also allows you to change the direction of the shadow, too, for some variation.
5. Chocolate Text Effect
Everyone loves chocolate. You'll love it in this text effect, too, since it makes your typography look like its made out of delicious, melty chocolate. One of the coolest parts? You can choose milk or dark chocolate.
6. Food Typography PSD Actions
Take your love of food to the next level with this clever set of actions. Express yourself using coffee beans, cocoa, sugar, or spices.
7. 50 Vintage Text Effects Bundle
Go back in time with the 50 Vintage Text Effects Bundle. This bundle of letter actions has fonts that fit every era, so you can use it for everything, from the art deco 20s to the groovy 60s.
8. Christmas Sweater Effect
If you want to stand out during the holidays, use the Christmas Sweater Effect for a collection of awesome, tacky text styles. It's like an ugly Christmas sweater party, but in text form.
9. POWDR – Black Edition
Make your text look smoky, sultry, and dramatic with the POWDR text style. The style includes more than 60+ individual transparent powders PNGs, giving you tons of options to manipulate text in your projects.
10. FlowerType for Photoshop
Create lettering that looks like it's intertwined with an authentic floral arrangement with FlowerType for Photoshop. It includes a very helpful Vimeo instruction video, so you can create words that look like you're a professional florist.
11. Sketch'it Chalk and Sketch Effects
If you want to create text that looks like you sketched with chalk, Sketch'it Chalk and Sketch Effects is the text style for you. The pack comes with three backgrounds: chalkboard, colored, or white.
12. Gliz+Glam Kit
Spruce up your text with the Glitz+Glam Kit, which allows you to add digital foil and glittered effects to your words. The kit also allows you to add confetti and glitter via brushes, making it dynamic and useful for a variety of projects.
13. Liquid Gold for Photoshop
Another one of the glitziest Photoshop type actions on Creative Market is Liquid Gold which makes your text look like it's made out of gold, silver, or rose gold water color paint.
14. Cartoon Text Effects
If you want to make lettering that looks like your favorite childhood cartoon shows, Cartoon Text Effects is one of the best text styles for you. People who use the Cartoon Text Effects say that they're just plain fun, zany, and eye-catching.
15. Frosted Ice Photoshop Actions
Evoke the feel of your favorite recent Disney cartoon with the Frosted Ice Photoshop Actions. The text style looks like it comes straight from Arendelle, and you don't have to put up with another annoying refrain of "Let It Go" to get the same magical feel.
16. Text to Watercolour Actions
Make it look like you handpainted all your work with watercolors using the Text to Watercolour Actions pack. Not only can you add the effect to make your typography look liked it was painted, you can also use smudge brushes and tools to change the texture and make it look more 3D or realistic.
17. Retrolift – 3D PSD Actions
Another good way to make your text look 3D is with the Retrolift text style. This font style was featured in Advanced Photoshop Magazine and on the Adobe blog by John Nack, which means the best in the field think it's pretty awesome.
18. Text Effects Bundle for Photoshop
The Text Effects Bundle for Photoshop is a great choice for a variety of effects. Included with the bundle are 3D retro effects, chalk text effects, and distressed layer styles.
19. Sand Photoshop Action
Write your letters in the sand with Sand Photoshop Action. It makes letters look 3-dimensional and like they've been traced in the sand. It's a great choice for any summery, beachy or nautical project.
20. Woodcut Lettering Generator
Make your letters look like they were traced in wood instead of sand with the Woodcut Lettering Generator. This style can give lettering an artisanal stamped look.
If you're looking to manipulate your text with Photoshop, check out the styles on Creative Market. The above 20 effects – as well as hundreds more – can help make your designs creative and unique.
Getting started with hand lettering?
Free lettering worksheets
Download these worksheets and start practicing with simple instructions and tracing exercises.
Download now!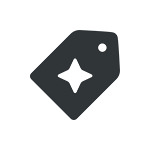 Creative Market