Love it or hate it, the new iOS 7 is here. The new design looks widely different that what iPhone users have been accustomed to, which means a whole new set of guidelines for designers to follow. Apple has outlined 3 major themes the new iOS7 epitomizes:
Deference. The UI helps users understand and interact with the content, but never competes with it.
Clarity. Text is legible at every size, icons are precise and lucid, adornments are subtle and appropriate, and a sharpened focus on functionality motivates the design.
Depth. Visual layers and realistic motion impart vitality and heighten users' delight and understanding.
Apple went with a crisp UI incorporating fluid motion; however, the overarching theme is Content Content Content! It's important for designers to keep this in mind. Here are some some suggestions to help guide you along the way.
1. Full Screen Designs
Allow the content to extend to the edges of the screen. Full screen backgrounds help allow important content to pop.
iOS 7 Weather
Full Frame Background by Graph Paper Press
2. Use Translucent UI Elements
Using translucent elements conveys to the user that additional content is available.
iOS Control Center
Flat iPhone App Template by UI Store
3. Use Bright, Saturated Colors
Was Apple was inspired by their old-school colorful logo? Bright colors are making a comeback with the new design.
30 iOS 7 Blurred Backgrounds by PF Martini
40 Blurred Backgrounds for iOS 7 by PictoFoundry
4. iOS 7 Is All About Borderless Buttons
No more borders! Instead, use context, color, and a title that indicates a clear call-to-action.
Flat Web UI Kit by Alexey Degtyarik
Flat UI Kit for iOS 7 by UI Store
App UI PSD Kit in 3 Styles by graphicsfuel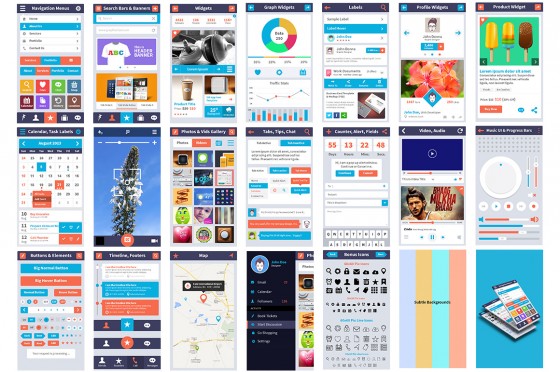 Share on Pinterest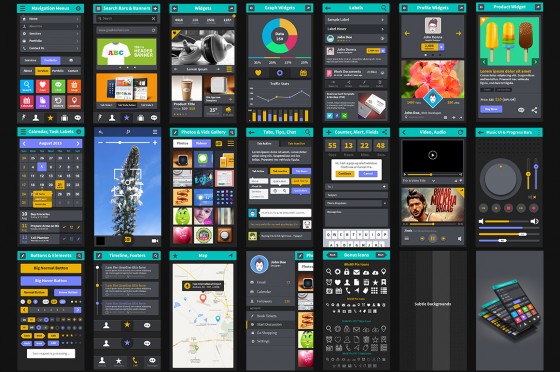 Share on Pinterest
With iOS 7, remember to let the app's core functionality shine through. Content is the key player here. A well designed UI should be easy to interact with, but never competes with the content.