We are excited to welcome Ken, the Director of Customer Support to the Creative Market team. Ken joins us after working at a social network for over two years of managing customer support teams. He adds life and fun to the office, and is an excellent cartoonist. Please help us welcome Ken to the team!
Tell us a little bit about yourself and what you do for Creative Market.
I'm very excited to begin a great new trajectory here at Creative Market. I've spent my career learning from customers and meeting their needs. I'm hoping to bring some order here without being a bummer. I'm looking forward to being inspired by the community of Creative Marketeers. I drew cartoons for years and want to get into it again.
What were you doing before you joined the team and how did you and Creative Market "find each other"?
Before CM I managed customer support teams large and small for various companies including Inflection and Swoon. Zack reached out to me on LinkedIn and gave me a philosophical test, which I'm assuming I must have passed.
What's your workstation like? Do you have any tools/software/gadgets you can't live without?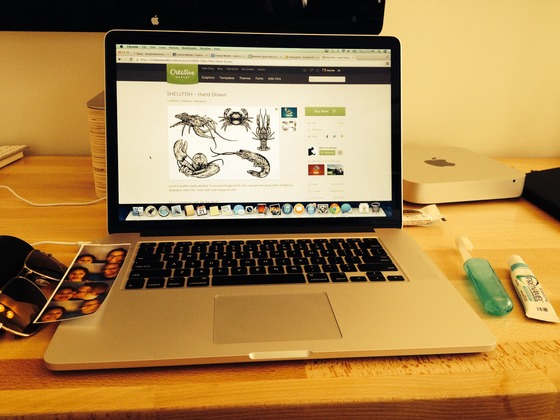 At work I'm using my very first Mac laptop. I think that makes me a better person for admitting publicly.
Do you have any go-to music when you're working?
I cannot live without Hall and Oates, the Bee-Gees or the Carpenters. I don't know how anyone could work listening to anything else. I was asked what my favorite programming language is; Kansas and Barry Manilow are also fantastic.
What are some of the projects you're currently working on?
I'm currently working on learning about our unique user questions and ideas. I'm also focused on finding ways to provide a concierge experience to everyone who contacts us.
Do you have a favorite shop in the marketplace?
My current favorite shop here is BusOne. The illustrations of crustaceans of course drew me in.
Any parting words of wisdom for our readers?
My advice to you: Anger is a choice and that choice is having a sucky life; also don't forget to travel.