25 Unbelievable Photo Shoots That Went Viral
The Internet is saturated with photography and sites dedicated to it. It's easy to miss the truly awe-inspiring photos when you're constantly flooded by list after list, so we went for the biggest and best photo shoots from around the web. Here are 25 sets of photos guaranteed to blow your mind.
This photo set is the closest the human race has come to time travel. The Dukha people of Mongolia have been living the same tribal lifestyle in the same region for centuries. Perhaps the most beautiful aspect of these ancient people of the present is their connection with animals, especially reindeer.
Not only do they showcase John Malkovich's ability to transform his face (most notable in his normally gaunt face taking on the jowls of Hitchcock,) but they also range from hilarious (Identical Twins) to dignified (Che Guevara).
The humanity of technology is truly revealed in these photos. Wil was born with Down Syndrome and Alan hopes "to teach him that even with his disabilities, he can do anything he puts his mind to."
Russia is a perfect backdrop for creating a magical world out of reality. These princesses look as if they jumped off a page.
These photos leave an eerie feeling in the pit of your stomach. Maybe we aren't so different after all.
Polish photographer Alicja Zmyslowska has a gift for capturing the true joy in dogs.
The foxes of Chukotka live in one of the world's most remote regions. Photographer Ivan Kisolov brings them to your computer screen.
You are surely about to see more like this all over the Internet. Even the most mundane thing can be made creative by true artists.
If the dog post above wasn't enough to satisfy your canine cuteness cravings, here are some more.
Step aside Hedwig; these owls are taking the spotlight for a minute. Sasi Smith has an amazing talent for capturing owls in different moods and actions.
The cute animals just won't quit. The amazing thing about this shoot is the variety of woodland creatures featured with kids.
Theron Humphrey invites us along with him and his dog, Maddie, on their journey.
Every year since 1975, the four Brown sisters have been photographing themselves. Watch them age before your eyes.
No one really knows how the long line of cars outside of Chatillon, Belgium, was formed, but it does make for some creepy photos.
You've probably seen a few of these before on Instagram or Tumblr, but viewing the whole set as one piece truly highlights the urgency and excitement of love.
Attention everyone: We have found the home of the Internet. These photos were taken on one of a dozen "cat islands" around Japan where cats outnumber humans at an average of six to one.
If you haven't seen light painting before, it's about to become one of your favorite things. Long exposure plus LED lights on the end of paddles equals the beauty of motion.
This is where adorable and hilarious become one -- a tiny frog riding on the back of a beetle.
Olivia Locher has a bone to pick with America's outdated and absurd laws, and she does it with some funny photos.
From a hairdresser Hulk to a drunken Iron Man, Edy Hardjo puts a hilarious spin on today's most popular superheroes.
In this amazing retro work, Victoria Will captured tintypes -- with 19th-century photo equipment -- of celebrities at Sundance. Not Photoshopped even a little; these are their honest portraits.
Although these stupefying nightscapes are posted on Instagram, they were taken with some amazing equipment. See all the beauty you miss while you sleep.
This photo set proves that with only some carefully placed light, shadows, water and props, anyone can look like they belong in a Nike ad.
The earth is a fantastically gorgeous place to live. These photos of massive swaths of land help you appreciate it all. Notice the way the canyons and river create beautiful, organic patterns.
The subject is similar to the aforementioned photo shoot but looks as if it came from a different world. It just goes to show how perception differs between photographers.
Which Shoot Was your Favorite?
These 25 photo shoots are some of the best work in contemporary photography, and hopefully they really blew your mind. Share your favorites or other mind-blowing photo shoots below.
Free lettering worksheets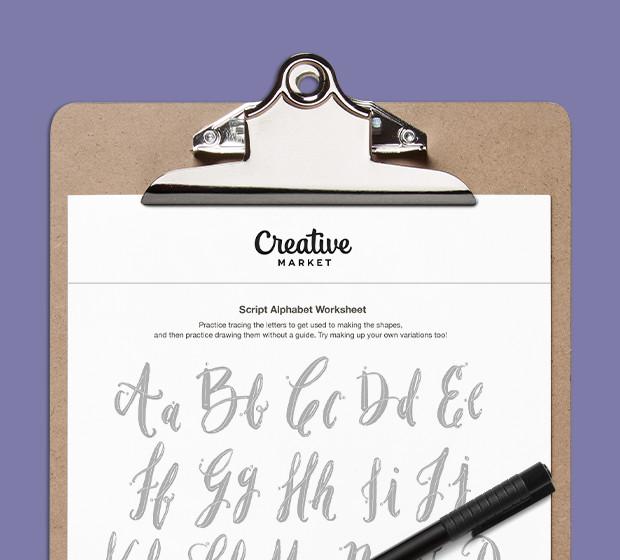 Download now!

Getting started with hand lettering?

Download these worksheets and start practicing with simple instructions and tracing exercises.
Download 6 Products for Free
Making beautiful design simple & accessible to all.
---