7 Questions You Should Never Ask Your Design Clients
Scaring off a client isn't as hard as you might think. Customers need your help and expertise, but they also know that other options exist. There's an ocean of qualified professionals out there just waiting for new work to come along. If clients feel that you're no longer right for the job, they're not going to stick around. It's all about making the client feel that they're lucky to have found you, a big part of which is knowing what to say and what not to say. So what are the questions that you should never ask a client if you want to be taken seriously?
1. Can I submit later?
Don't ever be this person. As a designer, you're fully aware of all the clients who keep putting off payment. Never encourage that kind of unprofessional behavior by requesting a later submission date. You've already discussed the deadline. You've both agreed on the terms and conditions. Your client is expecting to pay you for a certain amount of work and expects it to be done on time.
2. Can you pay me in advance?
The designer provides the service and the client pays for it. This is the natural order of a working relationship between business and client. If you request full payment in advance, your client might doubt your work and perceive a higher risk in starting a project with you. A 30 percent to 50 percent deposit is acceptable but expecting full payment before the client even sees what you have to offer is not.
3. Can I call you back tomorrow?
Your client is relying on you to be there. Clients pay for your time, so they expect to have it until the job is done. Of course they'll understand if you're having a busy morning, but don't leave a client waiting around for days. Most often, they won't put up with it.
4. When is the deadline again?
This goes back to the initial point concerning your agreement to submit on a particular date and be paid at a particular time. If you're asking your client this question for the first time, he'll be happy to answer. If you ask again and again, you'll come across as unprofessional and scare all your clients away.
5. Can we compromise?
As a creative professional, you're likely to get quite a bit of freedom regarding the work you do, but you should still respect what your clients want. Don't argue over your personal working style, what requirements aren't working for you or ask for your client to compromise beyond his/her means. Find a balance between his/her requirements and your style, making sure to honor your client's requests in a professional, respectful way.
6. But isn't this why you hired me?
This usually follows something along the lines of "your idea needs work" and is a question that comes off as condescending. Be more tactful, and keep in mind that you're a design expert but may not fully understand every market. Feel free to provide clients with input and ideas, but never imply that their ideas are bad.
7. How much did you pay your last designer?
Asking this is wrong on so many levels. To begin with, your fee should have nothing to do with other designers or their work, and everything to do with the value that you are adding for the client. That being said, it is understandable that you want to set your prices based on some market standards. If that's the case, please don't ask your client what those rates look like. Do your homework: read other designers' articles, inquire with your colleagues, look at others' proposals… basically anything but asking your client directly. Upon hearing this, your client might think that you're too inexperienced to set your own price or trying to gauge whether you can rip him off.
Bottom line: deliver your very best every single time.
In order to guarantee a strong and reliable freelancer-client relationship, it's very important that you remember not to ask certain questions. Your job is to hold onto clients and keep them coming back. Being professional, delivering top-quality design, and communicating with tact will help.
---
Products Seen In This Post:
---

Getting started with hand lettering?
Free lettering worksheets
Download these worksheets and start practicing with simple instructions and tracing exercises.
Download now!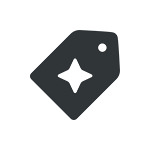 Creative Market