7 Tips to Grow Your Design Business with LinkedIn
LinkedIn is a professional network of over 347 million users and continues to grow every day. The site provides a low-cost and innovative platform for web designers to get their work in front of as many eyes as possible and grow their businesses while keeping marketing and advertising expenses to a minimum. Here are seven tips to help you leverage the power of LinkedIn to grow your design business.
1. Write a Strong Bio
A professional bio should convey the story of who you are and the work you have accomplished. It's basically an informal resume that highlights interesting facts about you, your skills and a little of your personality. Most bios should include your current job, business and professional experience, publications and presentations that you've completed and any awards or honors you might have received. You can also include some personal information to make it more reflective of you as an individual. Here are some examples of designers with great bios:
Molly's bio is short and sweet but truly communicates the extent of her experience and the confidence she has in her work. She also mentions a few notable clients she has worked with, and does a great job at describing her past experiences clearly.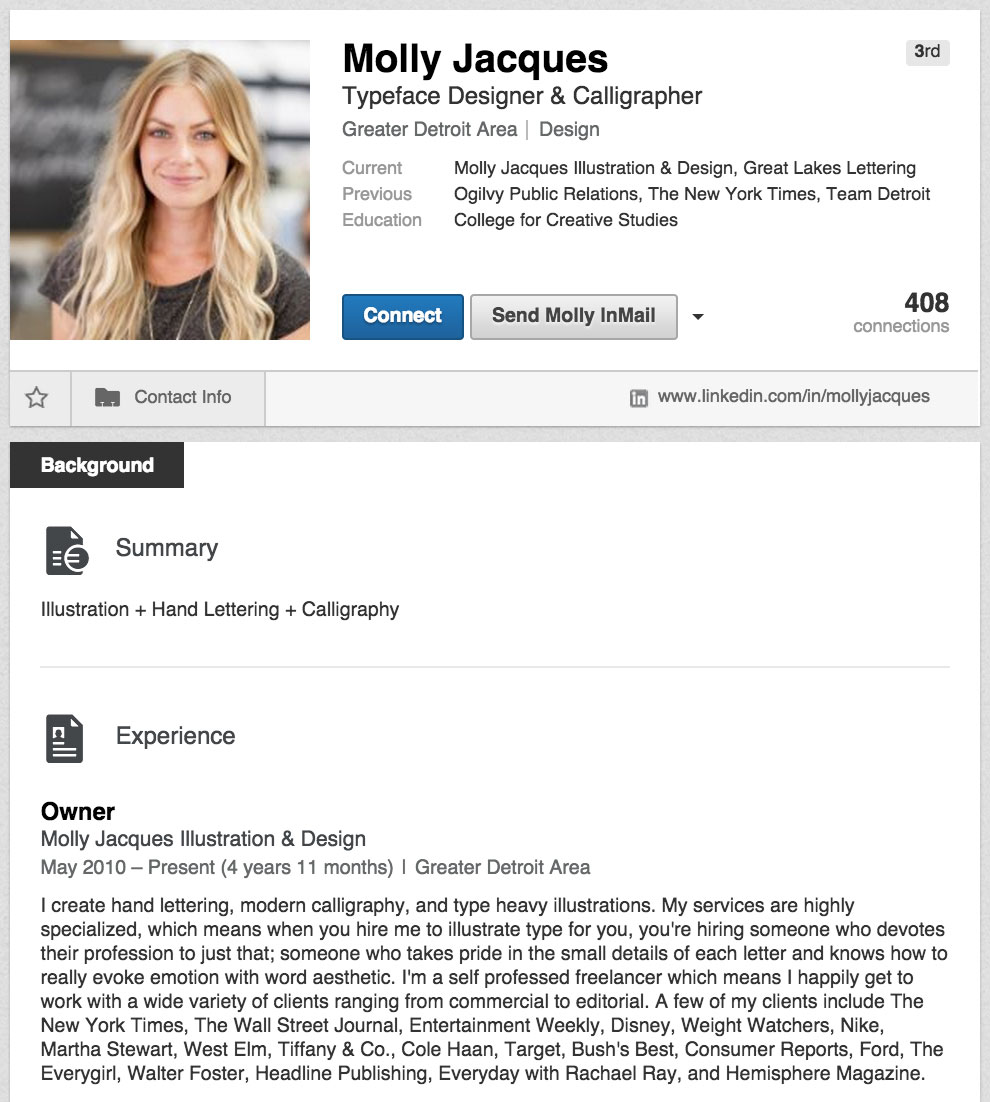 Jacob's biography is more extensive. He does a great job at giving a professional introduction to his work and impressive list of clients as well as bringing his own personality.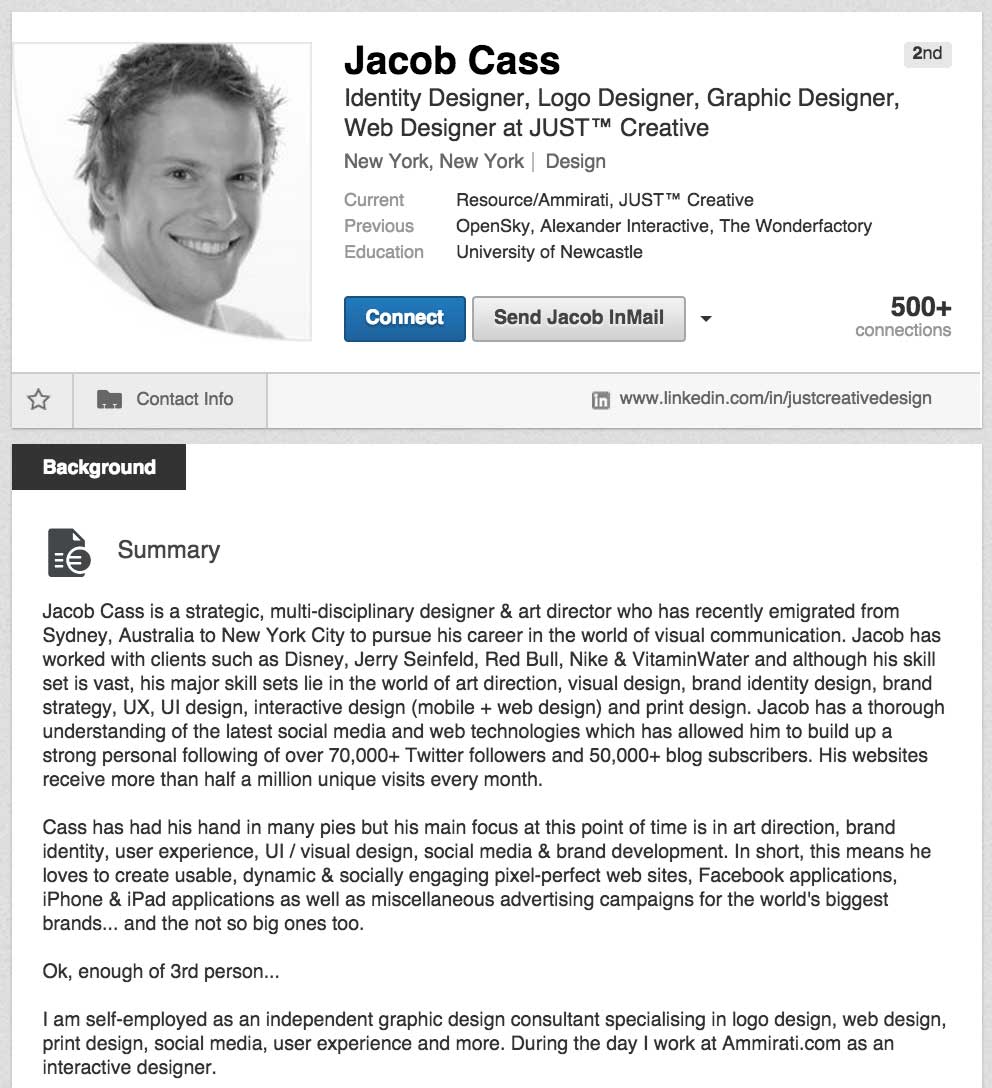 2. Explain Who You Are
Use your LinkedIn page to explain who you are and what you can do in a few words. You want to make it short and concise so that readers can get a sense of what you can offer with a simple glimpse. Write something up and read it to others to make sure that it is compelling and clear. Graham Smith's summary is a great example of stating who he is and what he can do for a client clearly and eloquently.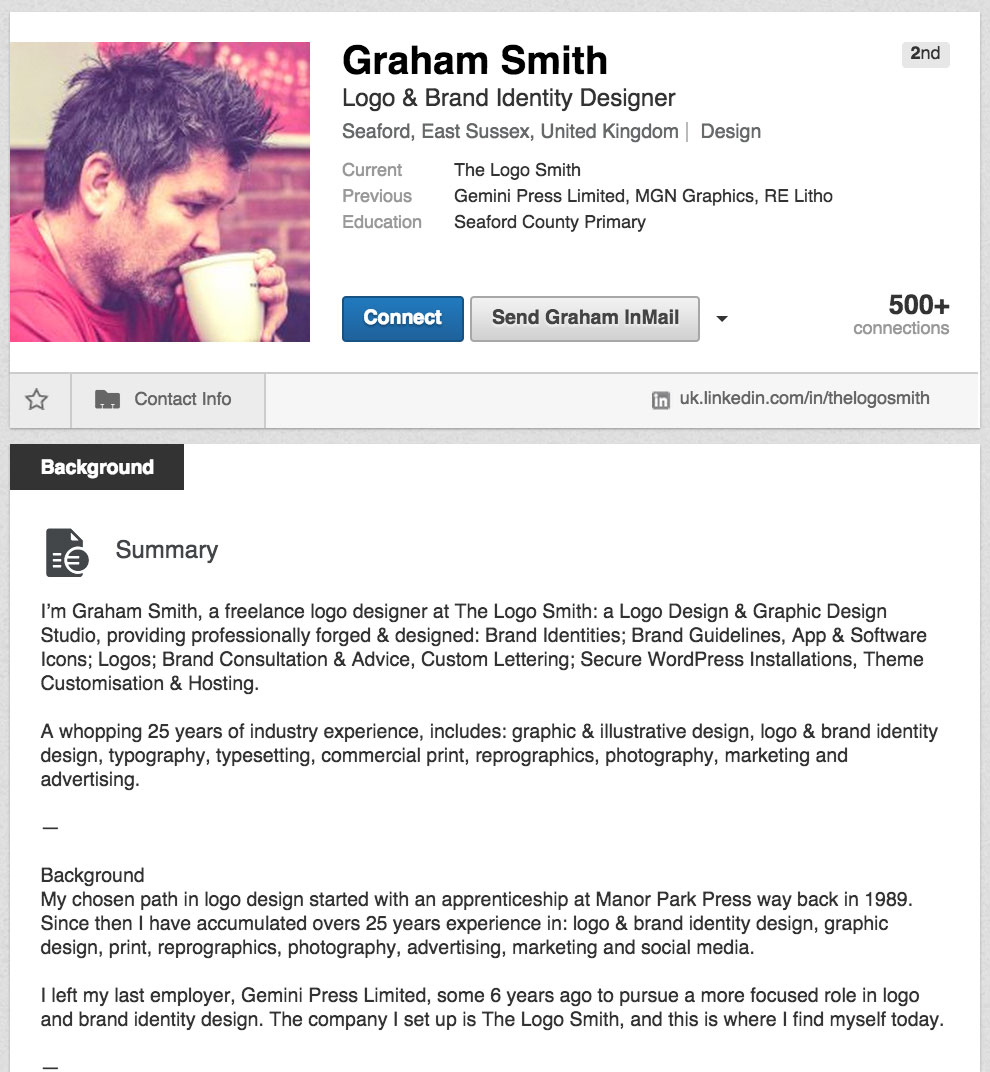 3. Mind Your Headshot
It's important to visually enhance your profile on LinkedIn to make it even more appealing to viewers. Invest in a professional headshot that helps position your personal brand and values. Potential customers and partners have no time to spare, and will only spend a few seconds glancing at your profile before deciding whether it is worth contacting you. Our very own Gerren Lamson's headshot is clean, friendly and inviting.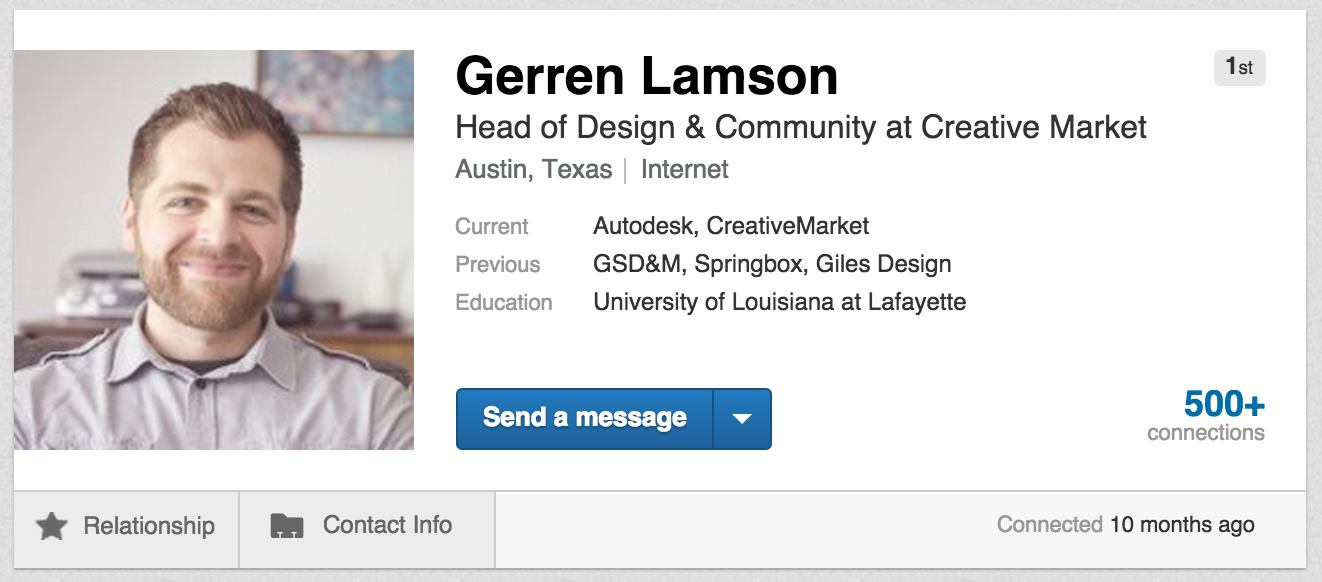 4. Upload Images and Links for Each Job Experience

In addition to writing a description for each job, you can now upload images and links for each experience. This opens new doors for designers and creative professionals to display their work visually. It's a relatively new feature that brings LinkedIn closer to acting as a true portfolio and is a valuable way to get your work in front of new clients. Just click on the "Add Link" button while you're editing your summary and upload content from there. Visit this designer's page to see how she attached her Amazon Dash media file to her profile.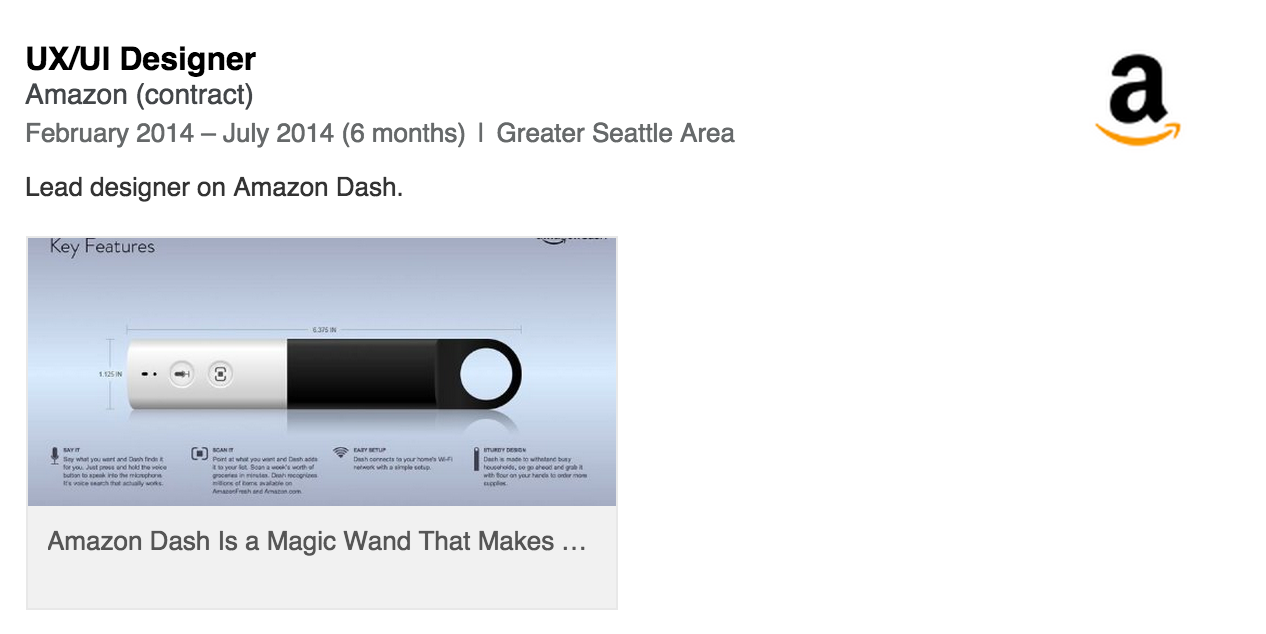 5. Ask for Recommendations
The design community is a friendly one! Don't be afraid to reach out and ask for recommendations from clients and partners you have worked with in the past and have a good relationship with. This will help boost your credibility on the site and establish trust. Recommendations also provide potential employers and clients with an objective perspective about your work ethic. Check out this Google designer's full profile to see how he was able to get recommendations for each of his past jobs.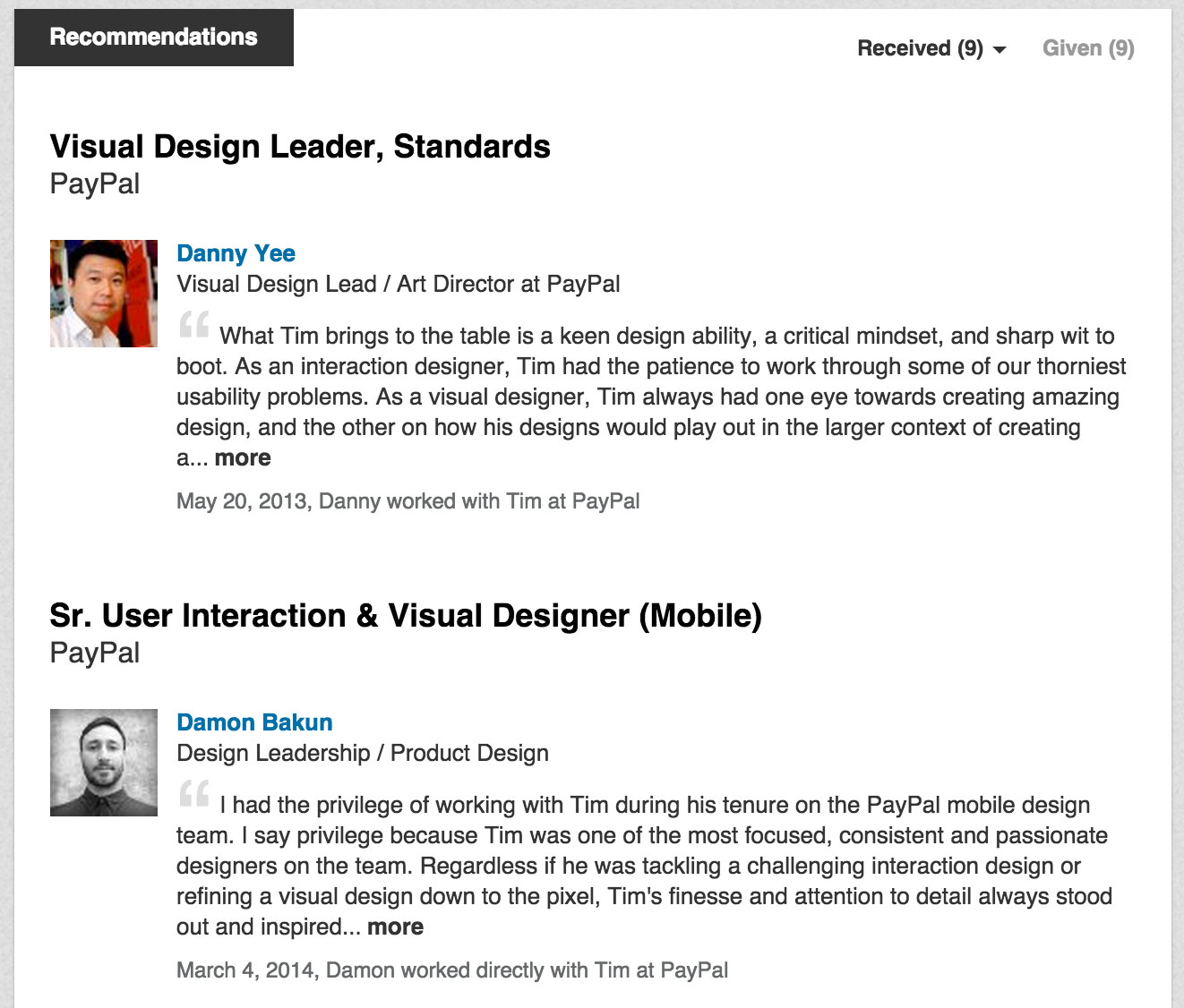 6. Join Groups
You can also join groups related to your work in order to connect with other designers and potential customers. There are plenty of web design groups, both local and international, that are great resources to tap into to start building connections. If you scroll to the bottom of Jessica Dufour's page, you can see the various groups she has joined that are relevant to her career.

7. Update Continuously
Once you have your profile built up, don't neglect it! You'll want to continue to update it with your work, add new contacts, get more recommendations and post updates in order to keep it fresh. Make sure that your contact details are up to date and public as well if you wish to have people get in touch with you through the site.
---
Getting your profile up to par on LinkedIn is a critical part of growing your design business. The best part is that it is a free resource that, used properly, can help grow your client base and boost your profits over the coming years!
---
Products Seen In This Post:
---

Getting started with hand lettering?
Free lettering worksheets
Download these worksheets and start practicing with simple instructions and tracing exercises.
Download now!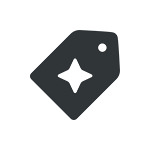 Creative Market