The Best 90s Fonts to Replicate your Favorite Movies & TV Shows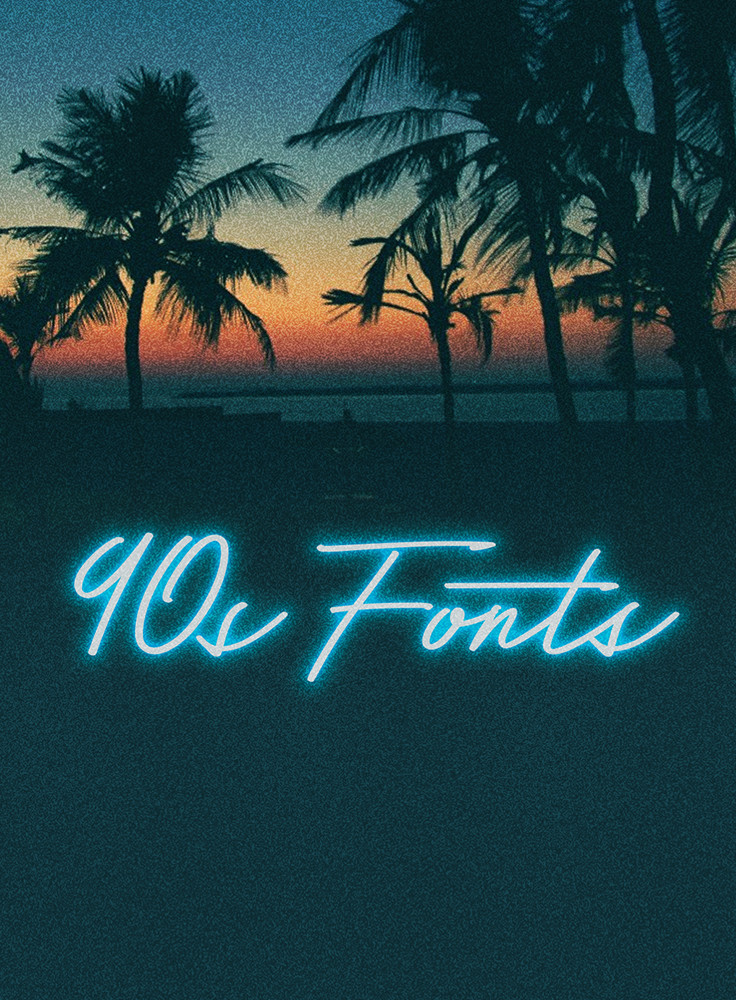 Alright, I'm going to date myself here, but I loved the '90s. I was young enough to enjoy the world without caring about what was going on outside of my little bubble, and boy was that bubble packed with fun. The latter part of the '90s falls into what I call "The lost decade of Whipps," because I wasted just that much time on nostalgic design trends and wasted youth.
And you know what made that time so fun? Graphic design. It was at this nexus point between physical and digital media. Although many companies had already transitioned into using computers full-time, not everyone was quite there yet. So fonts had both a digital and hand-crafted touch that stood out from the modern options today. That, and they're just fun. And that's worth something, right? That's why we've got this list of the absolute best '90s fonts out there for you and your next project. Enjoy.
That 90s Look
Typography in the 1990s was all about finding a balance between serif and sans-serif fonts, experimenting with different typefaces, and incorporating hand-drawn elements into designs. Vintage font styles and retro font choices were popular, as well as script fonts and display fonts that harked back to the groovy and hipster styles of the '80s. Many of these fonts can still be found in Adobe Photoshop and other design apps, perfect for creating logos, t-shirts, and social media graphics that evoke the spirit of the nineties.
One key aspect of '90s fonts is their versatility for commercial use. From video game packaging to VHS covers, these typefaces can be found everywhere. With the rise of digital design tools like Photoshop, designers started to experiment with pixel fonts, futuristic styles, and even calligraphy. Whether it was hand-drawn doodles or geometric patterns, there was a font for every occasion.
Let's dive into the world of '90s fonts and explore some of the best options for your next project:
The thing that most people don't think about the 1990s is that, for the first few years, it was just a continuation of the 1980s. Neon wasn't out of fashion for years, and I remember seeing fonts like Bayshore well into 1995. In fact, I'm pretty sure we used something similar in one of my school yearbooks. And the fact that it comes with a bunch of different glyph options for end and underline swashes makes it so cool in my book that I put it on my wishlist for future font purchases. That's right, I'm going to put my money where my mouth is — or something like that.
This font is perfect for those looking for a bold, italic style with a retro vibe. It is also great for designing old-school t-shirts and logotypes that need an '80s font touch. Bayshore offers a commercial license for use in all types of commercial projects, from print to digital.
Alright, so technically, I'm cheating with this one, but all of these fonts are perfect, so I'm running with it. This pack includes Truant, Totally Tubular, Childish Reverie, and Highflier, and tons of variants of each. Some remind me of the TV shows of the time, like that Cosby Show spinoff, A Different World, Martin, or In Living Color. (Sidebar: I knew Jim Carrey's makeup artist when I was in high school. She lived here in Arizona and flew out weekly to work on the show. She also ran the local haunted house, and that was amazing.) But overall, the whole pack just speaks to the decade, which brings back memories for me pretty hard.
This pack is a goldmine for free fonts and templates that cater to a range of design preferences, from geometric to hand-drawn styles. The variety of typefaces ensures you'll find the perfect font for your next commercial project, whether it's social media graphics, print materials, or even designing apps.
I know I've already listed a font that was reminiscent of Saved by the Bell, but this one is just so cool. It straddles the line between the '80s and '90s, but there are enough stylistic alternates and ligatures that it can be super flexible. Think about all the ways you could bring your designs back to the days of Melrose Place and the original Beverly Hills: 90210. Who wouldn't want to do that? And again, I like this one so much that I put it on my wish list. Man, is this a cool font?
The Moonlight is a versatile serif font that can be easily incorporated into lowercase letters, uppercase (all-caps) designs, and even font styles that lean towards a more futuristic look. With its clean lines and retro style, this typeface would make a great addition to your font library for commercial use.
The 1990s weren't only about flash and flair. The grunge era kicked off then too, and skateboarding started to become more mainstream. Boneless brings all that back to me. It's equal parts punk rock and grunge, but also could easily be found on the bottom of one of my old skate decks. Was I ever actually a skateboarder? No. I couldn't do an ollie to save my life. But did I own multiple skateboards? Heck yeah, I did. I was the worst kind of poser. Obviously.
Boneless is an edgy sans-serif font with a grungy vibe, perfect for creating mockups or any other design work that requires a touch of rebellion. Its unique style makes it ideal for both personal and commercial projects, especially those with an alternative, underground aesthetic.
In conclusion, the 1990s were a time of experimentation and fun in the world of typography and design. From serif to sans serif typefaces, script fonts to display fonts, there was a little something for everyone. So, whether you're looking to evoke the spirit of the nineties in your next design project or simply want to expand your font collection, these options are a great place to start. Happy designing!
---
Products Seen In This Post:
Getting started with hand lettering?
Free lettering worksheets
Download these worksheets and start practicing with simple instructions and tracing exercises.
Download now!