How to Get Started with Adobe InDesign
If you hang around graphic designers long enough, chances are you'll hear them talk about Adobe InDesign. Considered the industry standard for creating multi-page layouts, knowing the basics should be part of every designer's core skillset.
If you hang around professional graphic designers long enough, chances are you'll hear them talk about Adobe InDesign. Long considered the industry standard for creating multi-page layouts, knowing the basics should be part of every designer's core skillset. Need to create a magazine? InDesign. Build a brochure? InDesign. Crank out an ebook? InDesign. Proposals and contracts? Again, InDesign. InDesign makes it easy to combine text and copy with illustrations (Illustrator) and photos (Photoshop) to create everything from interactive PDFs to the layout of your favorite novel. Think of it as the stage that brings together two of Creative Cloud's other biggest rockstars: Photoshop and Illustrator. If you have experience with other Adobe products, you'll find InDesign's workspace familiar, making it easy to pick up the basics in a flash. Here's a fun project to help you get started.
Getting Started with InDesign
To make things easy, we'll start with an InDesign template and walk through the process of customizing it to create a brochure for a fictitious henna artist. Then, we'll be repurposing some of the content for social media. It's two totally different outputs from one simple project. Let's go!
Document Setup and Workspace
Let's orient ourselves with a look at the Pages panel (Window > Pages). This is one of the primo panels in InDesign (much like the Layers panel in Photoshop). Here you can see an overview of all the document's pages. You can use the buttons at the bottom of the panel to add or delete pages, and rearranging them is as simple as dragging and dropping.
All the important details of the document (like the size, bleed, etc.) can be found by choosing File > Document Setup. If you're creating a new document from scratch, this is where you establish the initial number of pages, size, margins, and bleed settings. As you can see in the image below, this 5×5 trifold template is built with two, non-facing pages, each measuring 5×15″, with an additional .125″ bleed on each side (as per industry standard).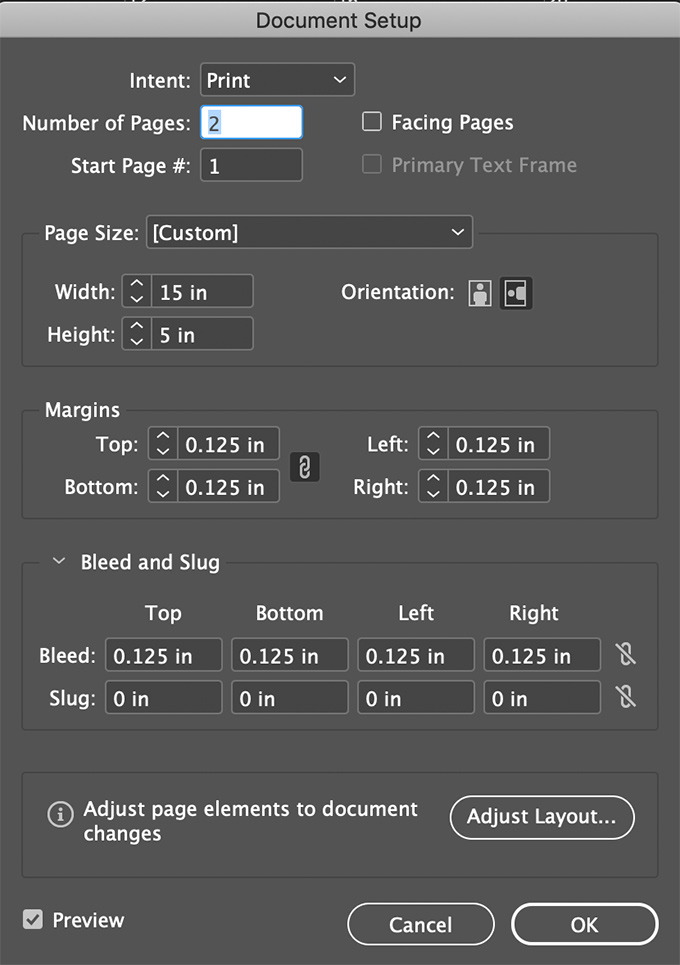 InDesign's workspace operates much like other Adobe programs. The tools are on the left, most panels are on the right, and the Control panel runs along the top of the workspace. Getting around your document is also much the same. You can zoom in/out, scroll, and maneuver your way around with many of the same keyboard shortcuts as Photoshop. See? You probably already know more than you thought! When working in InDesign, it's important to be mindful of how you're currently viewing the document. You can toggle between Normal and Preview view modes by pressing the W key. I like to think the W stands for "wonderful," as Preview mode hides all the margins, guides, pasteboard scratch, bleeds and other non-printing markings, making the document look far more wonderful. Your view mode matters because if you design your layout without paying attention to things like bleeds and margins, without making sure graphics, images, and color fill fully extend to their respective bleeds (shown in red), you may be in for a foul surprise when you go to print.
Working with Images
InDesign keeps track of all the document's images and graphics in the Links panel (Window > Links). Rather than embedding all that big, clunky data, InDesign links to the file's location on your system. (Because of this, if you move or rename a file, you may encounter error messages when you reopen the file. Don't panic! Just use the Links panel menu to relink the file.) In the Links panel, you can see a wealth of information including how many images you're using, where they're located within the document, where they're located within your system, what their effective resolution is, and more.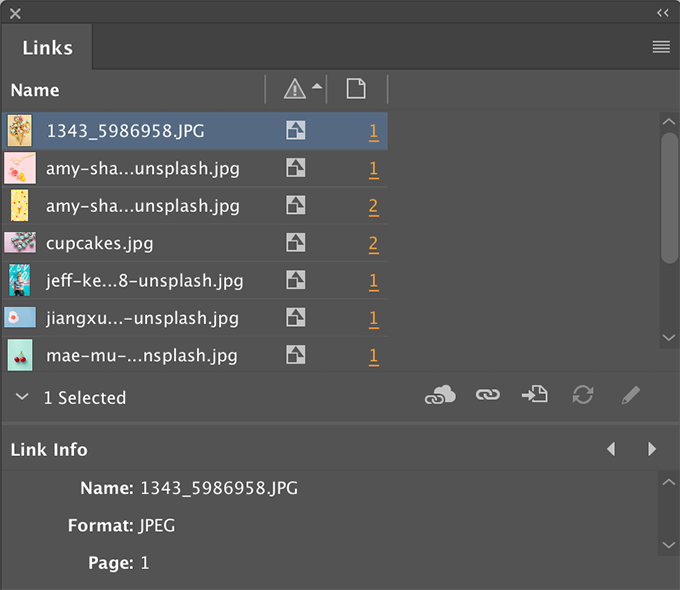 Images and graphics in InDesign operate much like a framed photo that hangs on your wall, each composed of two parts: the image or graphic itself, and the frame surrounding it. This makes it possible to adjust each component separately, using the Selection Tool (V) to adjust the frame (indicated with a blue highlight when selected), and the Direct Selection Tool (A) to directly edit the image within the frame (indicated with a rust color highlight when selected). Using a combination of these two tools, you can achieve the perfect layout with just the right image crop. I've composited the image below to show both the frame and its contents selected at the same time (it's not normally possible to show both active selections at once). You can see how the image itself is scaled much larger than its frame, reducing in only a particular part of the image appearing in the document.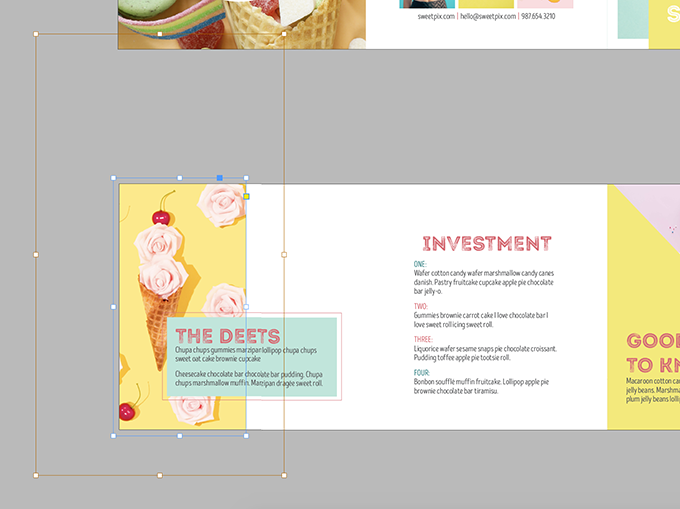 To replace the template's photos with henna images for our fictitious brochure remix, select an image with the Selection Tool (V), then press Cmd/Ctrl+D to open the Place Image command (or choose File > Place) and navigate to the preferred photo. The newly placed image will inherit the fit settings of the image it replaces. To scale or reposition the image within the frame, use the Direct Selection Tool (A) and click to switch the selection from the frame to the content, then adjust as necessary. (Additional Frame Fitting Options can be found by choosing Object > Fitting.) To speed things up, you can also drag and drop from Bridge (or your favorite file browser). Tip: Sometimes when dragging and dropping, it helps to hold the Option/Alt key to prevent creating a new image frame instead of replacing the graphic in the existing one.
Editing Objects, Strokes, and Fills
InDesign objects (frames) can contain photos, graphics, patterns, or fill-colors. They can also have strokes (designer speak for outline). Use the Selection Tool to select one of the color-filled frames in the template, then change the color by going to the Swatches panel (Window > Swatches), making sure to target the fill (instead of the stroke) at the top of the panel before selecting a new color (as can be seen in the image below).
This template contains 12 different curated color themes to choose from, and you can always create more of your own. One of my favorite ways to create a cohesive look is to sample colors directly from the photos I'm working with. To do that, grab the Eyedropper Tool (I) and click on the part of a photo you want to sample. You should see the resulting color reflected in your active color swatch. To add this to the Swatches panel, choose New Color Swatch from the Swatches panel menu. Now you can apply it wherever you choose! In this example, I'm using a crowdsourced color theme from the Adobe Color Themes panel (Window > Color > Adobe Color Themes) to rebrand the brochure. (Adobe Color Themes are also available from the web, so cool!) After swapping the colors and photos, things are really starting to take shape! Next, we'll work on the text.

Working with Type
Perhaps one of the areas where InDesign shines most is text formatting. You can style and adjust all the usual suspects like font, size, treatment, color, etc., but as you'll see shortly, things quickly get super turbocharged when you start working with InDesign's programmable styles. Before we peek at that magic, we'll customize the copy for our henna brochure by grabbing the Type Tool (T) and digging in. Replacing the template text with custom copy is as easy as clicking to insert your cursor, and dragging to highlight everything you want to replace (as you've done in every text editor since the beginning of time). Then just start typing and your new text will replace the old. You can change the font, size, treatment, alignment and more from the Control panel along the top of the workspace (Window > Control). Head to the Swatches panel to change the type's color. Tip: Be sure the type is highlighted first, or you may accidentally add a stroke or change the fill color of the text box. (Speaking from experience, ahem!) In the example below, I've started the process of replacing the template type with custom text and restyling it to suit our fictitious henna artist's brand. For the type, I've chosen Coats for the body copy and Husna for the headline type.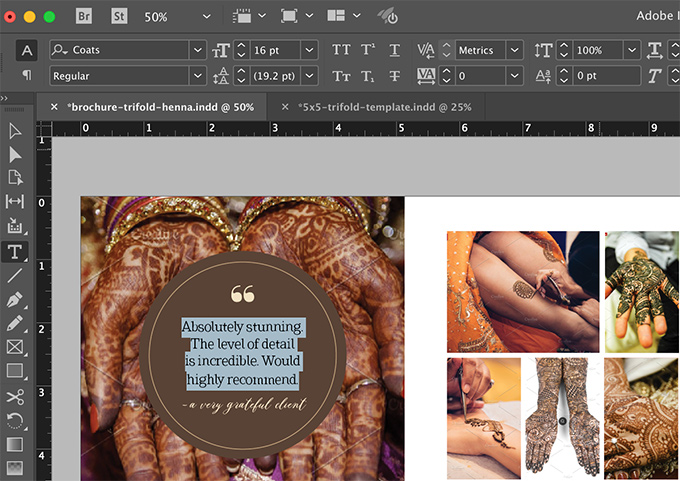 In a relatively small document with few bits of text like this, manually updating and reselling the type goes fairly quickly. If you want to turbocharge the process and make sweeping, document-wide changes with a single click, keep reading to learn how to work magic with InDesign styles.
Next Level InDesign Basics
Are you hooked yet? Ready for more? Whether you're looking to turbocharge your editing and iteration process, up your typographic game, or integrate vector artwork into your documents, get ready because—here we go!
Lightning Fast Edits with InDesign Styles
As mentioned, InDesign has something magical called Styles that make editing and updating documents ridiculously fast. You can think of styles as fashion recipes, of a sort. They allow you to define a certain look (a particular font, in a particular size/color, etc.) and then assign those styles to different paragraphs by tagging them. This. Is. Huge. Using styles means that when you want to change something, like, say… all the headline text in the entire document, you simply update the corresponding Paragraph Style, and all the text (that's tagged with the particular style) will instantly update. Full customization with a single click? Yes, please! You can create endless styles for Paragraphs, Characters, Objects, and more. (Their respective panels can all be found by choosing Window > Styles.) It takes a few moments for the initial setup, but if the document is one you plan to routinely remix and reuse (or just edit a lot), styles will save you a ton of work in the long run. Playing around with a template that includes the use of styles is a great way to get the hang of it. Don't be afraid to experiment, it's one of the quickest ways to learn!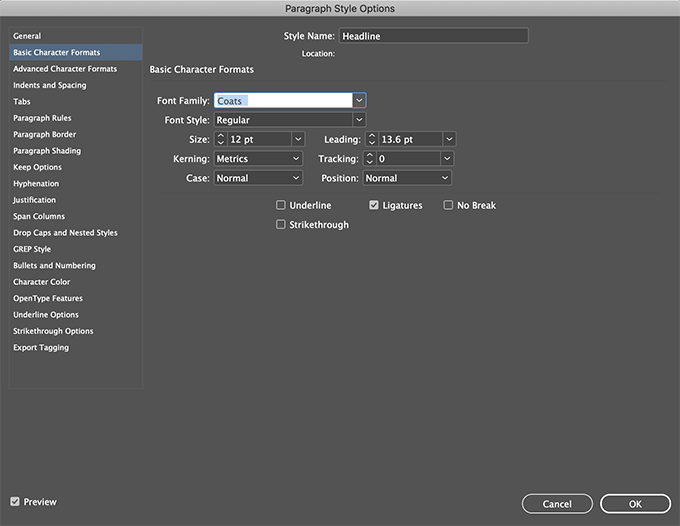 Get Your Glyphs On
Type nerds r-e-j-o-i-c-e! Unlock the magic of your font collection with the Glyphs panel (Window > Type and Tables > Glyphs). When combined with qualifying fonts, the Glyphs panel makes it possible to totally transform your type. What do I mean by totally transform? Check out this before and after.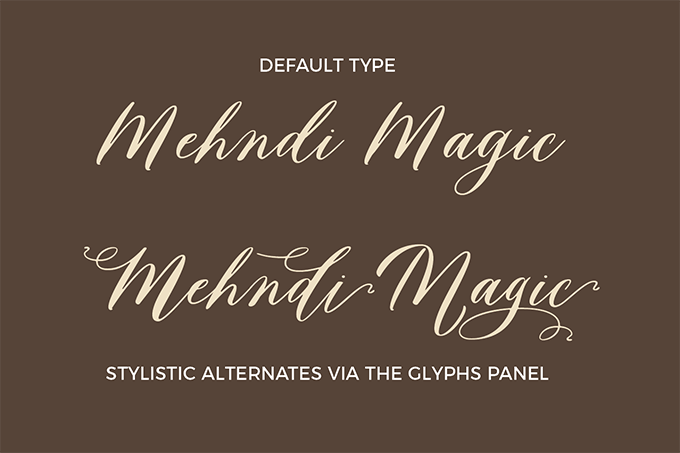 Glyphs are the individual characters (or symbols) a font contains. Each letter, number, punctuation, etc. is a glyph. Some fonts have only basic glyphs (a basic set of letters and numbers), and some have hundreds. The extra characters in some fonts take the form of stylistic alternates, ligatures, swashes, dingbats, and multi-language support, among others. The only way to know ahead of time what kinds of glyphs a font has, is to look over the product details very carefully. In the example above, I chose to use the Husna font specifically because of all the extra stylistic alternates included. Once you set your text (using the default characters), highlight the first letter, then open the Glyphs panel and scroll through all the options. (Depending on the way some fonts like Husna are built, you may see a fly-out menu appear as you highlight each of the characters in your type sample.) Replacing one character with another is as simple as highlighting, then clicking the chosen replacement.
Working with .AI, .EPS, and Other Files in InDesign
Of course, InDesign can work with all kinds of images and graphics, not just photographs. It can handle vectors with just as much grace. To really make the henna brochure pop, let's add some mehndi design elements.
This set comes formatted in a variety of different file types, but to showcase InDesign's vector editing capabilities, I'll choose the .EPS format. If necessary, open the file in Illustrator to isolate any specific elements and/or remove backgrounds, then bring it into InDesign with a quick copy and paste. This will preserve the vector format (it's essentially just another object now), allowing you to edit/apply any stroke or fill-color just as would to any frame. You can scale it as you would any object by Shift+dragging with the Selection Tool. Here, I've changed the fill color, scaled the size, and sent the object to the back (Object > Arrange > Send to Back) to position it behind the text.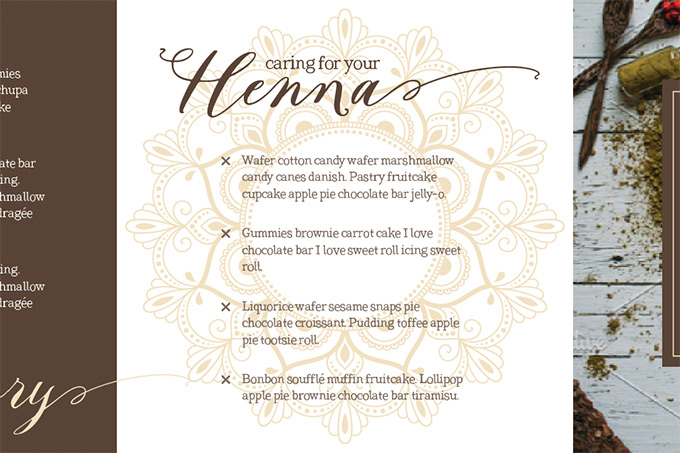 Behold! The final design after changing the images, styling the type, and converting to brand colors. Isn't it amazing how a few simple changes can completely overhaul the look and feel? InDesign is power, baby!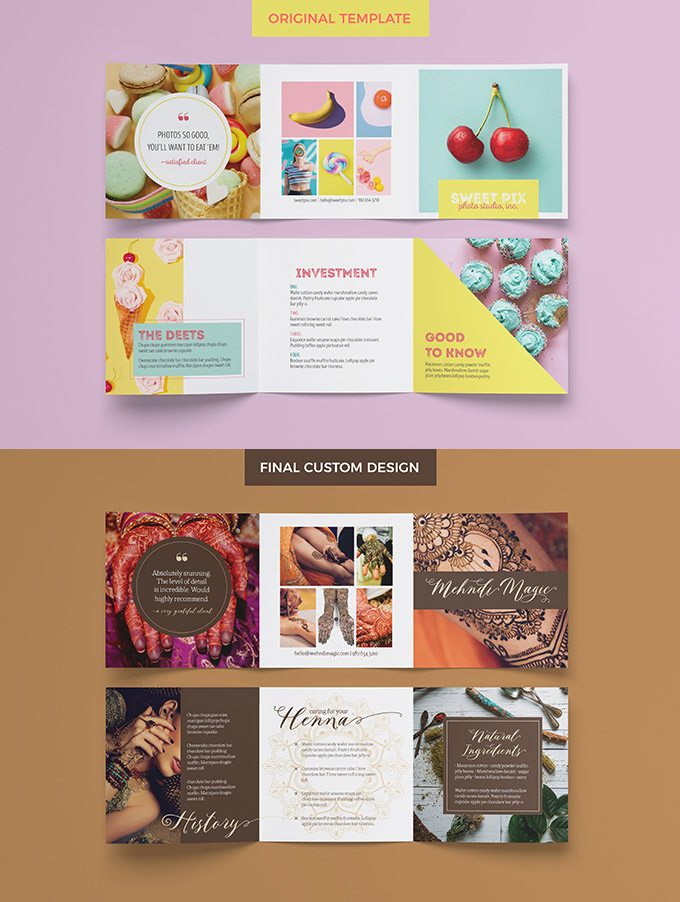 Making the Most of Your Layout Design
As you can see, the options are pretty endless when it comes to remixing layouts and design elements. In this final example, we'll explore yet another way to make the most of your work by repurposing selected elements for social media. More results with less work. (Yes, it's as awesome as it sounds!) Let's say we want to call attention to the natural ingredients of the ficticious henna product. Because we already have a portion of the brochure design that covers this, repurposing the content is a piece-of-cake. Just grab the Selection Tool and click-drag across the farthest right third of Page 2 to marquee select everything on that panel: the photo, the color block object, and the text. Then, choose File > Export and select JPEG for the format. In the following dialogue window, choose the appropriate settings (shown below) and click Export.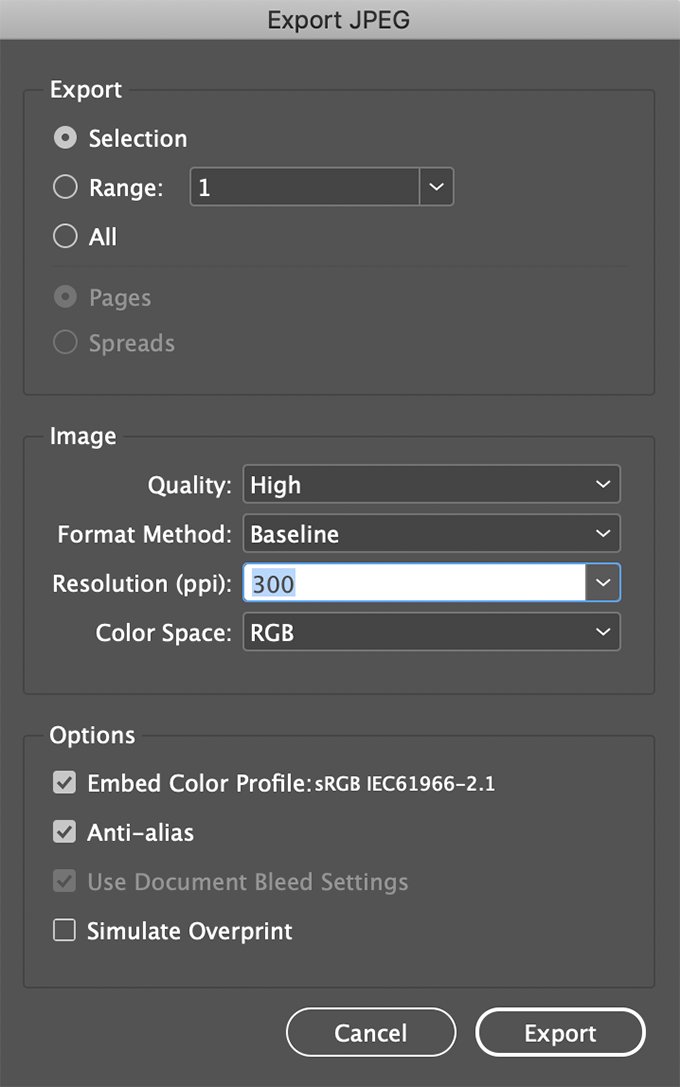 Now your work is doing double-duty as both a brochure and a social media post. Bravo, you.
You Did It!
Do you feel that? Your new InDesign skills are taking hold! We started with a simple InDesign brochure template, walked through some Indesign basics, and remixed it into something new. We even got an Insta post out of the deal. How cool is that? Now the only question is, what will you make next?
---
Products Seen In This Post: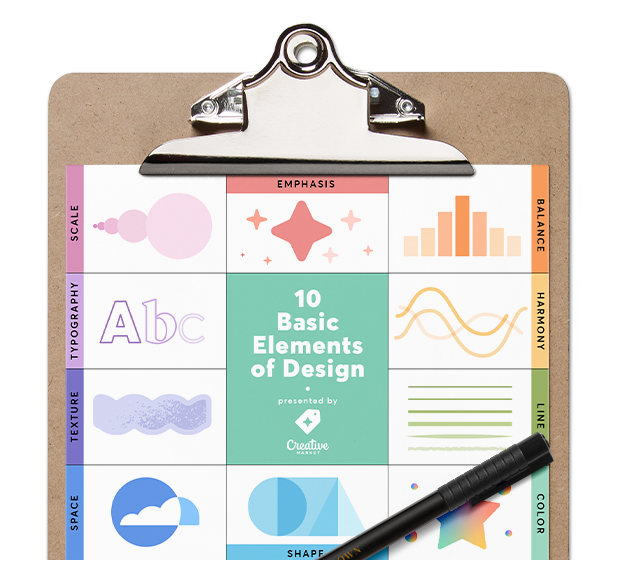 10 design fundamentals, summarized
Free Design Poster
Download this printable PDF poster and hang these 10 design principles on your favorite wall.
Get the file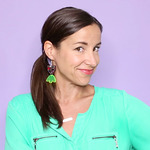 Khara Plicanic
Professional photographer, turned celebrated instructor, Khara Plicanic has made an art form of simplifying even the most complicated photography and design topics, creating learning opportunities for audiences of all skill levels in more than 30 courses on global platforms including Creative Live a…
View More Posts