20 Art Deco Fonts to Create Retro Logos, Posters, and Websites
With its marriage of geometric shapes and opulent detailing, Art Deco style adds an elegant, retro touch. These 20 fonts inspired by this Roaring Twenties trend can bring a bit of glitz and glamour to your next design project.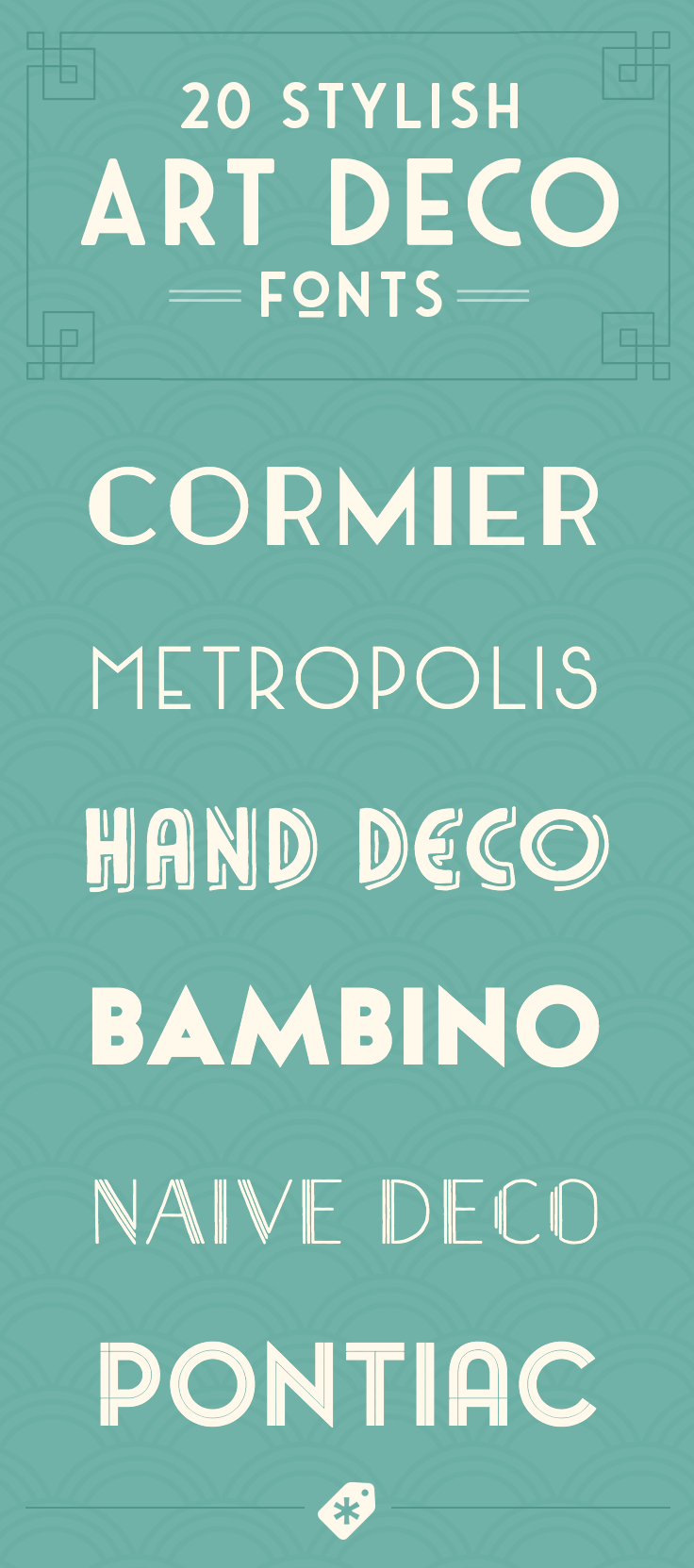 With its marriage of modern, geometric shapes and opulent detailing, Art Deco style adds an elegant, retro touch in design projects of all kinds, and fonts inspired by this Roaring Twenties trend can be used to create distinctive logos, posters, websites and more. These 20 Art Deco fonts can bring a bit of glitz and glamour to your next design project. You can find even more creative Art Deco fonts here.
Pin it for later!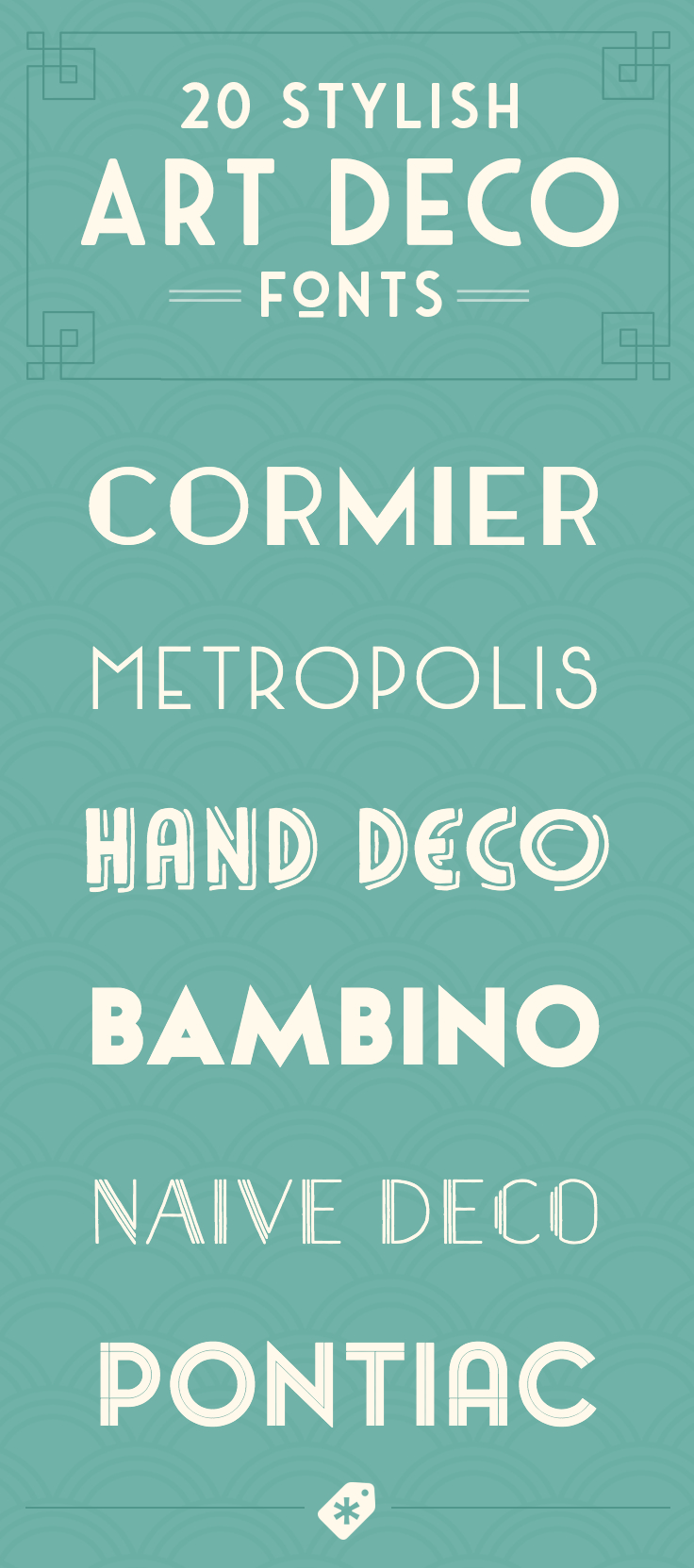 Featuring the clean sans serif strokes seen on vintage movie posters, Cormier Typeface captures the look of Art Deco in Rough, Double and Regular Styles. Cormier Typeface includes a full set of English uppercase letters, numbers and punctuation, with an alternate letter set that can be toggled with the caps lock.
Part of a larger Art Deco bundle of fonts and ornaments, Metropolis features a full set of uppercase letters, numbers and punctuation, with alternate characters available by toggling the caps lock. Metropolis also comes with more than 50 geometric, art deco-themed ornaments.
A sans serif display typeface featuring uppercase, multilingual letters, Bjorn adds a futuristic, Art Deco feel to headers, posters and logos. Available in three styles, Bjorn is a highly readable font that works in both large and small sizes.
Featuring the tall, narrow letterforms characteristic of Art Deco, the NovaDeco font family combines retro styling with a contemporary feel. The Nova Deco family comes in four weights and includes 411 glyphs with support for both Latin and Greek alphabets.
The Bellerose Pro Font Family is a minimal, rounded sans serif font family with Art Deco style embellishments. The Bellerose Font Family comes in three weights – Light, Medium and Bold.
A heavy, sans serif font with the clean rounded lines typical of Art Deco, Haus was inspired by Bauhaus and the "grotesk" typefaces of the 1930s. Haus Sans Extra Bold comes in six weights and includes 389 glyphs with support for nearly all Latin alphabets.
Influenced by the Futura-like fonts of the 1930s and Art Deco style, Bambino is a rounded sans serif font family that includes 12 weights, with italics. Bambino comes in weights ranging from hair thin to ultra black, for use in a variety of display projects.
Inspired by the "golden age" of Hollywood and vintage movies, MB Picture House is a small caps font that includes two styles and three weights. MB Picture House comes with old style numerals and extended language support.
HandDeco features four sans serif display fonts inspired by early 20th-century Art Deco typefaces. Blending the spirit of vintage display type with the craft of hand drawn lettering, Hand Deco contains 130 glyphs and is also available as a web font.
Retro Deco is a handcrafted, Art Deco-inspired uppercase font that has a modern twist. The Retro Deco set also includes numbers, alternative characters and special characters.
Inspired by Art Deco architectural styles, Cowling Sans AOE is a modern revival of a lettering design from 1918. Cowling Sans AOE includes fractionals, ordinals and old style figures in smallcap and caps to smallcap sets, with an expanded language glyph set.
A modern sans serif font with a vintage feel that suggests classic Art Deco style, Sinclaire comes in two weights and includes a set of uppercase characters, numerals and punctuation.
A versatile font family with vintage Art Deco touches, Emblema Headline features four styles: headline, inline, fill and shadow. The Emblema Headline metafamily also includes both upper and lower case, with Deco-themed stylistic alternatives.
With widely spaced thin letters, LHF Welo Thin features the classic 1930s Art Deco style seen in vintage movie posters. The LHF Welo Thin set includes over 30 bonus alternate letterforms and two sets of small caps.
Naïve Deco Sans is a sans serif handwritten font featuring versions with both double and triple lines. The Naïve Deco Sans font group also includes "decomposed" versions for adding custom colors to create a bright Deco effect.
A rounded sans serif font with open, Art Deco style letters, Pontiac suggests 1930s French cinema posters. The basic Pontiac Font Pack includes four styles: light, regular, bold and black.
An inline version of Pontiac Basic, Pontiac Inline is a finely balanced font that features 3D, shadow and inline inside variations. Pontiac Inline can be customized by adding colors and superimposing elements for unique, Art Deco-inspired effects.
Like Haus Sans Extra Bold, Haus Sans Bold is a bold serif font inspired by the Bauhaus and grotesk typefaces of Europe in the 1930s. Haus Sans Bold is available in six weights with regular and italic versions, and includes 389 glyphs with multilingual support for Latin alphabets.
Inspired by the Art Deco style of French cafes, Saveur Sans Round is an all caps sans serif display font family that combines retro styling with a modern feel. The Saveur Sans Round font family includes four styles with alternate O and E letterforms.
The Skywalker ArtDeco Typeface includes 10 Art Deco style display fonts in both regular and grunge styles. Featuring inline, shadow and bold variants, the Skywalker ArtDeco Typeface family also comes with a bonus set of downloadable freebies.
Art Deco's heyday was over by the 1940s. But Art Deco style lives on in modern fonts that add its sleek, distinctive look to websites, posters, and design projects of all kinds.
---
Products Seen In This Post:
Getting started with hand lettering?
Free lettering worksheets
Download these worksheets and start practicing with simple instructions and tracing exercises.
Download now!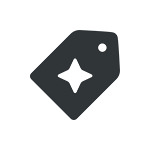 Creative Market