How to Batch Resize Photos in Photoshop in Only 2 Minutes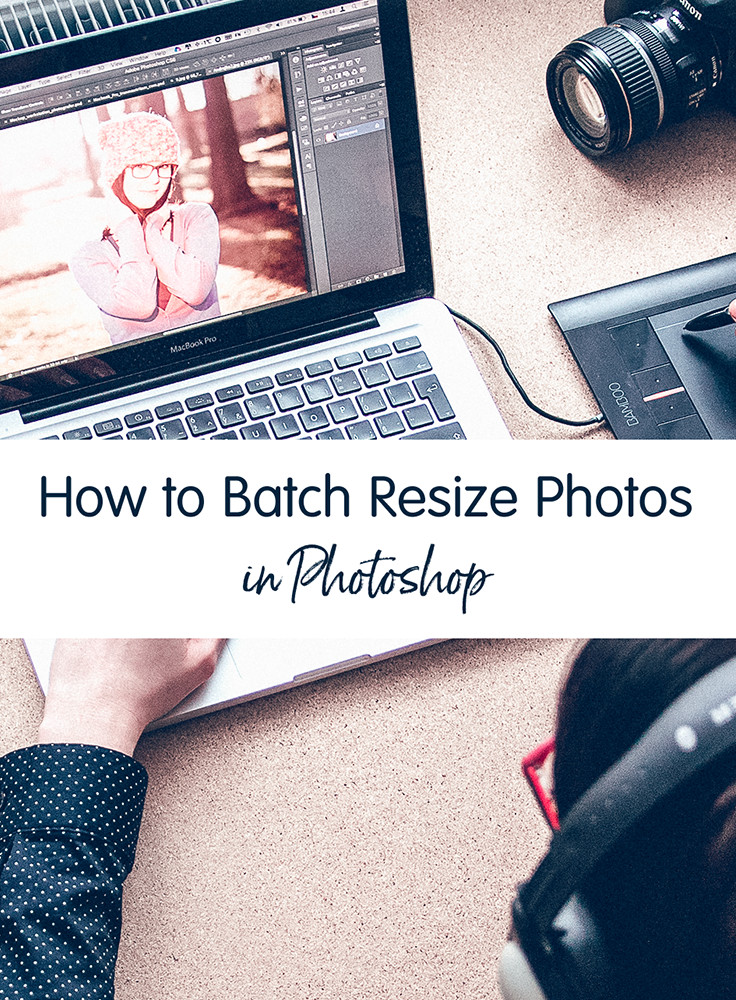 The following tutorial is a guest post by our friends at PHLEARN, the internet's top destination for Photoshop tutorials. Hey all, my name is Aaron Nace and you can find me on phlearn.com, where we make learning fun. Today, I have an awesome time-saving tutorial for you: I'm going to show you how to batch resize a bunch of photos in just under two minutes!
Why Resize Your Images
This trick is useful for many different purposes. Imagine getting hired to take photos for an event like a wedding or birthday. Throughout the day you're likely going to be taking hundreds of images, in some cases maybe a couple of thousand depending on how long and how crazy the event is. As you know, digital cameras capture huge files and that makes it difficult, for instance, to send your client something for social media. You definitely don't need to be sending your client the entire set of full-size images for that use. What you'll probably want is something along the lines of 800 pixel wide images. With Photoshop, you can simply take an entire folder, resize the whole thing, and then automatically save it. It's an awesome feature that, to my surprise, not a whole lot of people actually know about, so I'm going to show you how to do it in under 2 minutes. All that being said, let's get into our tutorial.
Step by Step Instructions
Now the first thing I want to do is bring one of my images into Photoshop. You can do this by having the folder open and clicking and dragging the image on to your Photoshop workspace. If you don't have a folder set up already, go to your Desktop, create the folder, and add some images.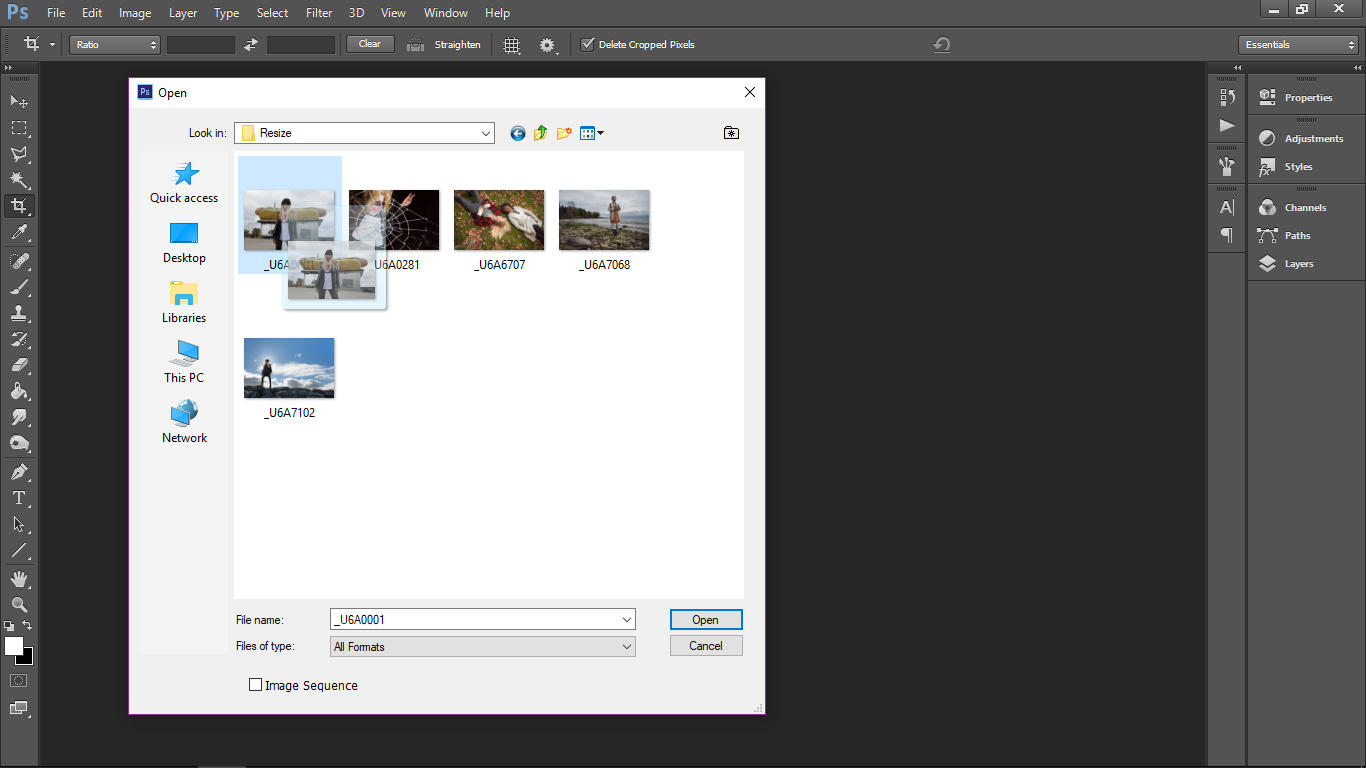 Locate your folder wherever you have it stored and click on the first image in your folder.
 Once you have done that, you simply press the Open button at the bottom right-hand side of your opened window.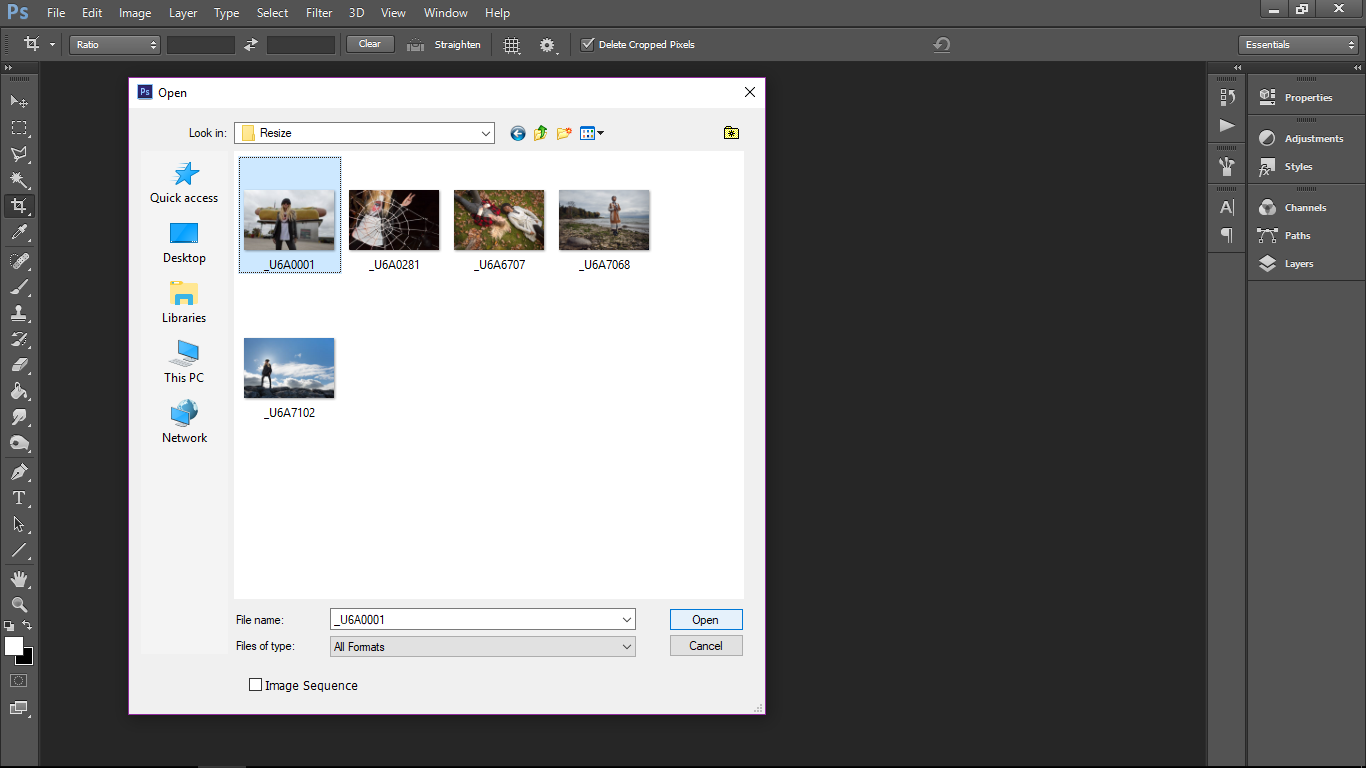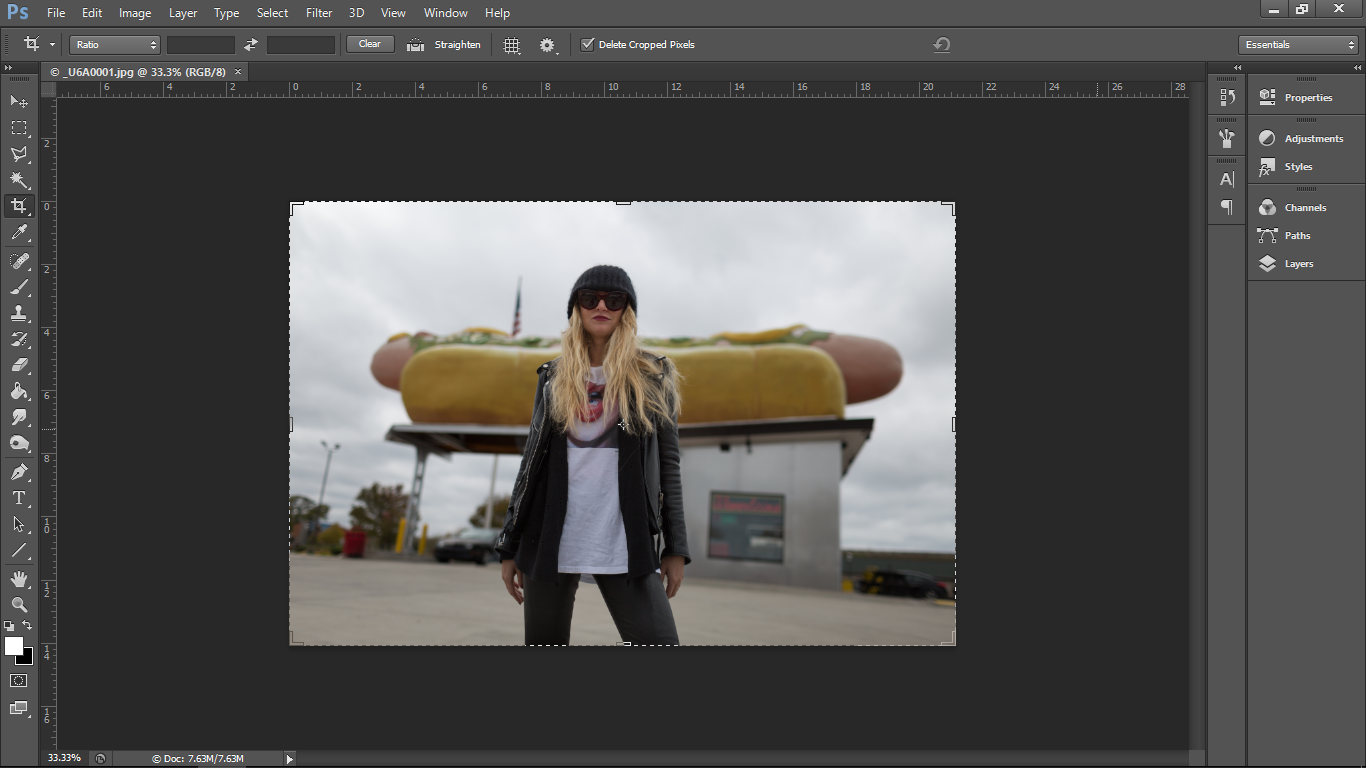 Next, go to Window → Actions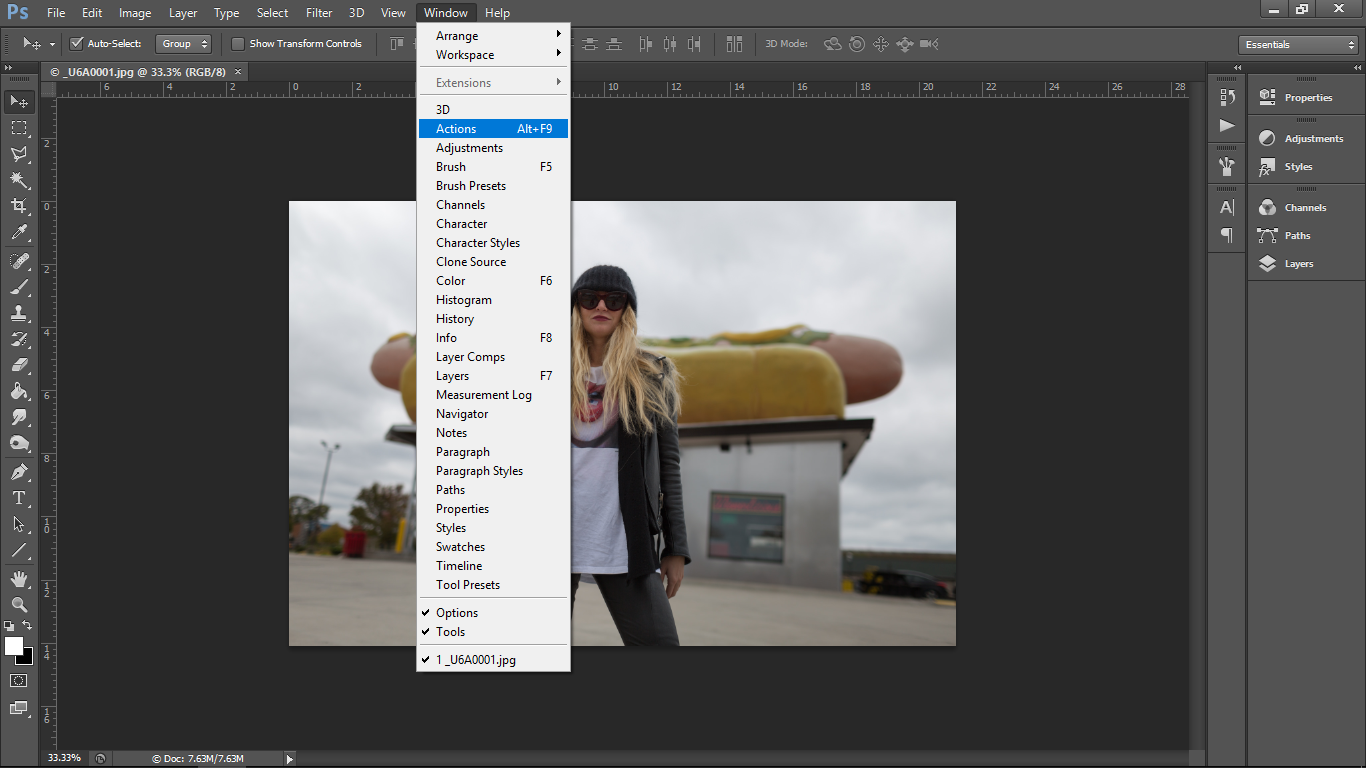 The Actions Panel will appear on your screen and you will see a few little icons at the bottom of the panel. The one that I have highlighted is the New Folder icon. Click on that to create a new set, change the folder's name to Resize, and click OK.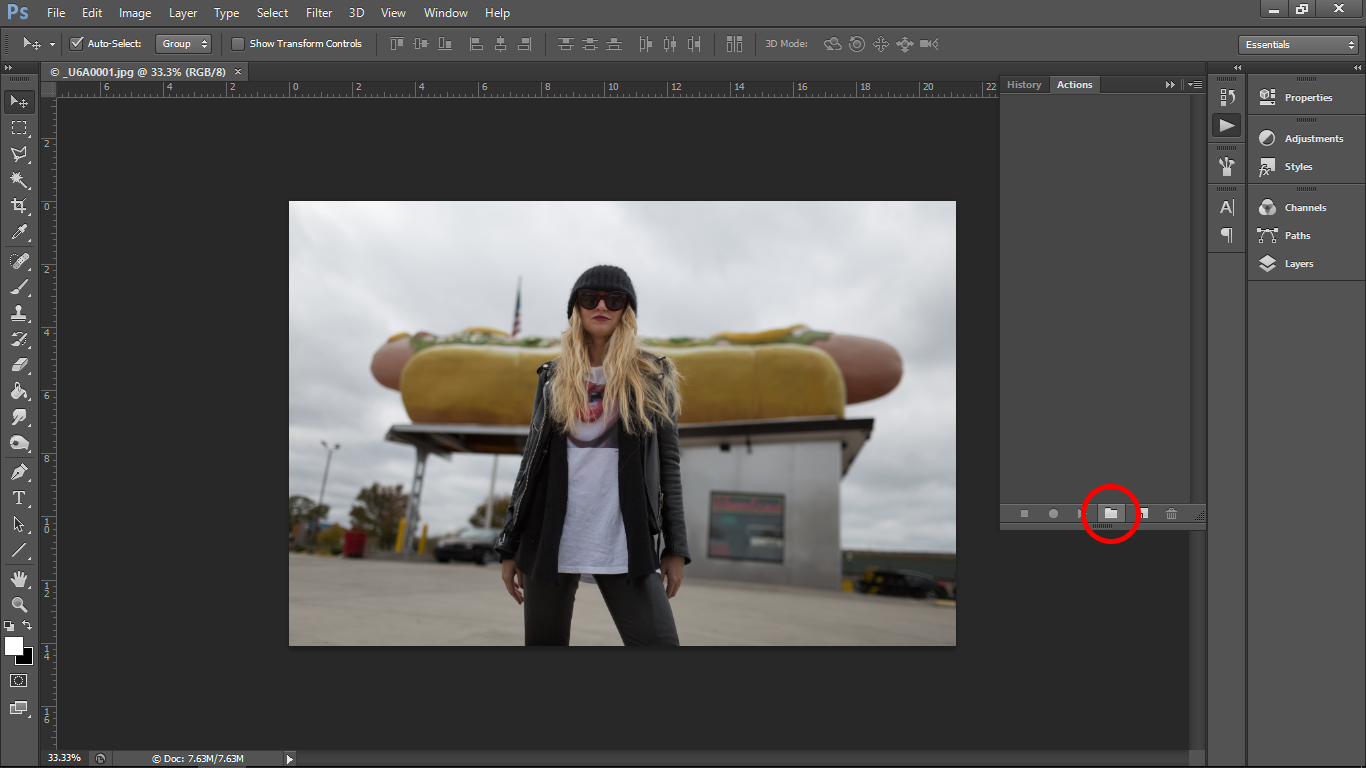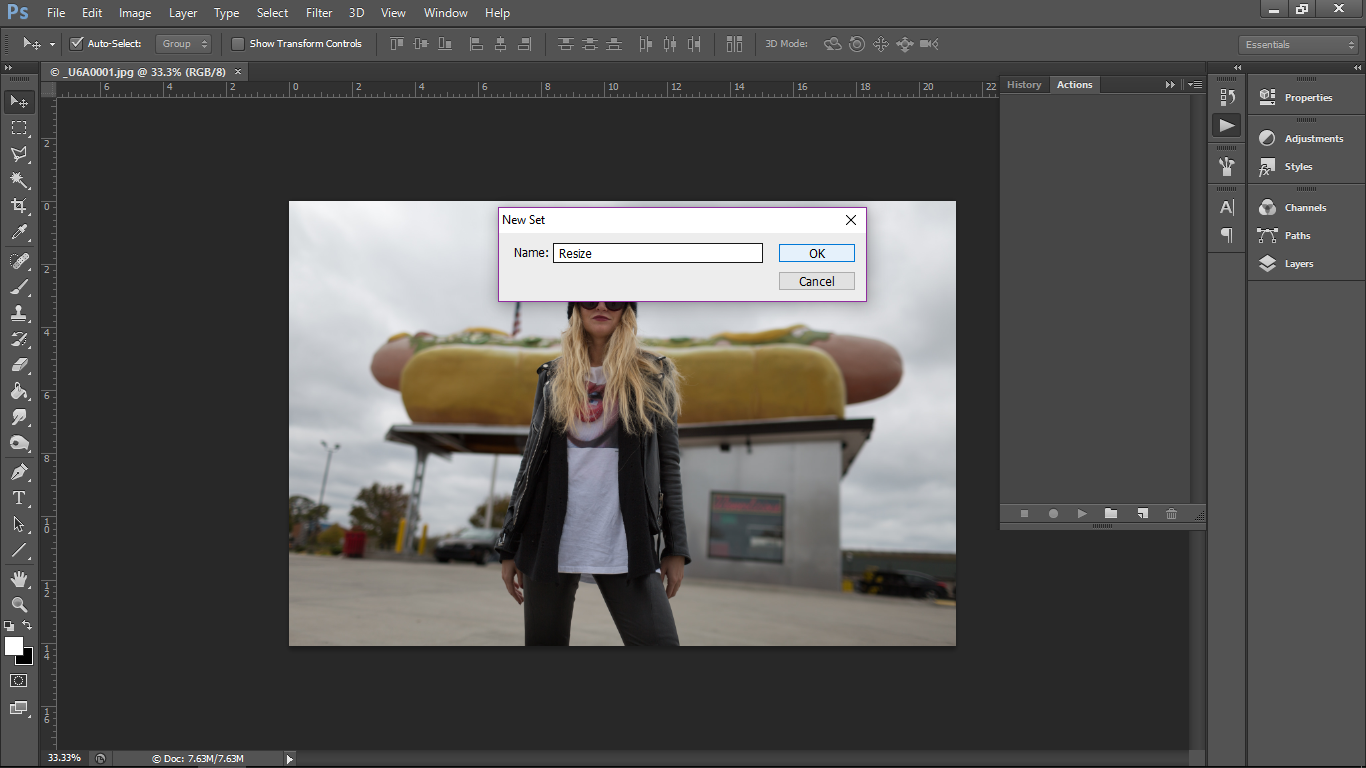 Then, I'm going to click on the New Action icon — which is the next icon to the right.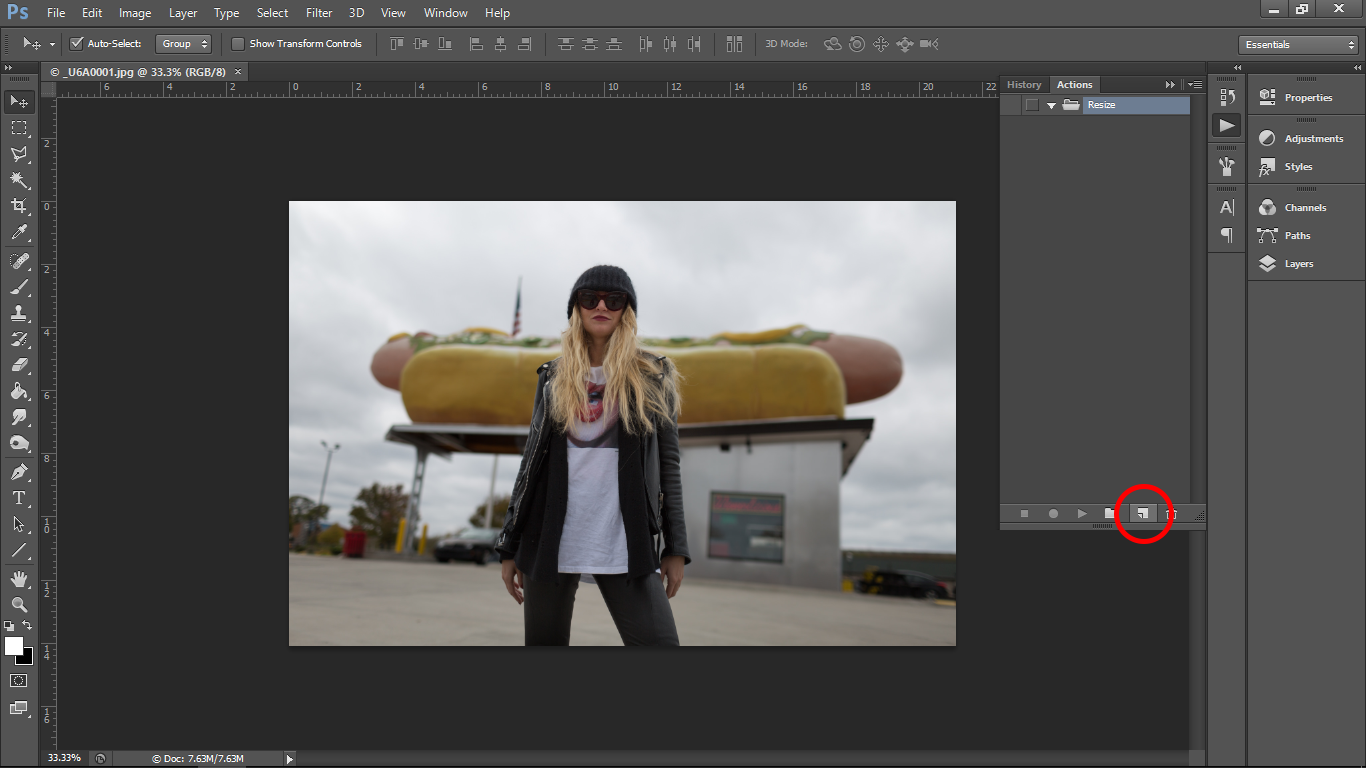 Change the name to 800px and click on Record. 
Now it is recording everything that I do, so if I go to Image → Image Size and change the 2000px width to 800px, click OK, then Photoshop is going to record that as an action.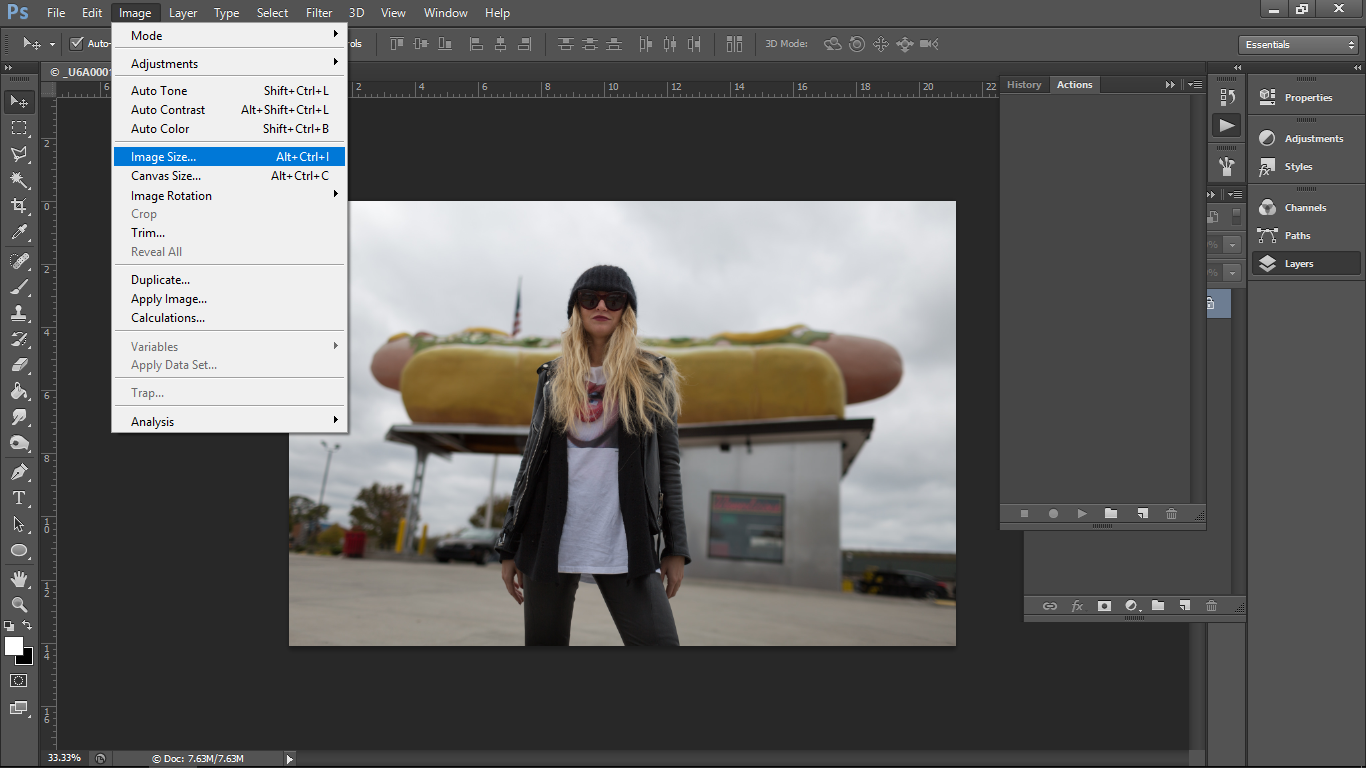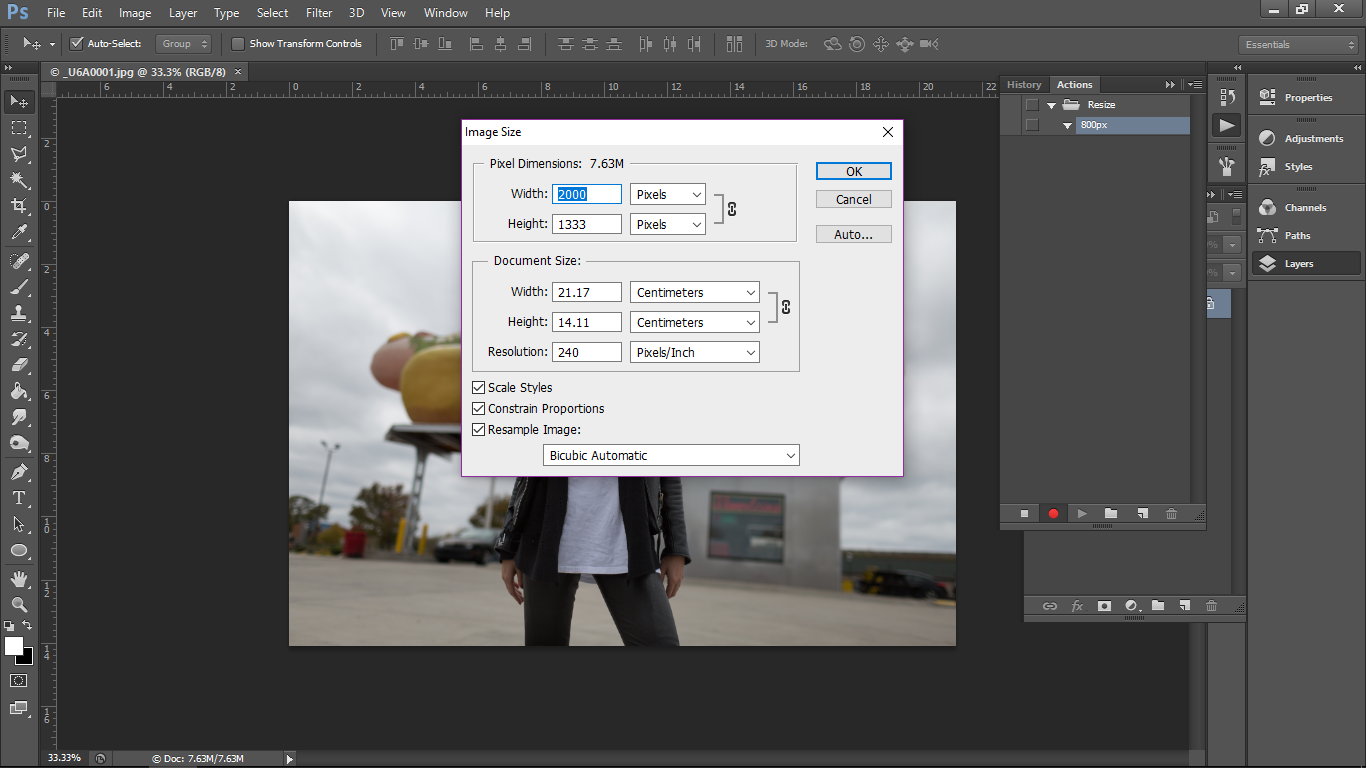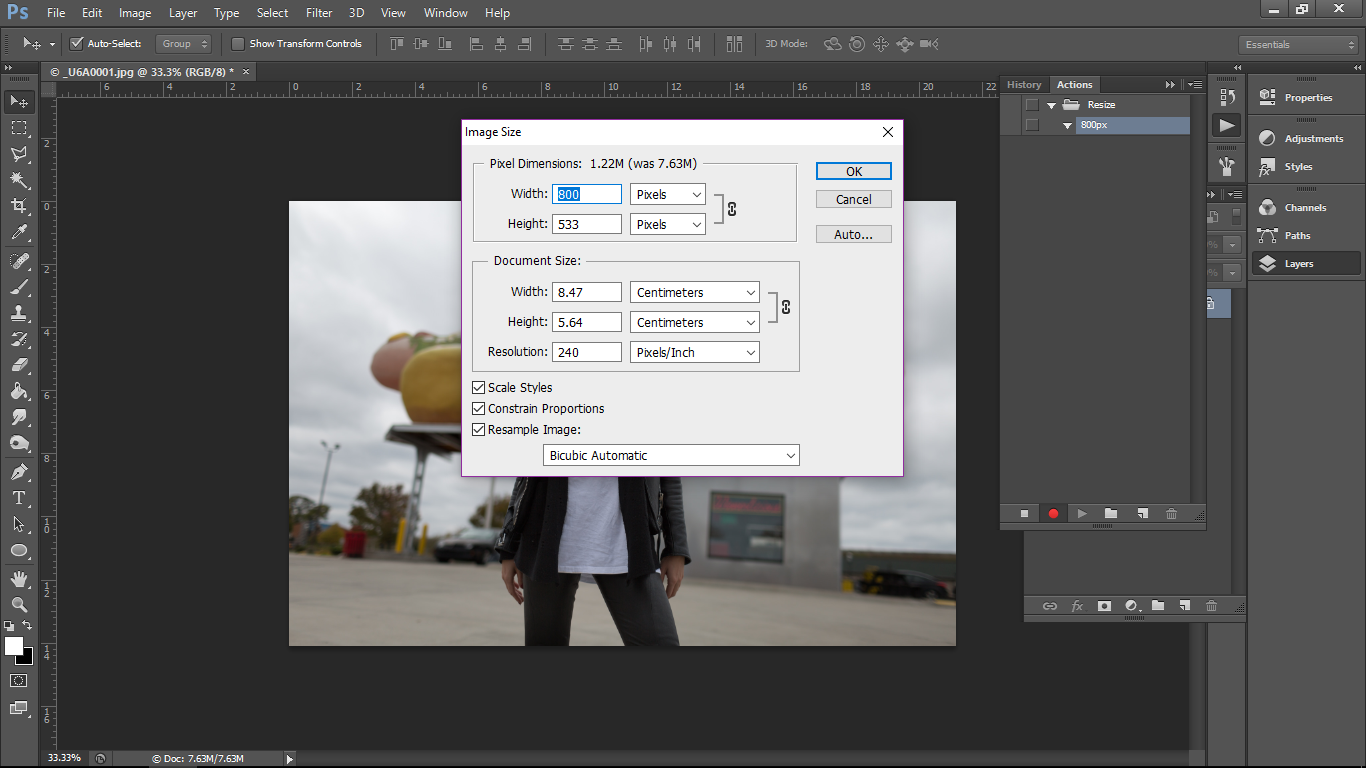 You can now see the steps that we took to change the size of our image in the Actions Panel.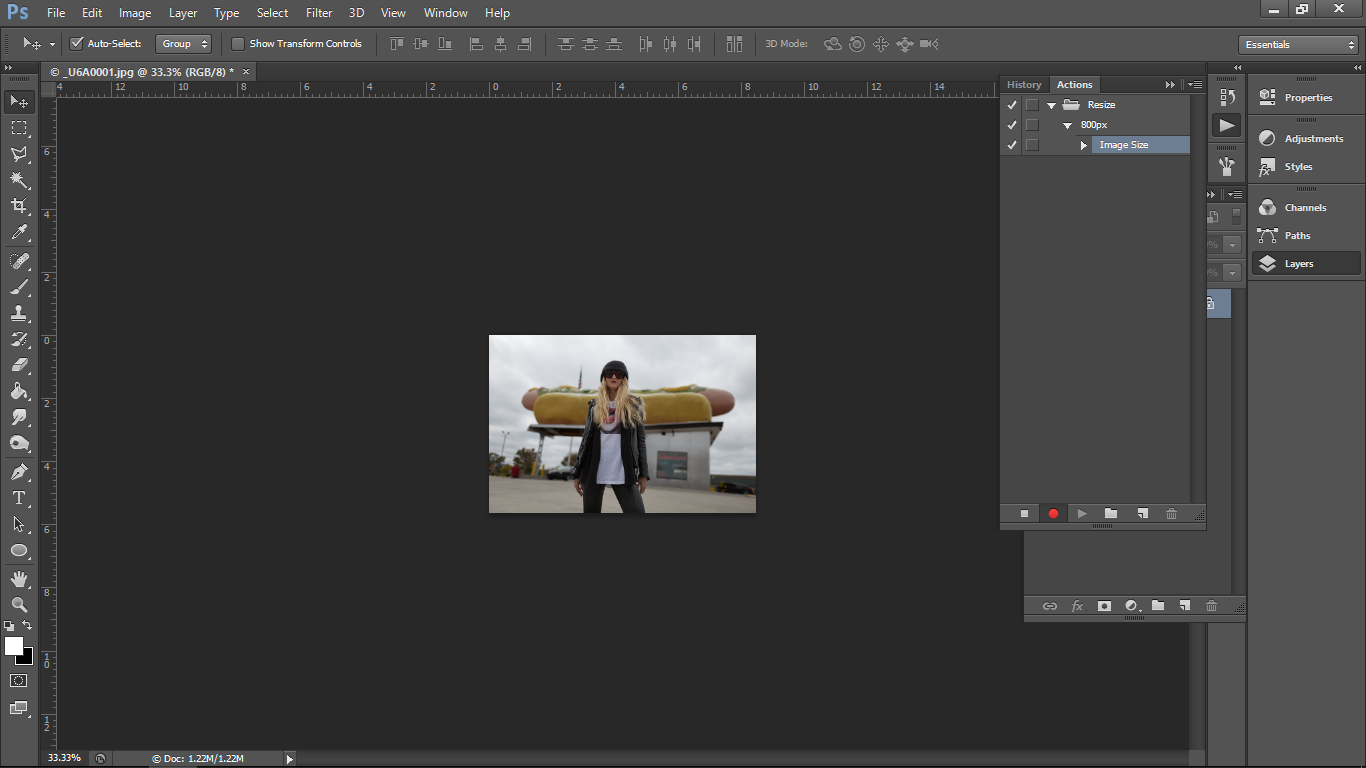 Next just go to File → Save As.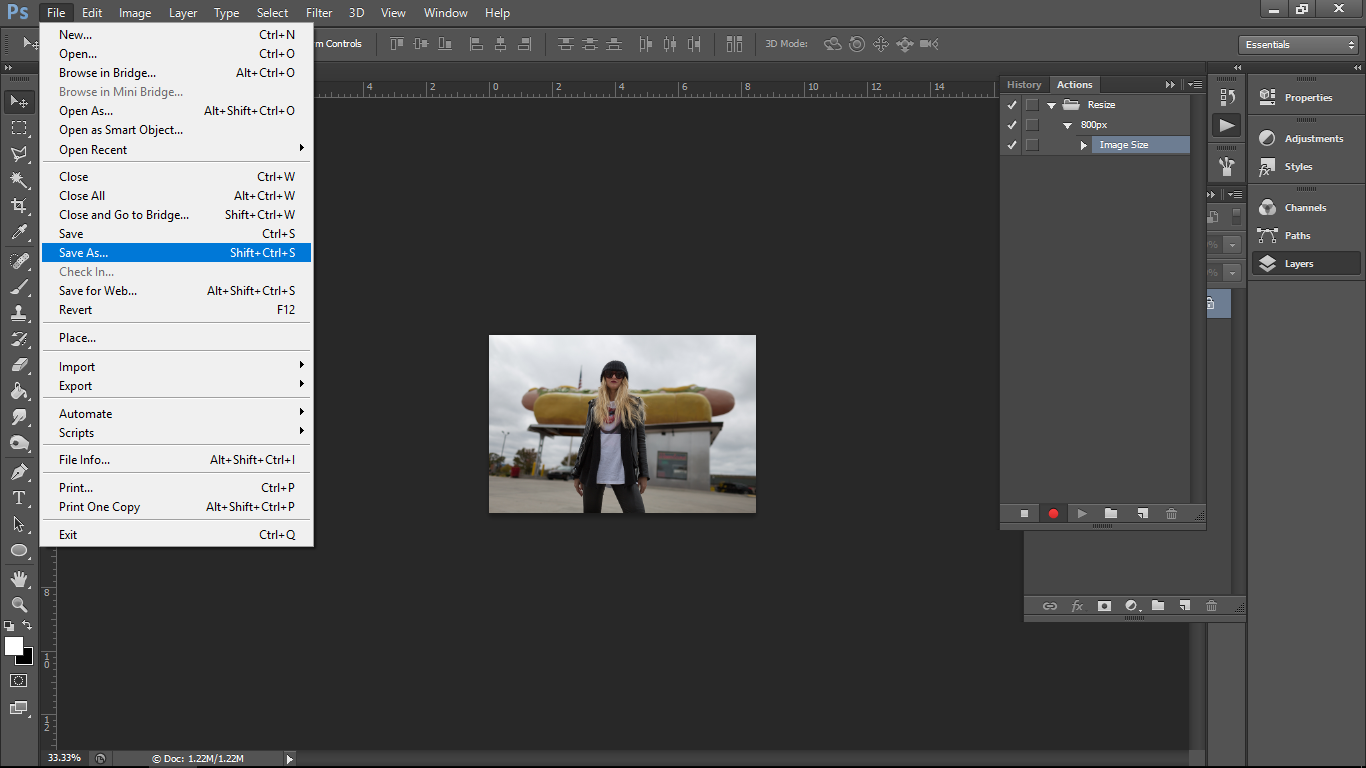 Don't worry about where to place the file, I'm just going to save it to my Desktop.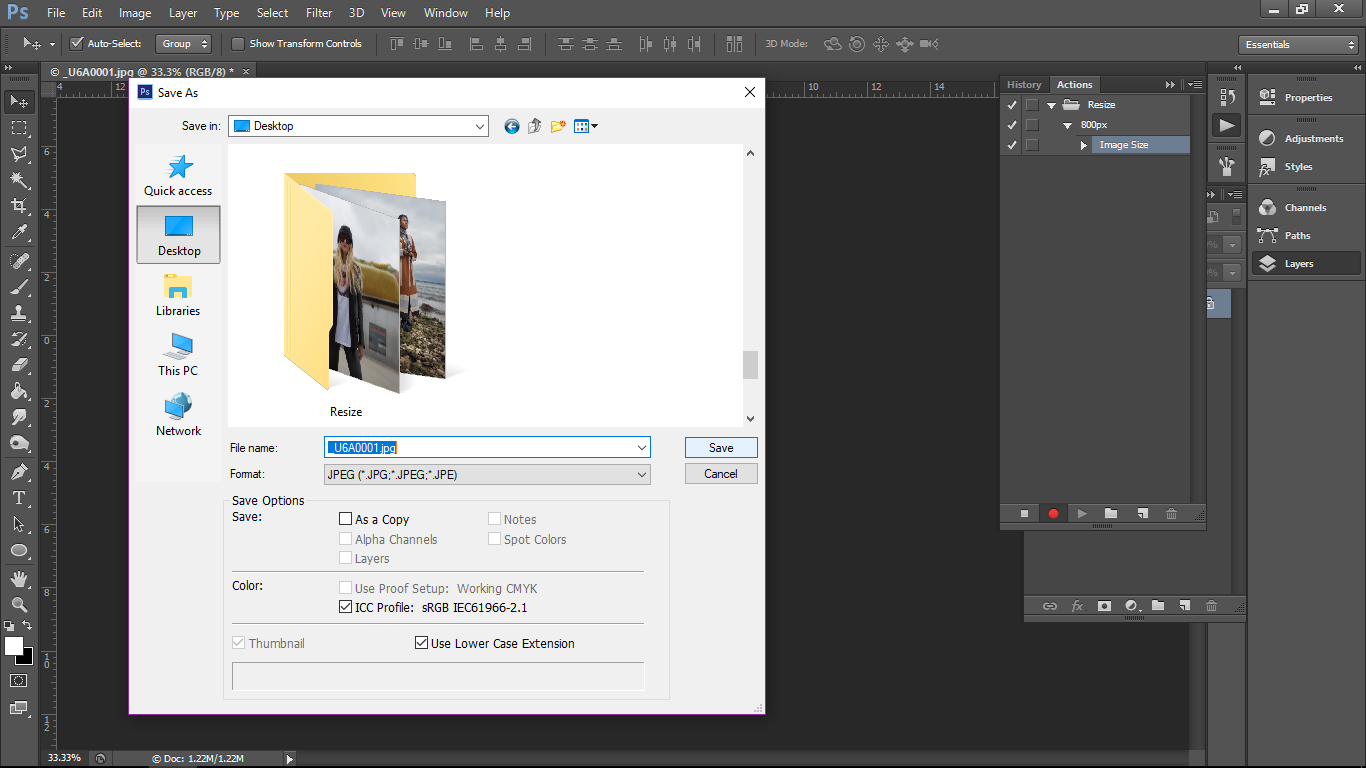 You will now see the JPEG Options Panel appear. Change the quality to 10, which is roughly 80-90%. I've found that at 800px you won't ever lose any quality and it will reduce the size of the file further which of course will help save space in the long run when sending images over to your client. When you have done that click on OK and your file will be on your Desktop.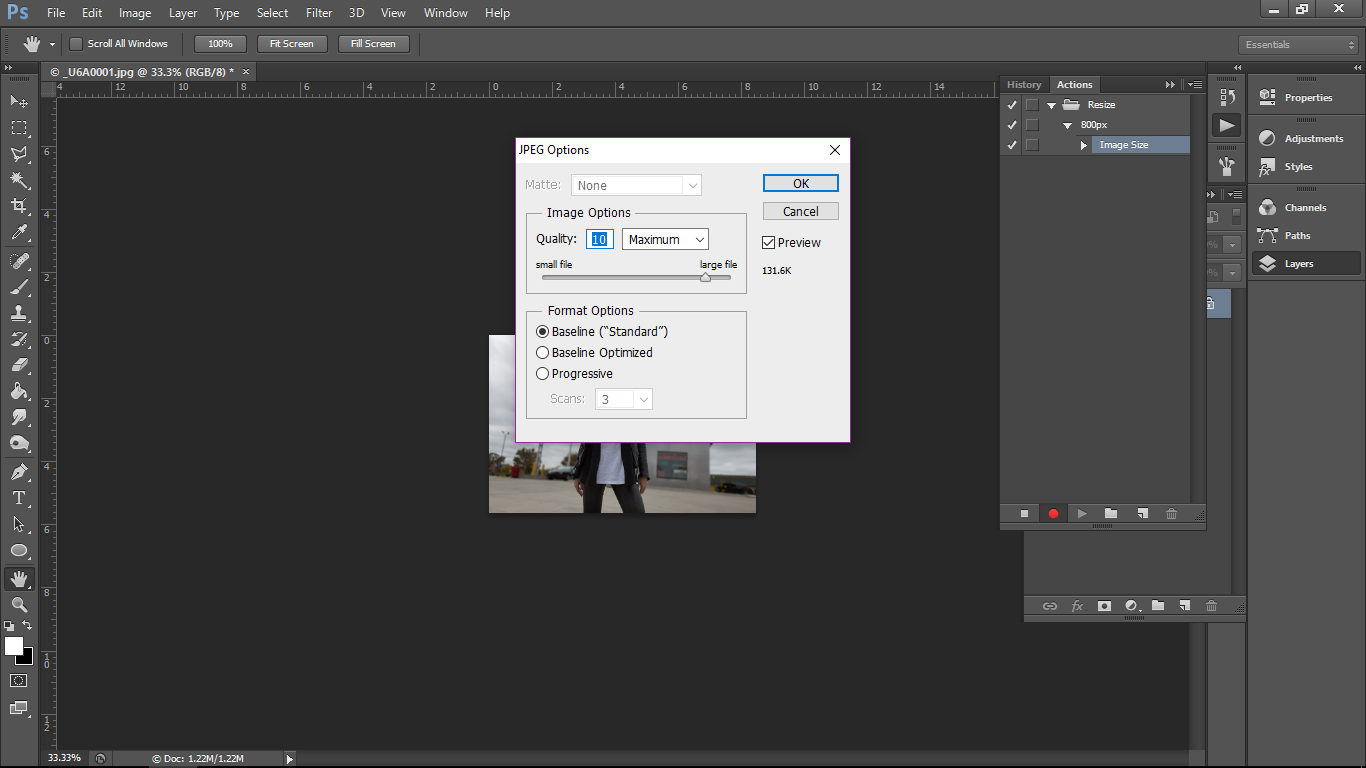 Now you can hit Stop on the Actions Panel to stop recording. This is the very first icon where we created our original folder and action — you'll see it right beside the red record icon.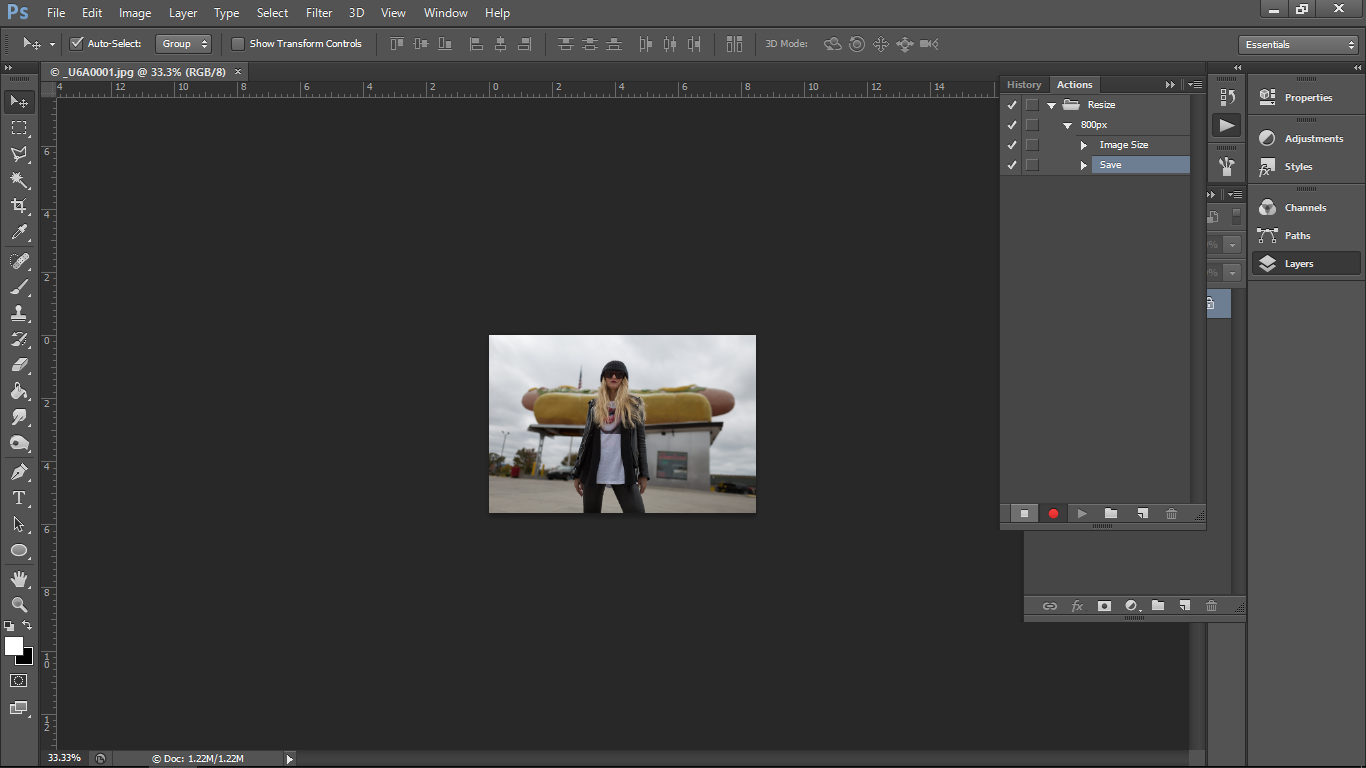 Go to File, then down to Automate, and we're going to go to Batch.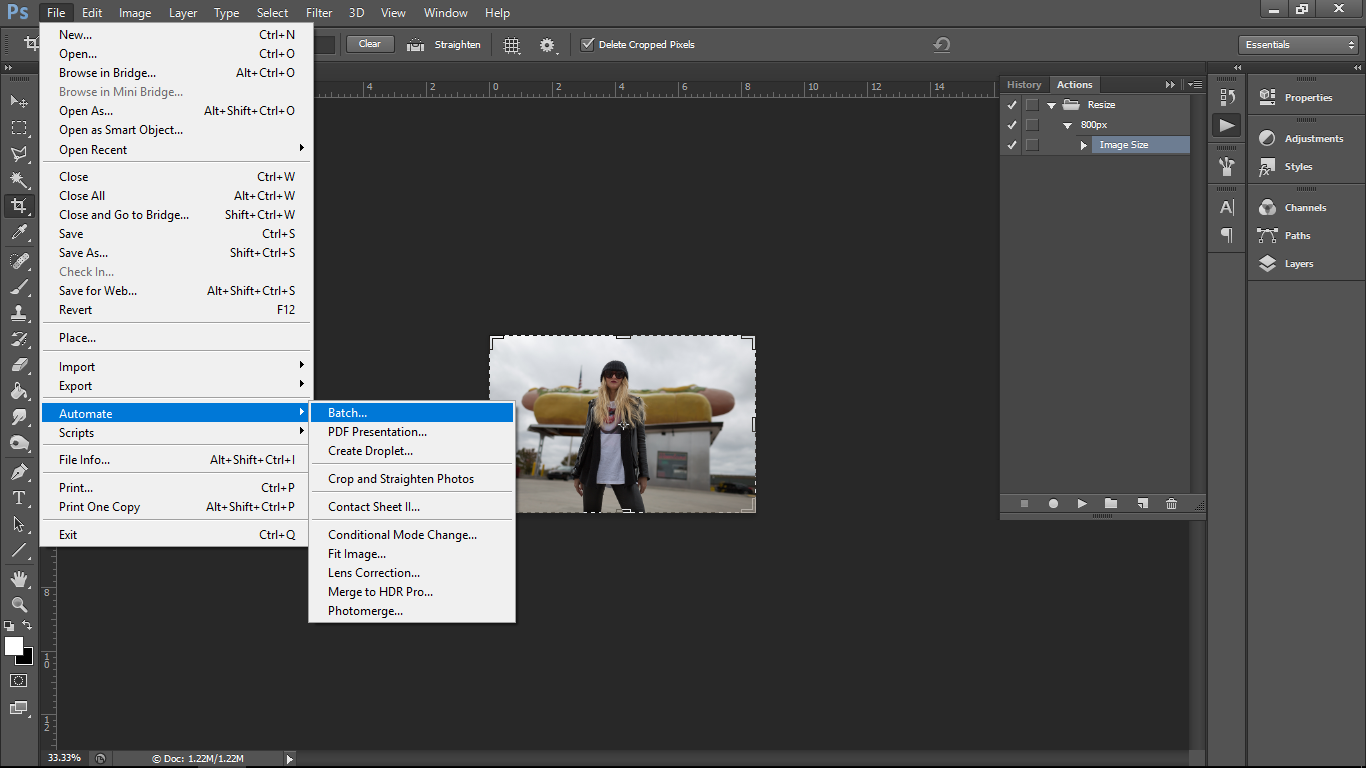 So here in our Batch, we want to choose our set. This is our action set, so choose the folder that we created at the start called Resize, which contains the images that we want to resize all in there and ready to go. This is at the top where you can see the section named Play. Below that you'll see Action, choose 800px. The section below that is Source. Choose Folder in the drop-down, click on Choose, and locate the Resize folder on your Desktop. You will also see two boxes that I have checked off: Suppress File Open Actions Dialogs and Suppress Color Profile Warnings. Make sure these are checked. Below that you will see Destination. Choose Folder in the drop-down box.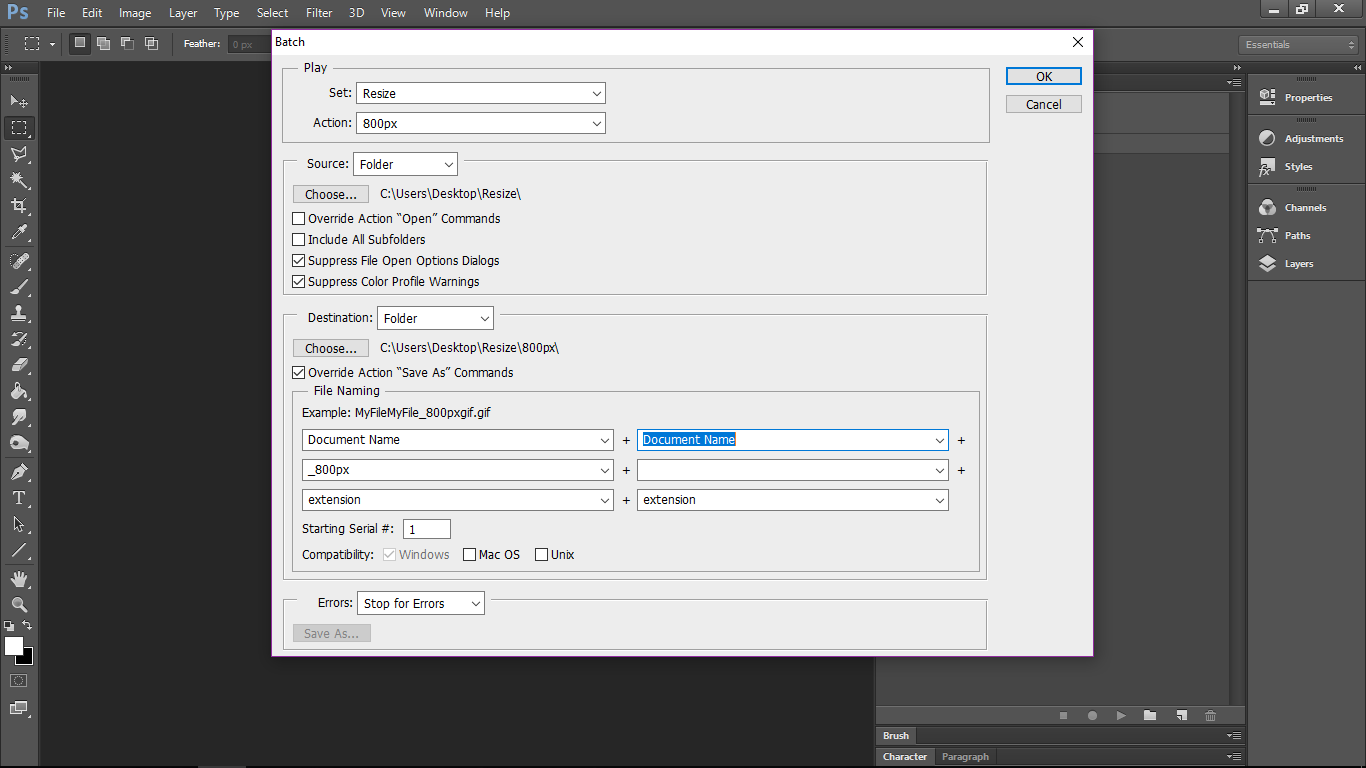 From there click on Choose, find your Resize folder, and click on it.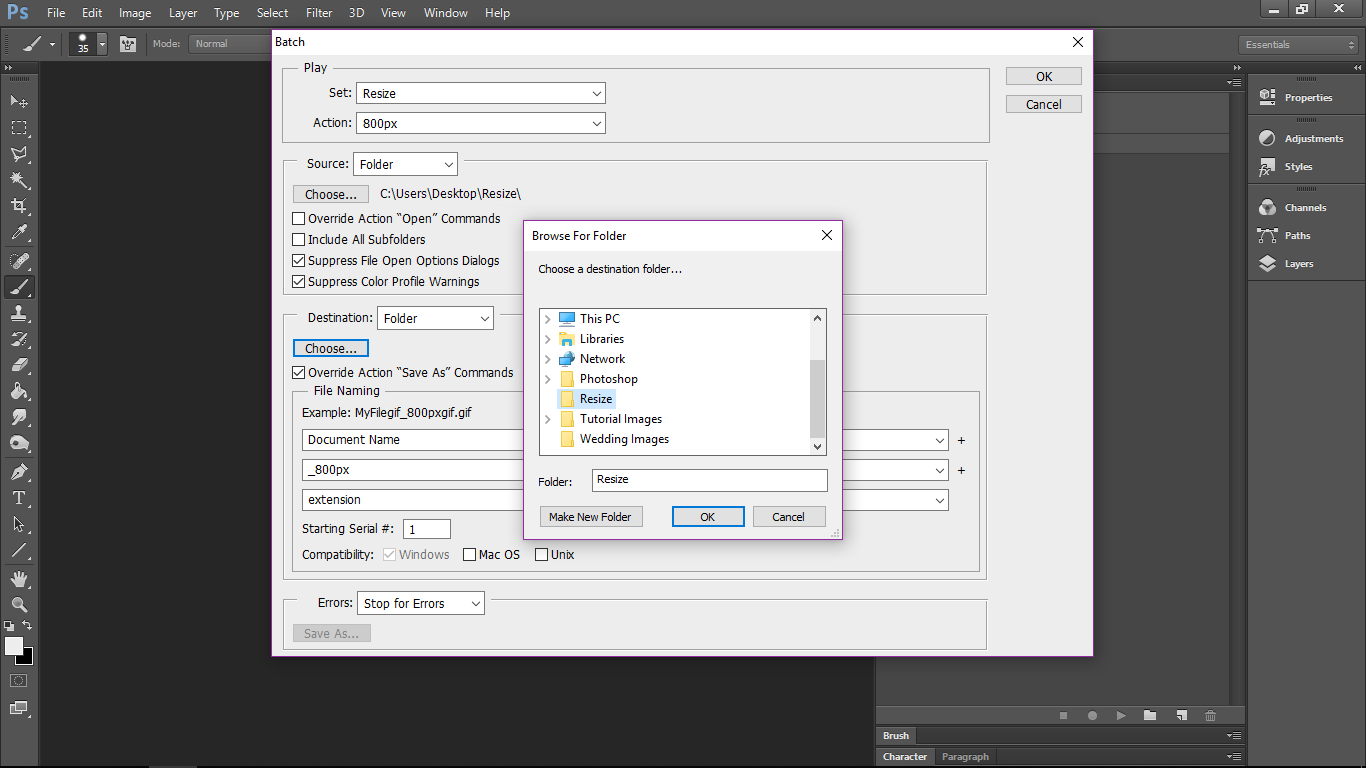 Once you have done this you can then click on Make New Folder or press Shift-Command-N for Mac. Name that folder 800px because this is the location where all your batch resized files are going to go. Click OK.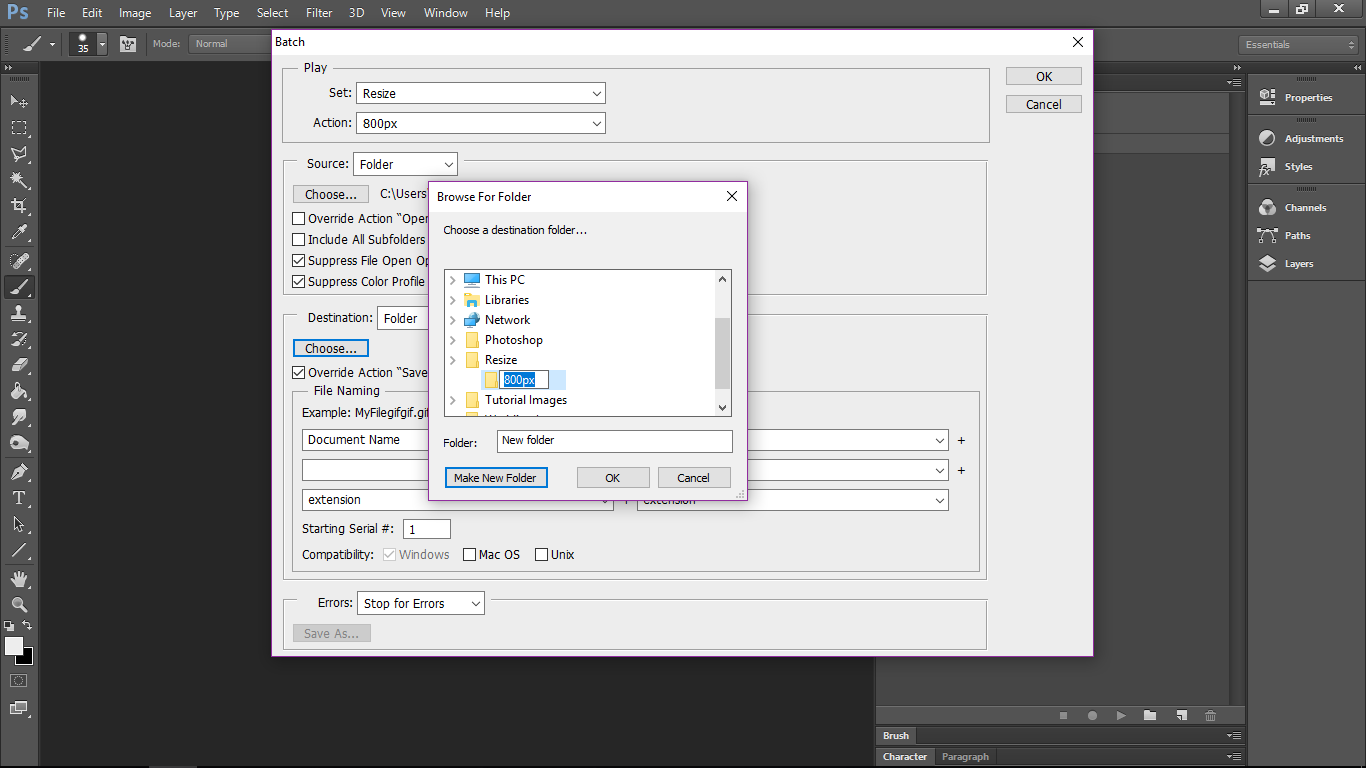 Just a few more settings to do and we're done! You will see several drop-down boxes below, make sure that the top two are selected as Document Name. Below that add a name extension which is going to be _800px and choose None for the other to the right. Make sure they both say Extension. The last thing to do, aside from clicking on the OK button, is to make sure Override Action "Save As" Commands is checked. You will see that just below Choose in the Destination section.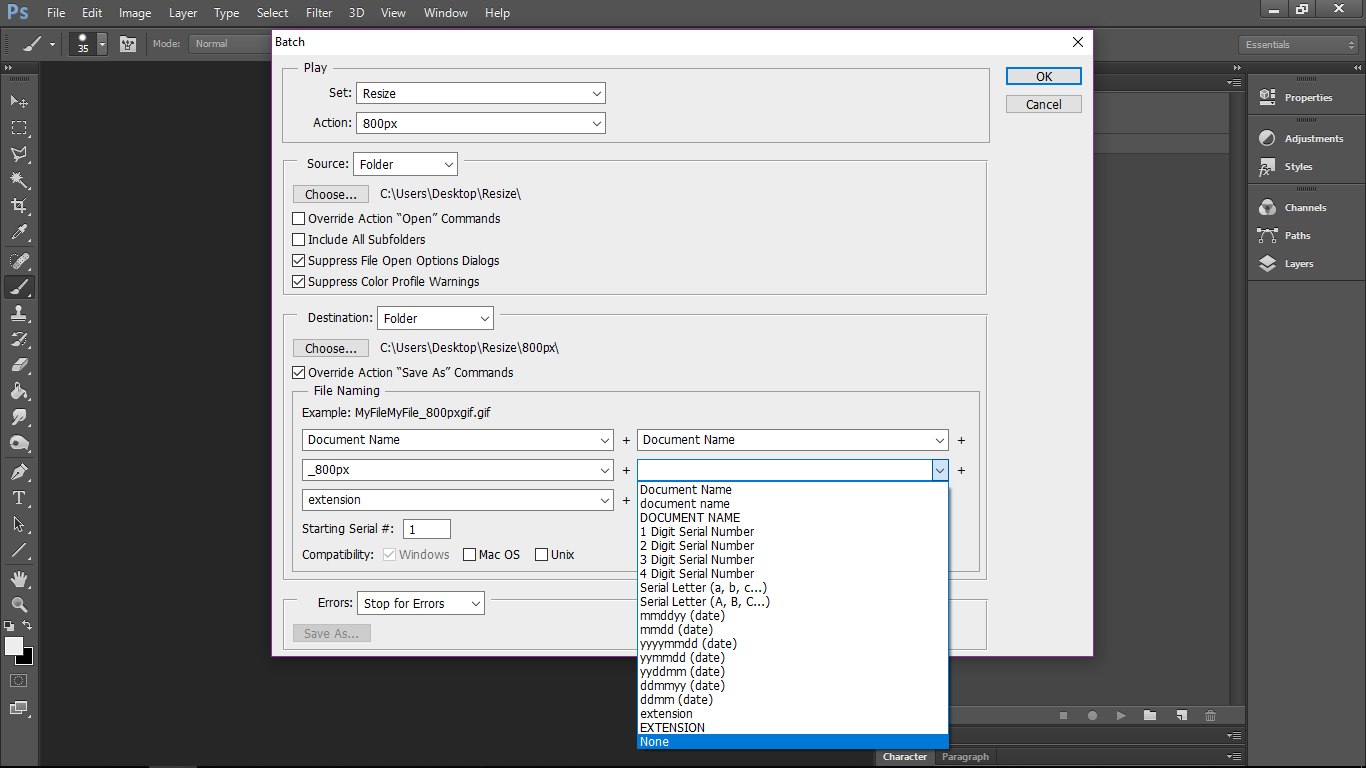 Now click OK and watch the magic unfold!
You're All Set!
So let's go ahead and open up our Resize folder or pop into Finder on the Mac to get our Resize folder and you will see your sub-folder named 800px with all your batched edits in there using the name extension _800px.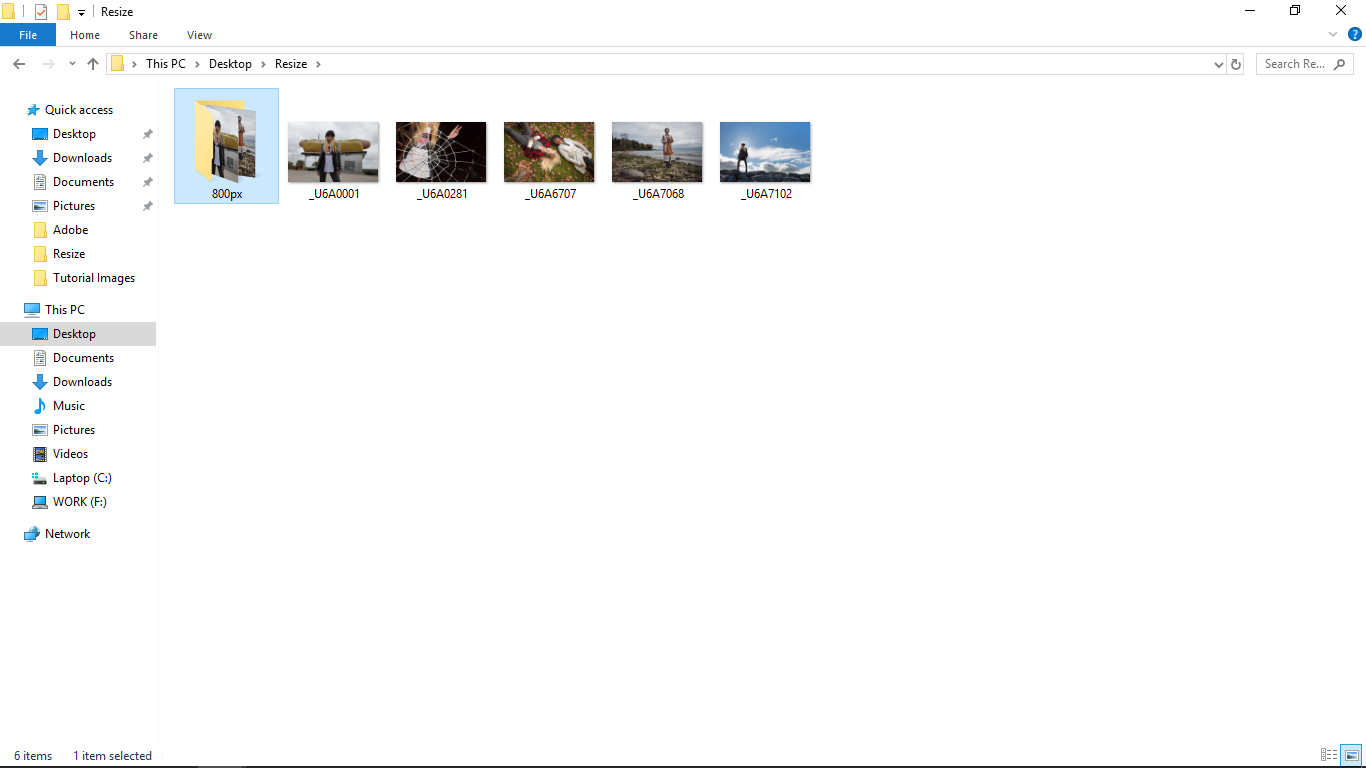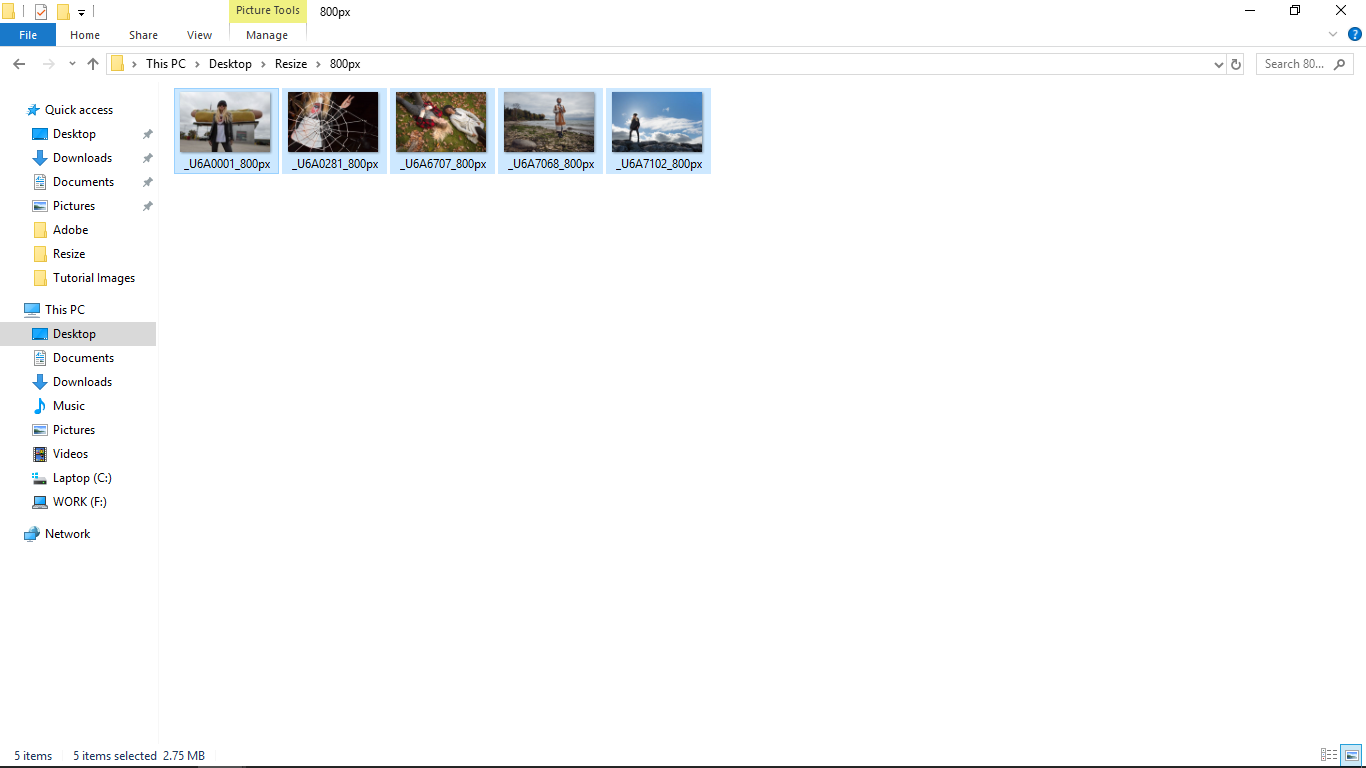 And that's all there is to batch resizing an entire folder of images. Thanks so much for joining in with our tutorial and remember you can learn more at phlearn.com, where we make learning fun! Want to learn how to create anything you can imagine in Photoshop? Creative Market users get 20% PHLEARN PRO Subscriptions using the special promotional code: CreativeMarket20. Go here to sign up.
---
Products Seen In This Post:
Getting started with hand lettering?
Free lettering worksheets
Download these worksheets and start practicing with simple instructions and tracing exercises.
Download now!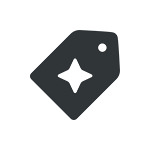 Creative Market