12 Best Cursive Fonts for Tattoos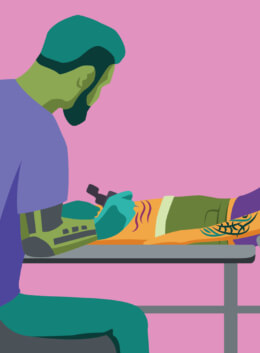 Cursive tattoo fonts have been here for centuries. The lines of this type of writing are often smooth, curvaceous and elegant. In addition, they can be more difficult to read, making them a great option for tattoo designs that want to have an air of mystique or mystery about them. They were once reserved for handwritten items only but now you might find them on everything, from billboards to wedding invitations.
Cursive fonts are great for tattoo lettering as they can be more ornate and decorative than other styles, such as block or script fonts. They also tend to lend themselves well to designs that have overlapping elements or connections between letters, which is why you see them used so often in Celtic tattoos. Cursive tattoo fonts are typically created with smooth, curving lines, making them an excellent choice for any type of ornamental design.
While the name cursive typically suggests that this is a very fluid style of writing, there are many variations depending on the designer. It can be anything from loose and spindly, to tight and refined. Some may even appear as though they could be printed letters rather than handwritten calligraphy. Quality varies widely, so make sure to do your research before choosing a particular style. Since this will be for personal use, make sure you choose a tattoo font that works best for you!
Why Using a Cursive Font for Tattoos Is Seen as a Form of Self-Expression
A cursive tattoo font is often selected by those who value personal expression. Some people have tattooed names of loved ones, quotes, song lyrics, or even the name of their favorite band. You can also choose your own design and look for tattoo fonts that convey the message you want to send out there. Designing your tattoo using Adobe Illustrator or Adobe Photoshop is also a great way to start your tattoo design journey.
Cursive tattoos are often symbolic in nature. They represent an important passage in someone's life or convey a message that he or she feels is integral to their identity. Many people choose these tattoos as gifts for others, such as best friends, significant others, children, and family members.
If you want to get tattoo fonts in cursive but aren't sure where to start, check out the list below.
12 Beautiful Cursive Fonts for Your Next Tattoos
Selecting the best cursive tattoo font may be overwhelming. Lucky for you, Creative Market has a wide range of script fonts suitable for any kind of tattoo! We have made a list of the best cursive fonts that will best suit your taste and preference. Any one of these fonts are best to start with if you want to get yourself inked.
Thin Cursive Fonts Perfect for a Minimalist Tattoo Style
These cursive tattoo fonts for minimalist tattoos are perfect because a thin tattoo font is versatile and works well for both small and big tattoos. You can even combine them with other script fonts to create a more distinctive design. Using a thin cursive font is a great way to add a note of femininity and classic touch in your tattoo.
1. Desirable Calligraphy
Desirable calligraphy is a calligraphy font with a traditional style and a hint of elegance, inspired by Italian women's handwriting and historical manuscripts. It has been carefully created to operate in harmony, making it an ideal thin tattoo font for your minimalist design.
2. Serenity Blush
Serenity Blush is a cursive font that was built with OpenType features and includes beginning and ending swashes, numbers, punctuation, alternates and ligatures. Every single letter in this cursive font has been carefully crafted to make your text look beautiful.
3. Hobbies Signature Font
Mimic handwriting and give your tattoo a handcrafted feel with Hobbies Signature Font. If you want that handwritten vibe or cursive font style for your tattoo, this font is the perfect choice for you.
4. Jelisa
You can use this as a tattoo font easily. Each letter in this cursive font has been carefully crafted to make your text look beautiful. Its legibility also makes it a perfect tattoo font because it's clean and crisp but at the same time, it's elegant.
5. Fluire
Fluire means -to flow- in Italian and that's what this font is all about. If you want a soft and minimal tattoo font, this is your best bet. It's not full of swashes and swirls that can tend to complicate your tattoo design.
6. Notera
Notera is a handwritten font that looks fancy but still has a geometric aspect to it that makes it an ideal tattoo font.
Cursive Fonts for an Elegantly Designed Tattoo
Elegantly-designed tattoos can be determined by the typeface you use. There are many other uses for cursive fonts, but one of its best features is that it can make your simple tattoo look elegant, that is if you choose the right font. Letters still need to be legible and how the graphics are treated should also be considered.
7. Outstanding Victoria
Victoria script is quite unusual because of its elegance and range of alternates, despite the fact that it represents the already established image of a stylistic calligraphy typeface. There are various variations of each capital letter in this romantic font. Lowercase letters come in up to 20 different styles, each with its own set of swashes.
8. La Rosa Font Duo
La Rosa is a font duo that you can mix and match if you can't decide on one tattoo font. The cursive font that comes with it is a font that can easily be turned into a tattoo. It's elegant, classy, but not too stiff.
9. Silverdale
Silverdale is a font created from a reference to a typography book that was redesigned with different styles and adjusted for easy use. This cursive font is elegant and classic with a vintage feel, making it a great tattoo font choice.
10. South Route Font Duo
South Route is a bold new font combination that adds a spectacular punch to your designs. It comes with a textured All-Caps sans serif and a bold and sassy stylish script, offering you plenty of options for your professional-type design projects.
11. Hellifa Script
Hellifa Script is a modern and fresh script with a handmade calligraphy style, lovely letters, and a dancing baseline!
12. Modernline
Modernline is a natural handwritten font that is both modern and authentic.
Why Cursive Fonts for Tattoos Are Here to Stay
Cursive tattoo fonts are definitely here to stay. They have been gaining popularity in the past couple of years, especially with the younger generation. The reason is simple: a cursive font can give a person a sense of authenticity and individuality, which makes it the perfect tattoo font.
If you are thinking about getting an elegant font for your tattoo, you are definitely headed in the right direction. Just make sure you choose one with a great design and quality lettering. You can find many of these beautiful fonts online or you can even ask for design tips from your local graphic designer or even get a recommendation from the tattoo artist.
Sign up here to see if you can find the perfect font or ideal cursive font for you!
Getting started with hand lettering?
Free lettering worksheets
Download these worksheets and start practicing with simple instructions and tracing exercises.
Download now!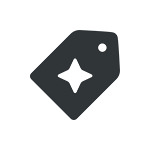 Creative Market