12 Best Fonts For Powerpoint Presentations in 2022
Microsoft Powerpoint can be a very helpful tool for many things such as creating slideshows, conducting presentations, and sharing information with others. Powerpoint allows users to add various features by using special effects, animations, transition effects, fills in shapes, and much more. Because of its versatility, it has become the go-to professional presentation tool. To add to that, there are a lot of fonts and templates that you can use when in a Powerpoint presentation.
A good Powerpoint presentation is clear, consistent, and compelling, and whether you'll be conducting a sales pitch, briefing, demo, or report, your choice and use of fonts will greatly affect the quality of your presentation.
Here are some of the best Powerpoint presentation fonts that you can use to blow away your audience, as you kick-off 2022:
How to Choose the Best Font for a Presentation
When choosing the best font for Powerpoint presentations, you have to prioritize readability and legibility to preserve the quality of your content and ensure that your message will be easily understood by your audience. Here are some tips:
1. Choose a Simple Font
Complicated fonts such as script and decorative fonts can make your design look cluttered and make it hard for your audience to read what's on your slides. Simple fonts like serif or sans serif fonts are ideal because they are easy to read and they blend well with any kind of design.
2. Choose a Sans Serif Over a Serif Font
If you have to make a choice between a serif or sans serif font, pick the latter. A sans serif typeface has better readability on-screen. Letterforms with serifs or additional strokes at the end of a character can sometimes look blurred on-screen, which can confuse or distract your audience and make it difficult for them to read.
3. Choose a Font That Looks Great at Both Big and Small Sizes
The best practice for a Powerpoint presentation is to use a font size no lower than 24 points. To maximize readability, it is important to choose a font that is not too thin nor too thick. Choose a font that will retain its clarity and quality whether it is scaled up to 120 points or down to 24 points.
4. Choose a Different Font for Your Titles and Headings
Your body font should be different from your title, heading, and subheading fonts to put proper emphasis on them and create variety and visual interest in your presentation, but remember not to use more than 4 fonts for a cohesive and visually organized design. They should also be in bold and have a bigger font size.
5. Choose Fonts That Complement Each Other
Create balance in your design and promote seamless transitions between sections of your content by choosing the perfect font pairings. Combining serif fonts are usually the best way to go. These fonts can definitely stand on their own, but they work better when they are put together.
Best Fonts to Use for Powerpoint
Find the best font to use for your Powerpoint presentation from Creative Market's top presentation font picks:
1. Pelicano: Basic Sans Serif Font
This easy-to-read, monoline typeface has a simple and clean look that can give your Powerpoint presentation a more casual and approachable vibe. It also has a great stroke weight that is ideal for adding colors that will draw attention to your text. Take advantage of this feature by incorporating your brand colors for better brand recognition.
2. TT Rircordi Greto: Non-Contrasting Sans Serif
Inspired by the Basilica di Santa Croce in Florence, TT Rircordi Greto is a modern sans serif font with a classic look and feel. It comes in big and small caps which makes way for the dynamic proportions and low contrast between characters. It also has a hint of a serif font style at the terminals that further contributes to its stylistic design. With bold and heavy strokes, this professional-looking font is perfect for your titles and headings:
3. Coolvetica
This basic font features a playful spin on the popular sans serif fonts, Helvetica to produce an iconic and versatile font that you can use not just for formal presentations but for creative designs as well. Coolvetica has 35 distinct and varied styles with 4 weights ranging from extra light to bold and heavy, which means you can use it for titles, headings, subheadings, and body text and it won't look like the same font at all.
4. Jumper: Modern Serif Font
Like Coolvetica, this font can also be your all-in-one presentation font. Its bold and black variations with powerfully thick strokes can help you create attention-grabbing titles and headers while the thin and regular styles can make the rest of your text optimally readable and visually appealing. Jumper is an example of a geometric font which uses simple geometric shapes that make way for a softer, less robotic look.
5. Think Sans: A Varied Width Font
Think Sans is an all-caps, monoline font that comes in 4 styles with fun alternates that have varying set widths. It is a unique typeface that has rounded inner corners complemented by sharp outer corners and pairs wide and narrow characters to create eye-catching, irregularly-shaped text. This font has the right thickness for both your subheadings and body text and can even add a creative touch to your subheadings:
6. Cosmopolis: Sans Serif Font Family
From thin to extended bold, Cosmopolis font family comes in 24 rich styles that are perfect for giving your presentation a modern and sophisticated look. Some of its notable characteristics are a wide set width, tight kerning, and great x-height. This font can help you create strong titles and distinguishable headings as well as keep your body text looking neat and organized:
7. Maine: Book Antiqua
Moving on to presentation fonts, this clean and modern font based on the roman typeface, Book Antiqua. If you want to give a professional, no-nonsense impression in your presentation, this font is the one you're looking for. Maine is specially designed for creating more legible body text. Thanks to its clear features, high x-height, and overall simple design, this font has great readability and can easily be paired with other standard fonts.
8. Isabella Grand
With style and grace, the Isabella Grand typeface is an elegant serif font that has relatively thin yet bold strokes that can give you highly readable and legible body text for your presentation. It comes in two styles; the italic style is dreamy and sultry – the perfect partner for the more serious regular style. It also has diagonal crossbars, prominent ball terminals, plus some beautiful ligatures that only accentuate its unique charm.
9. Madley: A Slab Serif Typeface
This clean-looking font is called Madley, a contemporary slab serif typeface with monolinear stems, elongated block serifs, and teardrop terminals. From a dainty hairline weight to a thick black weight, this font family has various styles that you can use either as an accent font for your titles and headings or as your main text font.
10. BD Megalona
A modern and elegant revival of the classic Times New Roman font, BD Megalona comes in 26 styles with thin to black weights and advanced OpenType features such as stylistic alternates, swashes, ligatures, and more. Give your presentation and stylish, luxurious, and professional look by using this font to create clear body text and high-impact titles:
11. Montas: Display Serif Family
Here is a contemporary font that is perfect for formal presentations. Montas has stylish features such as wide and narrow strokes, tall lowercase letters, and counters with diagonal stress. Its bolder weights are suitable for creating striking titles and headers, while the lighter weights will make great paragraph typeface.
12. Birchfield Typeface
Finally, custom fonts are a great way to combine and utilize the best features of two or even three different fonts. A great example is this spur serif font that's made to look like a sans with its almost unnoticeable serifs. Birchield is an all-caps font with an elongated appearance that improves readability. It can be used for your headings or subheadings. Channeling a vintage aesthetic, this font can give your presentation a timeless look.
Basically, using a quality Powerpoint font can help you fulfill the purpose of your presentation. Hope to see you give these Powerpoint fonts a try before the year ends!
For access to other exclusive stuff from Creative Market, sign up here.
Getting started with hand lettering?
Free lettering worksheets
Download these worksheets and start practicing with simple instructions and tracing exercises.
Download now!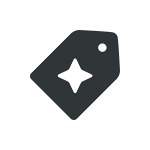 Creative Market