10 Best Fonts for Reading Online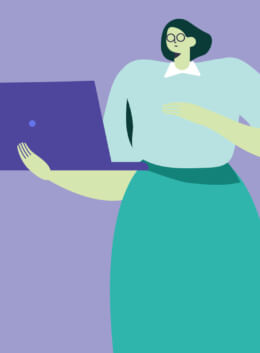 Sans serif fonts are the best fonts to use for reading on the web because they are legible thanks to their defined appearance. These fonts are easy to read on a computer screen because they line up evenly with the pixels. Plus, sans serif fonts have reduced decorative flourishes that can often distract from reading and make it more difficult to follow a line of text.
What Are The Qualities of an Excellent Online Reading Font
One of the most important things about fonts is the beautiful design and how it makes your text look. But there are many other important features to consider when you're choosing a font for your reading.
Non-Squiggly With Clean Shapes
A good reading font always has a defined shape that eyes can recognize. It doesn't have any confusing embellishments that make them difficult to read. Squiggly fonts can create this kind of confusion, which makes many sans serif fonts and a simple serif typeface a good candidate for readability.
When squiggly and curve-embellished fonts are printed using a typewriter, some letters such as "p" and "b" would appear squiggly because of how they were represented on a mechanical typewriter. Other letters that are more complicated such as "g," "y," and "q" may not be recognizable.
Wide Yet Tight Spacing
Proper spacing between words is important for a reader's eye to read smoothly and not be distracted by poor spacing. This will also aid the reader in reading more quickly. Once again, sans serif typefaces, such as Atlanta, Arial, Bookman Old Style, and Copperplate, are excellent fonts with clear shapes and good spacing.
Perfect to Look At With Solid Colors
Arial is a type of serif font, meaning it has small finishing strokes at the end of each letter. Arial fonts and most readable fonts are slightly condensed with letters being closer together. This distance makes them an excellent traditional print font with just enough font-weight for excellent reading.
Supported By Your Website/Platform
Poorly illustrated fonts that do not illustrate clearly can be confusing to read and often cause people to leave your website. A good font should be readable, professional, and easily implementable in your chosen platforms.
Will Not Tire Your Reader's Eyes
Fonts contribute to reading fatigue because they can make reading more difficult or tiring. The typeface, font size, font color, and background color all affect how easy it is to read a text because they can make it difficult to distinguish different characters.
Varying the text sizes, spacing between lines, and using larger fonts can help reduce eye strain that causes reading fatigue.
Here are 10 of our highly-recommended fonts that will make online reading for you and your readers easy and hassle-free.
1. Dallas: A Vintage Font Easiest To Read for Anyone
A clear and easy-to-read font is one of the most important elements in any design. It should be fairly uniform, with consistent stroke width, weight, and spacing. Dallas is one of the best ones for general-purpose reading online, in a book, on printed paper, and beyond.
2. Ashford: An Easy to Read Font With Personality
Ashford is an excellent example that makes the reading content memorable without confusing and overbearing readers. It is still a legible font, considering its embellishments. They're rightfully a joy to read and an excellent alternative to the usual default sans serif typeface for reading.
3. Bison: The Easiest Font To Read On Screen
You may have noticed that serif fonts are a popular choice for blogs and social media. However, a sans serif typeface has the same characteristics as a serif typeface, but does not include any small projecting parts, making Bison an excellent choice for improved content readability that does not introduce added visual fatigue.
4. Noir et Blanc: The Best Reading Font With Style
A sans serif font has a simple look that lends itself to this minimalist style. However, in some cases, this lack of detail can make for less interesting reading. A slightly stylish font can make reading more exciting by adding some flair to the writing. If you want to use sans serif fonts for certain text, you can add a stylish font for headings or other areas where it will be seen.
5. Akira Expanded: Another Best Reading Font to Read On Screen
A strong style font is traditionally much heavier and more condensed than typical serif and sans serif fonts, making it easier to read on small screens. This style is a popular default font for smartphones because the condensed lettering makes it easier to read text on the device's smaller screens. Akira Expanded takes on this role excellently, ensuring that your blog, social media banners, and other readable content has a readable font.
6. Kiona: A Perfect Reading Presentation
All-caps serif fonts are easier to read on a computer screen. These fonts tend to have wider spacing between the lines, making them easier to read. On a standard word processor, these fonts will be automatically spaced out to be more readable for readers of online content. Kiona is a great example of an all-caps serif font that can work as banner text and body fonts for improved readability.
7. The Seasons: Excellent for Online Reading and Posters
The font Times New Roman font has been around since the 1950s and has been used in many newspapers to this day. It's also said to be one of the most popular serif fonts in the world. However, it can look too stale because many publications have become too used. The Seasons is a great alternative because it's an elegant classic serif font designed to provide you with typefaces that can be used for any design project that would require the use of traditional typography — in short, the best alternative to Times New Roman.
8. Art Deco: A Classic Old-Style Reading Font
The most commonly used fonts for reading online are Verdana, Georgia, and Arial. However, they've become a common sight for newspaper, book, and blog readers. The world needs a great alternative that has a new personality. Art Deco font is an excellent online reading font because of its shape and size. It has a high height that allows one to read it more easily on small screens.
9. Bastia: A Font With A Fanciful Reading Experience
Modern serifs are thinner with a more functional look. A traditional serif typeface is typified by a "slab serif" look, with thick and thin strokes, and a high contrast between thin and thick lines. A modern serif typeface has a "sloped serif" look, with thin and thick strokes, and a low contrast between thin and thick lines. Bastia clearly finds itself in the modern category thanks to its round, thick lines, excellent contrast, and sloped appeal, making it an excellent choice for modern websites.
10. Athena Typeface: An Elegant Reading Typeface
Didone fonts are an old form of serif typeface that were popular during the 18th century. They are known for their elegant, legible letterforms that are often used in long passages or for large print. Athena Typeface fonts capture these amazing properties while introducing their own personality in the process.
Get The Best Fonts Today!
Sign up for a free Creative Market accounts to access thousands of fonts and images that you can use for your projects. Check it out!
Getting started with hand lettering?
Free lettering worksheets
Download these worksheets and start practicing with simple instructions and tracing exercises.
Download now!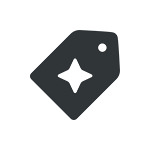 Creative Market