12 Best Readable Fonts for Web and Print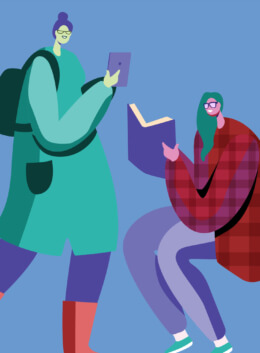 Looking for the best readable fonts for your design project? Most of us don't take notice of the typography whenever we're reading an online article or flipping through the pages of a hardbound book. Choosing the right font for reading is crucial to getting your message across clearly because you'll want to make it easy for your readers to go through your content.
Why Choosing the Easiest Font to Read Matters
Reading is so natural to us that designers often don't realize the role of using a legible font in their online and printed design projects. Finding the best readable font to use for your website or printed publication is essential to helping your reader digest your content more easily.
Things to Consider in Finding an Easy-to-Read Font
There are several considerations in finding the most readable fonts for your design projects. We've narrowed it down to the three most essential things to consider when determining the most readable typeface for your design projects:
Audience
First, it is important to consider your audience. Who is the content for? By taking into consideration your target audience, it will be easier for you to identify the font style you'll be using. For example, if you're designing a children's book, you'll want to use a bigger font with more rounded edges to maximize their reading experience.
Tone
Once you know your target audience, it will be easier for you to determine the tone of your content. Is your content going to be on a lifestyle website for millennials? If so, your tone will most likely be casual, which means you'll want to opt for a sans serif font that's easy to read on a phone screen.
Readability
When looking for readable fonts, it's important to take into consideration the legibility of the font you're using. Make sure to consider spacing and distinction between characters- if letters are too close together, it might be difficult for your reader to read through your content without getting a headache.
It is also important to have distinctive letter shapes. For example, you'll want to make sure that your font style has a clearly defined "g" and "q" because sometimes the design of these two letters may look similar on a small screen. 
When it comes to readability, also consider the platform on which the content will be published- is it going to be digital or print? Knowing the communication platform is a good basis in determining the most readable fonts for your design projects.
Most Legible Fonts for Web and Print
With many font options out there, it's easy to get overwhelmed when finding the perfect font choice for content that will be published online or offline. Lucky for you, Creative Market has a wide selection of text fonts that you can use to make lengthy content easy to read for both web and print projects!
Here are the 12 best readable fonts that you can use for your digital and printed projects:
Best Fonts for Reading Online
When it comes to reading online, an important thing to consider is the type of font you are using. For web and digital projects, headlines can utilize serif fonts that are still readable.
For longer bodies of text (like blogs), it's best to opt for sans serif fonts because of their legibility at any screen size, offering the flexibility you need whether you're designing for desktop users or mobile users.
1. Magdelin
Magdelin is a gothic sans serif typeface that consists of 40 font styles. This minimalist typeface is a great choice for online scientific publications because it contains 40 font styles with several OpenType features such as tabular figures, fractions, slashed zero, superscript, and subscript. Magdelin is a great font choice if you're going for a classic feel with a modern look.
2. Articulat CF 
Articulat CF is an updated take on the 60's mid-century modern design. The strong and sharp font style was built to have a bold and clean look. The ten weights and obliques in this font family make this typeface a flexible choice for any screen, whether desktop or mobile. 
3. Sahar 
Inspired by the Arabic word for enchantment, Sahar is a charming and stylish font style that balances hard lines and smooth curves. The 18 different weights in this font family will allow you to explore a wide range of applications that will give your digital design projects a modern and charming feel.
4. Sofia Pro
With 16 font styles, Sofia Pro is a clean geometric sans serif with a modern look. Originally created in 2009 and redesigned in 2012, this has become a popular sans serif typeface because of its flexibility and readability. This is the perfect typeface that does a great job in any font size. This "small but mighty" typeface works especially well for apps that require readability for mobile devices with smaller screens.
5. Aristotelica Pro
Aristotelica Pro is a redesign of a rounded geometric sans. With 43 font styles available, Aristotelica Pro is a rounded and legible typeface that can be used in a variety of ways on the digital space with over 1,100 glyphs and 200 languages covered. 
6. Gilmer
Gilmer is a fresh geometric sans serif typeface inspired by iconic fonts like Futura and Avant Garde. Available in 5 weights and an outline font style, the geometric letterforms and sharp edges make this a great font choice for that next forward-thinking website project.
Best Fonts for Reading on Paper
When you're designing for a print project, it is crucial to get a good grasp of the tone of your content so you can identify the best fonts to use. Unlike digitally-published materials, content that is published on paper is more flexible in terms of design because it can utilize both serif or sans serif font styles.
7. Aurora Grotesk
Aurora Grotesk is a sleek and contemporary set of sans serif fonts available in three weights, making it a great choice for printed editorials and invitations. In addition to the three weights available, this typeface also includes punctuations, numbers, and multilingual support, making it a font that will easily adapt to any type of printed medium.
8. Pontiac
Pontiac is a rounded sans serif typeface with 4 font styles that is readable in both large and small sizes. This typeface will work especially well for both web and print editorials and will make an eye-catching yet legible font choice for posters.
9. Quatera
Quatera is a beautiful serif typeface that consists of 10 font styles. This elegant typeface was designed specifically for long copy and will make the perfect typeface for printed stationery, invitations, and printed editorial design projects. 
10. TT Norms Pro 
TT Norms Pro is an updated version of the popular font family. With 22 font styles, the casual look of this font style makes it a great font choice for travel brochures. As a bonus- this clean sans serif font also has support for more than 263 languages, making it a great font choice for printed material anywhere in the world!
11. Maine
Maine is a modernized version of Book Antiqua, made up of 6 styles and matching italics. No matter what font-weight you choose, the professional and clean look of this print font makes for beautiful and legible body text that works with any publication, whether it's for a fashion publication or a book project. 
12. Meddle
Meddle is a great sans serif font choice for printed materials that require a playful and casual vibe. The subtle round edges make it a great choice whether you're using it as a headline or body text for your next printed design project.
With content equally as important, considering the audience, tone, and readability of the font for your web and print projects will help make your content easier to digest. A seamless reading experience will allow your audience to have a better appreciation of your content and will leave them wanting to reread your content again and again.
Choosing the right font for your design project can make or break the experience for your potential reader, so make sure to choose a font that you think will work well based on your audience and content. While this list provides limited options, you can still explore other font choices by signing up to Creative Market to find the easiest fonts to read for your next design project.
Getting started with hand lettering?
Free lettering worksheets
Download these worksheets and start practicing with simple instructions and tracing exercises.
Download now!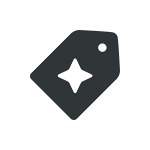 Creative Market