Design Trend Report: Botanical and Organic Design
Botanical design is influenced by nature. Rather than stopping at simple nature-inspired themes, botanical and organic design aims to be holistic in the sense that it seeks to harmoniously integrate both human and natural motifs. With its roots strongly in organic architecture, this design trend shot out of the 1930s with a direct and uncompromising belief that design, people and, nature should all coexist in harmony. That was a novel ideal, especially when you consider that popular design movements of the time—like Art Deco and Futurism were obsessed with technology, machines and what the future had in store for mankind. Nature has been a source of inspiration for designers and artists of many generations—their muse, if you will—but no design style really ties nature into humanity quite like botanic and organic design does. Here's a look at this design style and how to get the most from it when applying it to your design projects.
The History of Botanical and Organic Design
The 20th century was a wellspring of huge design movement after design movement rising, spreading its ideas, and then either slowly petering out or standing the test of time. With its economic upheavals, wars and worldwide migration patterns, this century made it easy for design styles to come into contact with each other and reach the far corners of the earth. As a quick refresher, some of the prominent design movements of the 20th century included, in no particular order: Tucked in amid all these powerhouse schools of design was—in its own, quiet way—the nature-inspired organic design. To be sure, there are elements between the aforementioned design styles and organic, but none quite focused on the integration of nature and people the way that botanical and organic did.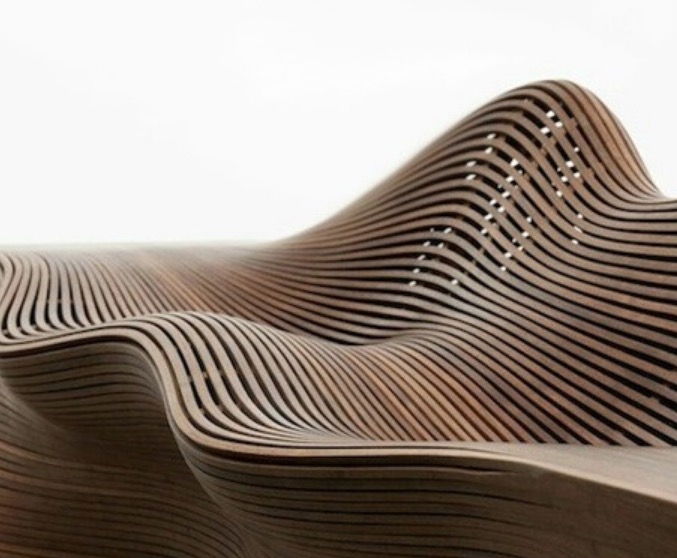 Sure, Scandinavian made nature themes a centerpiece of its design ideas, too, but it stopped short of actively promoting a harmonious coexistence between humanity and the environment. Hygge, because of its Danish and Norwegian roots, also looked toward nature, but, again, fell short of completely tying that into how we human beings lived in it. When botanical and organic came along, it addressed all of this. Perhaps the most authoritative explanation of this design trend belongs to the famed architect Frank Lloyd Wright, credited as the man who coined the term "organic design." As an architect, Wright understood very well that people and their natural environment had to integrate to produce livable and comfortable homes. As he put it: "So here I stand before you preaching organic architecture: declaring organic architecture to be the modern ideal and the teaching so much needed if we are to see the whole of life, and to now serve the whole of life, holding no traditions essential to the great TRADITION. Nor cherishing any preconceived form fixing upon us either past, present or future, but instead exalting the simple laws of common sense or of super-sense if you prefer determining form by way of the nature of materials…" In Wright's somewhat esoteric style of communicating, he was really stating that architecture (read: design) is not the only thing that has to be holistic and relate to the outside environment; in addition, all the materials for a building or design have to be considered and used in such a way that the whole design becomes something of a unified and self-contained organism. In Wright's design philosophy, every element within a design relates to every other element, so that it almost mimics nature's symbiotic ordering system. It's easy to see why Wright would've come up with this definition of organic design. After all, when you look at nature, the natural world is full of integration and interdependence in a way that works smoothly. For example, we humans need oxygen to breathe, and, thanks to photosynthesis, plants produce oxygen that helps supply our oxygen. However, when we humans exhale, we produce carbon dioxide, which, in turn, is actually something that plant life needs to survive. As the decades wore on, other designers like architect David Pearson even contributed a set of guidelines to what they believed was a necessary set of rules for implementing organic architecture and design. In his 2001 book, New Organic Architecture: The Breaking Wave, he outlines the following design guidelines:
be inspired by nature and be sustainable, healthy, conserving, and diverse
unfold, like an organism, from the seed within
exist in the "continuous present" and "begin again"
follow the flows and be flexible and adaptable
satisfy social, physical, and spiritual needs
"grow out of the site" and be unique
celebrate the spirit of youth, play, and surprise
express the rhythm of music and the power of dance
To see more of these design principles in action, have a look at our selection of botanical and organic design digital assets:
The Characteristics of Botanical and Organic Design
With every design trend, there are indelible qualities that make compositions pop and empower creatives with a roadmap to implement them across various projects. Although botanical and organic overlap with some elements of Scandinavian and Hygge, this design style has emerged with its own unique characteristics over the years. Spot organic design by looking for the following:
Heavy inspiration from nature
Design based on the integration of nature with human behaviors, needs and functions
Form follows function (aesthetics are secondary to the user experience)
Design that is holistic, with its elements and materials working in unison with each other, almost like a self-contained organism
Smooth and rounded forms
Natural-looking and amorphous forms
Copying naturally occurring shapes and structure (examples are crystals, maps, cells and even bones)
More lightweight constructions, especially when compared to traditional designs
Freedom and elasticity
Flowing lines
Softer shapes
Asymmetry
Dynamic forms
Because the list of botanical and organic design elements is so specific, you'll definitely know it when you're looking at a design in this style.
Stunning Examples of Botanical and Organic Design
There are many places where you can admire and observe this design trend in action. Common in both graphics and interiors, botanical and organic design has also spread into web design. Of course, its origins stem from architecture in the first place, and there are many, noteworthy buildings designed in this style that can help you understand how its principles should be implemented.
Botanical and Organic in Graphic Design
The natural themes and life-based shapes of this design trend lend themselves very nicely to graphic art. Many graphic pieces sport drawings and illustrations of plants, animals, flowers, seeds—basically, anything that's alive. Ironically, this focus on nature makes it dovetail with Art Nouveau, itself a design trend that held a special place in its heart for nature themes like flowers and plants. To accommodate the lightness and freedom associated with this style, it's common to see lighter colors dominate organic graphics. Colors like softer and lighter greens, faded and duller turquoises, and even warmer colors like faded pinks and shades thereof appear on various graphic design pieces of this style. Texture-wise, it's not uncommon to see grainy, wood-based patterns showcased, along with the unmistakable, botanical footprints of the veins from leaves. Tying all this together are various softer colors, like whites, beiges, and grays. Have a look at some of our botanical and organic-inspired graphics for more inspiration for your next design project:
Botanical and Organic in Web Design
It takes a bit of searching, but what you'll find is an homage to nature right on the web. For the purposes of our roundup, we'll define any website that features plant life—whether primarily or secondarily—as one that has a botanical theme. Organic-design websites are broader: They display designs that show all sorts of life, especially the integration of humanity with plant and animal life. Here are some of our favorites.
The National Audubon Society
This conservation-minded nonprofit operates chapters all over the U.S., and its mission is to create long-lasting connections between people and the natural environment.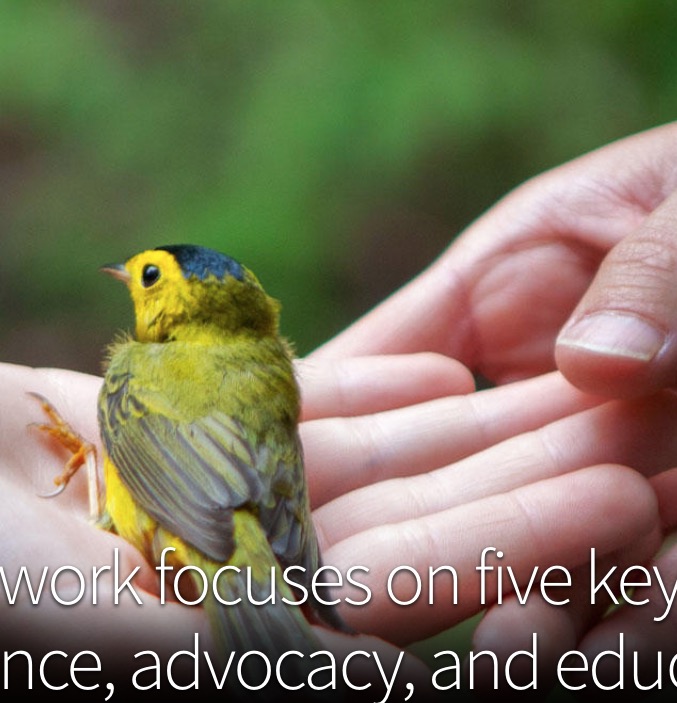 Its principles, therefore, are rooted in organic design. When we look at its website, we see this theme repeated as well, as the homepage is full of great images of people interacting with nature, both birds and the environment.
The World Wide Fund for Nature
Formerly called the World Wildlife Fund, the WWF is the biggest conservation organization on the planet, with staff in more than 100 countries. Accordingly, its website is replete with images that focus on the harmonious and helpful interaction between man, animals, and the environment. You'll find imagery depicting conservationists coming to the aid of endangered species and people in developing countries looking for clean water.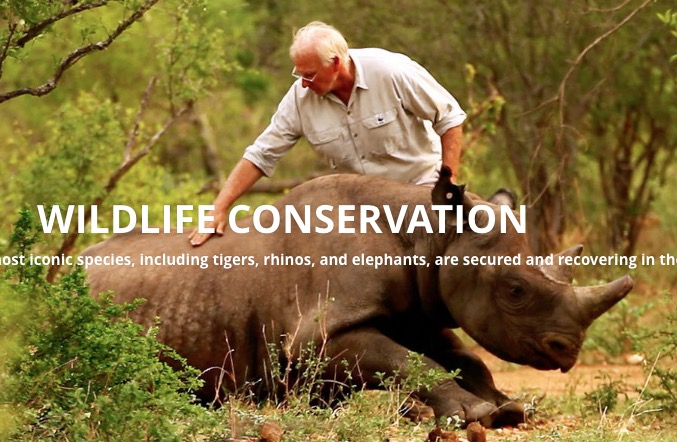 In addition, its site layout also functions as a standalone organism, in the sense that it promotes its mission with crystal-clear messaging to get as much support (read: conversions) as possible.
The National Geographic Society
Another famous conservation organization, the National Geographic Society has been around for more than a century. As one of the world's oldest and most respected nonprofits on the planet, it also promotes the study and preservation of world history and culture, not only the environment. The Society, in conjunction with 21st Century Fox, the American mass-media company, runs National Geographic's iconic magazine, TV channels, and website.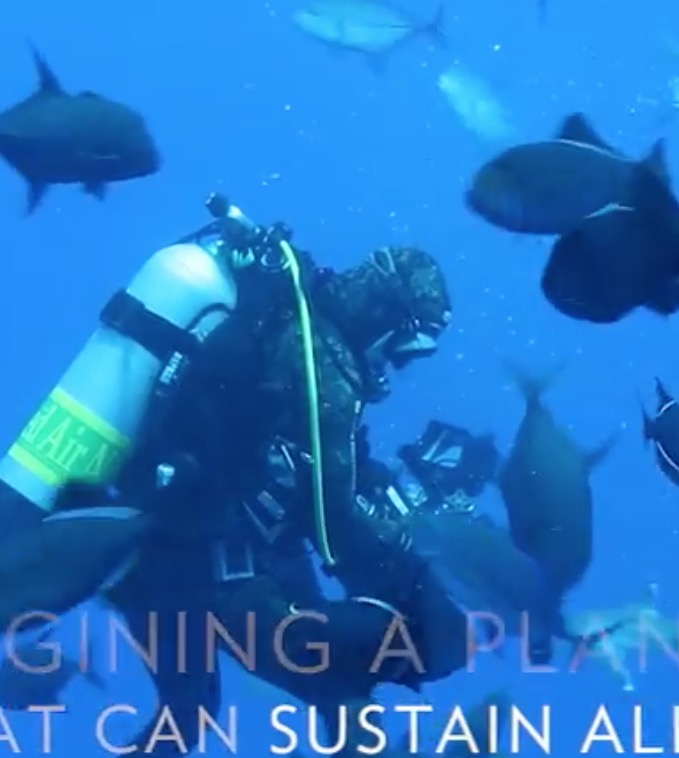 It's on the website that one sees the celebration of organic design in all its glory. Whether it's the full-screen, moving videos on the homepage or the focus of their stories, the site comprehensively promotes the ideals of humans living in harmony with nature, whether that's plant-based or animals.
The Nature Conservancy
The Nature Conservancy was founded several decades ago and is one of the U.S.' premier, charitable environmental organizations. Tying into the theme of organic design, its mission is to conserve water and land, on which all life relies—thereby promoting harmony and integration between humanity and nature.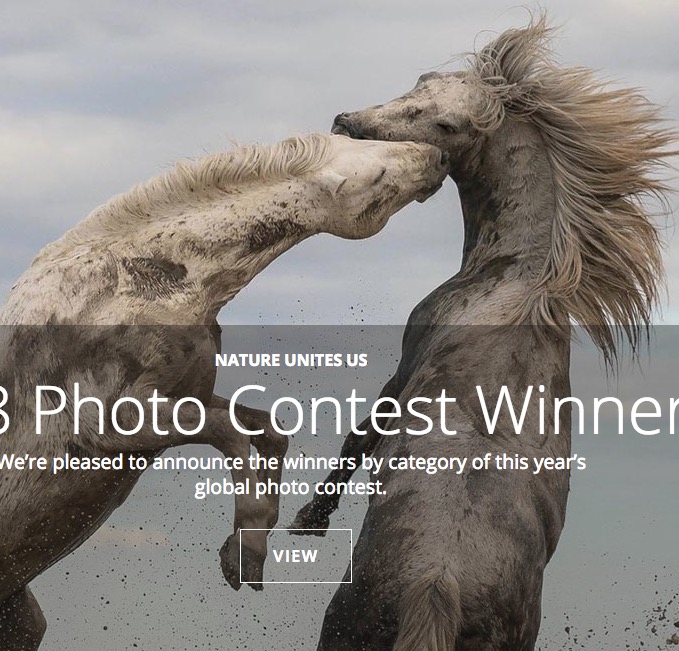 Its website features many inspiring images that epitomize this theme. This includes everything from wild stallions interacting with nature (and each other) to ordinary people connecting with the environment and learning to care for it. The site's use of white space and its card-based layout give the user interface a lighter, almost breezy feeling—also in keeping with botanical and organic themes.
Botanical and Organic in Interior Design
Another important focal point of this design trend is in interiors, due to its ability to contrast effectively with the more hard-edged and cold interior décor that many of us have in our homes. When your interiors are full of sleek and bare-bones furniture—as they would be with a design trend like Minimalism—then having something warmer and more organic is a welcome change. The Washington Examiner even proclaimed that organic interiors were an emerging design trend. With all of this recent interest in botanical and organic, here are some actionable ideas on how to lay out your home in a more organic approach.
Introduce Surprising Takes on Plant Life
The most obvious action you can take is to add plants to your home, but that's so commonplace. Every home has a plant in the corner or on the dining room table. It's time to shake things up with unexpected, radical ideas for adding botanical influences.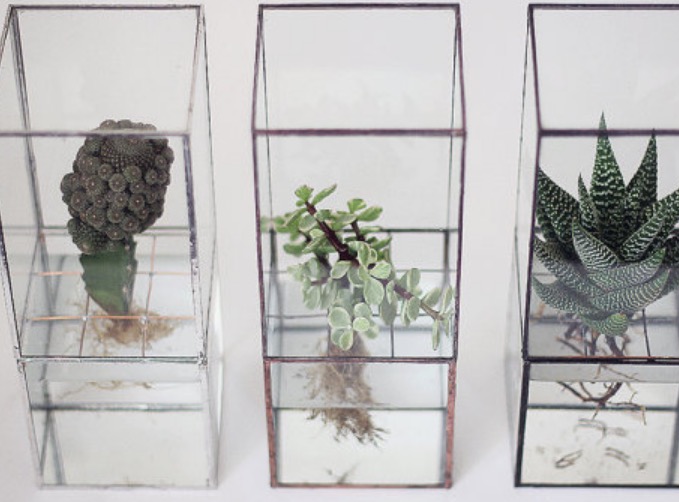 You can get flower orbs, where your plant life is encased in an orb—this eliminates the need to continually water them, while adding botanical elements to your home. Another idea is buying terrariums that you can place on your coffee or dining table—really on any surface in your home. These terrariums are compact and can be suspended from the ceiling, if you so choose. Finally, we have hydroponic terrariums: these babies are almost like micro-environments for your plant life. Plus, they are effective conversation starters.
Use Natural Brick
The closer the materials you use are to their natural, unspoiled state, the better. Take brick. Bricks in their natural, unpainted state work wonders as a backdrop or focal point for any room. It could be a wall in the living room or all around the fireplace in your den.
The beauty of brick is based on its consistency of pattern, from a design standpoint. When you have that kind of balance and symmetry, even an entire section of it can provide an eye-catching, modern contrast to any room.
Bring in More Wood
Another easy way to increase the sense of botanical and organic influences in your home is by incorporating more wood. Wood is a versatile material that looks equally aesthetic when it's perfectly finished to appear like gleaming marble or when it's simply left in its natural state to show off all the imperfect knots and grains in its texture. Whether it's ceiling beams or flooring to tables and shelves, wood is a quick and straightforward way to increase the organic elements in your interiors.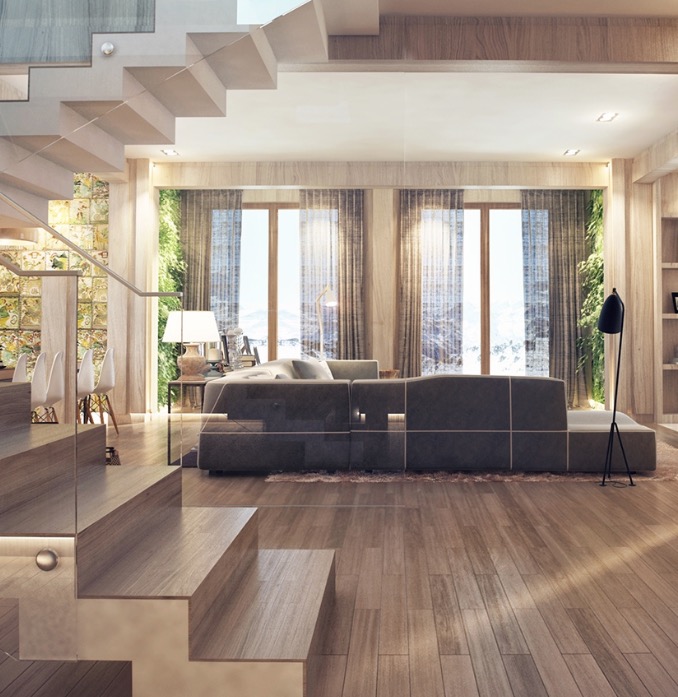 From here, you can take the wood theme and carry it over specifically to the furnishings you select. Going for a more rustic organic look? Then go with artisan-crafted furniture. If you're looking to shape your interiors into something more contemporary, go with wood furniture that's relatively free of lines and ornamentation, so it can produce conversation-piece appeal.
Organic Architecture
Some would say that organic architecture helped give rise to organic design; others say it's the opposite. In either case, the two are closely related because of their shared philosophy to integrate man with nature in harmony. Here are some of the renowned examples of organic architecture.
Fallingwater
Topping this rundown has to be Wright's own creation, Fallingwater. Called the preeminent example of this organic-design approach to homebuilding, this house in Pennsylvania was built over a waterfall as a way of making the point that man and nature can coexist. People get to life inside the home while the natural environment isn't disturbed, but rather adds to the appeal of the home.
Japanese influences abound in Wright's design of the home, especially the interrelated outdoor and indoor spaces that are part of the same residence. In its striving to harmonize man and nature, it almost calls to mind Japanese design trends like Wabi-sabi, which also put an emphasis on relating to nature in isolation.
Sheats-Goldstein Residence
The Sheats-Goldstein Residence in Los Angeles is constructed right into the sandstone ledge of a hillside, another epitome of integrating the environment with a home. As a result, the home resembles a cave that opens up to allow people to enjoy the views and embrace nature.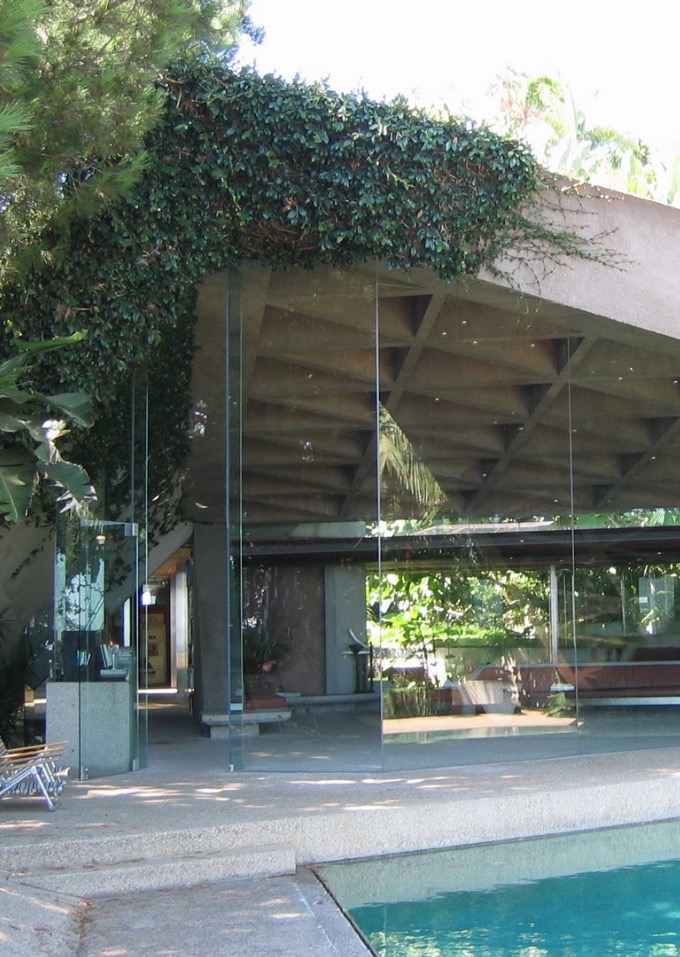 Created by architect John Lautner, this contribution to organic architecture also features furnishings that are all interrelated. It therefore satisfies the truest definition of organic design, which says that a design's individual elements have to function in such a way that the entire structure functions like a standalone organism.
The Integration of Humans and Nature
Botanical and organic design stands out from many other design trends because of its mission to promote the harmony of man and his environment. Far from just stressing aesthetics or function before form, botanical and organic makes a real effort to integrate humanity with nature, so both can live side-by-side without one disturbing the other. Naturally, that's a tall order because one sometimes doesn't complement the other, and vice versa—but that's the hallmark of great design. It's about problem-solving, and if botanical and organic can show us anything substantive, it's that really great design tackles the harder questions and solves human problems.
---
Products Seen In This Post:
Getting started with hand lettering?
Free lettering worksheets
Download these worksheets and start practicing with simple instructions and tracing exercises.
Download now!
Marc Schenker
Marc is a copywriter and marketer who runs The Glorious Company, a marketing agency. An expert in business and marketing, he helps businesses and companies of all sizes get the most bang for their ad bucks.
View More Posts