Creative Market at Circles Conf 2013
Last week, I had the privilege of attending and speaking at Circles Conference — an event put on by Ismael Burciaga and team where the creative community got to meet-up and listen to speakers in Grapevine, Texas. Creative Market sponsored the ping pong and foosball tables, and brought some swag too.
I gave a talk titled The Heart of Design: Peers, Perception, Purpose. You can browse through slides from my talk — in which I shared some of my personal design experiences and thoughts on how our team is building the platform.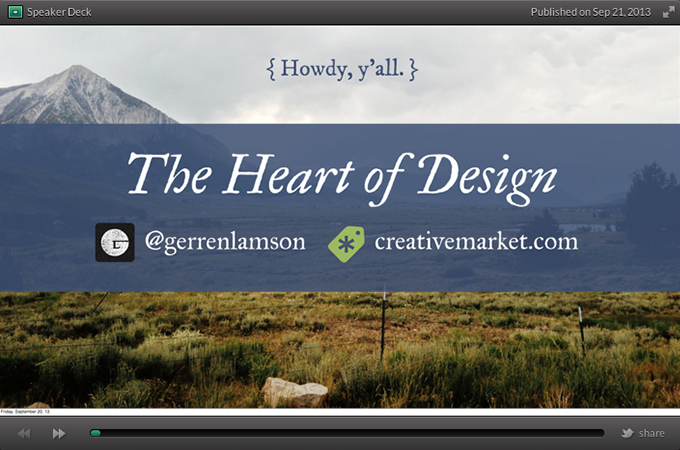 It was amazing to meet new friends and share the 2-day experience of being inspired together, as we all listened to personal stories from the other speakers. And although we all attended Circles to recharge our creativity, I couldn't help but think that there is more that we can do with the creative 'spark' that was experienced.
Inspired to Pay It Forward
It's been a desire of mine (and the Creative Market team) to explore how passive income can help designers give back. So, during my talk, I committed 100% of my earnings from my shop sales during the month of October to All Hands Volunteers — a disaster response organization which is providing relief in Colorado to the victims of the recent flooding.
Join Us! If you're a shop owner on Creative Market, put the AHV badge (blue or white) on your shop banner starting October 1st to show that you'll dedicate 10%, 25%, 50% or 100% of your sales to All Hands Volunteers! If you're planning on joining us, please mention it in the comments below or email Lesley so that we can keep track of whose participating!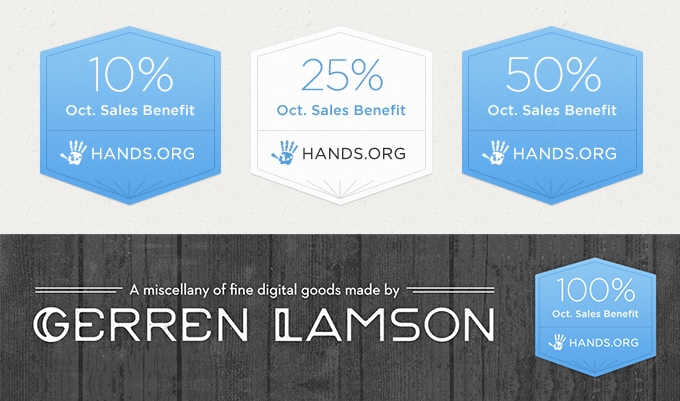 Download the AHV Badge PSD
At the end of October, take down the graphic badge from your shop banner, email Lesley the final amount you raised for AHV, then submit it to them through this Donation Page.



Why All Hands? Our CEO Bubs co-founded All Hands Volunteers after spending 5 months in Thailand after the tsunami in 2004 — seeing how effective spontaneous volunteers could be in helping others put their lives back together. He spent the next 2 years living and working in disaster areas around the world, helping the organization grow into a trusted and transparent vehicle for good, and now resides on the board of directors.
If you'd prefer a different charity, then I encourage you to pay it forward to Charity:Water through Cameron Moll's Authentic Jobs 8-year Anniversary Campaign or another charity, and let us know!
Sketchnotes
I took the opportunity to sketch as many of the talks as I could, but you can watch videos of the talks online. In the order that they were delivered, here are my sketchnotes of 8 out of the 12 talks: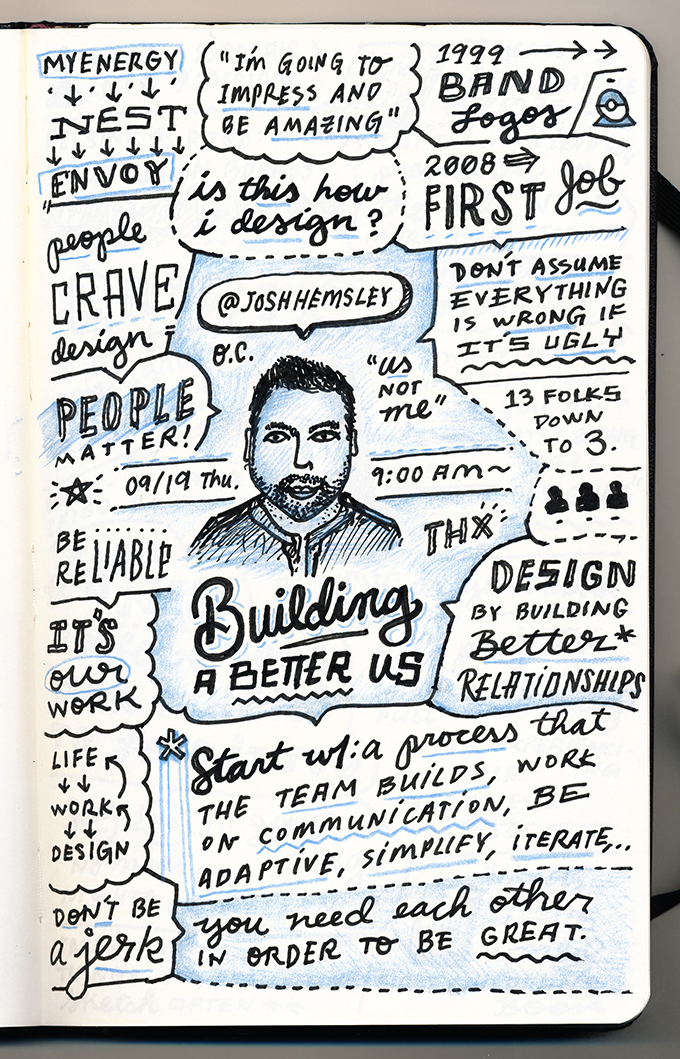 Josh Hemsley – Building A Better Us (You and Me)
website / twitter / dribbble


Lotta Nieminen – You Need To Love Your Work For Others To Love It Too
website / twitter / dribbble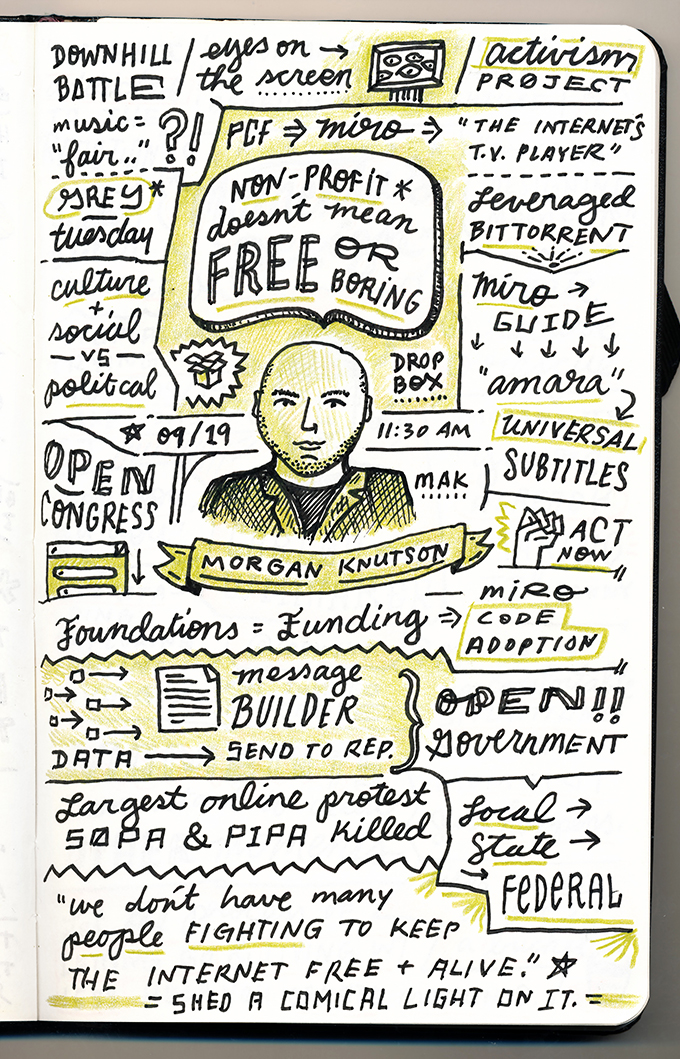 Morgan Allen Knutson – Non-Profit Doesn't Mean Boring or Free
website / twitter / dribbble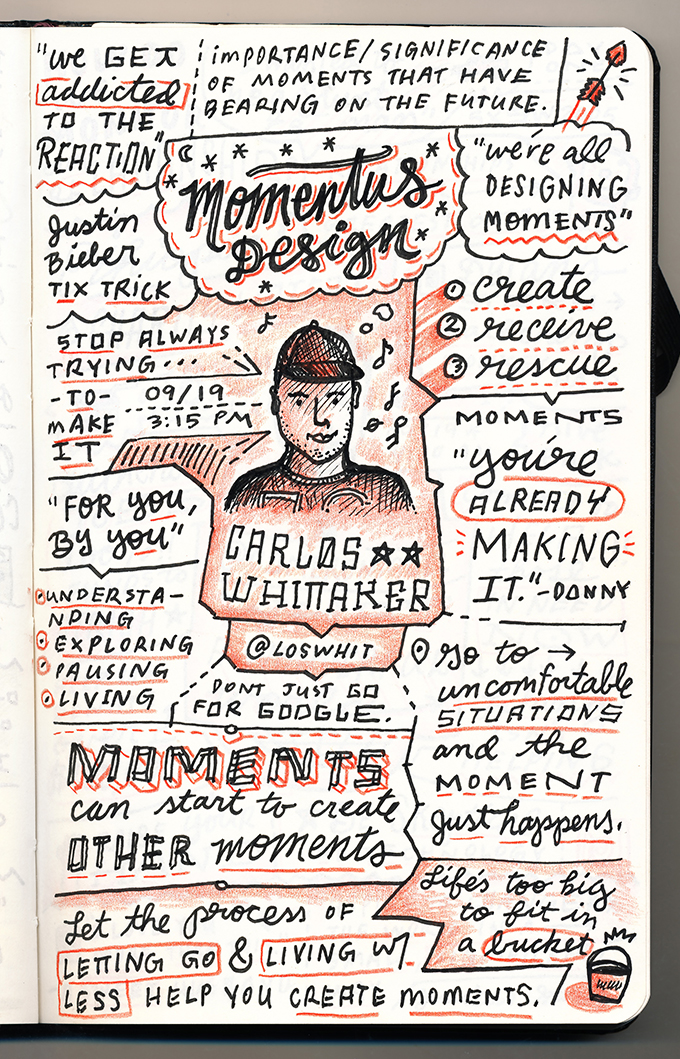 Carlos Whittaker – Momentus Design
website / twitter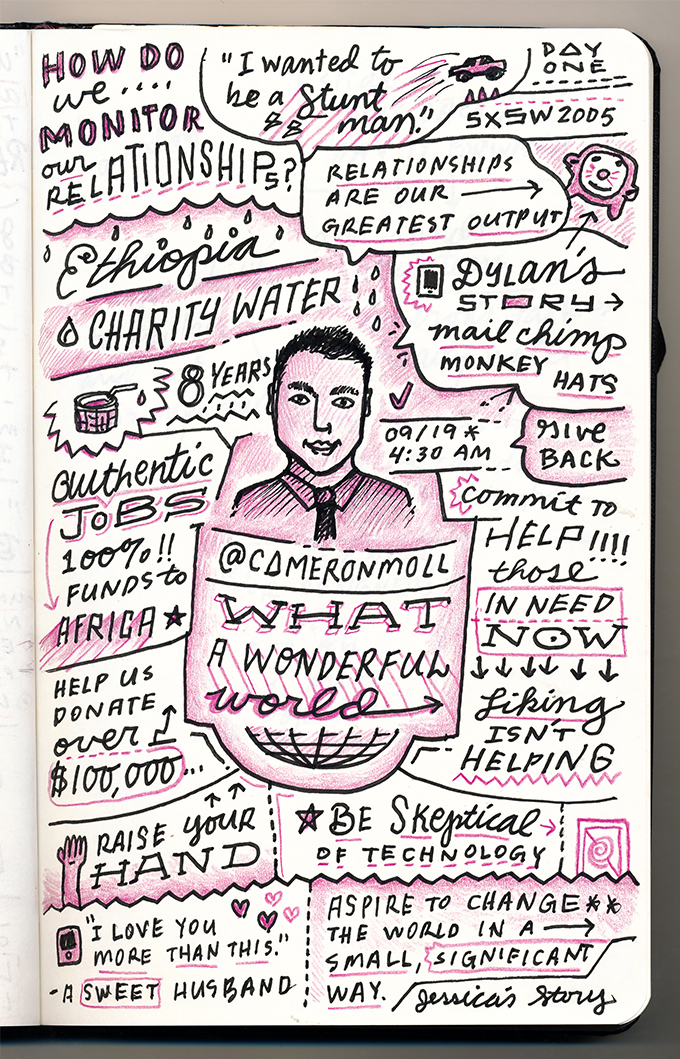 Cameron Moll – What a Wonderful World
website / twitter / dribbble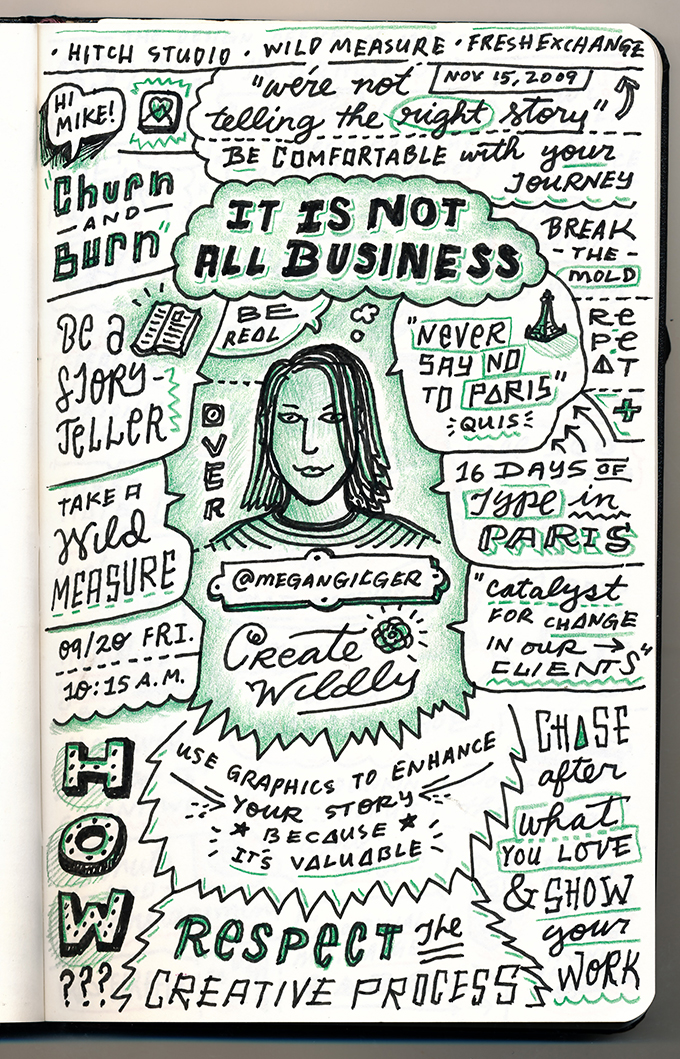 Megan Gilger – It's Not All Business
website / twitter / dribbble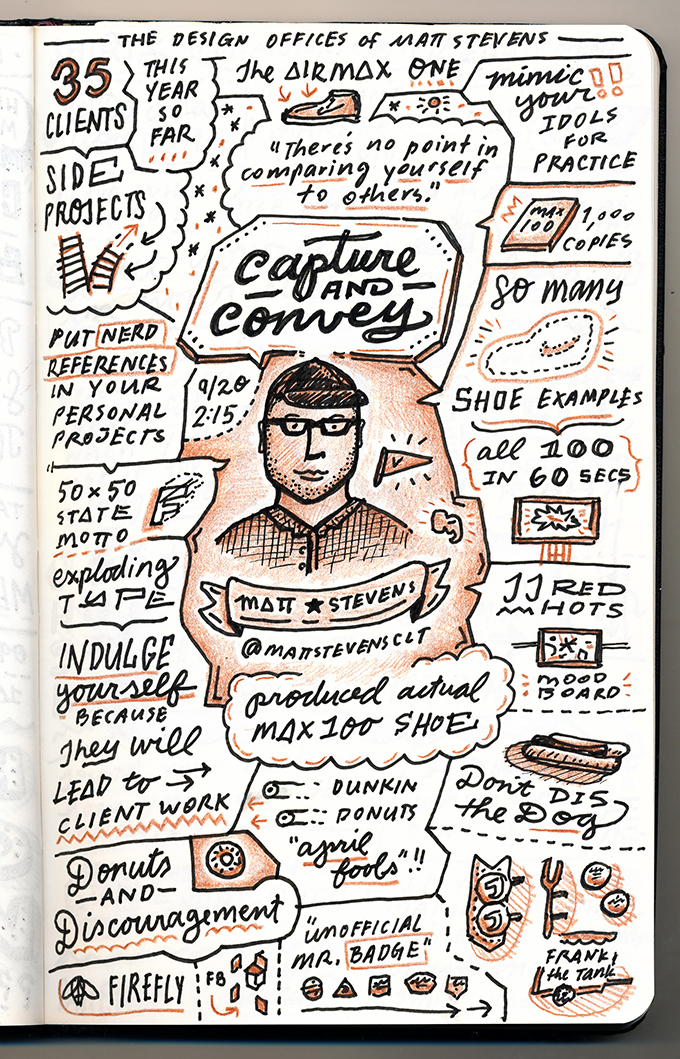 Matt Stevens – Capture and Convey
website / twitter / dribbble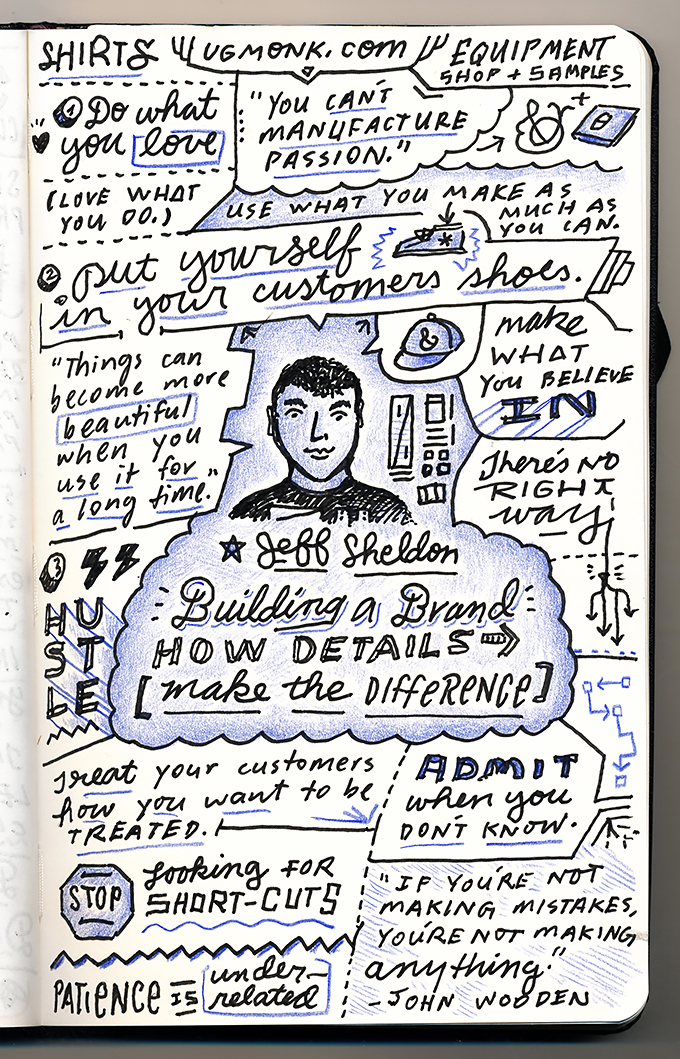 Jeff Sheldon – Building A Brand: How Details Make the Difference
website / twitter / dribbble
You can browse through the conversations about Circles by looking through #Circles2013 on Twitter and checking out their Instagram account. If you're looking for a conference to supercharge your inspiration and to make new friends, I highly recommend grabbing a ticket for Circles 2014!
Getting started with hand lettering?
Free lettering worksheets
Download these worksheets and start practicing with simple instructions and tracing exercises.
Download now!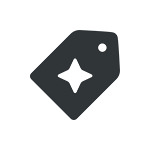 Creative Market