20 Clean and Minimal Business Cards That Stand Out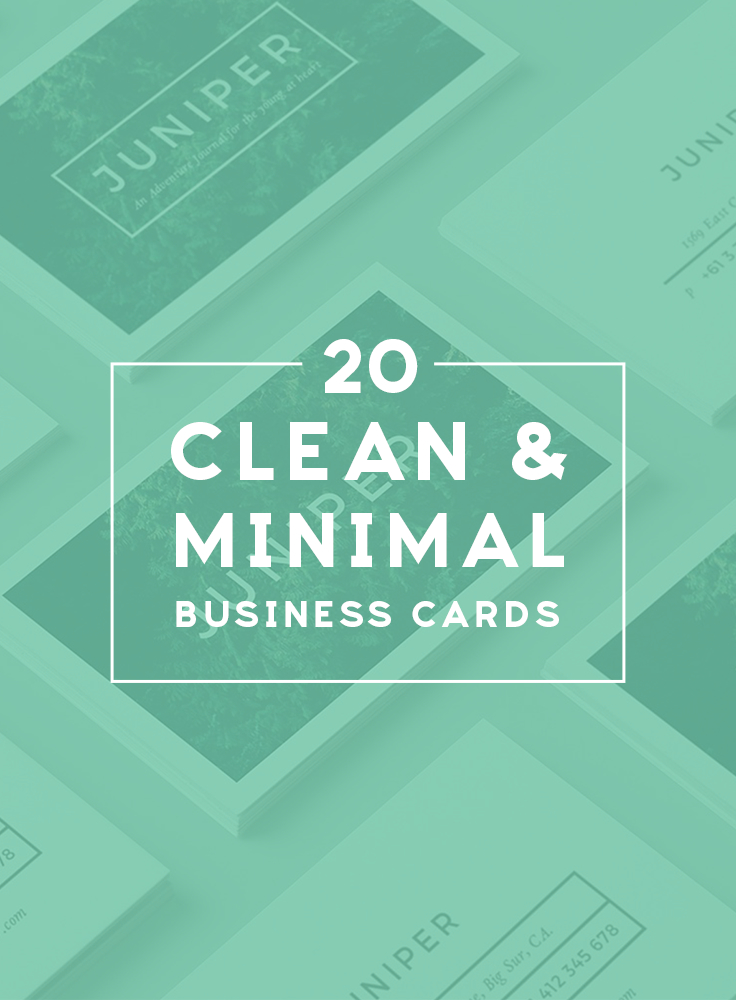 The good, old business card is still a force to be reckoned with in the 21st century, in spite of all the advances in digital marketing. This stalwart of marketing effectiveness is the perfect advertisement for your and your business that your leads can take with them and turn over in their hands for the most personal marketing ever. Go to any networking event, and you'll still see many people handing out business cards—because they work. Here are beautiful, clean, and simple business cards that will grab your prospects' attention.
NATURALIS Business Card Template
This impressive business card template uses copious amounts of white space to make the central theme of marketing your personal contact information stand out with greater urgency.
While one side is a perfect study in clean minimalism that only includes room for your logo, website, and contact details, the other side balances this nicely with an equally minimalist image that is vivid, stark, and aesthetic.
JUNIPER Business Card Template
When it comes to business cards, less is more. The JUNIPER features an elegant and timeless design on one side and a very clean and minimalist slate for your contact information on the other.
Because of its namesake, this business card displays a simple snapshot of a juniper tree on its design side. Thanks to this minimalist approach, your leads and business contacts can focus on what's truly important, which is how to get in touch with you.
Clean Black Minimal Business Card
This ultra-minimalist business card epitomizes the use of monochrome (black and white) for a truly stunning effect that projects sophistication. With its extremely basic design of white typeface on a black background, this business card is absolutely beautiful.
Formatting-wise, your company's logo and tagline are centered on one side of the card while your name and contact info are centered on the other side, for a very balanced effect.
Holo Business Card Design
With subdued, easy colors and elegant borders, this business card is just what you need to make a good impression at your next networking event. Its gentle gradients and color transitions show how powerful restraint in color selection can be.
Flip the card over, and you'll see a unique way of presenting your business name and contact info: all along the perimeter of the card.
Austin Business Card Design
The star of this business card is without a doubt the colorful and character-rich blob on the card. The blob is the only decorative touch on one side, which only intensifies the attention to minimalism on this design. Inside the blob, feel free to put your name or logo for maximum impact.
On the reverse side, your leads will see all your usual contact info plus any social-media handles that you have.
Business Card – Kelsey
A study in simplicity to the core, this Kelsey business card plays around with just two colors to amazing effect: black and white. These two neutral colors work with great effectiveness on the card to create a memorable design for your leads to admire.
Whether it's a black or white background or a black or white logo, its understated appearance packs quite the marketing punch.
Floral Business Card Template
What stands out about this card template is clean illustration, color contrast, and a well-positioned logo. These three elements combine to give this business card a highly professional look when you're handing them out to people at networking events and the like.
On the other side, feel free to include a bit more information about yourself, such as a short bio and your education history.
Premade Business Card Template
Elegance and clean design work well together on this business card. Featuring a rectangle motif and lots of negative space, it pulls together all the most important elements of any good business card and showcases them immediately on the front of the card.
Its warm color combination is easy on the eyes, making for a successful minimalist template.
Red Corporate Business Card
This business card is a creative and modern template that uses a minimalist color scheme to make your messaging really stand out. Well-defined and clean lines create an aesthetic design that'll prompt your prospects to save this card and all your contact info for a later date.
Because of the neutral colors in the design, the urgency of red sticks out with more impact than ever.
Modern Kraft Business Card
Black and gold work together well to create a color combination that gives your business' messaging sophistication in simplicity.
Symmetry is the theme with this template's design, as the front of the card features a perfectly centered logo space while the reverse side is halved into two, equal parts for added design clarity.
Wildlife Business Card
White space and great formatting are the stars on this minimalist business card.
On one side, you have an attractive background image that melts away enough to allow readers to focus on your name and business tagline. On the back, well thought-out formatting creates an organized hierarchy of your contact details for easy reference.
Stylish Business Card
Another example of how one color can unite with a neutral color to provide not just great contrast but also effect, this clean card design is hard to miss.
Hand it out at networking events, and watch people appreciate its extremely simple design that's intended to effortlessly communicate who you are, what you do, and how you can be contacted.
Gold and Black Business Card
Gold and black are two colors that complement each other very well, as evidenced in this design. Nothing makes your name and contact information stand out with clarity as much as the great contrast found in a design like this.
Add a nifty diamond pattern into the mix on one side, and you have an instantly attractive and clean card template.
Corporate Engineering Business Card
A stellar choice for anyone who wants to make a real impact at a networking event, this business card features restraint in design and color.
Its landscape orientation works well, and its main feature is a dividing line that easily and effectively separates your business name from your contact details for effortless processing.
Purple Hex Business Card
For purple lovers everywhere, this card features this soothing secondary color in abundance. This card is the epitome of minimalism with its purple and white contrast that evokes attractive simplicity.
The use of so little color and so few design elements makes it easy for your business contacts and leads to focus on the most important part of the card, which is how to get a hold of you.
Minimalistic Business Card
This card template is very unique, featuring a series of dots as its main design element.
Whether it's the columns of dots that form an interesting border when the card is in portrait orientation or the rows of dots that separate important info about you, this clean template is full of character.
Yukon Business Card
A throwback to simpler times, this clean and minimalist business card has a bit of a more vintage look and feel to it, courtesy of its ornate border and specific design elements.
With a basic faded yellow and black color scheme, this card should creative quite the impression at your next networking event or party.
Clean Corporate Business Card
Black and white dominate this simple and clean business card, but it also features a very unique, jagged pattern in either color. This minimalist style feature is just what your card needs to be recognized and saved by the people to which you hand it out.
The jagged pattern is also functional, working as a neat diving line between design and your more vital contact info.
Sync Simple Business Card Template
Available in numerous, vibrant colors that each individually pair with neutral color white, this clean business card template looks sharp.
Featuring geometric shapes and strong, well-defined lines, it is pleasing to the eye of your leads while also serving great function by making your contact information and business name very easy to see and remember.
Clean Monochrome Business Card
The heavy use of rectangles to complement the black and white color scheme is what makes this cleanly designed business card a winner.
Rectangles of different sizes combine to form various content blocks on either side of the card for neat organization and an attractive design. Its monochrome approach demonstrates how the basics work well in a business card designed to enhance your marketability.
When Minimalism Is so Much More
In design, the period of excess, frills and gimmicks is over. As a direct reaction to bad design that's typified by too much fluff that doesn't help the underlying purpose of design, minimalism has provided a much better alternative. That much is very evident in these winning choices of clean and minimal business card design. When you whip out your business card at a networking event or as you meet a new prospect, the objective has to be that your name and contact information are easy to spot and remember. A business card that's heavy on design and content is going to simply obstruct this from happening. That's why, to make your business and your services stand out with ease and impressiveness, go with a clean and minimal card template instead. You won't regret it, and your leads will actually enjoy turning over your business card in their hands to admire smart, functional design.
---
Products Seen In This Post: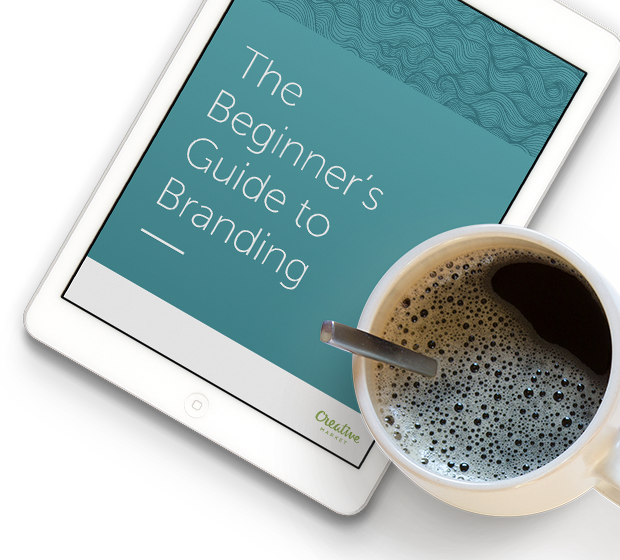 Free Beginner's Guide to Branding
Designing your own brand?
A fun, friendly, FREE guide to build a stellar brand identity.
Download now!
Marc Schenker
Marc is a copywriter and marketer who runs The Glorious Company, a marketing agency. An expert in business and marketing, he helps businesses and companies of all sizes get the most bang for their ad bucks.
View More Posts