10 Commandments of An Awesome Creative Portfolio

As a designer, sometimes the hardest brief to work on is your own portfolio. To be sure, it's no easy task to sum up an entire career's worth of work in just a few pictures and some text. But, like an architect with a messy home or a doctor in poor health, there's no excuse for a graphic design professional to not have a killer showcase of their work. We've done the hard yards for you, and listed the attributes of the best of them below. Check out our list, and then let us know your thoughts in the comments section underneath.
1. Show Your Very Best
As the saying goes, start with your best item, and then end with something better. When it comes to deciding what work you want to include your portfolio, it's best to be brutal. Include only your best work. As a rule, three to seven items works. Any more and you risk boring your audience. Any less and you might look inexperienced. Let people dip in and out quickly without being distracted. All killer, minimal filler.
2. Include The Right Type of Work
It might seem obvious, but only include the kind of work you want to make in the future. Tailor your portfolio to show off the types and styles of work you're interested in being hired for. If you demonstrate you can execute beautifully-scripted chalk lettering, you're more likely to get asked to do beautifully-scripted chalk lettering. Avoid showing too much breadth, or hiring managers won't know what your specialty is.
3. Show The Brief
What was the objective of your work? What problem were you trying to solve? These are both questions your audience might be wondering. If they don't know what you were trying to do, they won't be able to tell if you succeeded.
4. Share The Process
Good design doesn't happen without bad design. As any craftsperson will tell you, it might take 99 failed attempts to find the right one. You can be selective, but there's value in showing the design prototypes you toyed with before you landed on something that worked best. Try including sketches, wireframes, and behind the scenes photos to give the user a taste of how you tackle a project.
5. Explain Your Role
On big projects, it's not unusual for ten or more people to be involved in a team. That's why it's important to make it clear what your responsibility was and how you handled it. Did you focus on the user experience? Did you work with a partner? Were you involved in guiding and steering the work or were you more hands-on? Alongside each project, include a note about what your specific role was.
6. Include The Results
See above, when it comes to the brief, it's imperative to know the outcome. Were the client's needs met? Did the project achieve the target click through? Did you win any awards for your work? Alternatively, was there something you learned personally as a designer that you can incorporate into future projects? Even if a project didn't achieve its intended objective, there's always something you can garner. In any case, sharing what happened in the aftermath of your portfolio projects can be just as important as the projects themselves.
7. Use The Right Medium
If you're a print person, it makes sense to have a physical, leave-behind portfolio. If you're a UX or a digital designer, there's no excuse to not have an online version. Ideally, you should have both. And don't forget mobile. These days, people are using their smartphones more than ever, so there's an increasing likelihood that your audience will be perusing your work on the same device they're playing candy crush. So your work better attract attention.
8. Know Your Audience
Will your work be looked at by a hiring manager/recruiter? Or a creative director? Or will it be evaluated by a client? Are they time-poor? Will they be eyeballing your typography skills and making sure they're pixel perfect? Or will they be scanning your bio just to get a quick sense of who you are and where you've worked? No matter the audience, make sure your work and the way it's presented suits the person on the other end.
9. Nail The Right Tone
Just as you've got to be sure to showcase the right portfolio items, it's essential to convey the right attitude and personality. Are you a laid back kinda guy who wants to do boutique beer labels? Or are you looking to land high-end fashion clients? Depending on the answer, tailor your copy and your work selection appropriately to match.
10. Pick Your Platform.
There's a myriad of options out there to help you pimp your wares. Platforms like Squarespace, Behance and Carbonmade are ready and waiting for you to sign up and start sharing stuff. The positive in the explosion in portfolio-sharing services is that there are almost no coding skills required to get up and running. The downside is that this means it can be harder to make your portfolio stand out. So make sure your work is strong enough to speak for itself. On the other hand, if you're a digital specialist, you might be wise to create your own showcase from scratch. Here at Creative Market, we have a wide range of themes available to be customized and personalized to your needs. Tinkering with the HTML and CSS of your own portfolio is a great way to learn tricks and techniques to share with clients. https://creativemarket.com/themes
Ready to launch your best creative portfolio yet?
Above all, you should feel free to tell the audience a little bit about yourself. Don't be afraid to give them a sense of who you are and why you do what you do. Write yourself a professional but relaxed bio. Show a little bit of your personality off. Again, make sure that the tone in which you share these tidbits matches the audience you're targeting and the work you're wanting to do, but the aim of your portfolio is of course to get people to work with you. And giving people a glimpse of who you are is a fantastic way to do that.
So, there you have it. Ten commandments to create an awesome creative portfolio. What do you look for in a portfolio? Or have you seen an especially nice showcase out there you'd like to share? Let us know in the comments below.
---
Products Seen In This Post: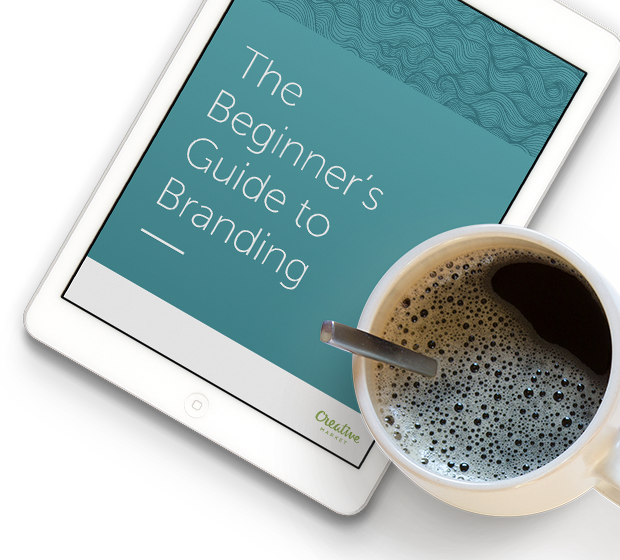 Free Beginner's Guide to Branding
Designing your own brand?
A fun, friendly, FREE guide to build a stellar brand identity.
Download now!