Creative Spotlight: Sketchnote Creator Mike Rohde
Mike Rohde is an accomplished illustrator, Creative Market author, and creator of the Sketchnote Army community. Mike has spent the last few years teaching others what he's learned about drawing sketchnotes, a technique for taking visual notes of events and information. We recently caught up with him to pick his brain on teaching creativity, being free to make mistakes, and playing the long game.
Creative Spotlight is a series of posts that focuses on highlighting interesting people in and around the greater creative community. We chat with industry professionals that we respect about their passion and recent projects, which we hope serves as great inspiration for you in your own endeavors.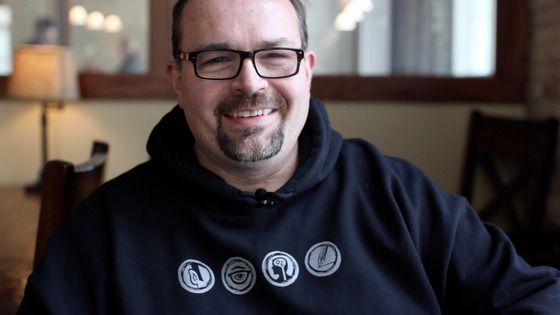 Congratulations on the recent release of The Sketchnote Workbook! We spoke with you last year about the Sketchnote Handbook and Sketchnote Army. Can you explain the idea of a sketchnote for the uninitiated, and the benefits of taking sketchnotes?
I like to call sketchnotes "Notes plus". They are just like the notes you take now, but with drawings, lettering, and icons added to make the process more fun, to create more interesting notes, and to help you remember more of what you've heard.
Another key to sketchnoting is the idea that you aren't worried about capturing everything. Rather that you are capturing the most important things, whether that's what's being said in a talk, the ideas in your head, or the experiences you're having. It's about analyzing as you actively listen and think, capturing the big, meaningful ideas that resonate with you, and can be useful for improving your life.
Because sketchnoting is about capturing ideas and not making art, you don't have to draw well to do it. All you need is a drawing good enough to capture an idea.
What's the most inspiring thing about teaching others how to use sketchnotes?
Seeing the lights going on in a student's eyes when they see how they have the ability to sketchnote, especially if they felt they couldn't draw before. That is a huge motivation for me as a teacher, ambassador, and leader in the sketchnoting community.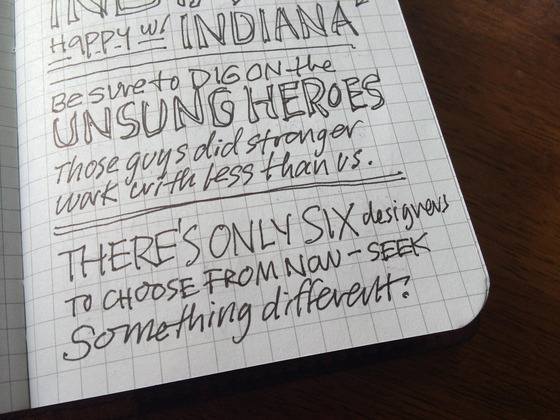 You've invested a lot of time lately into teaching others. What do you think is the most important aspect of learning a creative skill like art or design?
Learning a creative skill pushes you out of your comfort zone, and that's a good thing. We tend to fall into ruts and ways of thinking that protect us from taking risks (like learning new things). But I've found when I take risks to be more creative, or learn things that aren't easy at first, the reward comes when it clicks in and I get it.
It's really all about attitude — are you willing to be open to new things and to try them? Sure, you might fail, and you'll very likely be not great at first, but as you keep going, you get better. That's the real point: getting better.
What's the most important thing you've learned about creativity through this process?
Avoid overthinking and just get going. When I let the creating get moving and allow it to happen, I see the best results. I don't mean to not plan, but rather, to keep planning appropriate, rather than using it as a way to avoid doing the actual work.
That idea has been reinforced in my sketchnoting, because every time I sketchnote, I make mistakes. I do! However, I'm also learning and getting better. I learn what not to do as well as what to do.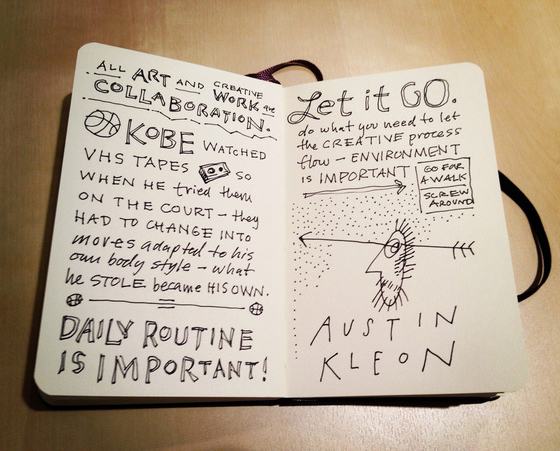 What, in your opinion, are the elements of a great sketch?
A great sketch communicates the idea in the most concise way possible. I don't care about drawing quality, or size. I want to see an idea expressed, so someone else can understand and act on the idea.
I also love to see a thinking process, which may mean nineteen sketches of ideas that won't work, and then one sketch that does. Often you can't know that until you express them on the page. Again, the idea that you know which ways not to go are often as valuable as the final way to go in my experience.
You're also a successful UX designer and illustrator, having worked on books like REWORK and REMOTE. What qualities do you think an aspiring artist has to have to be successful?
Work hard on your craft. If you're starting at it, do it to high standards. Find people who are willing to let you use your skills on their project, or do your own projects.
I think it's so important to get real work going as soon as you can, whether that's for a non-profit, yourself or convincing someone to pay you to help them.
Then look for more opportunities, using the work you've done for others, or work you've done yourself, to convince people to hire you. Keep working your way up, always being aware of long-term opportunities.
Learn to write and speak well, because so much of what you do is selling others on your ways of expressing and communicating ideas.
Help others out. It's a small world, and you never know when someone you met years ago can help you where you are right now. Be involved and contribute to your community.
In a nutshell: play the long game.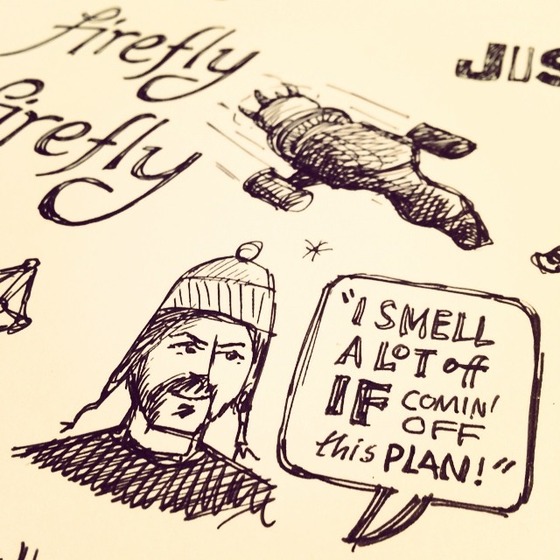 What do you do when you're struggling with an illustration or design project? How do you get unstuck?
Sometimes I'll step away and do something fun, with a time limit. Other times I'll convince myself to just work on the problem for a short time, say only 10 minutes. Often, knowing that the time is limited, I'll get into the project and want to keep going. If I can, I'll sometimes sleep on the problem and look at it again in the morning.
You run a successful shop here at Creative Market as well. Can you talk a little about your experience as a seller and if you have any advice for other sellers?
Make sure your product is top quality, spend the time to create images to show off the product well. Say thank you to every purchaser of your goods.
Find something to offer in the free goods program — I just did that and had 16,000 downloads! In a crowded marketplace, attention is very valuable.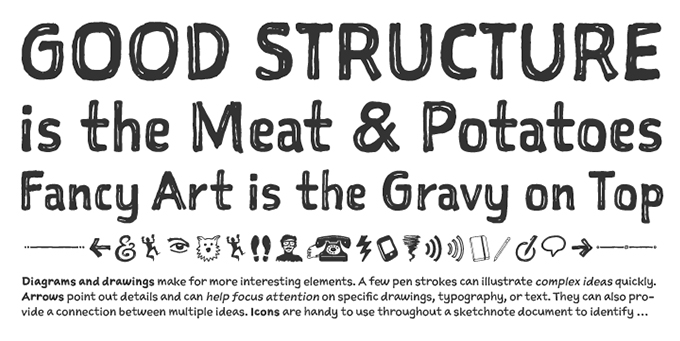 Do you have advice for other designers and illustrators trying to incorporate more creativity or sketching into their every day life?
Pick up a pocket sketchbook and carry a pencil or pen with you. Field Notes and Moleskines are great for this. Then, when you have down time, keep your phone in your pocket and sketch something—an idea, your thoughts, a design challenge. Find ways and times to sketch when you'd just be wasting time on Facebook or Twitter.
What's up next for you?
The Sketchnote Workbook, book and nearly three hour video series package has just launched, so I'm excited to share that book. It shows you ways to use sketchnotes for capturing ideas, planning projects, documenting processes, and recording experiences. I also share a bunch of advanced sketchnoting techniques from myself and my friends. Get more info on my book page.
How can our readers catch up with you?
I would love to have sketchnotes submitted to my other project, The Sketchnote Army. If you have something to share, stop by the submission page and send us your sketchnotes!
Win a Copy of Mike's Book!
If you're a fan of sketching, The Sketchnote Workbook is a necessary addition to your personal library. For your chance to win a copy, take part in our Sketch Week Challenge!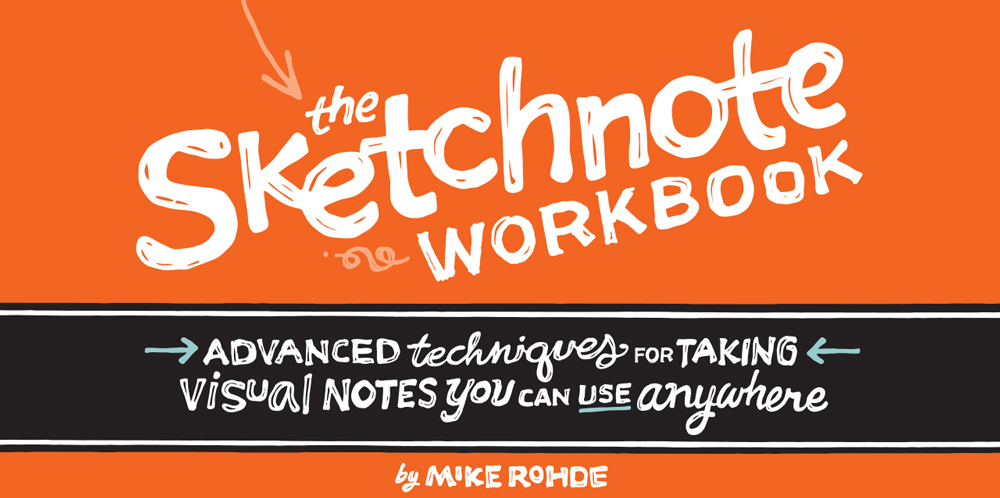 A huge thanks goes out to Mike Rohde from the Creative Market team for not only taking the time to talk with us, but for offering up several copies of his book for the Sketch Week challenge. Be sure to check out Mike's Creative Market shop for more Sketchnote goodies.
---
Amanda Hackwith is a freelance editor and writer who regularly blogs about writing, creativity, video games, and other nerdish obsessions over at amandahackwith.com. Follow her @ajhackwith on Twitter.
Getting started with hand lettering?
Free lettering worksheets
Download these worksheets and start practicing with simple instructions and tracing exercises.
Download now!