Design Gurus: Who to Follow on Twitter
We all need some new sources of inspiration every now and again. Are you a designer looking for some new sources of inspiration or advice related to the design world? Or, are you simply just looking to get inspired?
We've compiled a list of some of our favorite Designers and Design Blogs to follow on Twitter. These designers and blogs are the best of the best when it comes to top quality advice and inspiration. We chose to highlight their Twitter accounts today, because they are a great source for finding out useful and interesting information direct from the source that constantly updates throughout the day. It's like a continuous live-stream of inspiration ready for you to see everyday. There are so many great designers and design blogs that we can't highlight everyone, but we feel that these selected individuals have a lot of high quality and valuable advice that everyone can benefit from. If you think we've missed someone please let just know in the comments below so we can discover new sources of inspiration and advice.
Designers To Follow on Twitter
Chris Kaufman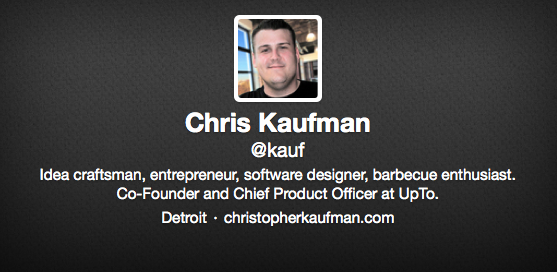 Chris is the Co-Founder and Chie
entrepreneur and product designer who finds some of the most inspirational and interesting articles on the internet. He shares interesting articles related to design, but also the real world. You'll never cease to find out information from Chris's Twitter like the following, and be sure to share them on your twitter as well:
Chris Spooner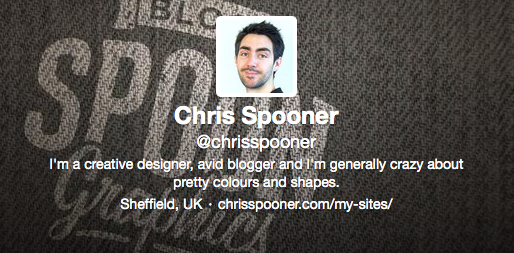 Chris is a creative designer who runs the blogs Spoon Graphics and Line25. He is constantly sharing some of the amazing posts on his various blogs, and inspirational things he finds around the web with his twitter followers. You'll see posts like the following:
Dan Cederholm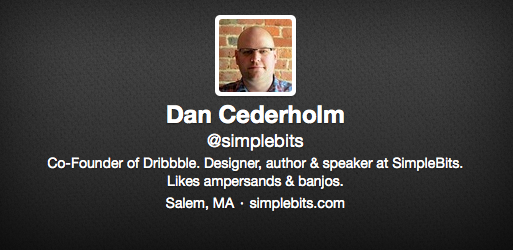 Dan is the co-founder of Dribbble, a designer, and the is the genius behind the creative studio SimpleBits. He is a well-known and respected expert in the field of web-design, and has worked with everyone from YouTube to MTV to Fast Company. Dan is constantly tweeting new and informative articles that pertain to the design community, as well as helpful words of wisdom and advice. Check out some of his interesting tweets below and share them with your community:
Fabio Sasso
Fabio is a designer, and the founder of the website Abduzeedo. Abduzeedo features a variety of design tutorials, inspirational posts on design ranging from photography to typography, wallpapers, and interviews with designers. This is a great community that encourages designers and artists to submit their work for a chance to be featured in daily design inspiration. Check out the inspiration that Fabio is showcasing on his Twitter:
Gerren Lamson
Gerren is the Chief Creative Officer over here at Creative Market, an amazing and talented designer, and half of the design team Satchel & Sage along with his wife Morgana. His Twitter is jam packed with interesting and informative posts related to design, thought provoking quotes, and much more. Check out some of his inspiring tweets:
Jacob Cass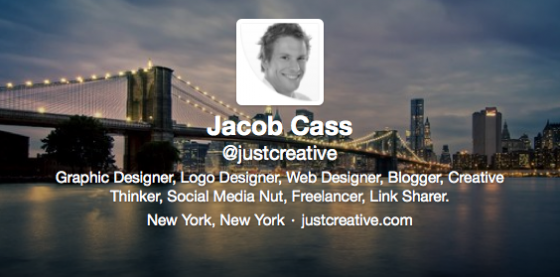 Jacob is a graphic designer who runs an amazing and inspirational blog called Just Creative. His twitter is filled with interesting tweets from his personal blog, as well as, graphic design resources from around the web. You'll read interesting articles such as:
Jim Dempsey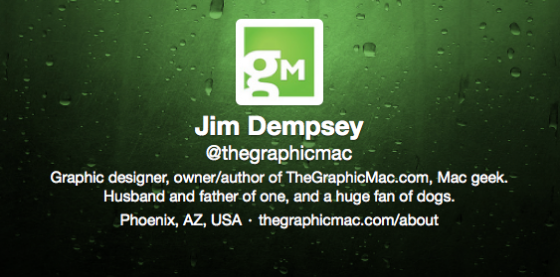 Jim is a graphic designer and the mastermind behind The Graphic Mac. His twitter is full of interesting tweets that provide useful information to designers and developers. Check out some of his useful tweets, and share them with your followers.
Liam McKay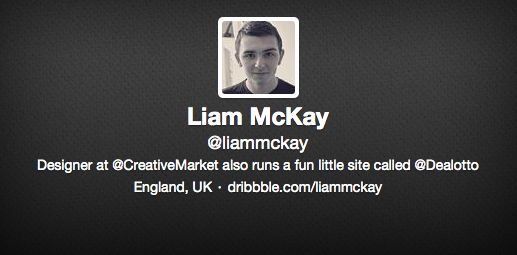 Liam is a designer here at Creative Market who also runs a the design deal site Dealotto. He has a wealth of design knowledge and expertise, and is constantly tweeting out useful information to designers such as job openings, design resources, and interesting articles. Check out what he has to say on his Twitter:
Matteo bologna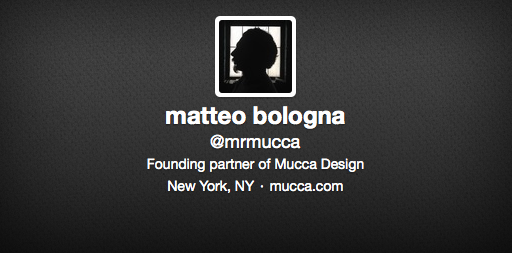 Matteo is a founding partner at Mucca Design, an award winning branding firm that is continuously coming up with interesting and unique identity designs. Matteo finds interesting articles around the web, as well as inspirational resources to help get your creative juices flowing. Check out some of Matteo's inspirational tweets:
Matthew Smith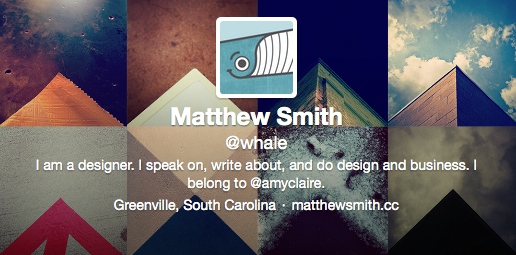 Matthew is a designer who frequently speaks about and writes about different aspects of design. You can check out some of his fresh and fun design on Dribbble, or his website to see what he's working on now. You will usually find him tweeting interesting articles from around the web, or advice he finds useful as a designer. Check out some of the things Matthew's been saying, and share them with your audience:
Naz Hamid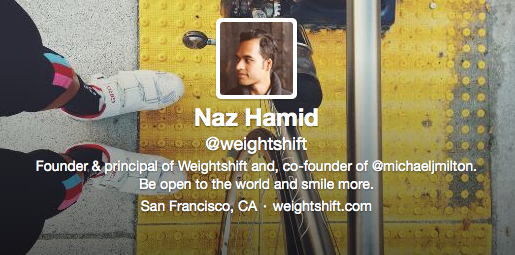 Naz is a designer in San Francisco and the founder & principal at Weightshift, a design studio based in San Francisco and Chicago. He provides great advice, insight and words of wisdom that everyone can benefit from. Check out his inspirational words of wisdom, and insight into certain areas of design from some of his most recent tweets:
Tina Roth Eisenberg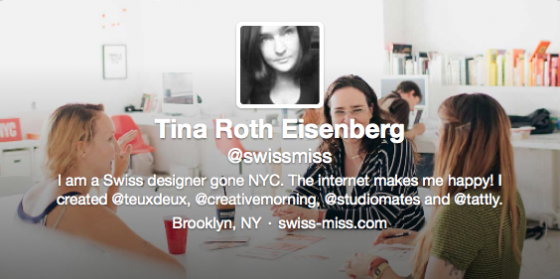 Tina is an amazing Swiss designer who is all over the internet with her blog Swiss Miss, and she even founded Creative Mornings. She tweets interesting information as well as posts from her blog and many thought-provoking and motivational quotes:
Veerle Pieters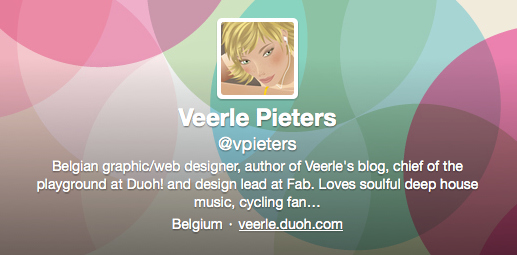 Veerle is a Belgian graphic designer, who's incredibly creative abilities helped her create an amazing blog with a massive following. She continuously packs her blog with inspiring posts that help motivate and teach graphic designers how to hone their craft. Her twitter feed is one of the best out there and is an impressive amalgamation of resources for designers. Check out some of her inspiring tweets, and share them with your community:
Design Blogs to Follow on Twitter
Bittbox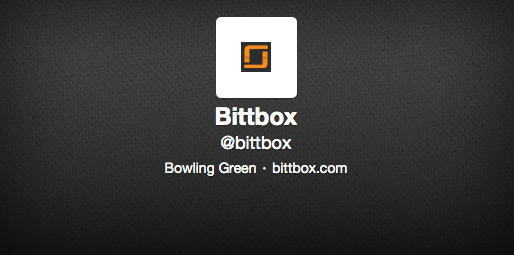 Bittbox is an incredibly helpful website that provides designers with information on finding the best of the best creative resources. Here you'll find everything from the best textures to download to Photoshop brushes that can help enhance your work. Bittbox does a great job highlighting amazing resources for designers on Twitter, check out some of their posts here:
Creative Bloq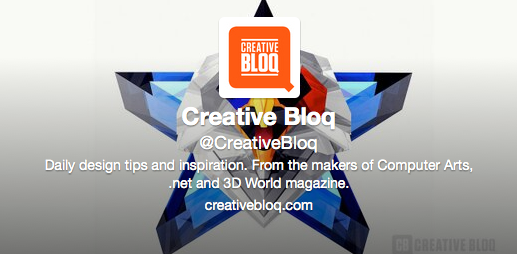 Creative Bloq is a website that offers daily design advice, tips, and inspiration. You'll find sections of their site dedicated to web & graphic design, along with illustrations, inspiration, and how-to's. The goal at Creative Bloq is to provide people with exciting and resourceful information every day. Find out what they have to offer on their Twitter:
Design Taxi
What's great about Design Taxi is that they talk about anything and everything creative. There is no limit to the sources of their articles on inspiration, news, advice for designers, developers, and creatives. Check out their Twitter to get blown away by inspiration:
I Love Typography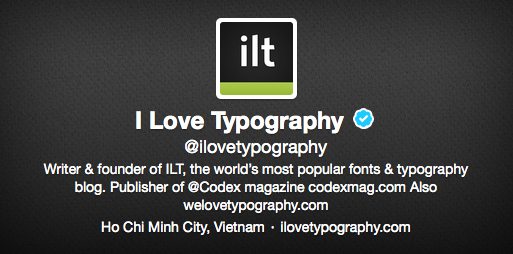 I Love Typography is a very well-known and highly respected blog focused on fonts and typography.  The blog is known for featuring new and unique fonts available for download and use, as well as looking into the science and craft of typography and font creation. Their twitter posts are incredibly inspiration and resourceful if you're interested in fonts and typography. Check out some of their tweets:
Hongkiat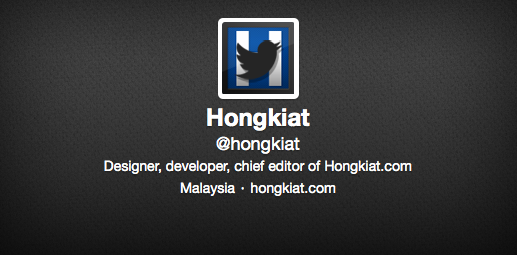 Hongkiat is a blog dedicated entirely to design, inspiration, and technology. You won't believe the useful and inspirational resources that you can find on this blog. Hongkiat does an incredible job of featuring their, and other, articles on their Twitter that are actually useful for designers and developers. Check out some of their tweets:
Inspiration Feed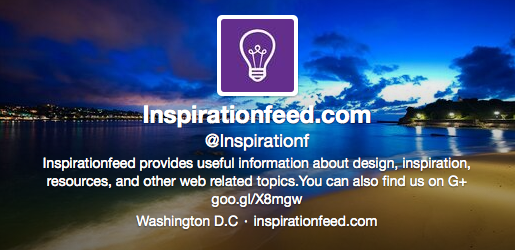 Inspiration Feed is an incredible resource for general inspiration, as well as design related posts. There are so many fascinating, interesting, and helpful articles on their blog I constantly find myself sharing, re-tweeting, and reading their articles. I hope you find their tweets, like those featured below, helpful as well.
Six Revisions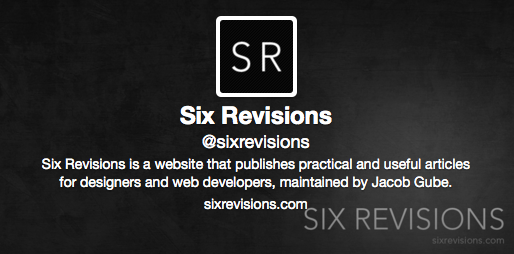 Six Revisions is a very useful website that provides articles on advice, inspiration, and everything in between to designers and developers. Both on their twitter and website you'll find both helpful and inspiring advice on all aspects of design. Check out some of their tweets, and share them with your followers:
Smashing Magazine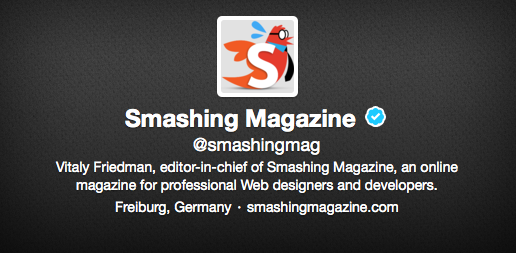 Smashing Magazine is an incredibly in-depth and useful magazine for designers and developers. On their site you'll find everything from resourceful articles to tutorials, and even a job board. Their Twitter is a vast compendium of high quality resources for both designers and developers. Check out some of their tweets:
You The Designer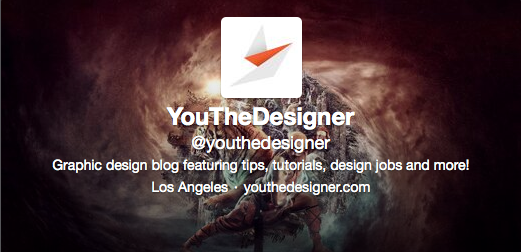 You the Designer is a design blog featuring tips, interviews with prominent designers, resources, freebies, and even contests. The purpose of this blog is to constantly showcase cutting edge design. Their twitter is packed with their latest blog posts, and creative inspiration from around the web.
Web Designers Depot
Web Designers Depot is an online blog that offers high quality design advice and inspiration in a vast array of categories including branding, logos, and graphic design. You'll find tons of freebies, special deals for designers and developers, and inspiration. They post interesting and informative articles on their Twitter multiple times a day, so you'll never lack design inspiration.
Getting started with hand lettering?
Free lettering worksheets
Download these worksheets and start practicing with simple instructions and tracing exercises.
Download now!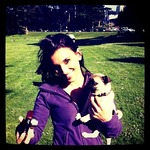 Maryam Taheri
I'm a recent graduate of the University of San Francisco with a degree in Biology and a passion for the creative arts. I love building websites, trying new things, and I have a passion for social media.
View More Posts