Design Trend Report: Neon Design
Neon design is instantly recognizable. Anytime you see that bright and distinctive glow piercing through the darkness, you know what you're looking at. Based on the chemical element with atomic number 10 and identified by its symbol Ne, neon design doesn't have a multitude of commercial uses, but that hasn't stopped this design trend from making a huge, cultural impact all throughout the 20th century.
From glowsticks at parties and large, gaudy signage to pop culture trademarks like the 1980s Miami Vice TV show font, this dazzling design trend brings up images of downtown districts and entertainment hotspots like Las Vegas. For some designers, it may bring up a few challenges due to its flashy nature, though, but figuring out how to incorporate this trend into new projects for clients is where the true fun lies.
Here's your crash course on everything neon design.
The History of Neon Design
To figure out where exactly this trend came from, odd as it may sound, we have to go back to the very beginning with the discovery of this noble gas back in 1898. English chemists Sir William Ramsay and Morris W. Travers were the first to discover this gas, along with krypton and xenon as part of the same process. Ramsay chilled a supply of air so that it became liquid; he then warmed up said liquid and captured the ensuing gases as they boiled off. The gas that gave off a vibrant red light underneath a spectroscopic discharge was—you guessed it—neon.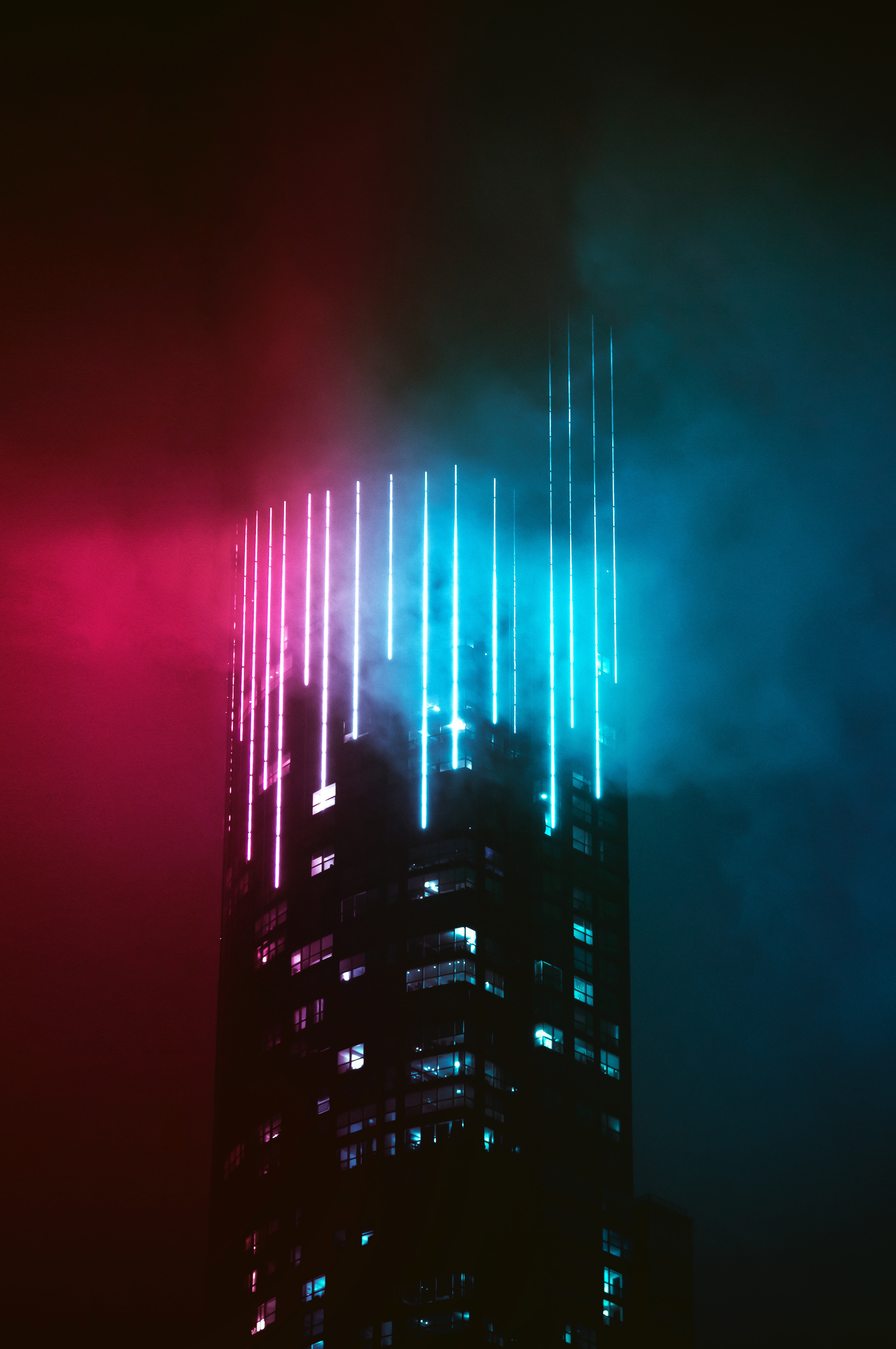 As Travers noted:
"…the blaze of crimson light from the tube told its own story and was a sight to dwell upon and never forget."
In the same way that its discoverer was mesmerized by its brilliant color, neon has enthralled generations of people for more than 100 years. Since its first appearance in a controlled setting in Ramsay's and Travers' London laboratory, the element has gone on to leave a mark in the world of design.
It took a short while for this element to find its groove, but, nonetheless, after its discovery, it was immediately put to use in scientific instruments as well as curiosities.
Slowly but surely, it began to be adapted for more widescale use in two forms it's still widely used today, signage and lighting, where we see the element's transition for use in neon design.
After 1902, the company of Georges Claude, seen as the pioneer of neon lighting's commercialization, started to manufacture large-scale quantities of the element, as a fortunate byproduct of his air-liquefication company. He invented what we call today the Claude system for air liquefication (where gas is physically converted into a liquid).
The result of this was apparent in 1910's Paris Motor Show, where Claude for the first time ever showed off two, giant, red neon tubes that were used to light up the peristyle (a continuous porch that typically envelops a building's perimeter or courtyard) of the exhibition hall called the Grand Palais. This event marked the first time that neon lighting was used in the way we know it today.
After this successful display of the captivating quality of neon design, the sky was the limit for this then-nascent trend. Jacques Fonseque, Claude's business associate, immediately saw the potential that lighting and signage of this nature would have for advertising.
In one of the earliest forms of a creative marketing strategy, in 1913, a huge neon sign for Italy's Cinzano, a brand of vermouth, lit up the Paris night sky. In 1919, the Paris Opera was also illuminated by neon tube lighting. Needless to say, the dawn of neon design was seizing the imagination of people in the early 20th century.
For a glimpse into just how captivating this design trend can be, take a look at some of our neon-inspired digital assets:
Claude's successes with these marketing experiments helped to give him access to the bigger American market, where his neon design was received with quite the enthusiasm. By 1915, Claude already held a US design patent for the electrodes found in gas-discharge lighting. This patent empowered Claude's company to monopolize the US market as far as neon signage was concerned, all the way into the 1930s.
The seminal event in the U.S. that ensured Claude's success in bringing this design trend to American shores was businessman Earle C. Anthony's acquisition of two neon signs from Claude. They were to be used at his Los Angeles Packard automobile dealership in 1923. Anthony had great success drawing the attention of passing motorists with his highly luminous signage.
After other businesses saw how Anthony made out with his signage experiment, they quickly set up franchises with Claude in order to manufacture their own neon signs.
By the early 1930s, the neon design business in the U.S. had swelled to almost $17 million, a significant number back then. After Claude's US patent expired, the neon signage industry only grew more rapidly as others jumped into the fray to produce their own signage.
Since the discovery of neon at the turn of the 20th century, the growth of the neon industry was pretty much non-stop, but this finally hit a snag when World War II started in 1939. This was not an uncommon phenomenon back then, as various other design trends were impacted or hindered when World War II broke out. For example, Art Deco, which had been a powerhouse in both pop culture and architecture throughout the 1920s and 1930s, saw its dominance come to an end when hostilities erupted.

Unlike Art Deco, however, neon design would see a resurgence of sorts after World War II was decisively won by the Allies in 1945. The post-war era, itself a period of growth for design trends like Mid-Century Modern, was marked by a boom period in construction that saw neon become an integral part of some of the new, streamlined designs of the late 1940s and 1950s. One prominent example was Las Vegas, which was being developed into a resort destination; due to its attractions and hotels, demand for items like neon signage skyrocketed. This legacy and association with everything neon is still very visible today when you drive through the city.
Las Vegas, due to its resort status, was a notable exception, however, because the rest of the country, not being in the same situation, didn't follow suit. As a result, the demand for this design trend gradually declined throughout the 1950s. Maybe it was the gaudiness or the excess, but some jurisdictions actually started to deter the use of neon displays with strategies like ordinances. Plus, fluorescent-lighted plastic was become the lighting choice of its day, replacing this element.
If you thought this was the end of neon design—think again!
It experienced another resurgence in the mid to late 1980s, thanks in part to something called channel lettering. This was custom-made plastic or metal lettering for signage that was utilized in public and commercial settings, typically illuminated from within the structure. Neon design was prevalent in pop culture, too, with shows like Miami Vice using these neon colors everything from the opening of the show (the typography) to the backdrops of various scenes.
While the trend has petered out again since the 1980s, it's being kept alive by specific projects and artists intentionally using this element in their designs.
The Characteristics of Neon Design
Now that you know about the history of this design trend being firmly rooted in advertising, it's to be expected that its traits are geared toward capturing people's attention, which is putting it mildly. This trend is meant to be loud, flashy and perhaps even a little bit kitschy. That's just part and parcel of the charm of using neon in your design projects.
Look for the following qualities in any project that uses this style:
Bright, vivid and loud colors
Stencil patterns and effects
Dark to light contrast (especially since stands out against the night environment)
Commercial and marketing tie-ins
Shading and shadows
All in all, there aren't too many distinctive traits that make this design stand out from other trends, simply because lettering and signage that uses neon takes a very simple approach. This straightforwardness is what has made it such an attractive choice for advertisers in entertainment and resort areas, however, because of its in-your-face quality.
For an even better sense of what makes this trend's characteristics so all at once memorable and ostentatious, have a peek at some of our favorite neon-based design assets:
Neon Design in Graphic Design
One of the best ways to understand how to use more of this in your own designs is to observe how graphic designers are currently incorporating neon influences into their projects. Here are some great examples.
Neon Alphabet Kit
For a glimpse into how you can add some of this trend into your typography on various projects, look no farther than this alphabet kit. It lets you come up with your own signage, thanks to the plethora of individual PSD and PNG characters that you can fashion into titles, quotes, words, etc.
Each character comes in two versions: the neon one and a one-off or non-glowing version. As the creative, you have full control over how to make these characters look in your typography, as you can play around with the colors (through a hue-saturation-layer adjustment) and other factors.
Overall, you get all the letters of the alphabet, the numbers 0 to 9 and special characters like the ampersand and exclamation mark.
Neon Procreate Brush Kit
Another good example of what's possible with design in this aesthetic, this brush kit is meant to work with your iPad's Procreate app, so you can use your stylus to draw and letter to your heart's content.
This kit is bursting with value. You get:
30 color swatches that go with the brushes (to maintain color consistency)
12 neon writing brushes
3 light pen brushes
1 effects brush
19 background files that are ready to go
A special tutorial to further optimize your effects
Procreate swatch file
The drawings and letterings you create are perfect for projects such as:
Invites
T-shirts
Brochures
Email newsletters
Wall art designs
Greeting cards
Note that there are no text effects included here because you create your own with the brushes!
Neon Sign Shapes Vector Pack
This vector pack offers you a collection of neon icons, all of which are fast and simple to customize to your preferences. Now, you can decorate all sorts of projects with these icons, which feature:
Diamonds
Skulls
Eyes
Lips
Hearts
Flowers
Food (hamburgers, pizzas, ice cream cones, hot dogs)
Arrows
Signage (bar, drinks, etc.)
Want to change your icon's size or color? No problem. All that's done in the easy-to-use Illustrator file.
Transparent PNG files, EPS and vector AI are all part of this set.
Neon Design in Web Design
The world wide web is replete with eye-catching examples of this style infused into the digital pixels of website displays. While this style may have faded in real life from its heyday in the middle part of the 20th century, it's alive and well on websites that enjoy pushing the boundaries of visual experimentation.
The website of this web-design business boasts interesting neon typeface in the site logo that's accessible on all webpages. Specifically, the font features an almost stenciled lettering that immediately brings to mind all of the signage you'd see in any entertainment or resort capital that features neon signs.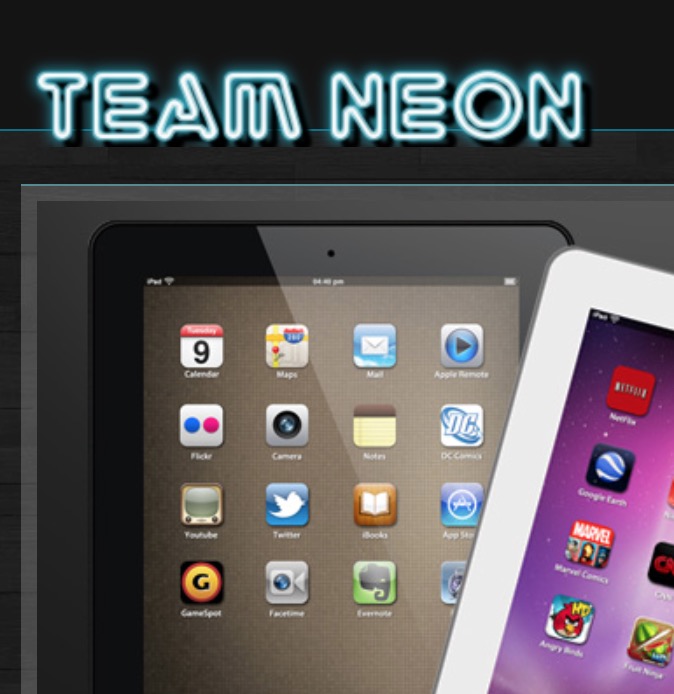 Image Credit: Team Neon
Its color is also vivid and bright, using the same hues you'd normally expect to see with any real-life signage of this type.
There's also somewhat of a retro vibe going on here with the site aesthetics, especially given the quite bare-bones, minimalist approach to the site design.
Family-owned Blanchett Neon is a signage company that's been in business for several decades, specializing in illuminated signage. As you might expect, this company's branding matches its mission, and that's no more apparent than on its homepage.

Image Credit: Blanchett Neon
In the rotating slider or carousel visible on the homepage as soon as a visitor lands on the site, you'll notice a vivid, neon sign from one of its real-life projects. This vivid image perfectly complements the site's color scheme, which incorporates bright, dotted swirls that occupy the lower portions of the homepage.
Yoke is an Australian design, web-development and creative agency. One of its projects—the work it did for Museums Victoria's "Love" campaign—brilliantly shows off the dazzling aspect of neon. On its blood-red "Love" title card, the word is displayed in flashy, neon lettering.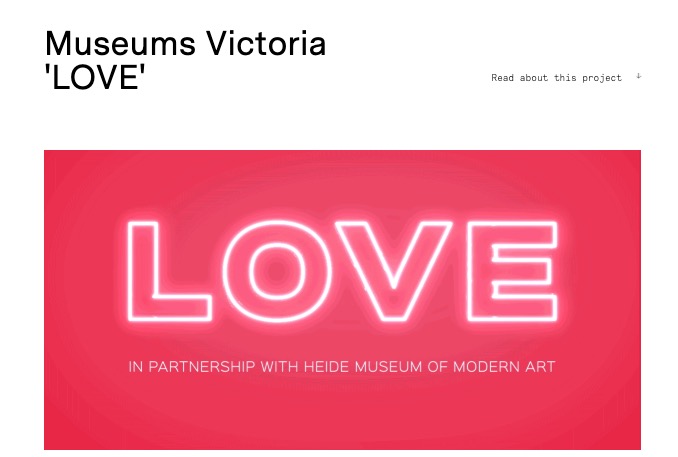 Image Credit: Yoke
Not only does the chosen font embody the typeface traits we commonly associate with neon signage and lighting—the fat, slab-like strokes and the thin borders—but it also flickers and vibrates, just like what you'd see in a Las Vegas display. All told, this is a very on-point example of how web design can make neon lettering come alive.
Neon Design in Signage
You can't cover this design trend without specifically diving into some of the most memorable, real-life examples of this style. There's no better place to look than the various signage on display in commercial and entertainment districts throughout the world.
Vegas Vic
A neon mascot of Las Vegas, Vegas Vic is unique because, unlike other neon signage and lighting that typically focuses on typefaces, it features the human form of a gregarious cowboy winking at passersby. Originally erected on the outside of the now-defunct Pioneer Club, which was a prominent casino in the city for a number of decades, Vegas Vic now graces the exterior of a souvenir shop.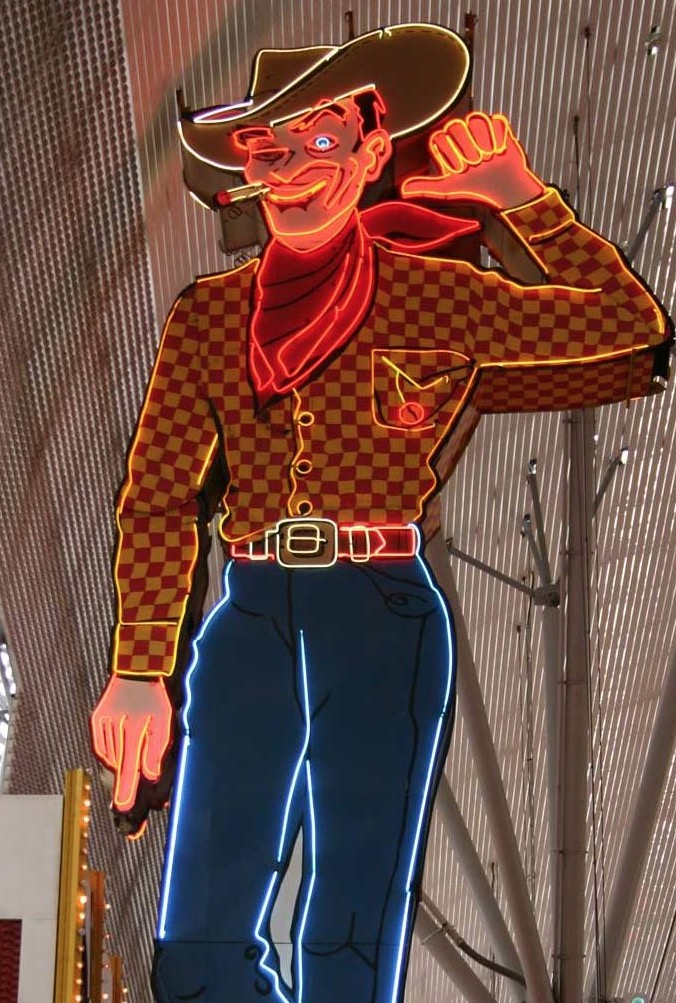 He's a 40-foot-tall figure that was originally constructed back in 1951 and has gone through a restoration or two in the several decades since then. This exemplifies how neon design can be used not only to advertise, but also to showcase creativity.
Times Square
New York's famous tourist attraction and entertainment and commercial epicenter is famous for its use of neon design. Whether day or night (but more noticeable at night!), Times Square is always ablaze with illumination in the city that never sleeps. You can take in a show, get something to eat, or just hang out with your friends.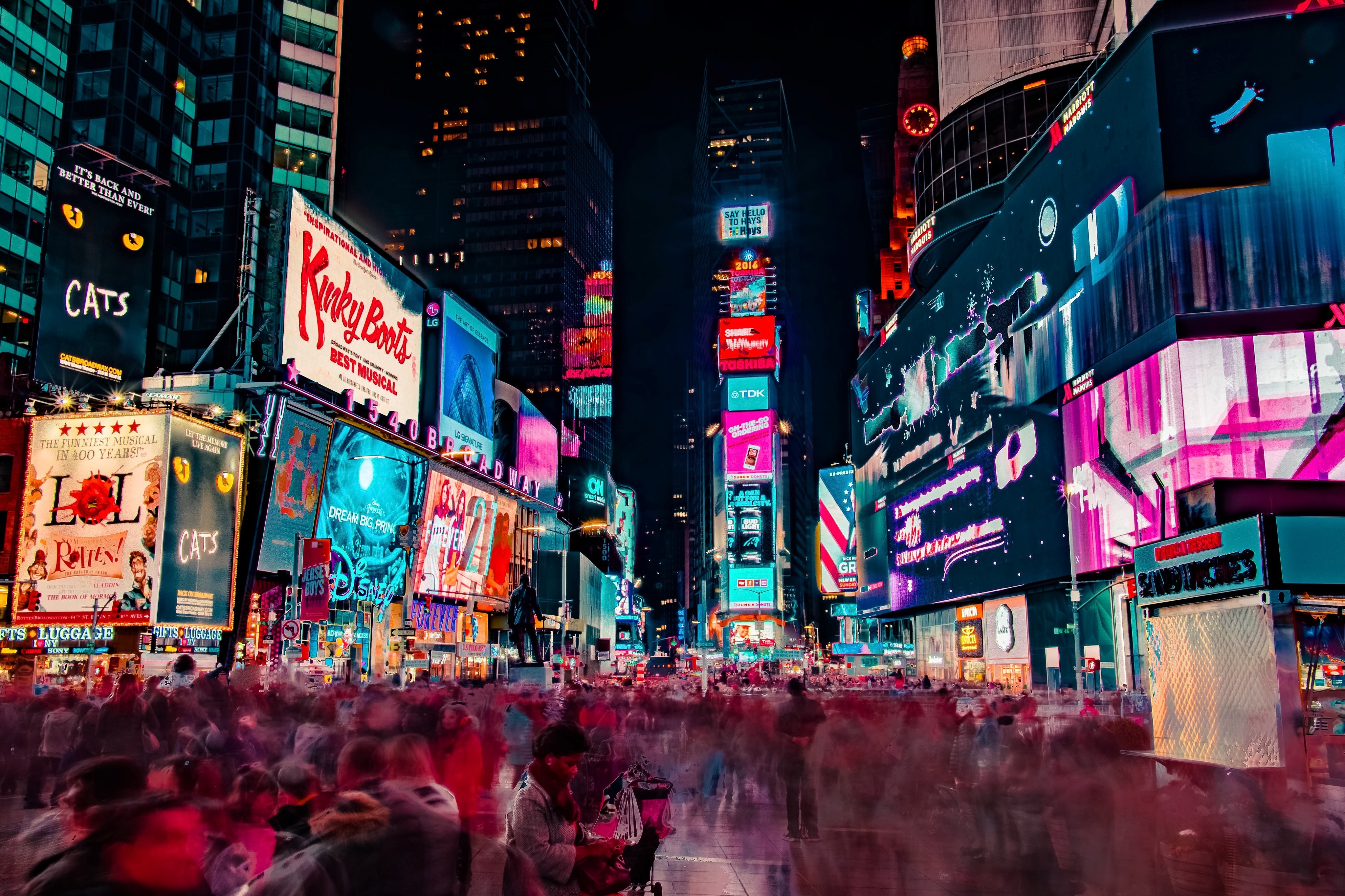 Due to the magnitude of foot traffic that passes by here during any given day, advertisers were naturally quick to take advantage of the situation with large and impressive neon signage and lighting displays—which has really been a mainstay of this location throughout the decades.
O'Hare International Airport's Sky's the Limit
Chicago's O'Hare is the site of a well-known lighting display done up in this style. Called Sky's the Limit and created by artist Michael Hayden, the display is part of a subterranean walkway that extends for almost 1000 feet at the airport. The installation is a large collection of neon tubes, dazzling people as they move through the United Airlines terminal.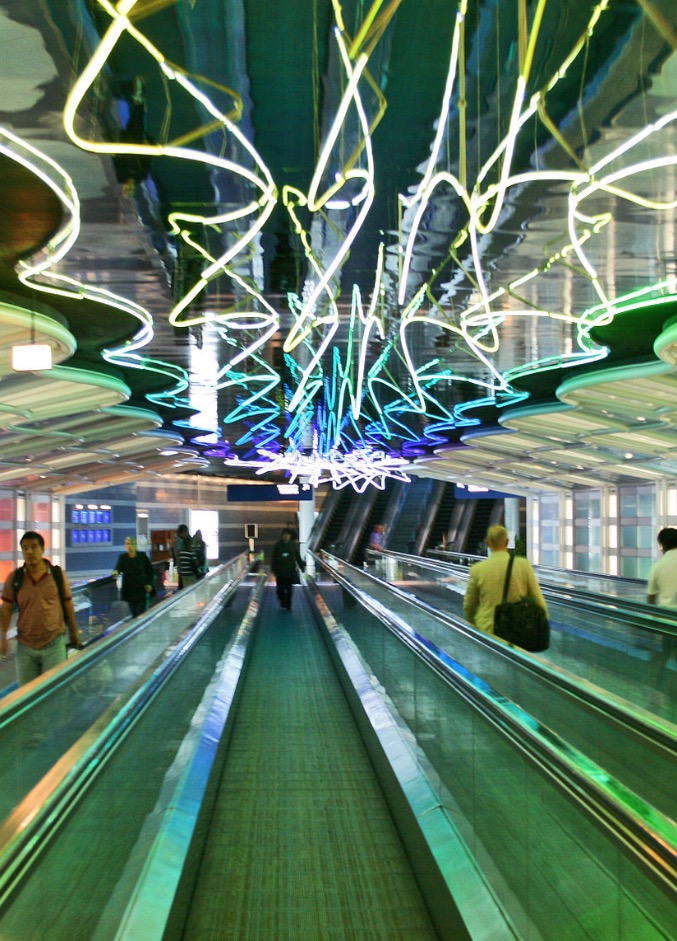 The installation is known for its electrifying colors, featuring everything from warmer tones like yellow to cooler hues like light blue, turquoise and purple.
All Roads Lead to Neon
As far as trends go, neon design is quite special, and it's not just due to its vibrant nature. Unlike other design trends like, say, Bauhaus, no one's going to intensely study it to figure out the intricate design principles it uses. That's largely because it's commercial and marketing-based in origin.
Still, the simplicity and accessibility of this glow-in-the-dark element has made it popular and in-use since its discovery in 1898. Though its popularity over the past 100 years has ebbed and flowed like the incoming tide, everybody understands what this trend is about as soon as they hear the word, "neon."
---
Products Seen In This Post:
Getting started with hand lettering?
Free lettering worksheets
Download these worksheets and start practicing with simple instructions and tracing exercises.
Download now!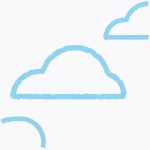 Marc Schenker
Marc is a copywriter and marketer who runs The Glorious Company, a marketing agency. An expert in business and marketing, he helps businesses and companies of all sizes get the most bang for their ad bucks.
View More Posts