Design Trend Report: Terrazzo
Terrazzo may not be the first thing that springs to mind when you think of a design trend, but not so fast. After all, this popular flooring and wall treatment, a composite material that's either precast or poured into place, is made up of pieces of marble, quartz, granite, or glass. These individual components are then poured with a so-called binder, whether polymeric, cement-based or a combination thereof. That's how you get Terrazzo. However, it's the intricate and interesting patterns that result from this happy mixture that has established Terrazzo as a design style that delivers quite the aesthetic punch. That's to say nothing of the stunning colors that are also possible with this material! It's no wonder, then, that this material has influenced numerous graphic-design creations, websites, and even inspired various social-media hashtags and Twitter chats. As you'll soon find out, Terrazzo is a lot more than just a flooring material. It's a design aesthetic that goes back thousands of years, while still retaining its unique influence today in the 21st century.
The History of Terrazzo (and Terrazzo Design)
You may be surprised to learn that this material was first used as early as 9000 to 8000 BC, according to archaeologists, who use the word "Terrazzo" to denote the floors of early-Neolithic structures. The Neolithic is a reference to a period of mankind's development, particularly in technology, starting at approximately 10,200 BC and lasting until about 4500 to 2000 BC. One Neolithic settlement especially is famous for its Terrazzo floors. Archaeologists have found such features in Cayonu, in eastern Turkey: almost 1000 square feet of Terrazzo have been unearthed there. To say that this design style has quite the history behind it is quite an understatement.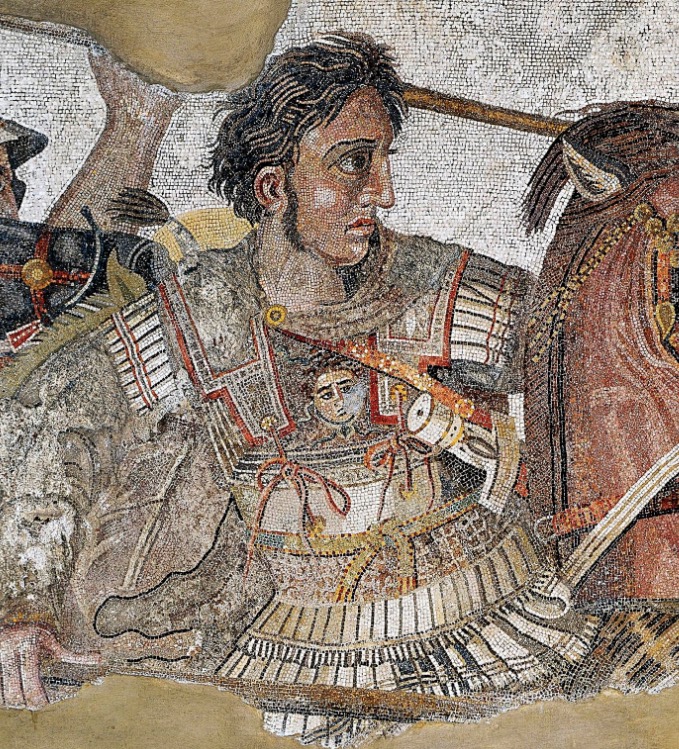 From its Neolithic beginnings, the material next won favor in the ancient world. The civilizations that gave us Julius Caesar, Alexander the Great, and the infamous treasures of King Tutankhamun also gave us…Terrazzo! According to research by the Library of Congress, today's Terrazzo floors are the direct descendants of the ancient world's—specifically Rome, Greece, and Egypt—practice of designing and building mosaic floors. This makes sense when you think about it for a moment: when's the last time that you looked at even just a section of Terrazzo and didn't think to yourself how palatial and majestic it seemed — almost as if it would fit in perfectly in an ancient temple or mausoleum? Next, we fast-forward a few thousand years. If we want to put our finger on the direct reason for the material's enduring popularity, we have to look to the Italian province of Fruili and its 18th-century mosaic designers. Some 60 miles north of Venice, Fruili was a mass producer of Venetian pavement, called pavimento alla veneziana. Fruili's artists were known as the terrazieri (those who work with Terrazzo), which also gives us the modern name for this material. Back in the day, it was commonly used in Venetian structures like churches, where these workers would position fragments of marble beside each other within a mortar base. There's also a related technique named seminato. This involved the same workers throwing bigger marble pieces into cement, which was first ground, then polished. In combination, both of these techniques gave rise to today's common form of Terrazzo, where fragments of stone are bonded, through a special process, to a cement foundation. Now, let's look at how this material fared when it journeyed across the Atlantic. Terrazzo came to the U.S. not too long ago, in the late 1890s to be precise, and it achieved popularity by the 1920s. In these early days of the 20th century—when design trends like Art Deco were in style—it was still quite brittle to work with. As a result, laborers and designers had to utilize it in only small-scale endeavors. There were certainly no ambitious, large-scale flooring projects they could deal with. That all changed suddenly with two inventions: the electric grinding machine and divider strips. The latter enabled those working with the material to finally restrict the continuous crumbling of Terrazzo by allowing the material extra room to both expand and then shrink after it had been installed. We can thank divider strips for allowing artists to create all the impressive designs we see in this substance today because it allowed them to style Terrazzo further, once it was settled in the floor. The electric grinding machine sped up the production process, letting builders and designers cut down on costs.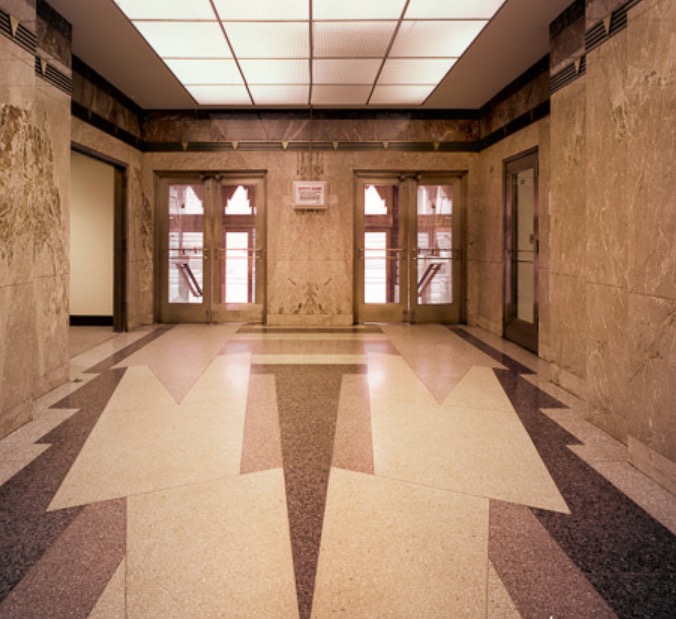 Interestingly, designers working in the aforementioned Art Deco style—along with its offshoot design trends like Streamline Moderne—used Terrazzo to further Art Deco's already glitzy and memorable reputation. The divider strips, when used with the material in flooring, let artists include straight or curved lines within terrazzo, thereby adding to its stylistic value. Certainly, when we look at some of Art Deco's famous characteristics—like its geometric forms, which feature plenty of straight and curved lines in various designs—it's easy to see how the addition of straight and curved lines in terrazzo would've complemented the overall design aesthetic.
The Characteristics of Terrazzo Design
Whether Terrazzo appears in the floor or as part of a graphic-design creation, this substance's freewheeling creation process gives way to numerous possibilities and styles. As a result, we get to enjoy a lot of diversity in Terrazzo pieces, but, at the end of the day, they all share, in one way or another, the following qualities:
Speckling
Dotting
Imperfection
Contrast (colors, shapes, forms, sizes)
Neutral colors as well as vibrant ones
Patterning
Geometric influences (lines, curves, circles, triangles)
Versatility
The beauty of this material—and it doesn't matter whether it's the literal material or abstract illustrations or images of it—is that it goes with everything. A Terrazzo floor or wall goes with any piece of furniture you put in the room, just as a Terrazzo graphic pattern goes well in any presentation, brochure, business card, or layout for a website. Now that we have a solid idea of what design features comprise this design trend, let's dig deeper into all the visually interesting examples of Terrazzo that abound across many disciplines. To see this style's interesting design features up close and personal, have a glance at several terrazzo digital assets from our marketplace:
Terrazzo in Graphic Design
Because of this versatile substance's eye-catching designs—both in flooring and walls—it has carried over to this art medium, where graphic designers have taken its features and turned them into digital masterpieces.
Terrazzo Patterns
This set of vector graphics features 12 patterns in this aesthetic. The designs highlight the visually attractive nature of this material, as textures with speckling abound. Not only a pleasing study in terms of contrast, but the speckled patterns also show off a good amount of asymmetry and randomness, displaying how a bit of unevenness lends itself to interesting visual effects. The patterns here are ideal for projects such as packaging, branding, posters, leaflets, or fashion apparel, further demonstrating the versatility of Terrazzo design.
This graphic collection explores the material from a standpoint of incorporating bold, striking colors into its patterns. The result is a set of vector patterns that explode with colors, proving that terrazzo work doesn't have to only be conservative. For balance, the set also includes monochrome terrazzo patterns—for those projects where serious and somber effects are necessary. Speaking of projects, the digital assets in this collection are perfect for design projects like:
Art prints
Flyers
Posters
Postcards
Stationery
Invites
Web elements
Branding kits
Blog design
T-shirts
Fabric prints
Book covers
Creatives are literally limited solely by their imagination.
Terrazzo/Granito Seamless Patterns
An excellent example of how to apply this design trend to 3D objects, these patterns give designers a large amount of freedom and customizability. These vector patterns are easy to handle and print. Looking for some extra textures on your textiles? Simply print them off and use them on everything from pillowcases to blankets. If you work in packaging design, these patterns are a godsend, too: whether it's the tube of a lotion or the outside of a lovely handbag, Terrazzo style is versatile. Of course, you can use them on paper as well, making these vectors ideal for envelopes, business cards, gift paper, and much more.
Taking its cues from the flecked flooring of the same name, this business card template features vibrant Terrazzo patterning to help designers and creatives make an impression at their next networking event. With flamingo-pink on one side and the terrazzo flecking on the other, the business card template gives off a bright and clean presentation that's a modern take on this material.
Terrazzo on Social Media
Since social media gets much of its allure from the visual, it's fitting that this design trend is very popular on different social platforms, particularly those that are exclusively image-based (think Pinterest and Instagram).
Pinterest
On Pinterest alone, this design style was included in the company's Pinterest 100: The top trends to try in 2018, a roundup of predictions of what would be hot throughout 2018, all based on global data culled from the company's numerous categories. Pinterest metrics indicated that saves for "Terrazzo" increased by a remarkable 316% over the last year. It's safe to say that users and those with an appreciation for fine design are increasingly expressing their interest in this aesthetic by this growth in Terrazzo-related pins.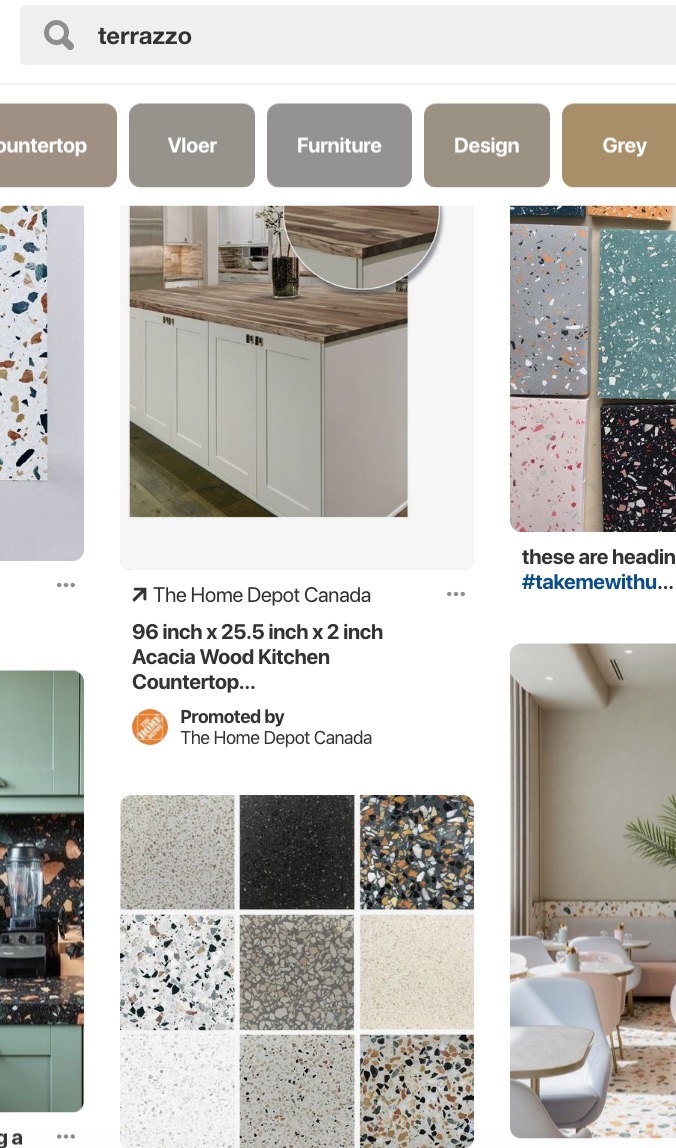 Search for Terrazzo on the platform, and you'll quickly be greeted by a seemingly endless number of results as you infinite-scroll down the results page. The results are so voluminous that searching for the term automatically produces several dropdown-menu suggestions for more specific categories, such as Terrazzo flooring, Terrazzo bathroom, and Terrazzo tiles.
Instagram
Like Pinterest, this visuals-only platform is a cornucopia of posts and images that obsess over this style. Begin typing Terrazzo into Instagram's search bar, and you'll quickly get a suggested search result of #terrazzo, which features more than 170,000 results in total. Related topics, like #terrazzofloor have almost 10,000 results.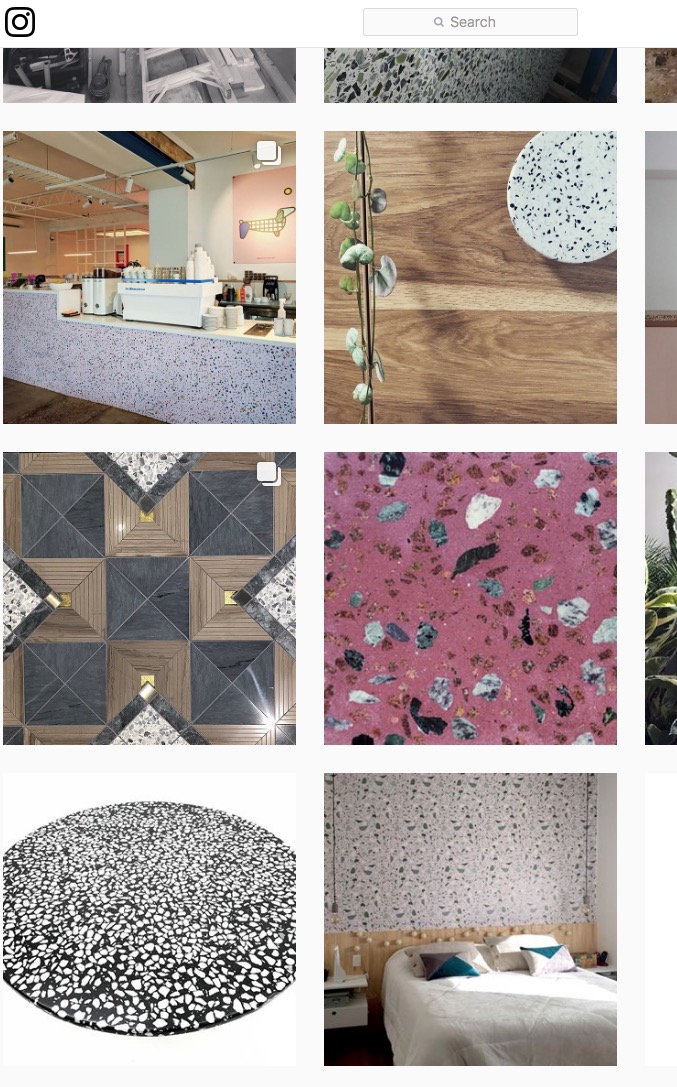 From there, simply scroll down the platform's infinite-scroll feature to get your fill of marvelous textures, colors, floors, walls, and graphic-design pieces all giving you a bird's eye view of this design trend.
Twitter
Just like with the Vintage Film Cameras design trend, Twitter is surprisingly welcoming to this style, too. Though better known as a firehose of pithy, rapid-fire tweets on everything from politics to influencer musings, this social platform has quite a large selection of terrazzo-related imagery as well.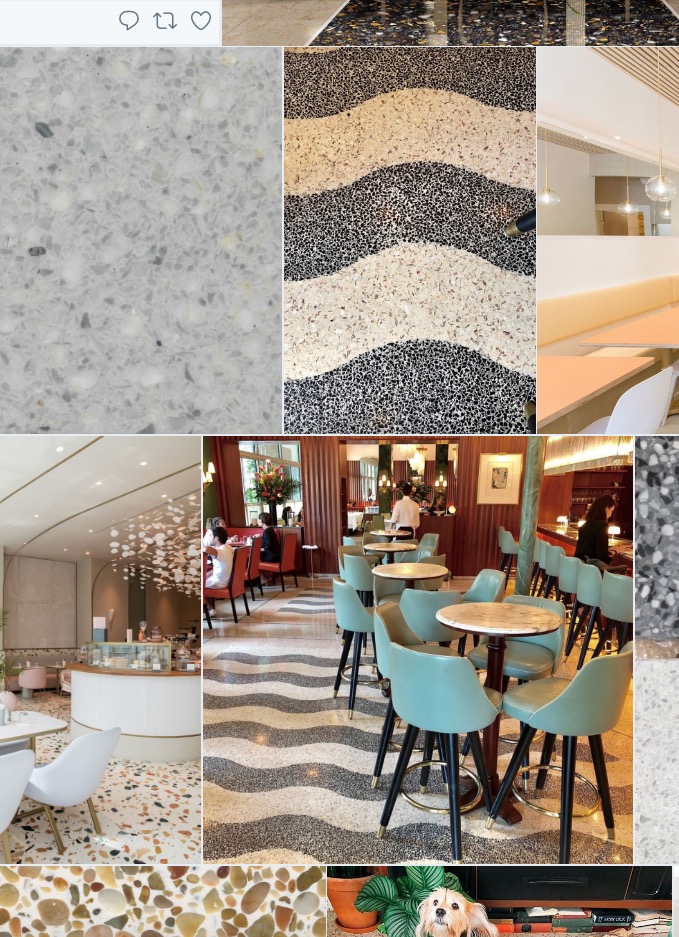 It just goes to show you that, when a trend is up and coming, users of even unlikely platforms will take the time out of their day to post about it. Here, just enter #terrazzo into the search field. Once the search page populates, head to the Photos navigation tab, where you can take in as many visuals as you can handle that show this style from all sorts of angles.
Terrazzo in Web Design
This style carries over seamlessly to web design, given its nice textures and patterns. For designers looking to spruce up any webpage, infusing some Terrazzo-inspired designs go a long way toward creating a fresh and unique layout.
Summer in the City GIF
From graphic designer and illustrator Ola Jedrzejewska we get a neat motion-graphics creation that celebrates the glory of this speckled style across a variety of summer-based activities.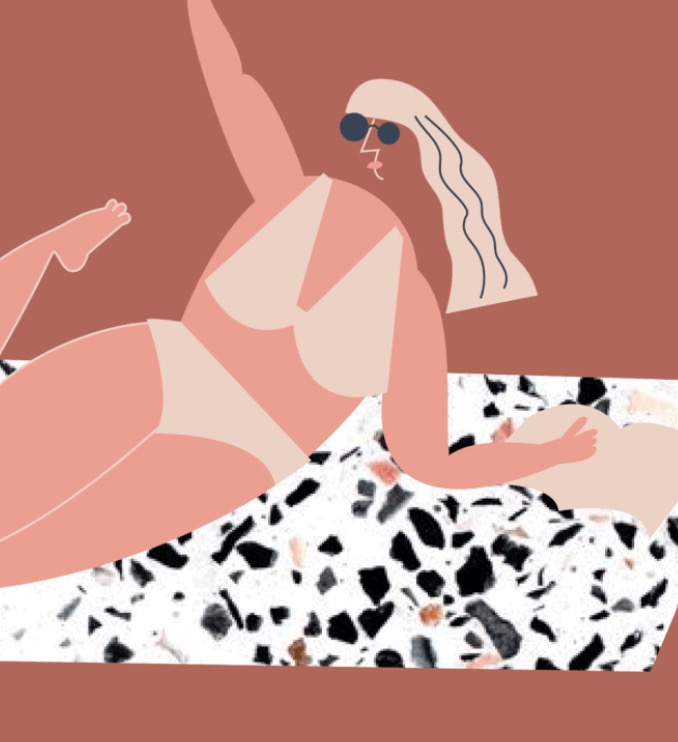 From simply relaxing and reading on a Terrazzo beach towel to skateboarding while wearing dappled, texture-friendly pants, this GIF illustrates how Terrazzo patterning can take otherwise ordinary themes and transform them into something colorful and playful.
Cleaning Terrazzo Infographic
Infographics inform and entertain with their digestible bits of knowledge presented in a fluid way. A Terrazzo tile manufacturing company decided to educate its customers with an infographic, using the spotted, speckled beauty of Terrazzo as the background for its infographic.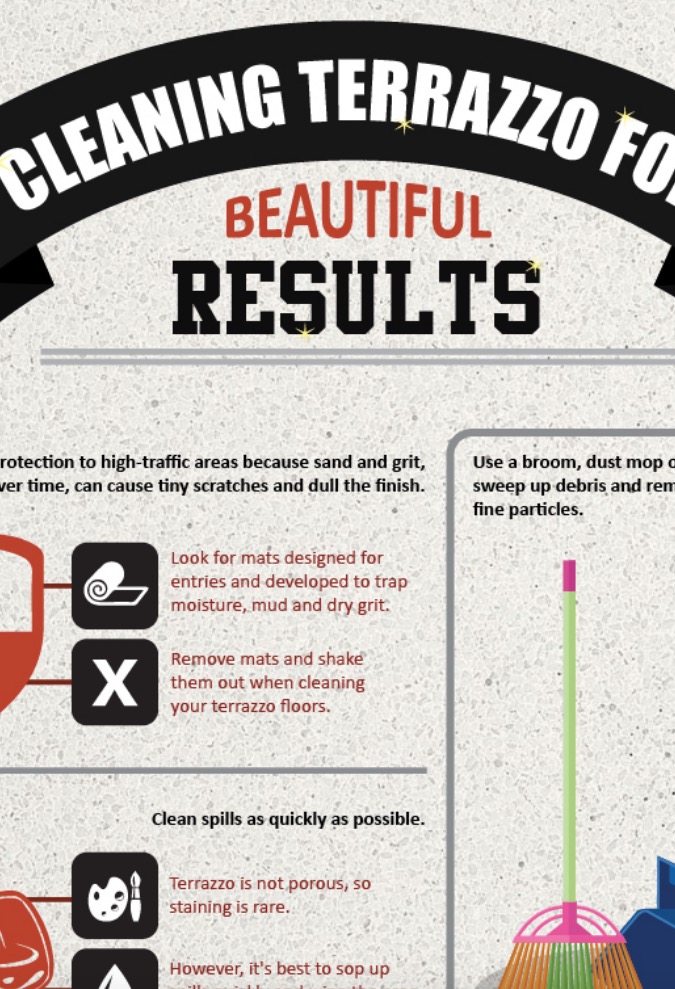 The Cleaning Terrazzo for Beautiful Results infographic is a black-and-white graphic interspersed with vibrant flashes of color for effective contrast. The Terrazzo presence is evident in its gray backdrop, which boasts the interesting texture always associated with the material.
Terrazzo in Interiors
Last but not least, we have to cover the area where this material started it all: interiors, especially in flooring. You'll be surprised at how many famous places have some form of this substance inside of them.
The John Adams Building
The John Adams Building, named after America's second president, is actually part of the U.S. Library of Congress, the second-oldest of its four buildings. There are two things that are noteworthy here: 1) Sections of floor are made from Terrazzo, like the 5th floor's elevator lobby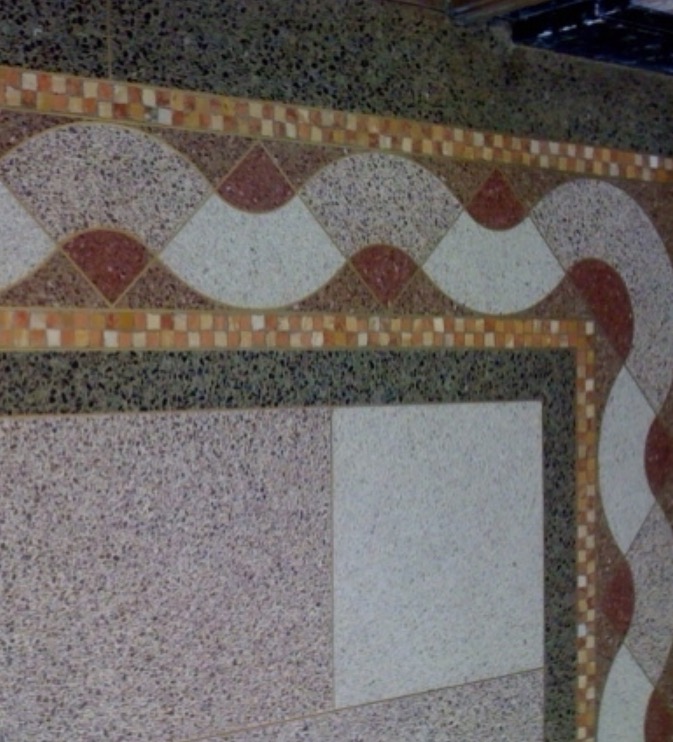 2) Again establishing the connection between this material and the early 20th-century style of Art Deco, the entire John Adams Building is actually a conservative style of Art Deco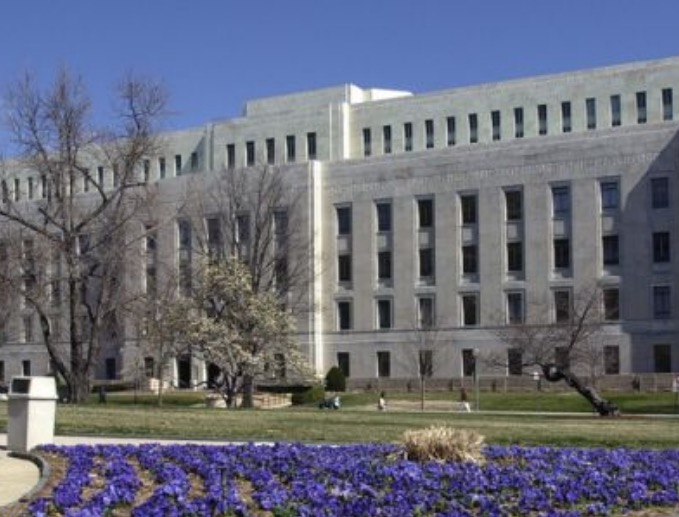 Each year, throngs of visitors pass through this building and walk its floors, probably without realizing the amazing design influences at work here.
Louisville International Airport
Look down every once in a while when you get the chance to travel through the Louisville International Airport in Louisville, Kentucky, and you'll see spectacular Terrazzo designs. They're so spectacular that they were the recipient of a National Terrazzo and Mosaic Association award this year.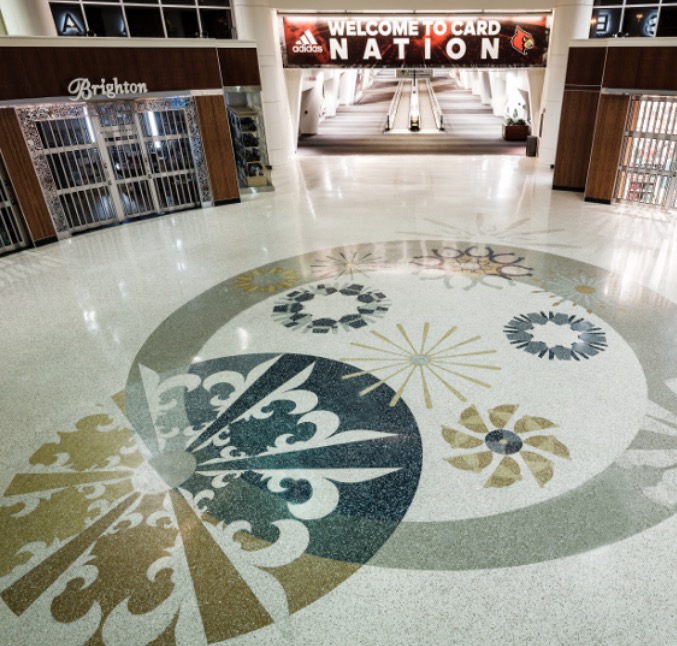 What you'll see are:
Smart linear arrangements
Historical fleur-de-lis
Circular patterns
Spheres
Sunbursts
This is one airport where you may want to actually take your time walking through it and spend more time inside of it than you have to, just to appreciate the thoughtful designs right underneath your feet.
Bonus: The Hollywood Walk of Fame
Not an interior, per se, but definitely a shining example of a famous landmark of sorts using this flooring pattern to great effect. The Hollywood Walk of Fame is, of course, the stretch of three blocks along Vine Street and another 15 blocks right along Hollywood Boulevard that immortalizes various celebrities' contributions to pop culture—for better or worse.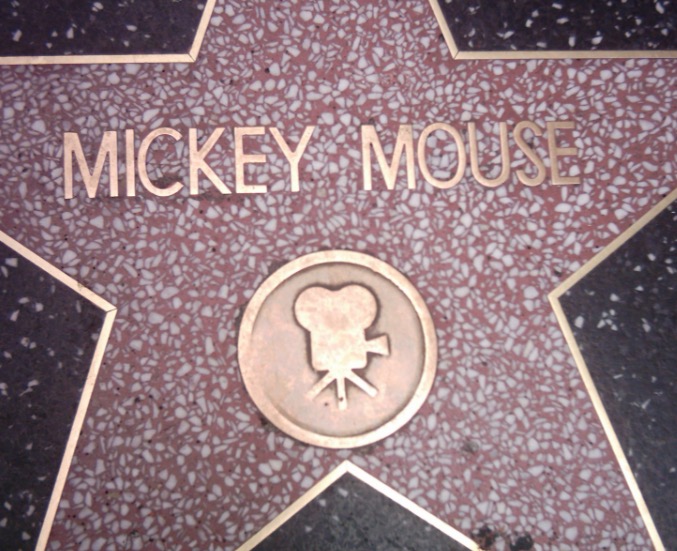 Here, the terrazzo is obvious: every star is a five-pointed, coral-pink terrazzo design rimmed by brass and then inlaid into a Terrazzo background. Established back in 1958, this is one of the country's most enduring monuments that uses this material in large quantities.
Not Just for Floors
A common misconception when one hears the word "Terrazzo" is that it's only for flooring, but as we've shown here, that couldn't be further from the truth. Thanks to the inroads being made on the web, graphic design, and social media, this design trend is exploding digitally in all the right places. Due to its highly interesting textures that feature unrelenting specks and patterns that are timeless, this material has legitimately been turned into a design style that more and more people are beginning to discover and appreciate. To stay ahead of the curve with this up-and-coming trend, designers shouldn't be afraid to include Terrazzo and its related sensibilities in their projects. It's a surefire way to delight clients.
---
Products Seen In This Post:
Getting started with hand lettering?
Free lettering worksheets
Download these worksheets and start practicing with simple instructions and tracing exercises.
Download now!
Marc Schenker
Marc is a copywriter and marketer who runs The Glorious Company, a marketing agency. An expert in business and marketing, he helps businesses and companies of all sizes get the most bang for their ad bucks.
View More Posts