How to Design Your Own Stamp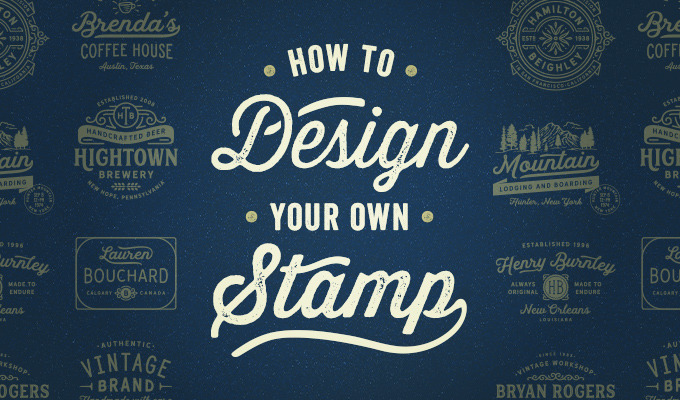 One of the reasons I love working with pre-made graphic design assets is that I appreciate just how versatile they can be. Designers like to have lots of different assets and tools to call upon when needed and often times you can find a surprisingly great starting point in a pack that you purchased with a different purpose in mind.
For example, the email template you used for your newsletter might also make a great basic one-page website for your next side project. Those postcard designs you downloaded suddenly take on new life as part of a hero image for your new blog, or maybe those seamless patterns you liked on those business cards might now make the perfect new background to your website too. This is the beauty of using pre-made resources, that one product can take on new life in different ways.
Using Logo Templates to Make Custom Stamps
To illustrate just how useful one product can be in multiple different applications, we are going to take on a quick design challenge, taking some ultra-versatile logo templates as the starting point towards making ourselves some unique stamp designs that could be used to order custom rubber stamps for your craft projects, upcoming events or business. To better understand what rubber stamps are useful for, take a quick look over at Etsy.
What Are Logo Templates?
Logo Templates are pre-made logomark and logotype designs that can be used alone or in combination to give you a new ready-made brand identity for your project or product. You simply change the text, pick your colors and maybe pick out an icon here and there and you have yourself a crisp new logo.
The great thing is, logo templates are made in such a way that they are the perfect starting point for making your own custom stamps, making the process in our little design challenge very simple — the main task you have is finding the right pack or template to start with.
Even though it's an easy process, it's still worthwhile to see just how useful one pack of templates can be, especially when using them for something that is slightly different to their intended use.
Picking The Right Starting Point
Starting this design challenge is quite fun, run off and find yourself a great pack of logo templates. Obviously, the marketplace on Creative Market is a great place to start your search. With lots of different styles available ranging from old-style vintage logos to modern or sleek ones, it's up to you to find the logo that is closest to the final result that you want. It doesn't have to have everything you need, but find a template that gets you the closest and look to make small edits to get it where you want it to be.
If you need help finding the right products, have a browse around the Logo Template Collection I put together featuring some of the most incredible logo and badge packs that I found and that I think would be perfect for this example challenge, as well as many other uses.
For our quick example challenge to show just how versatile these templates can be, we are going to create rubber stamps for three made up clients. One being a 'Save the Date' style stamp for Wedding Invites, the next a rewards stamp for a Coffee Shop and finally a discount sale stamp for a Clothing Shop label.
As we are looking at making for stamps for 3 different clients, we are going to start off our project with a pack that includes a number of different shapes, styles and variations, that lead me to picking up this well made pack called 80 Modern Vintage Logos vol 3 by DISTRICT 62 STUDIO which we are going to work with for all 3 designs.
Tip: check the fonts! Be sure to read product descriptions, FAQ's and instructions before purchasing, this is particularly important with logo templates as many of them rely on specific fonts to achieve their particular look, so you want to know in advance what the deal is. Luckily many of them use readily available free fonts and share those links with you too, but some may require additional font purchases - or simply include their custom fonts in the product itself.
This is not required, as you can substitute out the fonts for any that you already own and wish to use. The point is, every pack is different, so to avoid any surprises you should read up about which fonts are being used for any logo template you want to use. If in doubt, contact the seller.
In our case, an additional pack of fonts was required, Hanley Font Collection by DISTRICT 62 STUDIO - but as our templates rely heavily on the beauty of the custom fonts, it made sense to pick up the extra fonts, instead of substituting them with our own fonts.
Example #1 — Wedding Stamps
As you can see, picking the right logo template to start with makes our task of turning it into a 'save the date' stamp incredibly easy. The fonts look good, the decorations fit the style we want, so all we have to do is edit the text & convert the image to black and white ready to order a custom stamp. 60 seconds of text editing and we are done!
Example #2 - Coffee Shop Loyalty Stamp
For this example, let's imagine you work at a coffee shop and you want a custom print for your shop to allow customers to earn a free coffee for loyal daily visits. Using the exact same pack of logo templates we can simply pick out another design, one that's close to what we need, and once again, simply by editing text we have ourselves a custom stamp!
Example #3 — Clothing Store 'Sale' Label
Again using the exact same pack of logos, choosing a different template and editing the text alone we take a logo template and turn it into a yet another kind of stamp, this time a promotional 'sale' stamp that could be used in a clothing store for example.
Video Timelapse
Here's a timelapse of my process on all 3 example stamps that I created, as you can see I wasn't kidding when I said this was going to be quick — although this video is sped up, the real run-time of this process clocked in at just 60 seconds of editing text for each one.
Once your designs are done, most rubber stamp printing services let you order online. Simply make your artwork black and white, where the black area will become your stamp, upload your artwork and order your custom rubber stamp. This process doesn't require any real design work, you just need to have the right software, which will vary from product to product.
Recommended Services & Templates
If you are on the look out for some logo templates to start designing your own custom stamps, I've put together a growing collection of hand-picked products which you can use to kick-start your search, or of course you can browse the Creative Market logo category.
Powered by Creative Market
If you have got this far and have yourself a custom stamp, and are now looking for somewhere to order your stamps online, here are a few great places to start: Stamp&Sons - Vistaprint Stamps - Etsy.
So there we have it, as quickly as it all started we've taken one pack of ready-made logo templates and put them to use for 3 different types of custom stamps in no time at all, and without any real design work involved — just one of the many ways that you can take a well designed product and put it to work for you in a number of different ways, saving time and money along the way.
---
Products Seen In This Post:
Try some of my FREE goods: https://payhip.com/liammckay/ Designer with a love for beautiful Icons, Textures, Brushes and WordPress Themes.
---