Designing a New Profile for Creative Market Shops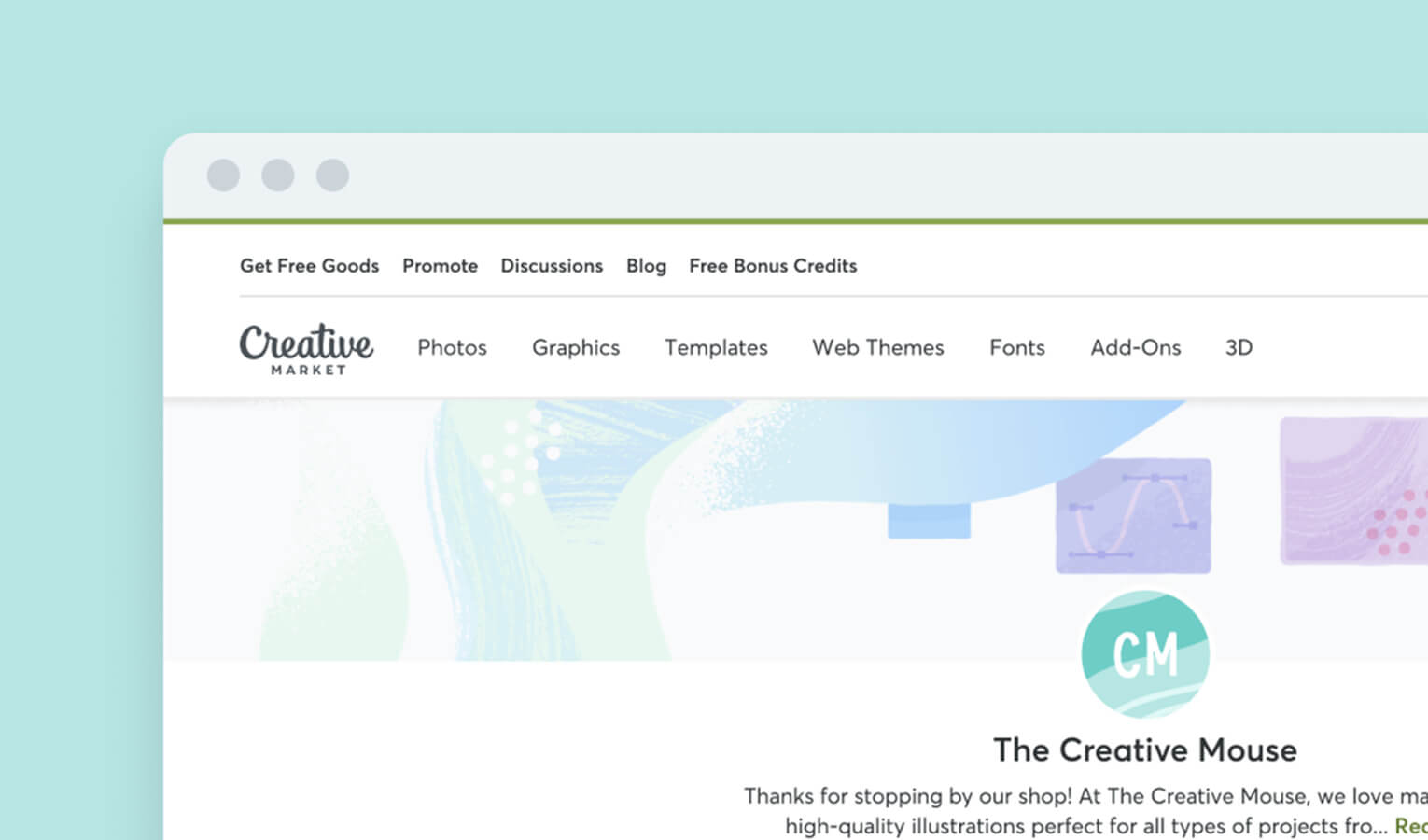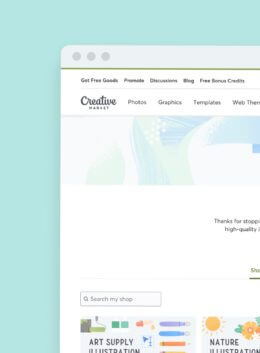 Shop profiles are sporting a fresh new look! After listening to feedback from shop owners and buyers, our Shops Team took on the challenge of reimagining what selling on Creative Market looks like. Our redesigned shop owner profile, the first step in that direction, is now live. To take a deeper dive into the redesign, we talked to Mai Nguyen from our Product Design team. Read on to learn about some of the design challenges we solved for and how we're working to build a delightful experience for Creative Market shop owners like you.
What was the main challenge going into the project? What were you trying to solve for?
There were a couple of things. After the homepage redesign, we started getting a lot of feedback from shop owners asking for a more modern shop page. A design that would better reflect the direction that Creative Market as a whole was trying to go into. Some of the feedback we received involved better showcasing creators' products with a fresh design, which complimented the breadth of products we have.
Our priority was to maintain the functionality we have right now while improving it so that both types of Creative Market users had a better experience: shop owners from the asset management side and customers from a browsing experience. Those objectives were top of mind as something we wanted to solve for through this redesign.
When you went into the redesign, what was the first thing you thought needed to change?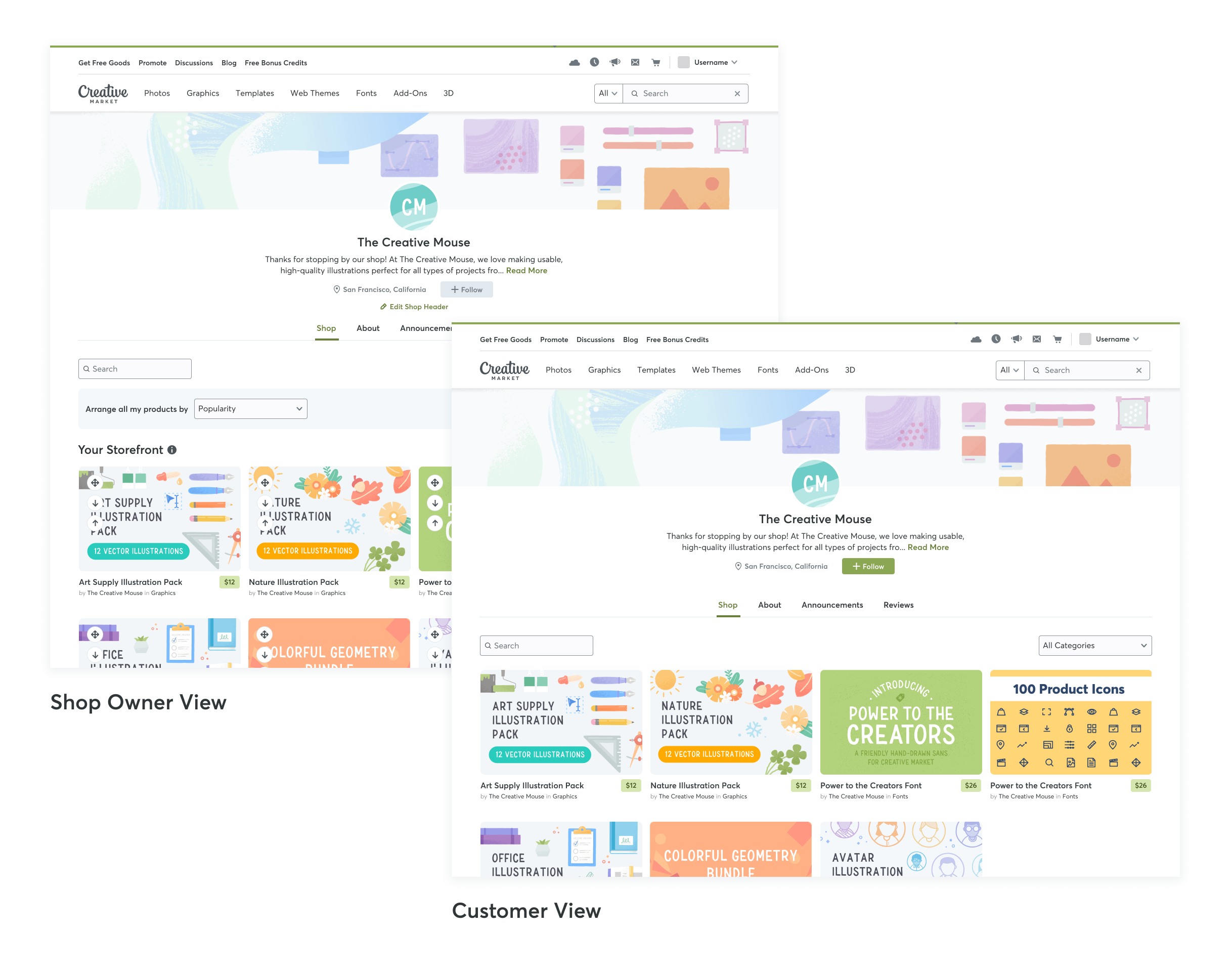 In the old layout, there wasn't a way for shops to truly show off their brand. You had your shop on the side with your icon (also your personal account icon). Then, on the side, you had your name and bio so there wasn't a very defined visual hierarchy. It was hard to express "this is me, this is what I sell." So I wanted to solve for that by centering the avatar and the name and making those very prominent. I wanted to make it feel like you were in an actual storefront.
The other design priority was finding a better way to showcase products. I made the product cards bigger and organized them in a four-column layout. Now there's an entire page just to introduce your shop. I intentionally separated these two pages so they'd have their own space and presence, and your profile wouldn't compete for attention with the products. I'm hoping to create a space for shop owners to talk about themselves and their path to becoming creators, while still offering a space to buy the products.

As a designer, how would you advice shops to take advantage of this space? What content should they be thinking about?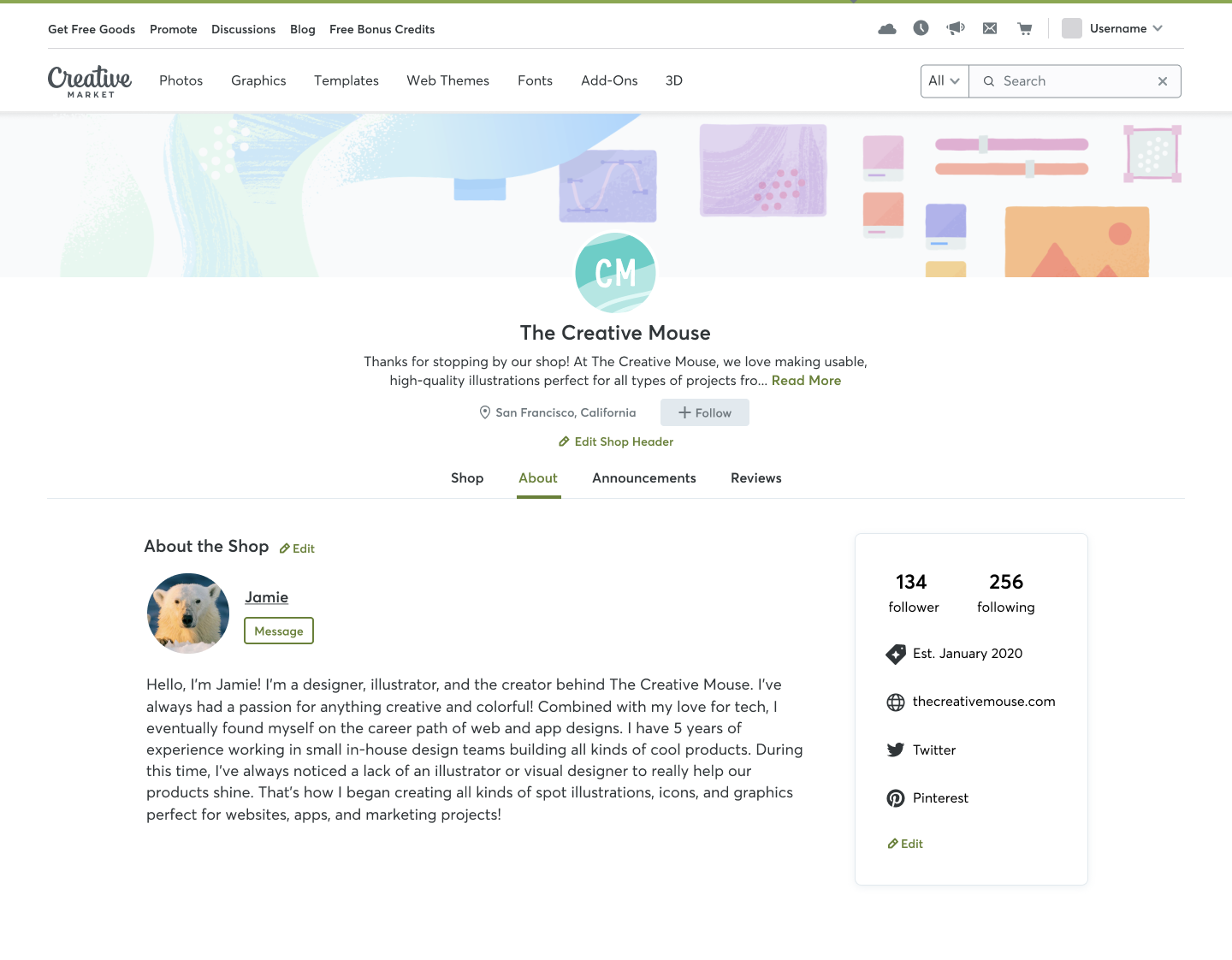 There's a wider store banner you'll want to take full advantage of! Your new banner image should be 2656px x 384px. To make sure it looks great in mobile devices, we've added a .png template to the uploader that shows you where those responsive cutoffs and your avatar image lie. Upload a new graphic that represents your shop's visual style and plays well with your profile picture.

Is there anything in this design that you don't think is immediately evident, but are excited about?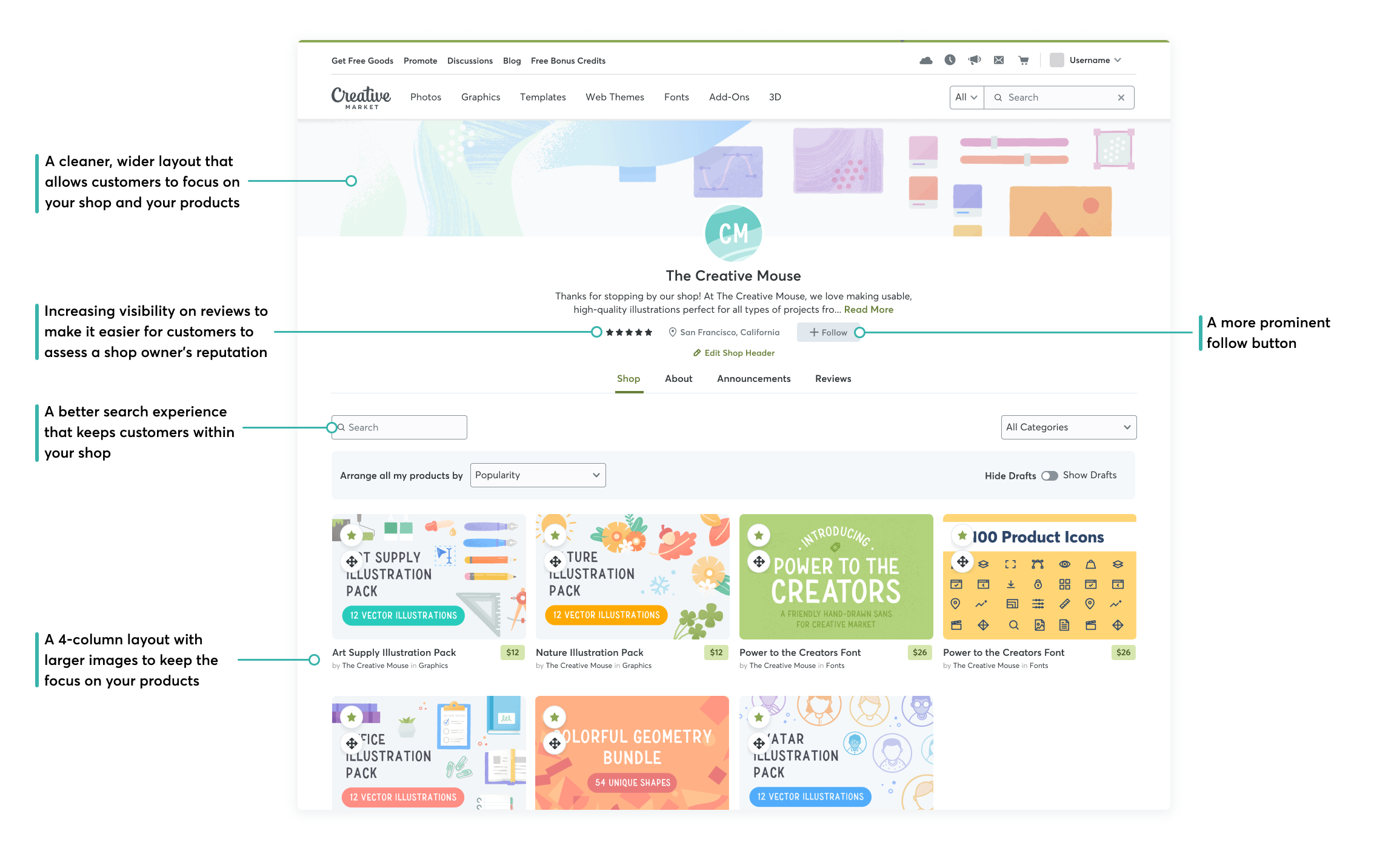 From a user experience perspective, we worked hard to improve the task of searching within a shop. In the old profile, when you searched within a shop owner's catalog, it took you into the sitewide search experience. We worked to make the search experience a part of your shop, so the products appear within your layout when buyers search for them. This is something we had a high volume of asks for.
Ultimately, we're trying to highlight shop owners' brands throughout the buyer's journey through small details like keeping the shop experience within the shop page or having a little bio preview at the top.

From a really subtle design perspective, I also rounded out the avatars, with adds a very nice juxtaposition: rounded-out avatars with a thin banner.
What's next for the shop owner experience? What are you focusing on?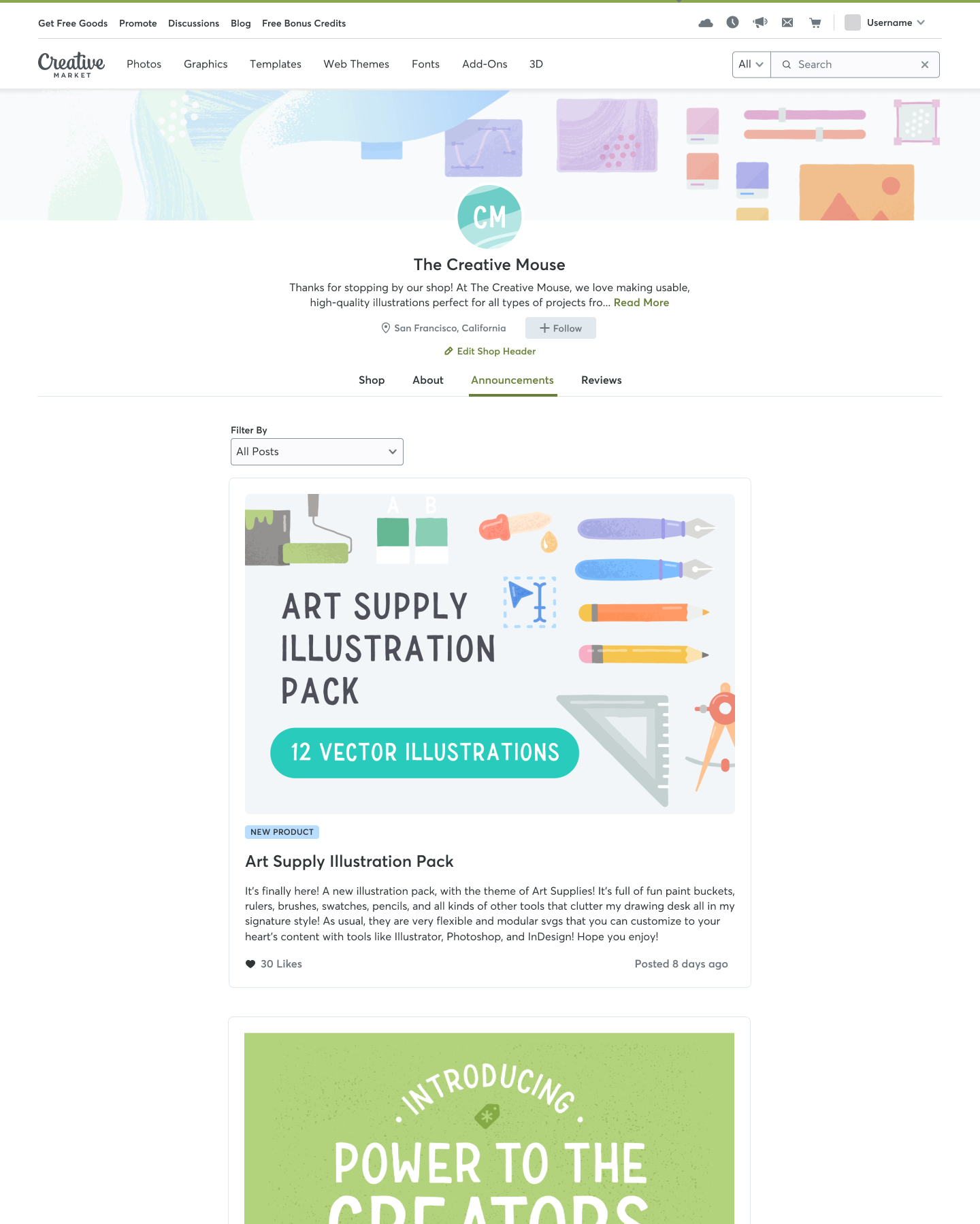 We want to give more functionality to announcements in the future so that it does feel like you have more flexibility to talk about your work and showcase it in a more editorial format. I think that's really exciting!

Then, if you have reviews, they would appear in a reviews tab. I think that's exciting from the customer side. As a buyer, you might want to get a sense of the quality of a shop owner's products, so you might dig into the general reviews and see how they respond. I think it's really valuable content that will improve the experience for our shops and our customers.
---
Products Seen In This Post: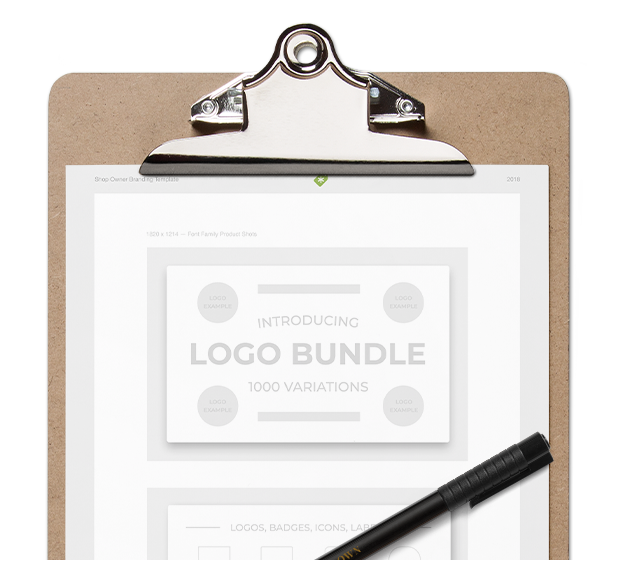 Templates & guides to grow your shop
Download your free kit
The Creative Market Shop Owner Kit includes editable branding templates for your storefront, handy cheatsheets, and an in-depth PDF guide.
Get it here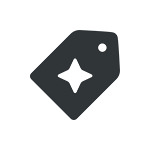 Creative Market