Designing a Website for 2014
The world of design is constantly changing and evolving and designers are put in the position of needing to progress and adapt in order to keep up with the shifting nature of it. As we head into 2014, it's fair to expect that significant changes will continue to occur. Some trends will continue on in the same direction while others will disappear or be replaced with something completely different. When making considerations for web design in the upcoming year, it's important to consider both trends that are emerging as well as trends that are on their way out.
Continuous Scrolling
This is a design element that many great sites already have in place. If you scroll down the page, you keep seeing new content instead of having to click to get elsewhere on the site. This is an important trend as it not only feeds continuous content to the user, it also requires changing other parts of the design, such as floating navigation, etc.
Adapting to Screen Resolution
As technology continues to get more sophisticated, design is evolving to keep up. Screens are getting bigger on tablets and phones and pixel density is increasing. This means that you can make fonts more intricate and also bigger, which can make tiny fonts look small or difficult to read. Expect to see fonts getting a bit bigger and to see more being done with them.
Keeping up with Mobile
All design will inevitably become more mobile in 2014. As web traffic on mobile continues to grow, its impossible to ignore the need for responsive web design. Instead of creating sites that are custom-tailored to mobile users, designers are working to create websites that are more responsive and will adjust to different devices without losing elements or aesthetic value. Focusing on one responsive site is a trend that is likely to continue well beyond 2014.
Slimmed down design
Flat design is at the forefront of all web design trends for the new year. Designers are continuing to trim the fat and keep esthetics flat and simple. It makes sense, too, that this trend would be growing in popularity as the smaller and simpler features not only look more streamlined, they also eat up less memory, which optimizes performance.
Static Homepages
In terms of trends that are likely to be on their way out, sliding homepage banners are at the top of the list. Users find this frustrating and difficult to navigate and, in line with the lean design approach of using every element of design for the same ultimate goal, the sliding homepage banners will be cut for reasons of not actually contribute much to the user experience. Instead, expect to see static homepages with continuous scrolling.
Parallax Scrolling
In addition to continuous scrolling, parallax scrolling is a new trend that saw its fair share of naysayers in the last year or two. But as designers get more experienced with it and understanding of its best uses continues to evolve, we can expect to see parallax scrolling steamroll into the new year to create some really visually stunning sites without the confusion and frustration it may have caused in the past.
Keep an eye on these design trends in the new year. The new websites you'll see emerging in 2014 will definitely involve some, if not all, of these innovations.
Getting started with hand lettering?
Free lettering worksheets
Download these worksheets and start practicing with simple instructions and tracing exercises.
Download now!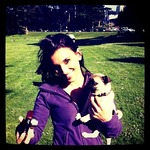 Maryam Taheri
I'm a recent graduate of the University of San Francisco with a degree in Biology and a passion for the creative arts. I love building websites, trying new things, and I have a passion for social media.
View More Posts