Drop 19: Dive into The Drop and Enjoy Exclusive Perks!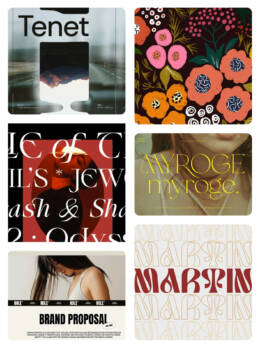 Each month at Creative Market, we handpick a collection of design assets that resonate with the pulse of the creative world, and we're excited to share this month's selections with you. By subscribing to The Drop, you'll gain early access to these curated treasures, ranging from sophisticated fonts to vibrant textures.
Creative Market Members also receive up to 25% off the entire catalog. Dive into the details of this month's featured items below and explore the diverse talents of our community. It's not just about savings; it's about discovery and inspiration.
---
Skincare Instagram templates
Canva From the design studio of Design Driven Media, these 50 Canva templates bring an elegant and stylish touch to your Instagram feed. Promote your skincare brand with a cohesive, professional look that resonates with your audience.
Spectra Framer Template
Brought to you by Lauren Waller Design, this 5-page no-code template is perfect for those who want a modern and clean design for their projects. Use Spectra to showcase your work in a sleek and responsive manner.
Fonseca ver.02 – 16 Fonts
The talented Nasir Udin brings us a versatile family of fonts with 345 glyphs, 16 fonts and 8 weights with italics. This collection perfectly blends vintage and modern, making it suitable for various projects.
Organic Shapes Brand Pack
The creative minds at Galerie Design Studio present this comprehensive brand pack. Infuse your brand with a touch of nature using these 30+ organic shape packs (including social templates) compatible with Illustrator or Photoshop.
BLURIA Gradient Quotes
Instagram From the innovative Luna Studio, these 40 gradient quote templates for Instagram (editable in Canva) add a splash of color to your feed. Share your favorite quotes with style.
The Best Fashion Magazine Layout
Designed by Hemonto Mozumder Kum, this magazine layout is the epitome of elegance. Create an impressive fashion magazine that stands out from the rest.
NOLE Brand Proposal
Wildnun Studio brings you a brand proposal template that speaks of sophistication. Make an impression with the 22 layouts of NOLE (editable in Canva).
MYROGE – Elegant & Stylish Serif
Crafted by Cosmic Stories Studio, MYROGE is a serif font with a modern twist, including beautiful ligatures and alternate glyphs. Its unmatched elegance makes it perfect for branding, logos, and more.
BLACK GROUND
From the visionary Garisman Std, BLACK GROUND is a unique, all CAPS font that commands attention. Use it to make a bold statement.
Tenet
Clear Supply introduces Tenet, a minimalistic design element that brings a unique composition to any photo. It is a straightforward image-blending system with 50 custom dithered PNG masks.
CALM Wellness Social Canva Pack
Step into tranquillity with the CALM Wellness Pack by Providence Studio. Immerse your social media followers in a calming aesthetic, perfect for wellness and mindfulness niches. Available in PSD and Canva.
Enterprise UI Kit
Created by the experts at Asset Union, this UI kit is a one-stop solution for all your enterprise design needs. Streamline your designs with this comprehensive kit that includes foundations, color palette, typography, layout & grid guidelines and more!
Business Instagram Templates – Canva
Blush Created offers a set of Instagram templates tailored for business profiles. Elevate your brand presence with these professionally designed templates.
ANIMATED AESTHETIC Instagram Set
Dive into the world of animated Instagram visuals with this set by Dorondo.Art. Enhance your social media game with 20 modern and aesthetic posts in PSD format.
HUD Pro Infographic Elements
ConceptCafe introduces a futuristic set of infographic elements. HUD Pro presents your data in a sleek, modern, and interactive style.
Madrid Double Poster Mockup
Showcase your poster designs using this realistic mockup from Worldwide Mockup. Give your presentations a professional edge with Madrid Double.
Kyoto Magazine Portfolio Template
Immerse your audience in the beauty of Kyoto with this magazine template by Le Petale Studio. Perfect for portfolios and lookbooks, this layout captures the essence of elegance.
Sans Serif Fonts Bold Marinford
Bold and dynamic, Marinford by Andika Fez is a sans-serif font that commands attention (downloaded over 30,000 times!). Elevate your typographic designs with this versatile font.
Suspicious Fruits Vector Stickers
Add a touch of whimsy to your designs with these delightful vector stickers (AI, EPS, and big transparent PNGs) by Marmarina. Perfect for playful brands and trendy projects.
Retro UGC Portfolio Template – Canva
Step back in time with this retro-inspired portfolio template by Sixtysix Labs. Showcase your work with a touch of vintage charm. Includes 10 pages editable on Canva.
Procreate Modern Pattern Brushes
Sweet Fig offers a set of 40 modern repeating pattern brushes for Procreate. Unleash your creativity and design intricate patterns with ease.
Wagon Display Serif+Italic
Crafted with precision by Dirtyline Studio, Wagon is a strong and modern display font. Its unique serifs make it stand out in any design project.
Surface Melt Abstract Textures
Dive into the abstract world with these 20 high-resolution textures by Huebert World—perfect for backgrounds, album covers, and more.
JUST POSTERS – Poster Mockup Set
Yuriy Lyhan presents a versatile set of poster mockups – 3 PSD scenes with smart objects. Display your designs in various settings with this comprehensive set.
Mid-Century Posters – Retro Shapes 2
Embrace the mid-century vibe with these retro shapes and posters by LEROY Design. Perfect for nostalgic projects and vintage enthusiasts.
Podcast Carousel Instagram – Canva
Blancalab Studio introduces a captivating set of carousel designs tailored for podcast enthusiasts and editable directly in Canva. Amplify your podcast's reach on Instagram with these stunning templates.
Elmwood Blackletter Display Font
From the vintage vault of Vintage Type Company, Elmwood emerges as a blackletter font with a modern twist. Perfect for logos, branding, packaging and headlines that need to make a strong statement.
Antique Collection
Curated by Alisovna, this collection of 84 outline and solid illustrations and 10 wall art prints embodies the essence of antiques. Dive into a world of nostalgia and timeless designs with these unique assets (SVG, AI, EPS & PNG formats).
Portia – Film Noir-Inspired Font
Inspired by the classic film noir era, ochaya designs presents Portia. This font brings a touch of cinematic elegance to your designs.
Candu Typeface
Dora Typefoundry showcases Candu, a typeface that merges simplicity with style. Its versatility makes it a must-have for designers.
Procreate Lettering Brush Pack 3.0!
Unleash your lettering skills with this brush pack by Calligraphy DK. Designed specifically for Procreate, these brushes bring your designs to life.
Gleamore Display Font
A sparkling addition to any designer's toolkit, Glyphstyle offers Gleamore. This display font stands out with its unique charm and decorative appearance.
Opal Radiant Textures
West Wind Creative invites you to explore the mesmerizing world of Opal Radiant Textures. The set includes 38 PNG textures that are perfect for backgrounds, overlays, and artistic projects.
Black and White Line Art Painting
Dive into the monochrome magic with this 12-piece art collection by Vibrand Studio—a timeless choice for minimalistic and contemporary designs.
MOODINAN TYPEFACE
From the creative desk of Naturaworks Creative, MOODINAN is a typeface that effortlessly blends modern design with classic typography inspired by American vintage fonts.
LUCK BUTCHER
Crafted by Son Of Thirteen, this font cuts through the clutter. LUCK BUTCHER is a Western-inspired font perfect for designs requiring a bold, edgy feel.
Partizeno – Elegant Branding Font
GraphicDash offers Partizeno, a font that exudes elegance. Elevate your branding projects with this sophisticated typeface.
TUTTI FRUTTI GRAPHIC COLLECTION
Dive into a vibrant world of graphics with this collection by solmariart. It's perfect for playful and colourful designs with 12 seamless patterns and 30 PNG elements.
Mirasol Typeface – Vintage Font
NienowBrand introduces Mirasol, a vintage-inspired font that transports you back in time. Infuse your projects with a touch of retro elegance.
Martin Groovy Sans
TypeClassHeroes brings you Martin, a groovy sans font. Perfect for designs that need a touch of the '70s flair.
Fagies Bold Display Typeface
Experience the boldness of Fagies, a standout display typeface crafted by Hitype. Its striking design makes it an excellent choice for headlines, posters, and branding.
AMOVAND
From the creative mind of Bagerich Type Foundry, AMOVAND is a typeface that blends contemporary design with a touch of classic elegance with its unique half-side serif. It's perfect for a variety of design needs.
Aurora Textures & Digital Art
Immerse yourself in the ethereal beauty of Aurora, brought to you by Kristina&Co. These 30 textures and digital art pieces evoke feelings of wonder and awe.
Vintage Distressed Film Overlays
Revive the nostalgic vibes of old films with these overlays by Freezerondigital. Perfect for giving your photos and designs a vintage, distressed look.
5-Pack Exclusive Billboard Mockups
ReAffirm brings you a set of realistic billboard mockups in layered PSD smart objects. Showcase your ad designs in real-world settings and impress your clients.
3D SAMPLE PACK
Step into the third dimension with this 3D sample pack from Desigessense. Ideal for various projects, from product design to digital art, this pack includes 21 elements from their 7 shapes collections.
—
As we wrap up this month's showcase, it's evident that the design world is ever-evolving, brimming with innovation and passion. Each product in The Drop is a testament to the dedication and talent of our Creative Market Shop owners. If you've been inspired by what you've seen and are eager to immerse yourself further into this vibrant community, we invite you to sign up for Creative Market. By doing so, you'll unlock a universe of design possibilities and connect with creators from around the globe (plus 20% off the entire catalog). After all, creativity is a journey, and every journey is better when shared.
Getting started with hand lettering?
Free lettering worksheets
Download these worksheets and start practicing with simple instructions and tracing exercises.
Download now!