20 Fall Fonts That Evoke Autumn, Foliage & Harvests
Fall is a great time to infuse your designs with warmer color palettes and rustic, welcoming typography. The ongoing transformation of leaves and the weather itself can become a starting point for design experimentation. Take a look through this cornucopia of Autumn fonts and get inspired.
Albany
This warm, rustic script font by Jen Wagner evokes the feelings of a fall harvest. The font includes 74 ligatures to make your texts look realistically handmade.
Newston
Based on Morris Fuller Benton's Gothic, this all-caps Grotesque sans-serif evokes classic industrial American ingenuity. The creator, Unember, was inspired by the actual American Type Founders specimen book that popularized the style. This font is painstakingly crafted to be a simple but integral title font.
Wonderfall Script + Dingbats
The script is "wonderfally" crafted to evoke the twisting leaves of autumn. Beautiful ligatures and intricate glyphs bring a variety of options that range from classic and natural to fresh and exciting. This package includes ornamental underlines and simple word art.
Eudora
If you want your fonts to look like they came straight out of Fall in the 60's, Eudora will rock your socks off. Inspired by vintage branding, the retro special characters and fun ligatures will transport you back in time.
Thicket & Thatch
Turn your blog into a walk through the forest with Thicket & Thatch as the center of your WordPress theme. This package comes with a strong sans-serif headline font, a flowing script, and a fun handwriting font.
Espresso & Espresso Bold
Nothing combats the chill of late autumn weather like a hot latte with a shot of your favorite flavoring, and Piñata has captured that comfortable jolt of warmth in this hand drawn font. This set includes both a bold and regular option.
Oktoberfest. OTF gothic font.
The change of seasons from Summer to Fall brings a number of festivals, but none as iconic as Oktoberfest. This font perfectly captures the painted letter style of Oktoberfest signs.
Silverfields – Font Trio + More
Silverfields is a set of three fonts that can be the seed of an entire theme — especially because of the bonus Autumn goodies. Combining watercolor and crayon textures into a script and all caps font, Silverfields gives you a variety of options.
Autumn Spice Display Sans Serif Font
This package contains an exquisitely detailed display font and a full body font. This set captures the spirit of Autumn, and is perfect for large displays like a PowerPoint template or header graphic.
Autumn Chant
For an upscale yet playful look, Autumn Chant's easy loops and monoline stroke make it the perfect choice for a fall wedding font. Although it only comes in one style, it works for both a heading or a readable long block of text.
Natura Script
Autumn brings out some of the best colors and forms found in nature and Natura Script captures all that beauty in this script. The pack includes exquisite ligatures inspired by old nature field notebooks.
Endura Rough Font
A textbook example of a well-done simple font. Endura has the uniform appearance of a typeface with the human touch of hand drawn font.
Autumn Embrace Floral Font + EXTRAS
With options of regular, floral, and extras, you'll feel the Autumn Embrace with this script font. The floral and extra options work great for heading, and the regular script works as a very readable body font.
Thankful Complete
Twenty-nine different fonts in eight subfamilies make Thankful an essential set for your Fall design needs. You'll get almost every type of font: display, modern, ornate, script, sans (and serifed), slab, and an extras package— plus a bonus texture pack.
Dolce Caffè
Cafés are lovely places to step in and enjoy a hot drink out of the cool Fall air. Dolce Caffè is an all-caps hand drawn sans-serif that was inspired by the chalkboard menus in cafés throughout Berlin.
Thankful Serif
A highlight from the previously mentioned, Thankful Complete, this serifed font really stands out. It comes in regular and engraved which mimics medieval letterpress style with elegant ligatures.
Santa Barbara | A Sweetheart Font
Fall is a wonderful season for romance and this font has been crafted just for that. This handwritten sans-serif font has sweet slender characters that work for both headlines and body fonts.
Autumn Feel font
This textured script font has long swashes and extended ligatures for adding extra fun and a dynamic look. Plus it includes eight common emoticons done in the same hand brushed style.
Spring Market – Rustic Font
Spring Market is a serifed font reminiscent of farmhouse style. By combining a modern looking serif with quirky line variations of a hand drawn font, Spring Market features a refined rustic aesthetic.
Portland Serif | A Multi-Weight Font
Portland in the Fall is a minimalist modern utopia, and Portland Serif captures that magic in a serifed version of an already popular font. It's four weights (light, regular, bold, and black) give this singular font a variety of uses.
Hopefully you found a distinctive Fall font to add to your collection. Know of any other font families that capture the spirit of Autumn? Share your favorites below.
---
Products Seen In This Post: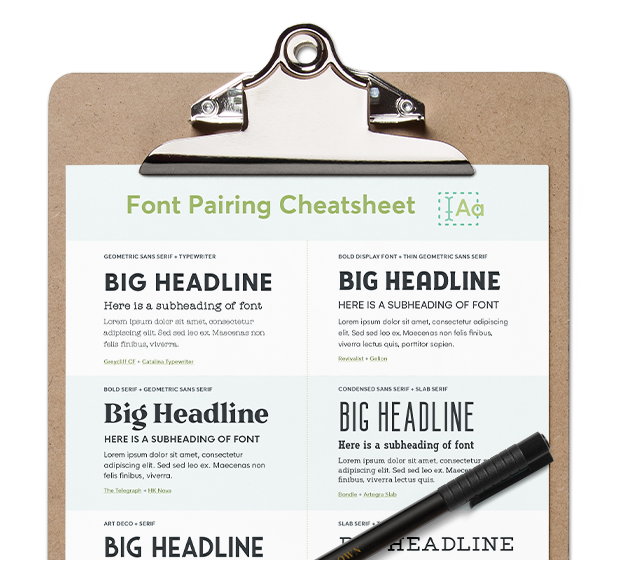 15 Pre-designed Font Combinations
Free Font Pairing Cheatsheet
We've curated a list of font styles that work well together so you can design interesting type lockups in minutes.
Download the cheatsheet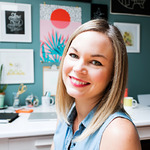 Ciera Holzenthal
Welcome! I'm Ciera, I help passionate creatives, small businesses and bloggers attract their ideal customer through strategic branding and cohesive visuals like the marketing templates you see here!
View More Posts