Featured Shop: Nicky Laatz
Hi, My name is Nicky Laatz! I live in Cape Town, South Africa with my handsome husband, beautiful son, and our four spoiled dogs. I'm also the founder of my very own
Creative Market shop
(est. December 2012).
What I Love
I have two big passions: good food and good art. Thankfully, I managed to turn one of these passions into my career. I love making beautiful things. The list of things I enjoy creating could go on and on. I love working on websites, greeting cards, logos, packaging, patterns, illustrations, you name it! As long as I'm making something, I'm happy.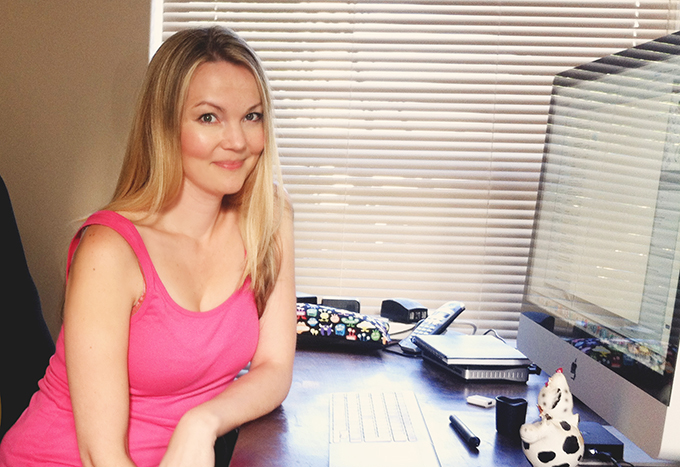 My Creative Market shop
is really an encapsulation of my favorite types of design. When I created the shop, I made sure not to put any limitations or boundaries on myself or my products. I simply release products that I love, which, in my opinion, is always the best way to design.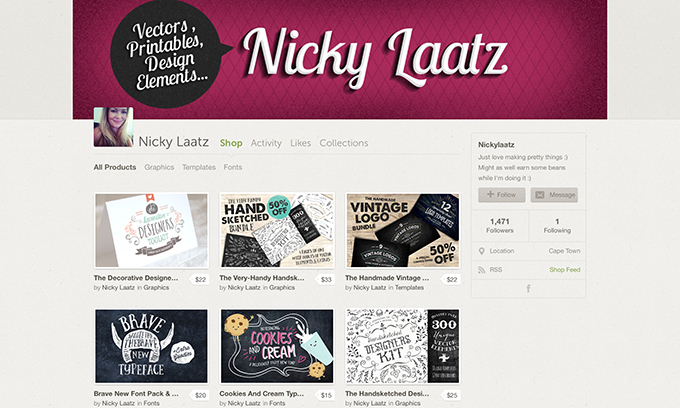 My Road to Design
When people ask me how I got into design, I'm always taken back to my childhood. I remember being very young and making digital art on my mom's (then state of the art) DOS-based IBM. Still, in school, I wasn't really interested in taking art lessons. I suppose I stubbornly didn't want to be told what to draw. After school, I was determined to be a chef. I planned on cooking up a storm for the rest of my life. Two years later, I realized fast-paced, adrenaline-packed, stressful, hot restaurant kitchens were just not for me. I also learned, in order for me to be creative with food, I cannot be rushed. I like to take my time and work until the final product is perfect. This is a difficult trait to have while working in the restaurant world, but it's luckily a wonderful quality in artists. At some point, my husband introduced me to HTML coding. This was great, and it also gave me the push I needed to heighten my interest in the look and design of websites. This led to me slowly getting clients and doing little web designs. After a while, web design requests turned into logo requests, and before I knew it I was working on prints, illustration, and more!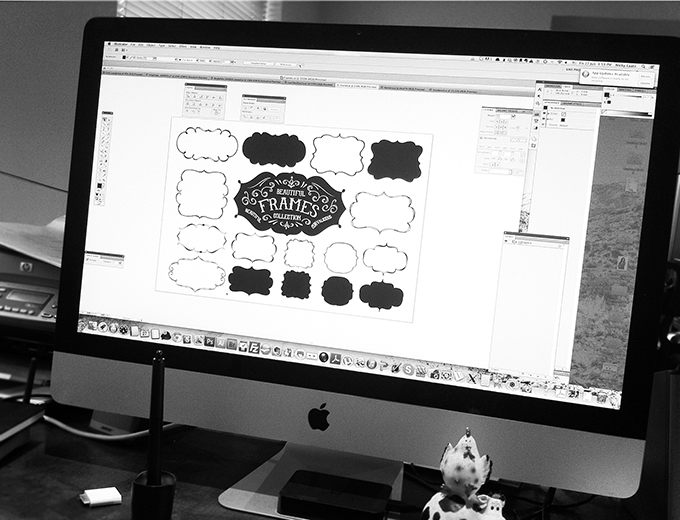 Now, fifteen years later, I sit here blissfully and contently creating designs I love. I wouldn't change things for the world. I truly love what I do.
A Huge Change in the Design Community
Yes, that's right, I said I've been a designer for 15 years! I have to say, the one thing I've seen that's really contributed to the design community and its level of creativity in all that time is the Internet. Designers are getting more inspired, learning faster, and producing even more variety than ever before. All artists need inspiration, and the sheer volume of inspirational material you can find online has grown tremendously! As a result, being inspired is not only easier, it's often unavoidable.
The wonderful World Wide Web has also helped increase the volume of designers that are out and about in the world. You don't absolutely have to go to a design school to become a designer anymore; you can learn anything and everything while sitting in your living room on your own comfy chair. After that, all you need is a little practice and a love of art, and you can make it.
The Rise of Online Marketplaces
With the rise of online marketplaces, the world is becoming an even more designer-friendly place. I dabbled with selling some of my art online when I first started designing, but I was still focussing too heavily on client work. As far as I was concerned, that was the work that paid the bills, so I didn't have a whole lot of time to devote to online art sales.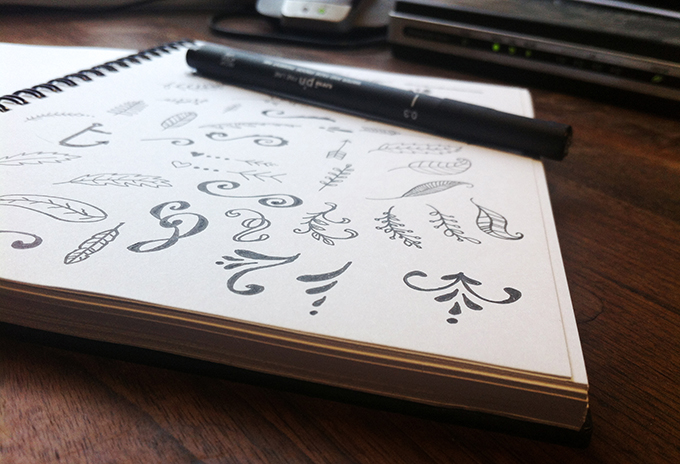 Still, I always liked the idea of being able to sell art that I created on my own terms. I believe every artist should find a balance between making art for others (usually according to a brief with restrictions), and making art as you want it to be. So often, the latter ends up discarded or stored away in a dusty box. Why not try putting it up for sale? If you like it, others might enjoy it too!
My Introduction to Creative Market
Maybe this thought was somewhere in the back of my mind the first time I heard about Creative Market. I remember one day seeing a little advert online that caught my eye, "Creative Market", it said. I clicked it, mostly because I loved the design of the advert. I thought, "Wherever this little button comes from, I want to go see more nice stuff like this." At that time, Creative Market wasn't live yet, but I signed up to be informed when it did. The idea of having "
my very own shop
" sounded brilliant to me!
I haven't looked back since. Creative Market has allowed me to produce what I love on my own terms, and I've been able to make some really decent beans while I'm doing it! Perhaps more importantly, I love the fact that you don't feel like a number on Creative Market like you do on other art sales sites. You have an identity, a shop, followers, and you're able to interact with the the wonderful, down-to-earth Creative Market staff. It's very rewarding and satisfying, and I'm very grateful.
I can honestly say that Creative Market is solely responsible for making me a "happy designer". There are so many designers out there who get bogged down with client spec work. That type of work can be so restricting, and it often makes them forget about their original passion for design and art. When you're in that place, work becomes a bit of a drag. I got a little close to that a while ago, but I have balance now, and Creative Market has played a huge part in that. Creative Market certainly hit the nail on the head (please don't ever change your recipe guys!).
Only Make What You Love
For any of you designers out there who may still be in that place of burnout or struggle, I have a little peace of advice for you: only make things you absolutely love making. While that may seem obvious, it's something that many designers forget to do. I have loved making each and every thing in my shop. This ensures that I'll always be content with what I sell, and others will like it too! To make sure I'm only making things I love, I start out with a daily design fix. When I find I have 30 minutes free, I start wandering around my favorite websites, looking at new art, and pinning things I think are too beautiful to leave behind.
Eventually I get to a point where my brain is bursting with ideas and I just can't stand it anymore: I have to make something. Depending on what I make, it can start as a little sketch with pen and paper, or drawing something in illustrator. From there I add things, I take things away, I change colors, I fiddle with textures, lighting, shades, shapes … fiddle fiddle fiddle … make coffee … fiddle fiddle fiddle … and I don't stop until something just "fits". Finally, when I think it's beautiful, when I truly love it, its done.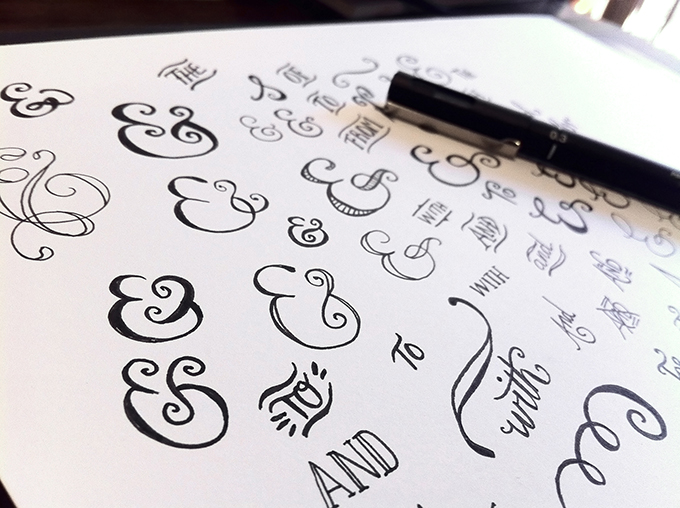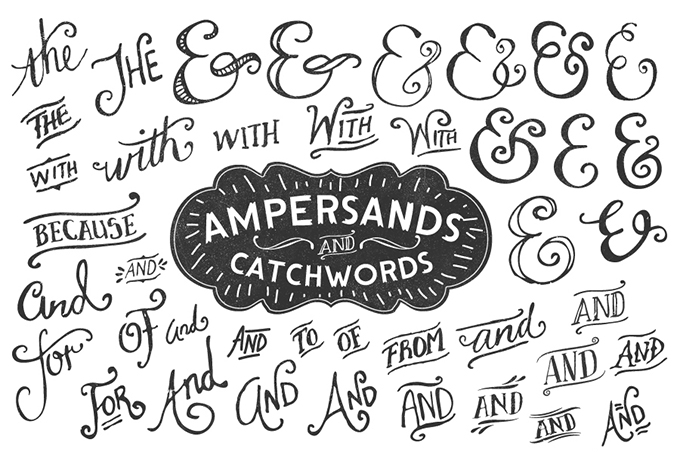 Only make what you love. Stick with this mantra and it will show in your products, and you will succeed. Sure, maybe not every product will appeal to the masses, but if you start with something you're happy with, there is a much better chance that it will be popular. Give it a chance. Make what you love, and see where it takes you. This post was written by Nicky Laatz, owner and creator of the Creative Market Shop
Nicky Laatz
.
Getting started with hand lettering?
Free lettering worksheets
Download these worksheets and start practicing with simple instructions and tracing exercises.
Download now!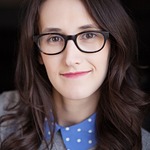 Kelley Johnson
I'm an ex-schoolmarm who is excited about all things creative. Photography makes me smile and when I find a new-to-me dress that fits just right, it makes my day.
View More Posts