30 Futuristic Fonts to Make Your Designs Stand Out
We live in a highly digital world, which has affected not only the way in which we communicate with each other and the way we live our lives in general. It has also affected the way everything is designed. Today, it's all about making everything streamlined and clean. It's about making things as minimalist as possible, without sacrificing the design's unique character — and if there's something that perfectly captures these requirements, it's futuristic fonts. No matter how often you use images of spaceships or moon men, you still can't capture what the future holds. What you really need is a great font choice. Even if you leave the background blank, a truly futuristic font will take your audiences where you want them to be. Where can you use such fonts? Anywhere, when you think about it! You can use them on modern websites, or for thematic posters. You may even use them on logos or business signage, and even for invitations, billboards, magazine layouts, or movie posters. The interesting thing about these fonts is that they are extremely versatile. Just because we're calling them futuristic does not mean that you need a sci-fi or highly digital theme to your design to use them. In fact, the native simplicity of a lot of futuristic fonts makes them perfect for just about any kind of project. A lot of them, you can even consider as default or go-to fonts perfect for moments when you hit a blank wall in trying to come up with new designs for clients. But not all futuristic fonts are simple and straightforward as mentioned above. There are also some that are bold and highly dramatic. These are perfect for more prominent elements like titles, huge announcements, product labels, and other similar uses. In all honesty, there are just so many applications for futuristic fonts that they're definitely a must-have in every designer's collection. No such fonts in your arsenal just yet? Here are 30 futuristic fonts you can use to have just that.
Pin them for later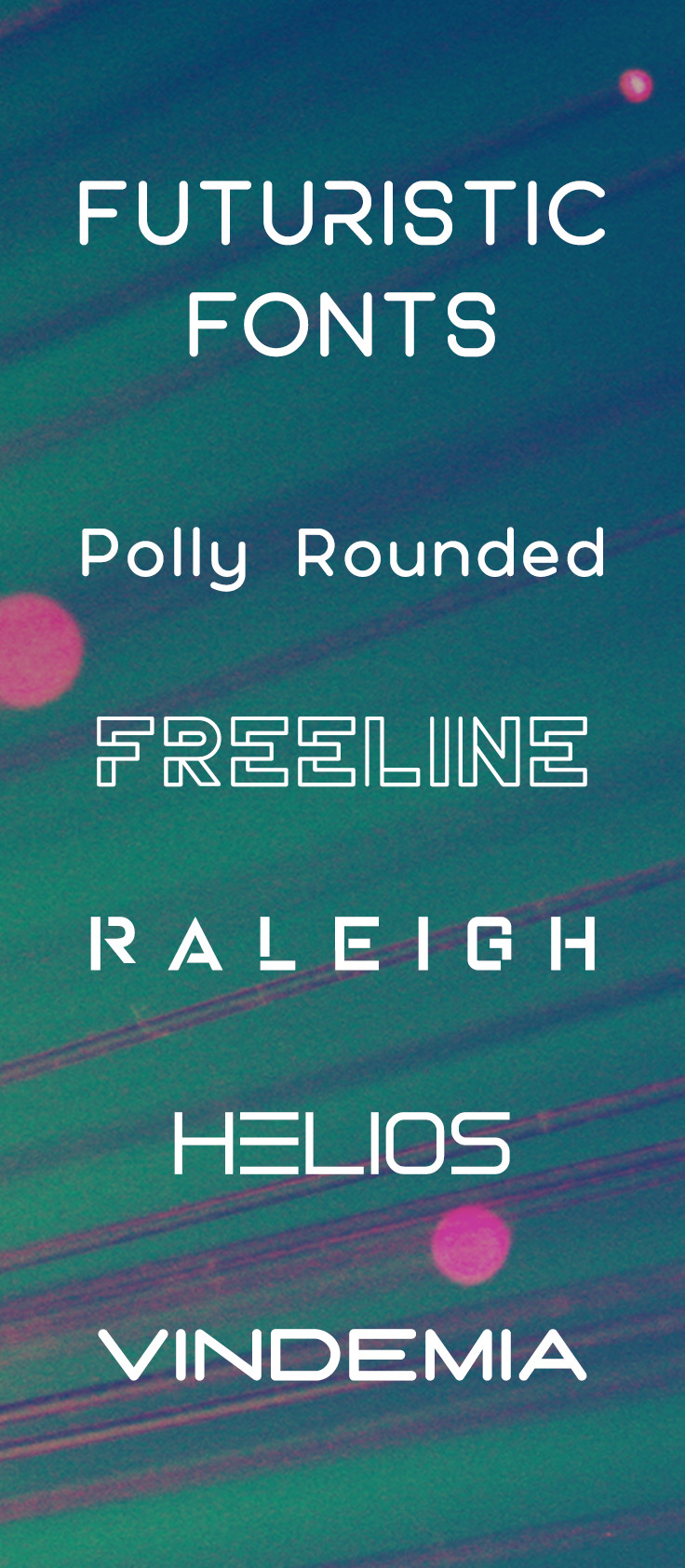 Vindemia is simple and straightforward. That's makes it a great font not only for your futuristic projects, but for any other theme. It works even better if you pair it up with amazing visuals, knowing that it's stylish enough to hold its own, but not too overwhelming that it overshadows all other elements.
Metros perfectly captures the usual approach for futuristic themes: streamlined, edgy, and clean. It's an entire font family, giving you 6 different weights that ensure you'll have the perfect type your design needs.
The definition of the word "prospective" alone already pertains to something that's likely to happen in the future. And that's exactly what this font brings. Its interesting curves and edges make it a great font for your designs if you want audiences to have a peek at what the future may bring.
We all know that Tokyo is a place where cutting-edge technology is made, a place that has zoomed us all into the future. That's why it's a fitting name for this font: a Japanese-inspired futuristic typeface that's perfect not only for sumo-related themes, but for futuristic ones, too.
Polly is another clean and straightforward family that allows designers to highlight other elements without letting the text just blend quietly into the background. It's the perfect font to use if you want text over a breathtaking image or a captivating video background.
Etheriq will remind you of highly-advanced aliens riding in spaceships. The strategic breaks in the way each character is drawn gives it that minimalist look and makes it a good bet for sci-fi designs, fashion, architecture, and more.
It may be called The Missing Link, but there is definitely nothing missing in this font's design. It's everything you need for that high-tech or futuristic design project you're working on — especially if you want something that puts your audiences right in character.
Stenciled designs may have been popular years ago, but that doesn't mean this is old school. Raleigh is the perfect example as it delivers that futuristic sci-fi look into your designs with its stencil approach.
Cintra is a sans serif font that is simple enough to blend into any design, but still stylish enough to be noticed. Considering its great readability, Cintra is great for headings, subheadings, and other groups of text.
If you want something cutting-edge, Armadura could be the solution. It has this geometric angular look that is perfect to recreate a futuristic vibe. Overall, a great font to use for sci-fi and tech themes.
Robodron will take you straight into a Robocop vibe, with its combination of smooth round curves and sharp edges. It's the ultimate font meant for high technology designs, something that would easily stand out no matter what lies in the background.
Primus is everything that a great futuristic font should be: seamless, simple, and straightforward. It has the right curves and is friendly enough to be used for body text, not just in headlines and subheadings.
Inspired by the appearance of binary codes, Hacker gives you the same vibe that The Matrix franchise delivers. It's a great font to use if you're looking for something that perfectly depicts technology.
Compared to the other fonts on this list, Quam is quite on the playful side. However, it still captures the right corners that futuristic fonts should have. It is highly versatile.
Supermolot has been around for some time, but its designers gave it a more modern feel with recent updates, giving it the fresh contemporary look that it now has. It's perfect for infographics, presentations, and any other design projects that require something that's both clean and stylish.
Lion Sans has interesting angles right at each tip, giving it that bold look you might need for designs that are science-based.
Imagine anything digital and you'll automatically see where the inspiration for Aperture came from. This font delivers a high quality look and is a great choice for clean designs that portray technology.
Aviano Future is fast-paced: a font that's perfect if you want your messages to soar high. Its square design gives it a strong presence, with 6 different weights that allow you to tweak just how commanding you need your text to be.
If robots armed with artificial intelligence could write, this is probably what their handwriting would look like. Hyperion is reminiscent of all those artificial intelligence movies you've watched in the past, making it that perfect cherry on top of a futuristic theme.
A linear and futuristic font, Digitalium brings a clean look to your design's text. Its slim, geometric design is perfect for anything related to devices and other high technology instruments.
Helios reminds your audiences of movies set in outer space with its interesting curves. If you want an edgier look, try the alternate version which gives you regular corner options in your characters.
Equiva brings a twist into the usual digital feel. It's so versatile, you can use it not only for sci-fi themes, but also musical and other art-related designs.
Another font that adds a bit more drama into sci-fi designs, Anxiety conveys movement in each stroke. The maze-like lines brings a high level of excitement into the entire look, making it perfect for titles, headings, and other text that you want people to pay attention to in a snap.
There's no better way to describe Equinox than by using the word clean. It steers clear of added drama, giving it a seamless look that makes it great not only for titles and headlines, but for full bodies of text. It's also a great font choice if you want to use your text as overlay for high quality images.
Solaris brings you a tall and bold approach perfect for any kind of theme. Seeing how straightforward the font design is, it's not just applicable for futuristic designs. It's also a great choice for other themes like lifestyle, fashion, or architecture.
Freeline is one of those fonts that grabs your attention right off the bat. It's a great option for events, fashion-related content, and more.
Gamba shows a square design that's not too serious and not too technical. It has interesting curves and edges here and there, making it extremely versatile. Yes, it's futuristic, legible, and utilitarian. However, there is also a fun side to this font, making it a great choice for event posters and infographics.
It's amazing how LineTech's creator envisioned this design. It's highly futuristic, but in a very unique way. It's a great font if you're creating designs in the field of technology, web, and anything digital. It can also add character to your logos and headings.
Another font that carries the signature of most futuristic typefaces, Trench delivers a thin, clean, but curvy appeal. It's clean enough to be used in body text, but stylish enough for headings and titles. It also comes in 3 different weights, which means that you'll have something to use regardless of what level of importance your text has on your overall design.
The thick, wide letter of Centauri makes it your typical futuristic font, but the way each character is given a unique look makes it far from ordinary. Take your pick of futuristic fonts from this list. Without a doubt, these can take your designs to a whole new level.
---
Products Seen In This Post:
Getting started with hand lettering?
Free lettering worksheets
Download these worksheets and start practicing with simple instructions and tracing exercises.
Download now!
Igor Ovsyannykov
We create fonts, graphics, and produce aesthetically pleasing photos.
View More Posts