Google Just Changed the Web Design Game with Material Design Lite
If you don't know anything about web design, producing a webpage can be a very daunting task. There's all these terms that mean nothing to you — CSS, HTML, CMS — and then you have to do the code yourself. And if you don't know anything on that front, you're stuck with a template or a WYSIWYG program that may or may not do what you want.
Google has been playing around with Material Design for a bit now, but on Tuesday they announced Material Design Lite, an easy way for you to create your own websites using the Material Design look.
If you're not a web designer, here's what it means for you. First off, MDL (Material Design Lite) contains templates that you can use right away, and either run with them as is, or just as a spot of inspiration. For example, if you want to start a blog, MDL has quite a few easy options to run with. Second, there are a ton of assets for you to work with, including buttons, text fields and the like, so you don't need to design anything in Photoshop, either. Plus, it works in all modern browsers, so you shouldn't have any issues getting it to work on any device. But if you are a web designer, MDL may just open up a new world of tools for you and your work.
Check out more both on the original post on Medium, as well as the MDL website.
---
Kevin Whipps is a writer and editor based in Phoenix, Arizona. When he's not working on one of the many projects in his queue, he's looking for fun and irreverent things online to share with his friends.
Free lettering worksheets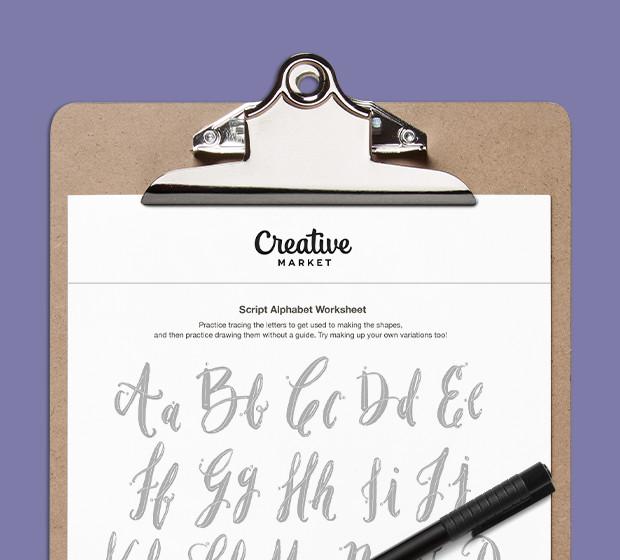 Download now!

Getting started with hand lettering?

Download these worksheets and start practicing with simple instructions and tracing exercises.
Hi! My name is Kevin Whipps, and I'm a writer and editor based in Phoenix, Arizona. When I'm not working taking pictures of old cars and trucks, I'm either writing articles for Creative Market or hawking stickers at Whipps Sticker Co.
---