20 Amazing Hippie Fonts That Bring Back the '60s

Pop art, paisley and psychedelic colors: the 60s were a time of wild experimentation and a freewheeling approach to life and love. Now, today's font designers are blending the spirit of the 60s with modern trends in typography in this collection of "hippie" font sets to add a fun, retro feel to cards, invitations, logos and other design projects for web and print.
Pin it for later!

The Lil' Rebel Font Collection features a set of hand-drawn fonts that can be mixed and matched for a variety of retro styled visual effects. Available in five styles, the Lil" Rebel Font Collection also includes more than 250 hand-drawn elements, as well as a set of texture patterns, templates and Illustrator brushes.
A playful font with a retro, lighthearted feel, Childish Reverie features hand-printed upper and lowercase letter forms that can be mixed and matched on logos, packaging, invitations and more. Childish Reverie comes with a set of doodles for added interest.
Sundowners is a simple and versatile font that suggests the look of 60s-era television shows and posters. Sundowners includes a set of interlocking glyphs, playful initial and terminal forms, and ornaments to use on cards, logos or invitations.
A blocky, eye-catching display font, Areaman comes in all caps for use on headlines, posters and other high-profile text projects. Areaman includes more than 300 glyphs, extra ligatures and multilingual features.
Funkydori Regular features thick, rounded letterforms that bring back the style of the 70s with a few modern touches. The Funkydori Regular set includes swash capitals and alternates, as well as ornaments and tiling patterns.
Like Funkydori Regular, Funkydori Bold echoes pop culture of the 70s in casual, rounded script. Funkydori Bold can be used for logos, headers and posters, and comes with swash capitals and alternates, along with a set of ornaments and tiling patterns.
An all-caps display font inspired by the classic rock album "Incense and Peppermints" by The Strawberry Alarm Clock, Morango is designed for titles, headers and posters. The Morango Typeface comes with a full set of punctuation and accent characters.
A dynamic, casual font with a retro, album-cover feel, Swung Note includes eccentric swashes and smart interlocking pairs. The Swung Note characters can assume different shapes in different ligatures for a playful touch on posters, titles or headers.
Happy Trippy is a casual, hand-drawn font with a summer-vacation feel for use on trip photographs or projects such as brochures, apparel and cards. The Happy Trippy typeface set includes upper and lower case, with contextual and stylistic alternates, accents and even a handmade vector set.
A playful hand-drawn font with a 60s beach-scene feel, Summerica features a full set of upper and lowercase characters, numerals and punctuation. The Summerica set also includes a bonus "vector pack of happiness" for use on invitations, cards, apparel and more.
The Indigo Summer Font trio is a set of hand-lettered, brushed fonts with a retro, rustic feel. Indigo Summer includes script, serif and sans serif styles, along with a pack of 160 hand-drawn vector ornaments for use in invitations, cards, posters and packaging.
A mixed case, sans serif font, Hawaiian Pizza adds a casual, retro feel. For branding, social media, invitations or quotes. The Hawaiian Pizza font set includes symbols and a full set of stylistic alternates, and comes with multilingual support for all Western European languages.
Lola Regular is a lighthearted hand-lettered font that suggests children's handwriting. With more than 200 glyphs and international symbols, Lola also includes six children's art style vector drawings for children's books, posters, invitations or cards.
A heavy, sans serif typeface with a casual retro feel, Loyola! was designed with titles and headers in mind. The Loyola! set includes both upper and lowercase letterforms for eye-catching display text on projects such as posters, packaging and invitations.
Happy Dance brings back the 60s with a casual, hand-lettered font for lighthearted projects such as invitations, cards and apparel. The Happy Dance font set includes a full set of upper and lowercase letters, plus punctuation and numerals.
The Vintage Hippie Alphabet is an all-caps set of rounded, heavy letters in 60s album cover style, filled with a rainbow of psychedelic colors. Set on a white background, the Vintage Hippie Alphabet can be used for eye-catching titles and headers, and includes a full set of numerals.
With loose, looping upper and lowercase letters, Sneaker Script brings to mind the television shows and sports of the 60s and 70s. Sneaker Script also includes a set of symbols and complete instructions.
Cooper Black Swash is a modern version of the famous advertising typeface created by Oswald Cooper in 1920. Cooper Black Swash features the heavy, rounded serif letterforms of Cooper's original typeface, but also includes an upright set of swash capitals.
Hippy is a serif brush font featuring hand-drawn letters with playful, eccentric shapes for use in projects such as labels, logos, apparel or album covers. The Hippy font set comes with a full set of upper and lowercase characters, as well as numerals and punctuation.
Lovebus brings back the 60s with ballooning, heavy letters that suggest psychedelic album covers and posters. Lovebus comes with 26 replaceable ligatures, along with a set of seamless patterns and vector graphics.
The 60s may be over, but you can still add that free-spirited 60s style to design projects of all kinds with fonts that blend retro cool with the newest trends in modern design.
---
Products Seen In This Post:
Getting started with hand lettering?
Free lettering worksheets
Download these worksheets and start practicing with simple instructions and tracing exercises.
Download now!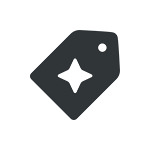 Creative Market