Trend Alert: The Hologram Design Trend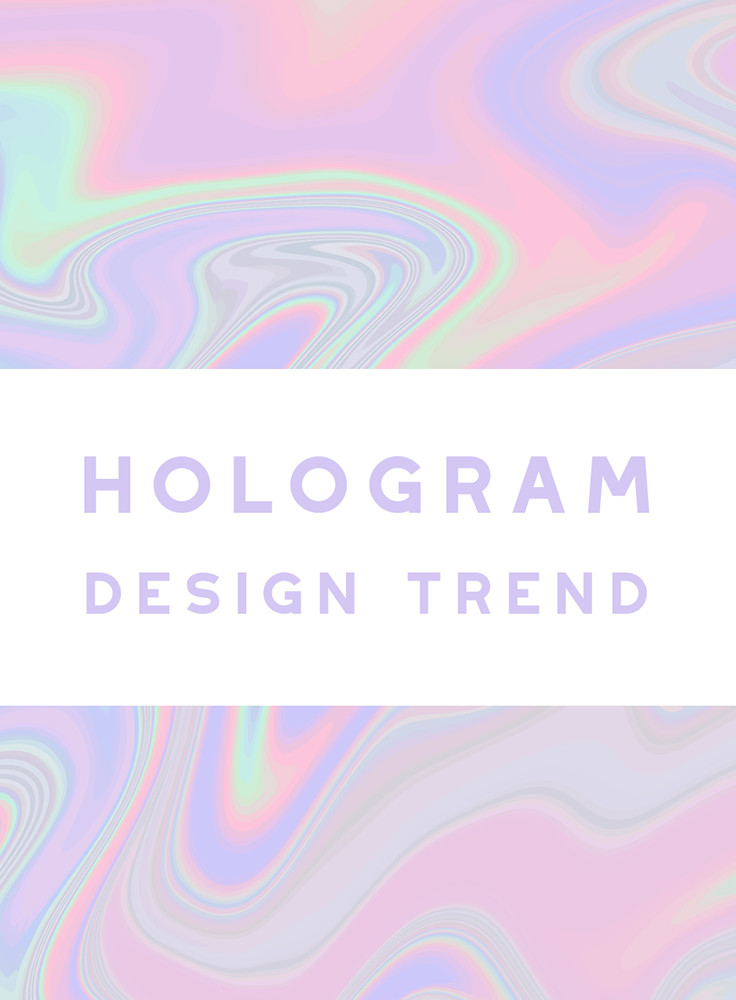 The hologram design trend is a force to be reckoned with. In its simplest terms, a hologram is a photograph of light that's scattered from an object and then displayed in a three-dimensional way. You've seen holograms in many different applications, from their use in Star Wars movies to the so-called rainbow holograms that are on the backs of your credit cards for security reasons, just to name a few. Holograms have been around for decades, with the technology behind their roots dating all the way back to the 1920s. However, the hologram design trend is experiencing a renaissance recently, with the holographic method being applied in design across a myriad of industries. Let's take an in-depth look at how holograms have left their mark on design and continue to do so well into the 21st century.
The History of the Hologram Design Trend
Holograms are attractive to look at from a purely aesthetic point of view, but their origins are firmly rooted in hard science. They were recognized on a prominent scale for the first time in 1971, when the physicist Dennis Gabor received the Nobel Prize for Physics for inventing and developing the holographic method. Though he received the prize in 1971, his work was performed in the late 1940s, which in turn was based on pioneering work by scientists in the 1920s who were active in X-ray microscopy. However, even as early as 1962, great strides were being made in holographic advancement. Thanks to the invention of the laser, the first optical holograms that were capable of recording 3D objects were produced by the Soviet Union's Yuri Denisyuk, another physicist, and by the University of Michigan's Emmett Leith, a professor of electrical engineering, and Juris Upatnieks, yet another physicist. From these early origins of a pure scientific application, holograms have come a long way. Today, everyone without a scientific background can easily identify and appreciate them.
How Does a Hologram Work?
According to the Holocenter, the Center for the Holographic Arts, a hologram is: "a physical structure that diffracts light into an image. The term 'hologram' can refer to both the encoded material and the resulting image." A hologram works based on the principle of interference. The hologram will capture the disruptive relationship among two or more beams of light, such as laser beams. One of these beams shines right onto the recording medium to function as a reference point for the light that's scattered from the illuminated scene. The hologram will capture this light in a way that relates to the entire area of the film. This contrasts starkly with your ordinary photograph, which only captures a relatively small space "aperture" of perspective, which is essentially the image that's produced by concentrating this light onto a digital sensor or film.
Where to Find the Hologram Design Trend
Holograms are found in a slew of industries and applications. Below, we round up some of the more popular and impactful places where you can find and appreciate them.
Stationery of All Kinds
Holograms are a perfect fit for stationery when you think about it. Stationery is writing material (envelopes, cards, papers, notes, etc.) that people can take for granted due to its omnipresence and the mundaneness that's associated with office supplies in general. Holograms, therefore, are the perfect element to add to your everyday piece of stationery to spruce it up and take it beyond the ordinary. Here are just some of the different ways you can observe the hologram design trend in stationery:
On greeting cards of all types
On various invitations
On specific postage stamps, some of which have been specially issued just for the holograms
On stickers
On gift-wrapping paper
On pens, pencils and other writing materials that have been coated with a holographic sheen
So the next time you're in your favorite stationery or office-supply store—or perhaps just navigating through the various pins and boards on Pinterest—see if you can spot some of these holographic touches to these writing materials. Also, don't forget to visit our marketplace if you're working on a project where you need to include some holographic materials in your paper-based designs:
Stock Photography
Stock photography is a huge industry where photographers license their original works to stock houses for specific uses. These snapshots are then purchased for a flat fee or for a specific price, based on the intended usage. The photographer is paid each time someone purchases his images. Over time, stock photos have gotten more sophisticated and now feature more high-quality themes than just the usual cliché most people think of when they think of stock photos: a group of people smiling broadly into the camera. Case in point, the appearance of holograms in these stock photos, both as the main subject and as compositional elements. Stock photos featuring holograms can be used in a wide variety of ways, including:
For promotional pictures in brochures
As backgrounds in various types of graphic design
As images in email headers and the email body
For use on websites and landing pages
If you're looking to add a bit of forward-thinking and modern design to whatever project you're working on, see our marketplace for a great collection of stock photography that features holograms in numerous, interesting presentations:
Product Design
No thorough piece on the hologram design trend can ignore the techy aspect of it, which is ramping up in amazing ways thanks to ever-expanding design breakthroughs. Product design is both the process of developing new ideas that lead to new products and the actual creation of a new product that a business sells to its customers. It runs the gamut from creating the latest and greatest iPhone—such as the iPhone X—to designing new vehicles. Everything in between is fair game, too. Lately, the hologram design trend has made a huge splash in the world of car design. Ford recently announced that it was using Microsoft's daring HoloLens mixed reality technology to help it design its new vehicles. Its designers can now simply don headsets to "visualize" any proposed design changes, additions, and improvements to their fleet of vehicles.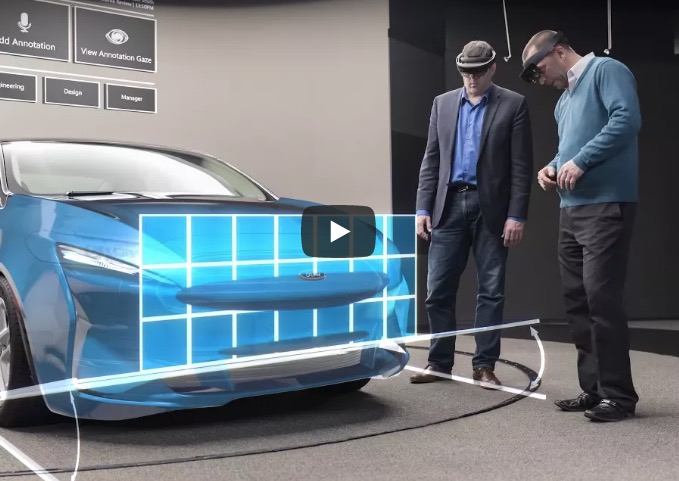 Thanks to the use of holograms in their product-design process, Ford's designers are able to see the various shapes, textures, and sizes of their new vehicles in only minutes and hours, as opposed to the usual weeks and months during the traditional design process. Here's how the HoloLens uses holograms to empower designers to iterate new ideas and versions more efficiently than ever:
It uses mixed reality or the combining of the real and virtual worlds to create new spaces where tangible and digital objects freely interact
Designers view holograms in high-quality backgrounds through hands-free headsets
Designers can scroll through and then preview any new design iterations immediately that are virtually projected onto a real-life model of a vehicle
The use of holograms in mixed reality technology holds great potential for the entire design world, both from a standpoint of much better efficiency and boundless design iterations.
Revolutionary Typography
This will throw you for a loop, for sure, because, when we think of typefaces, we usually think in only two dimensions. Thanks to new technology like the aforementioned Microsoft HoloLens, holograms have a bedazzling effect on type, which is opening up new worlds of creativity for typeface designers. In HoloLens, fonts are produced as holograms with the light patterned on the additive color system. As a result, designers can view and appreciate typefaces from all three dimensions, which is a completely new concept. When typeface designer Dong Yoon Park first heard about the HoloLens, he knew he could do something incredibly unprecedented for typography. Park had already created the popular Typography Insight app in 2011, but when he heard of the HoloLens, he updated it to fit the possibilities of the HoloLens. The result is an app that lets typeface designers experiment and play with holographic fonts in a 3D mixed reality environment.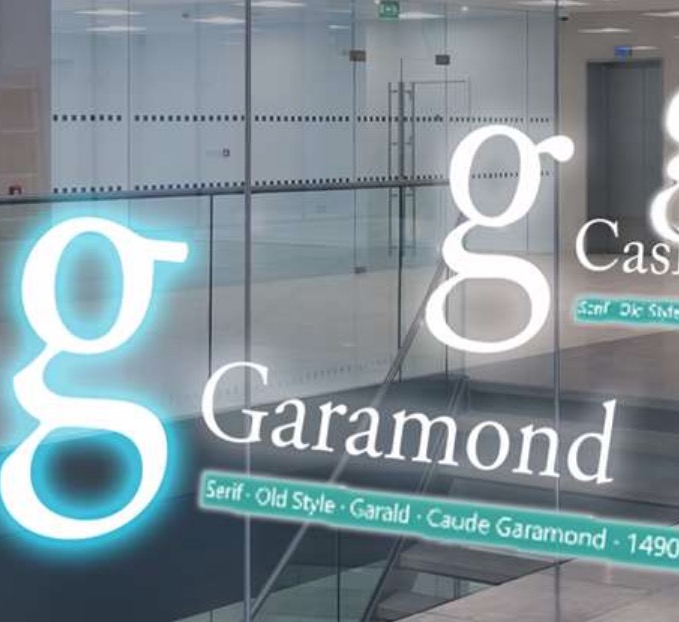 This unprecedented approach to looking at typography liberates designers to do things they could never imagine doing on a 2D canvas alone, including:
Using various fonts sizes, layouts, and colors to arrange typefaces in a 3D space, making it ideal for designing wall signage to designing experimental fonts in a 3D environment
Understanding various type sizes in a free-moving, 3D space
Appreciating the detailed anatomies of various typefaces
Typography is an essential element of great design in any medium, whether you're working with digital or paper. For inspiration of what astounding fonts look like, see our marketplace for a huge selection of typefaces:
Movie Franchises and Properties
Ah, the movies! There's nothing quite like watching a film to get entertained, learn a bit about pop culture, and soak up some design inspiration. It just so happens that holograms have been featured very prominently throughout the decades in many of your favorite film franchises. Whether it's older movies from the 1970s to the heavy-hitting blockbusters right up to today, holograms have made an impact in motion pictures.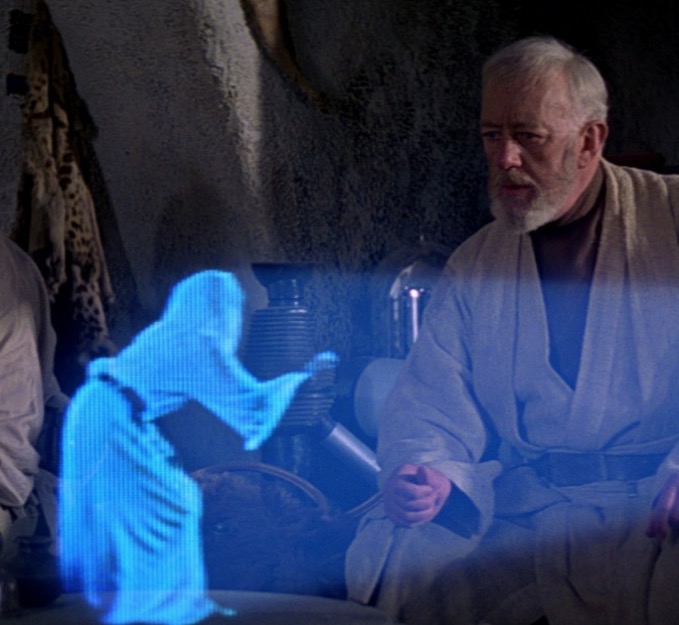 Perhaps the most famous movie series that indulges in the use of this design trend is Star Wars, where holograms are mainly used for futuristic and cool-looking communication between its main protagonists. Star Wars movies that prominently feature holograms include:
The Phantom Menace
Attack of the Clones
Revenge of the Sith
A New Hope
Empire Strikes Back
Return of the Jedi
Other prominent movies that feature holograms include:
Lost in Space (1998) – Will's school principal appears as a hologram
Vanilla Sky – The Tom Cruise movie features a hologram of jazz saxophonist John Coltrane appearing in the main character John Aames' apartment
Ocean's Twelve – Roman Nagel utilizes his holographic abilities to produce the Faberge Imperial Coronation Egg
Iron Man, Iron Man 2, and Iron Man 3 – Holograms appear in Iron Man's suit
Prometheus – The android David enters a control room that possesses a holographic map of Earth
Naturally, holograms have been more so featured in movies where there's a science-fiction, futuristic or fantasy element to the plotline. Designers like Jayse Hansen build their entire careers (or much of it) around specifically creating these holographic effects for feature films like The Avengers, the aforementioned Iron Man 3, and the Rise of the Planet of the Apes. Another good example of a designer working in this exciting field is Anna Fraser, who calls herself the "designer of holograms." Interestingly, she works out of Australia on many major American motion pictures where the directors require holographic interfaces to be designed for the screen. Typically, she works by receiving a design brief from the VFX supervisor or director of the movie, and then she designs any holograms (they think will make it into the final cut) for the movie as the film is still being shot and edited.
Home Design
One of the most arduous things is to properly plan out the living spaces in your home. You miscalculate, things go awry, and, before you know it, you either have ill-matching furniture, too little furniture, or you just don't know just where to place your furnishings. Thanks to holograms, problems like these are becoming a thing of the past. Enter the HoloPlanner app, which, as the name implies, empowers you to rely on mixed reality to accurately lay out the furniture in any new room, home or space. Including a virtual tape measure, you can also take accurate measurements that will scale in real life. You'll never have to struggle with oddly furnished rooms ever again.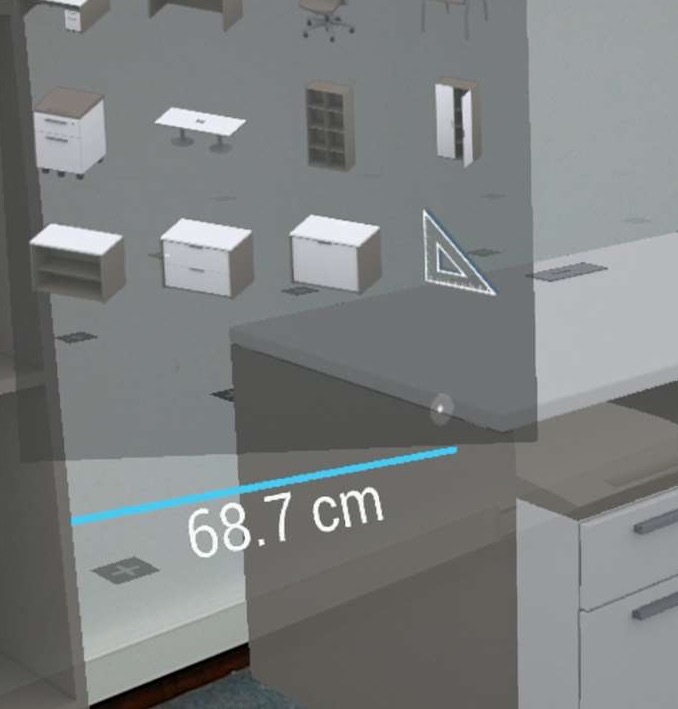 In the app, you place holograms of your proposed furniture exactly the way you want to in your real-life rooms. More than taking the guesswork out of home design, HoloPlanner epitomizes the use of holograms for an extremely functional purpose instead of just for something that looks cool. This app is available for free, but you do need a Microsoft HoloLens to use it. Unfortunately, the price tag is a few thousand dollars for the HoloLens, so it's probably not going to be a possible purchase option for most people, at this moment. The more that holograms are designed for use in this practical way, though, the faster the price will drop for more people to enjoy this design technology.
Fashion Design
Holograms can be the key to revolutionizing fashion and the very idea of wearing tangible clothes as we know it. Tired of having to put on your clothes in the morning before going to work? Tired of having to always launder and iron them to ensure that they look fresh and wrinkle-free? If you are, then the hologram design trend just may have something exceptionally helpful in store for you. Fashion's flirtation with holograms has had an approximately decade-long history marked by a couple of false starts, nonetheless. The first designer to experiment with holograms was the late Alexander McQueen, who, back in 2006, used a hologram of model Kate Moss to show off an organza gown. The presentation was orchestrated so that the hologram dramatically appeared inside of a glass pyramid.
Since then, however, English fashion house Burberry has dabbled in holograms, using them in 2011 as part of a Beijing store opening. Then, during 2016's Amsterdam Fashion Week, a special hologram catwalk show was spearheaded by Pinar & Viola, Dutch artists; this involved projecting holographic clothing onto live models who stalked up and down the runway. Though the fashion world hasn't by any large means fully embraced holograms yet, speculation is rife that these early experiments with holograms in fashion is a preview of the future. Fast-forward a number of years ahead, and it may be the norm to have clothing "projected" onto people in this way. Of course, today, holograms are already readily available on clothing of all sorts, where they provide a sparkly and eye-catching focal point: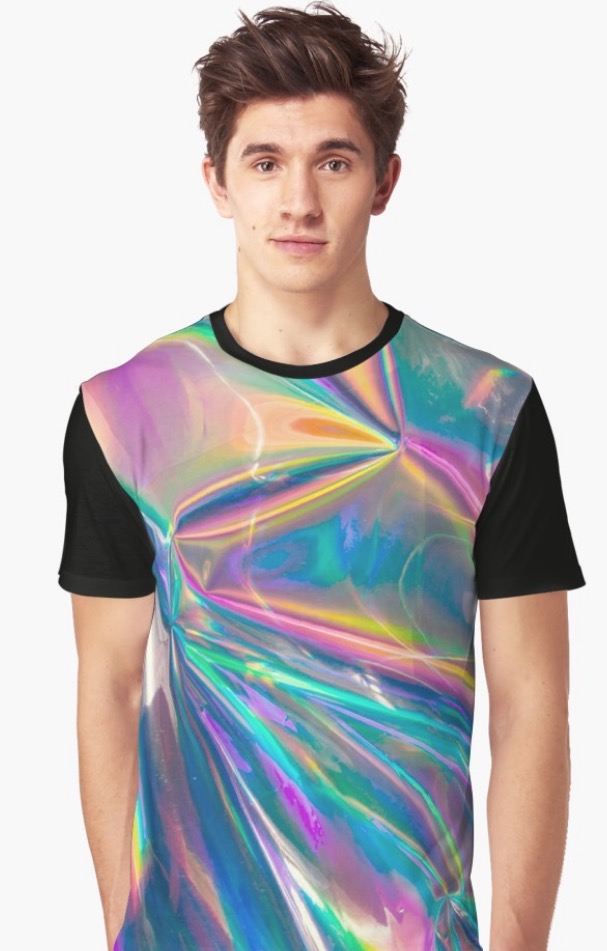 It's Taking Off
Unlike other design trends that have non-digital roots, holograms benefit from the use of technology to really propel their advance and adaptability. The hologram design trend is therefore equally at home on tactile materials like stationery and stock photos as it is in more tech-heavy applications like mixed reality typeface apps and product design for new cars. While holograms were historically invented in the 20th century for decidedly non-artistic reasons, over the decades, they've been slowly but surely adopted into more design-based uses. They likely received their biggest push from a pop-culture standpoint through movies and entertainment products fantastically exploring all their possibilities—whether plausible or not. To date, holograms represent the perfect union between traditional design and current, technological breakthroughs that make it easy to propel a design trend like this to new heights, uses and widespread acceptance.
---
Products Seen In This Post: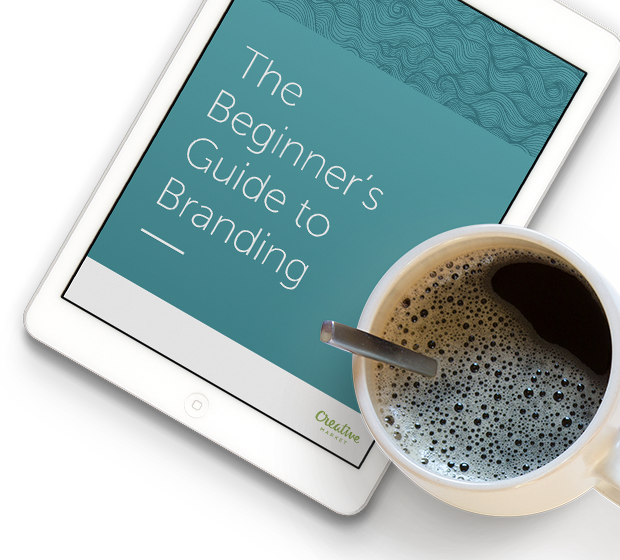 Free Beginner's Guide to Branding
Designing your own brand?
A fun, friendly, FREE guide to build a stellar brand identity.
Download now!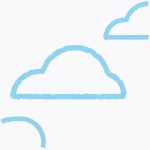 Marc Schenker
Marc is a copywriter and marketer who runs The Glorious Company, a marketing agency. An expert in business and marketing, he helps businesses and companies of all sizes get the most bang for their ad bucks.
View More Posts