How to Illustrate a Children's Book: A Guide for Beginners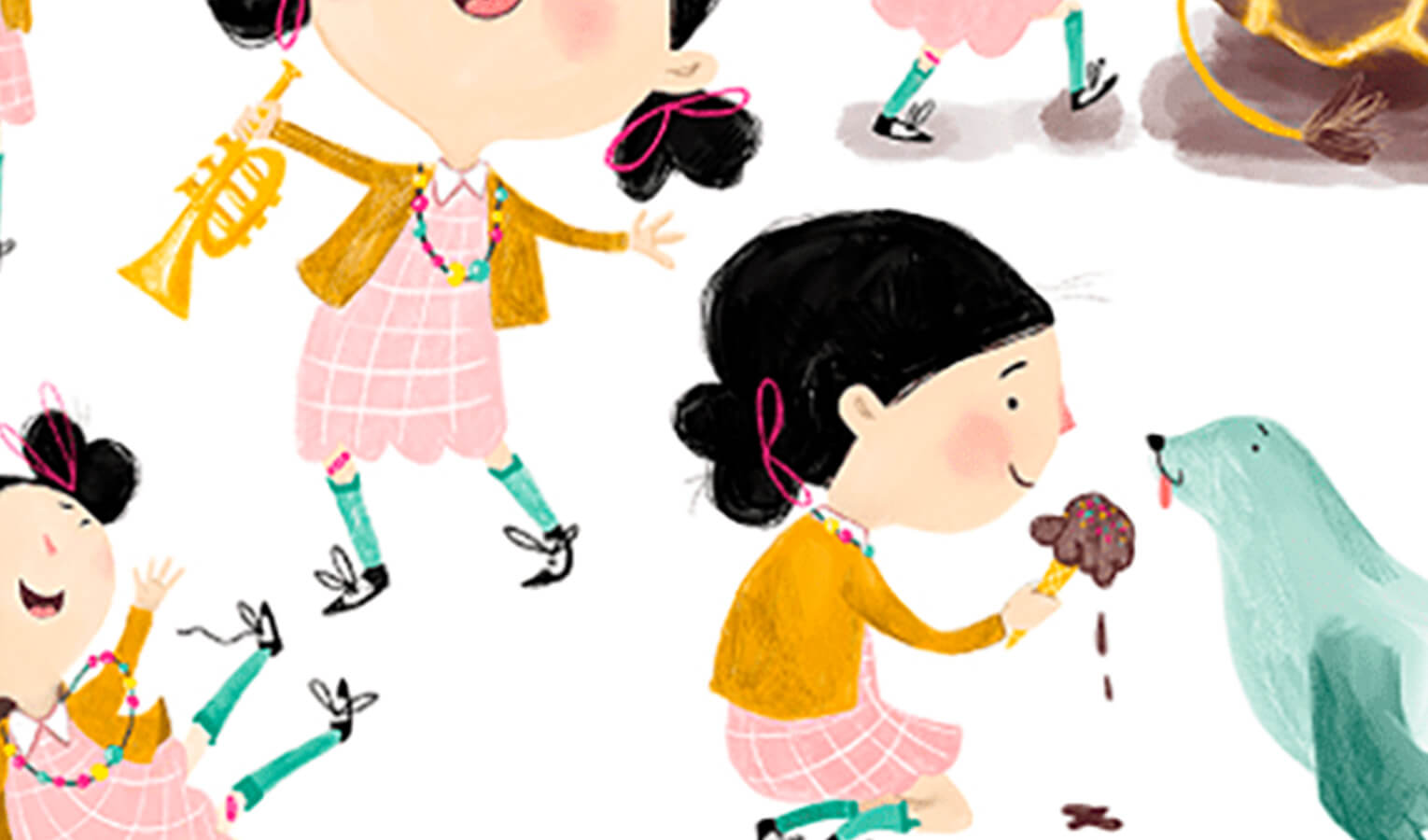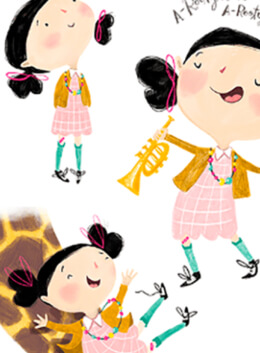 Isn't there something magical about children's books? Written for a pure and innocent audience who will believe in nearly anything, children's literature can whisk us away to far-off lands, introduce us to lovable talking animals, or take us on inconceivable adventures.
Children's literature features several categories of books for little ones: board books, picture books, young readers, and chapter books. While most or all children's books use illustrations to accompany the text, I will be focusing on picture books. Picture books are unique in that they are created for children who are too young to read, who are having the book read to them. Illustrations are there to help the story unfold visually alongside the text, and a good illustrator will be sure to add a fresh viewpoint as opposed to just regurgitating the story in picture form! A great picture book needs to grab the attention of the adults buying the books and keep tiny eyes keen and attentive.
Whether you use this guide to inspire you to send out a picture book pitch to agents or to illustrate and self-publish that story your grandmother told you as a child, allow me to walk you through some of the key elements to be mindful of when illustrating your first picture book.
Characters
If you think back to your favorite childhood books, you'll likely think first of beloved characters. What made them special?
A good character, first and foremost, must evoke a reaction from the viewer. It's the illustrator's job to capture that spark, that energy, that grabs our attention. Note that the protagonist in children's books is almost always a child or child-like character, as real-life kids like to see people their own age solving their own problems.
I love people-watching for inspiration in creating unique characters, and watching my own children has added plenty of ideas to my own reservoir of character ideas.
Perhaps your character always wears mismatched socks, has cute bulgy eyes, or carries a ratty old teddy bear wherever they go. Are they prim and proper? Do they have wild red hair and crooked glasses? Is your character a child, a chihuahua, or a chair? (That's right, characters don't have to be human, and that in and of itself, can make for an intriguing character!)

Cover of I Don't Want Curly Hair, by Laura Ellen Anderson
Olivia, by Ian Falconer
Practice illustrating your character in a variety of poses and actions, as you'll need to show them throughout the story doing a variety of things!
Also, it's 2020, so be sure to represent a diverse and inclusive range of characters! That not only means a variety of skin tones but also varying levels of abled-ness as well as diverse families.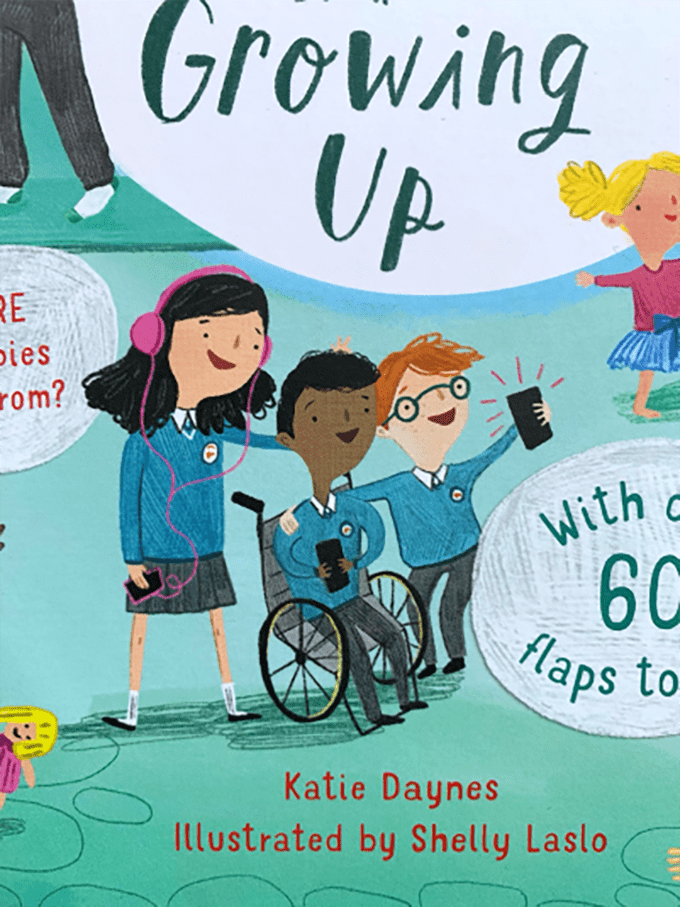 Diverse characters, illustrated by Shelly Laslo for Usborne's Questions and Answers about Growing Up
Setting the Scene
Right, so you've designed an awesome character, and now you have to place them in their world. What does that mean? Well, the environment in which you draw your character should fit the story, both in style and tone. So, if you've drawn a simple character with minimal features, you probably won't draw them in a highly-rendered forest with tons of cross-hatching and shading. Also, if your character is wild and unruly, drawn in bright colors, it's unlikely that they'll live in a muted world drawn in greys and blacks. I say unlikely and not impossible, because that juxtaposition may serve the story, in which case, contradict to your heart's content. Otherwise, be sure to stay cohesive.
Also, be mindful of the time period and geographical location of your story. You may need to do some research, but the clothes in which you choose to dress your character, as well as the type of buildings that will line the streets, will vary according to the time and place in which the story is set.
Storyboards
An important step when planning out your illustrations across the story is the storyboard stage.
In this stage, we draw thumbnails to plan what each spread will look like. It helps to imagine the story like a movie at this point, and you as illustrator get to direct each scene! This is your chance to get creative with angles, cropping, and cinematic views. Does it serve your story to illustrate a sprawling field as viewed from above, or to create drama by framing your illustration as a close crop of your characters startled face?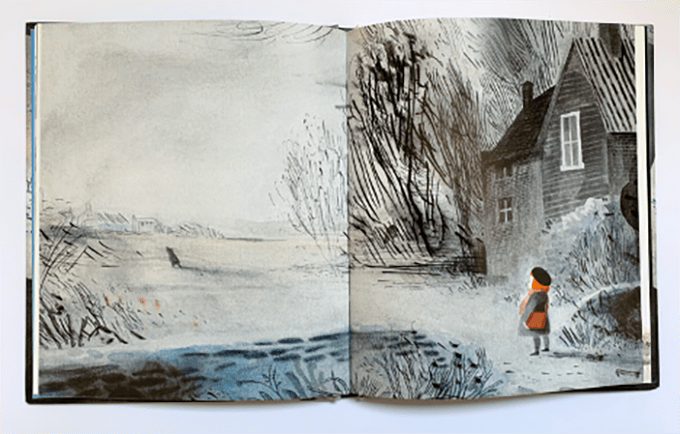 Captain Rosalie, written by Timothee De Fombelle and illustrated by Isabelle Arsenault.
Notice the landscape cropping, showing our main character at the foreground and the faraway character drawn blurry and small heading into the distance. What feelings do you think the illustrator, Isabelle Arsenault, was trying to capture from within the story and evoke in the readers?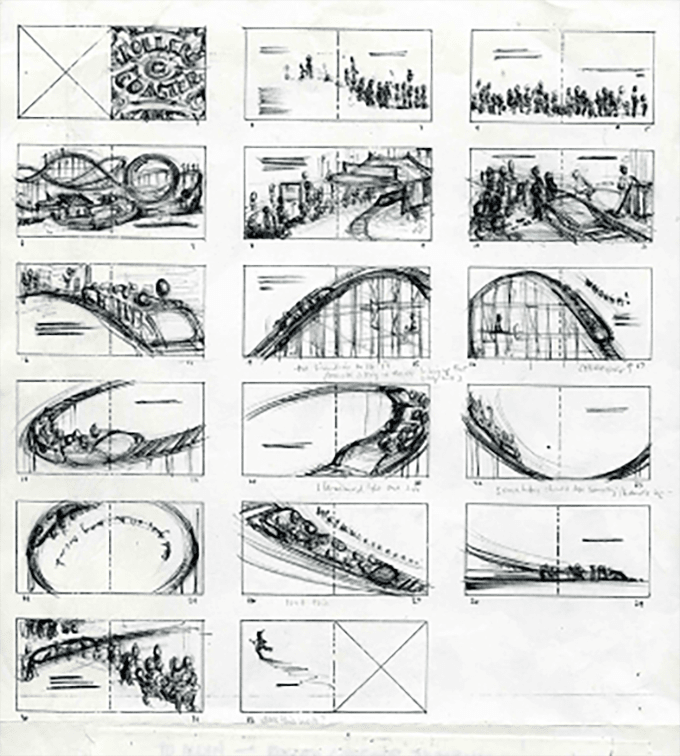 Thumbnails sketches for Roller Coaster, by Marla Frazee
A good illustrator guides their viewer to look at what needs to be looked at. A great illustrator carefully inserts some witty surprises across the page. Consider this when drawing your thumbnails.
Technique
These days, more and more children's books are created digitally. That, however, doesn't mean that they need to look like they were created digitally. When I created my Procreate Brushes "The ShellyBrush Kit", I spent hours and hours making marks with watercolor, crayon, and pencil in order to create the source file for each brush. The end result is an analog-looking brush, with the ease and practicality of a digital brush.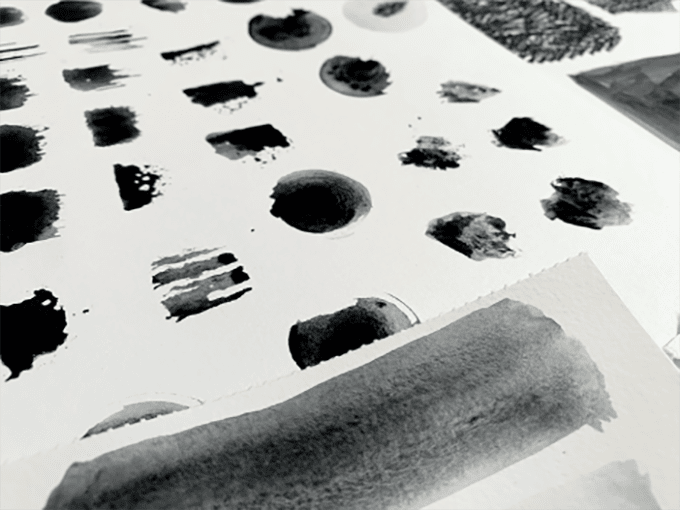 Creating the brush marks that would later become The ShellyBrush Kit Vol. 1 and Vol. 2
Especially when dealing with big publishers and tight deadlines, a digital workflow can be an illustrator's best friend. Working digitally makes editing a breeze, and eliminates the need for high-resolution scanning, and paint-drying time. What's not to love?
Thanks to some amazing digital brushes and textures, your illustrations can have that amazing, tactile feel of drawings created with gouache, watercolor or pencil.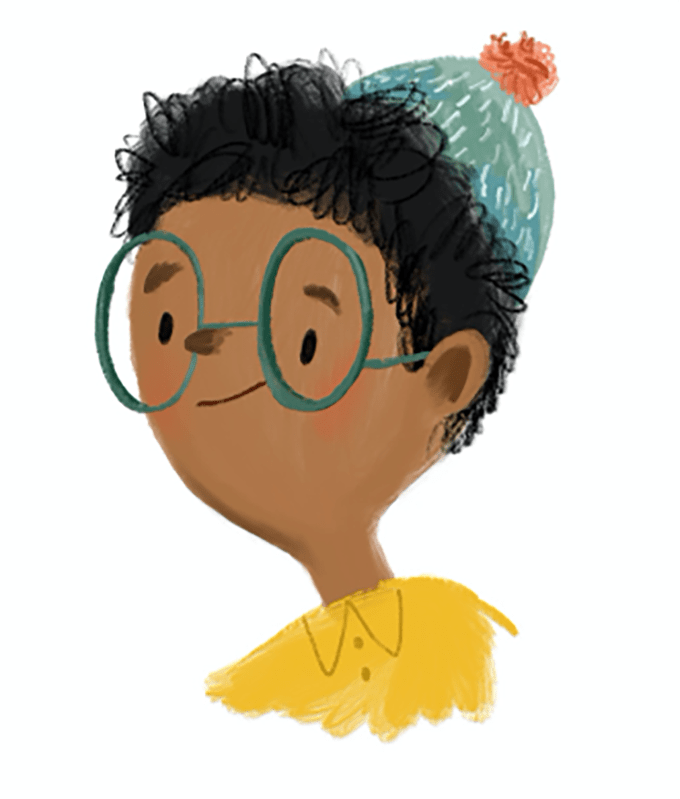 Character study done with The ShellyBrush Kit digital brushes.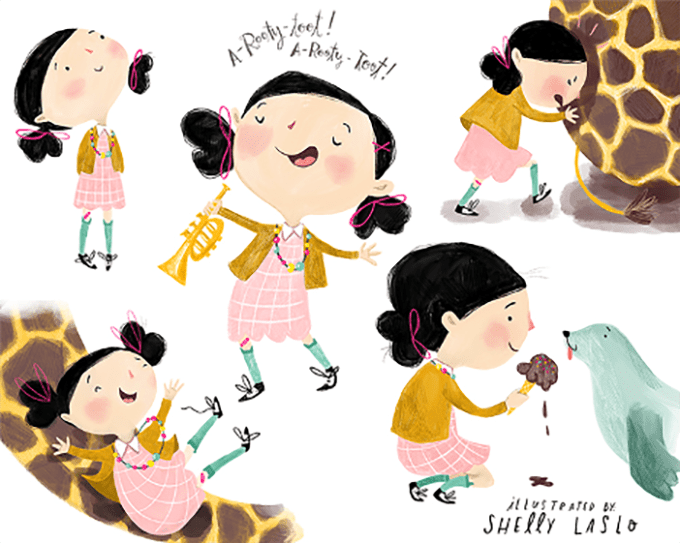 Character study by Shelly Laslo. Layering digital brushes and adding brushstrokes create a hand-drawn feel.
The Cover
When creating your eye-catching children's book cover, consider how you'll make it pop, as well as convey the mood of your story. Hand lettering is very popular for lettering the title of picture book covers, as it ties together beautifully the hand of the illustrator and the design of the book.

Hand-lettered title for Here We Are, by Oliver Jeffers.
To get started, you can find some awesome lettering brushes and guides.
If hand-lettering isn't your strength, you can always rely on beautiful and quirky typefaces for a handwritten look and feel.
I hope I've inspired you to give picture book illustration a go! There's room for every aspiring illustrator's style and voice. Get creating, and let your art find its way into the hearts and bookshelves of children everywhere.
Shelly Laslo is a children's book illustrator living in Israel. She is represented by Plum Pudding Illustration Agency. She has worked with some wonderful clients including Penguin Random House, Usborne Publishing UK, and Bravery Magazine. You can find more of her work on her Instagram and website.
Getting started with hand lettering?
Free lettering worksheets
Download these worksheets and start practicing with simple instructions and tracing exercises.
Download now!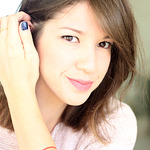 Shelly Laslo
Hi! I'm Shelly, a picture-book illustrator based in sunny Israel. I create thoughtful digital design goods to help your work shine brighter.
View More Posts