How to Create a Fillable PDF Workbook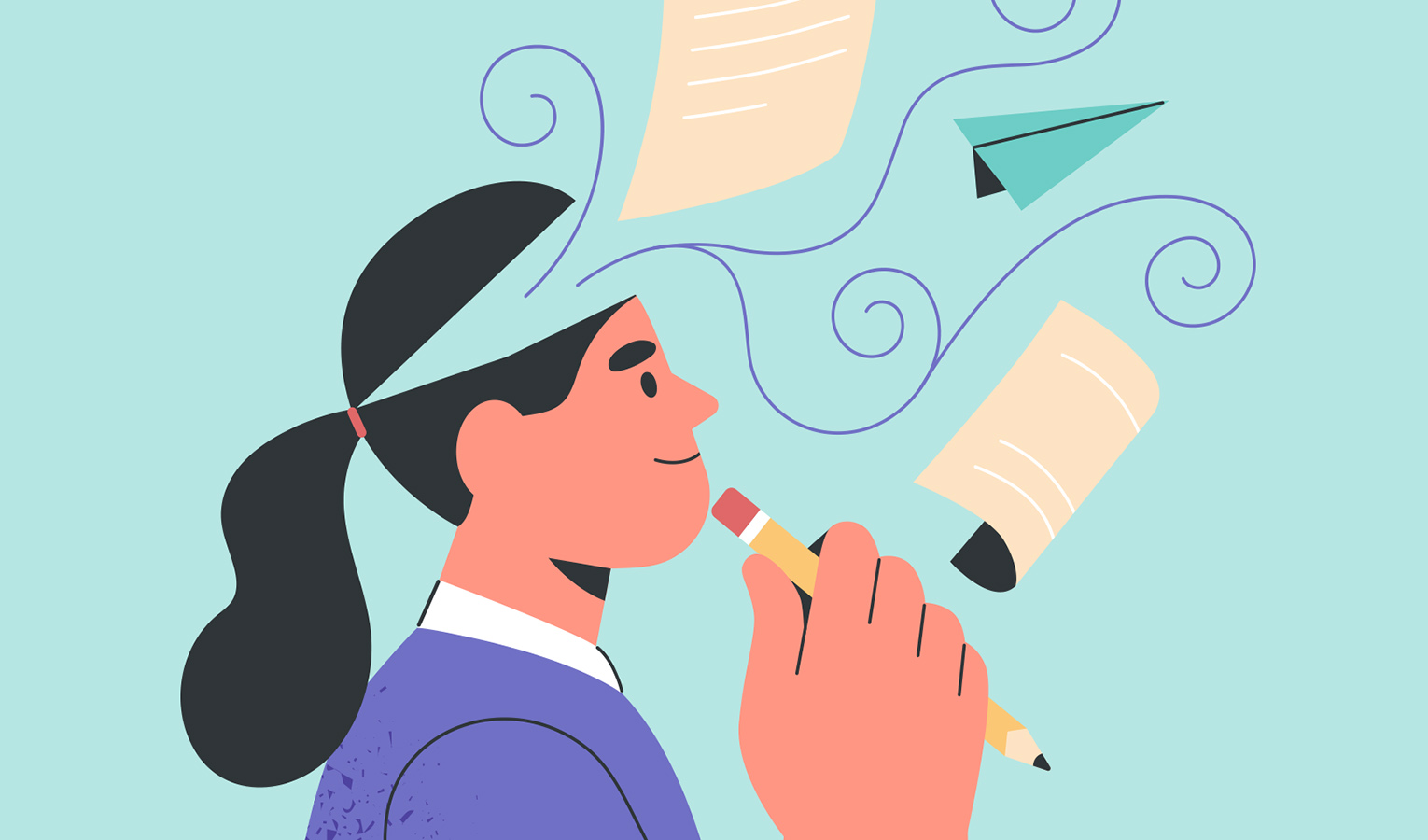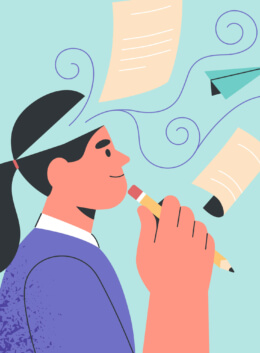 This is a guest post from our partners at ONLYOFFICE, an open-source productivity suite to run your entire business.
---
It's no secret that workbooks have become a must-have tool for infopreneurs allowing them to support their online courses or webinars with interactive content of any type. To draw the attention of readers and make them interact, infopreneurs create fillable worksheets, checklists, schedules, and to-do lists where it's possible to take notes or leave comments without having to print anything out.
If dealing with PDF workbooks is what you do regularly, you might find it difficult to believe that no special software, like Canva or Adobe InDesign, is needed for this task. You can create an interactive workbook or worksheet with fillable fields even using a word processor.
In this article, we will tell you about ONLYOFFICE, an open-source alternative to Google Docs and Microsoft Office, and how this software can help you make fillable PDF workbooks online and offline.
Why you need to create a workbook
If you are a blogger or infopreneur, you are highly likely to have some experience in creating and editing interactive materials, like worksheets, checklists, questionnaires, etc. It goes without saying that content like this is of paramount importance if you want to enhance the reading experience of your followers or customers.
A workbook is a document that contains pages with interactive elements to help readers learn more about a certain topic and hone their skills. It's like the digital version of a printed book that comes with visual aids to enhance the learning experience.
The interactive elements of a workbook may include:
Worksheets: pages with blank gaps that readers need to fill in to complete a task;
Checklists: lists of items to be done or steps that readers need to take in order to complete a certain activity;
Lists: series of items that can be created by readers for different purposes, for example, to list their goals or achievements;
Schedules: lists of planned activities or things to be done that show the time frameworks when they are intended to happen;
Blank spaces: where readers can write their thoughts or leave comments on the topic of the workbook.
The core idea of adding such elements is to engage readers by giving them an opportunity to interact with digital content and educate them on a certain topic through this interaction.
Choose the right software
Before you start creating your own workbook, you need to have a comprehensive understanding of what you are going to offer to your readers. Here are a few short tips:
Determine your target audience
Choose the most suitable format for your workbook
Outline the structure and contents
Opt for a proper software tool
How that you know everything about workbooks and their importance, it's time to choose a program that will help you to get the job done. Of course, you can rely on popular solutions, like Canva, but it might be a good idea to look at a fresh perspective. ONLYOFFICE Docs has a lot to offer when it comes to creating fillable PDF workbooks.
How to create a workbook using ONLYOFFICE Docs
1. What is ONLYOFFICE Docs?
ONLYOFFICE Docs is a web-based online office suite that allows you to work with text documents, spreadsheets, presentations, and fillable forms via your browser. This open-source alternative to the existing office suites offers a familiar tabbed interface, a full set of editing features, and the highest compatibility with Word, Excel, and PowerPoint files.
ONLYOFFICE Docs is a powerful tool that makes it possible to create not only office documents but also fillable PDF files with interactive elements, including workbooks for any purpose.
2. How to create a new fillable form
As an example, let's create a marketing workbook using the ONLYOFFICE text editor and see how to add text fields, create checklists, insert images change field properties, insert images and save your piece of work into a fillable PDF so that your readers can take notes and leave comments.
First of all, you need to create a fillable form. You can make one from scratch or use an existing DOCX file. After your form template is ready, you can edit its layout.
For example, if you open the Layout tab, you will be able to choose the required page orientation, Portrait or Landscape, change page size and adjust margins.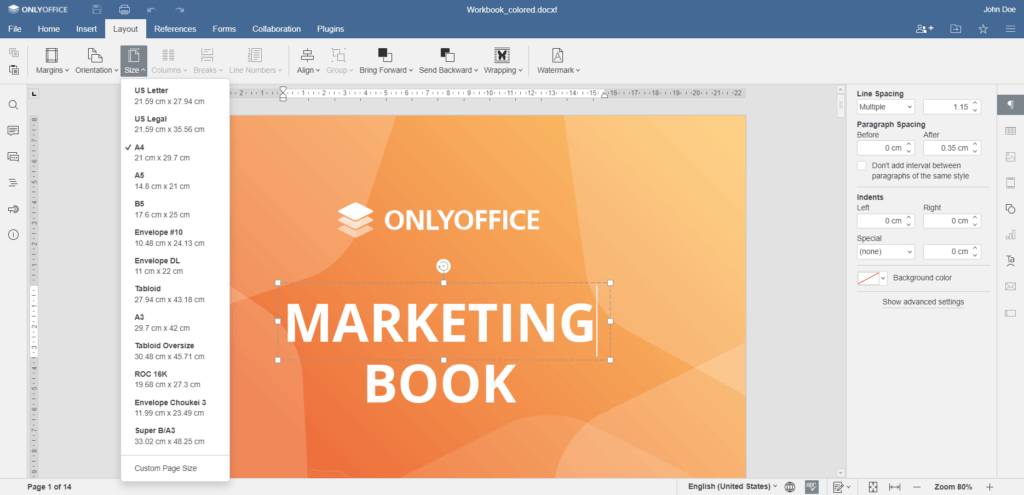 ONLYOFFICE allows you to add different objects, including tables, shapes, images, charts, text boxes, and Text Art pictures. Using these tools, you can elaborate a unique layout for each page of your workbook.
Working in ONLYOFFICE is very similar to Microsoft Office, so it won't take you a lot of time to get acquainted with the program interface and its functionality. When you are done with the document layout, you can proceed with adding fillable fields that are available on the Forms tab.
As you can see, the ONLYOFFICE editor supports:
Text fields to enter information
Radio buttons to select one option from a fixed set of mutually exclusive choices
Images to insert pictures or screenshots
Checkboxes to make a choice between one of two possible mutually exclusive options
Drop-down lists to choose one item from a list
Combo boxes to give your users several ways to input or select the desired information
In our marketing workbook, you can see the core questions worksheet. It's a table with some questions that our readers will need to fill in. The table contains blank spaces — Text fields where it's possible to enter text.
If you want a form field to be the same size as a cell, you need to create a field with a fixed size and drag it out. When copying, just hold the Ctrl key and drag the field to the desired cell.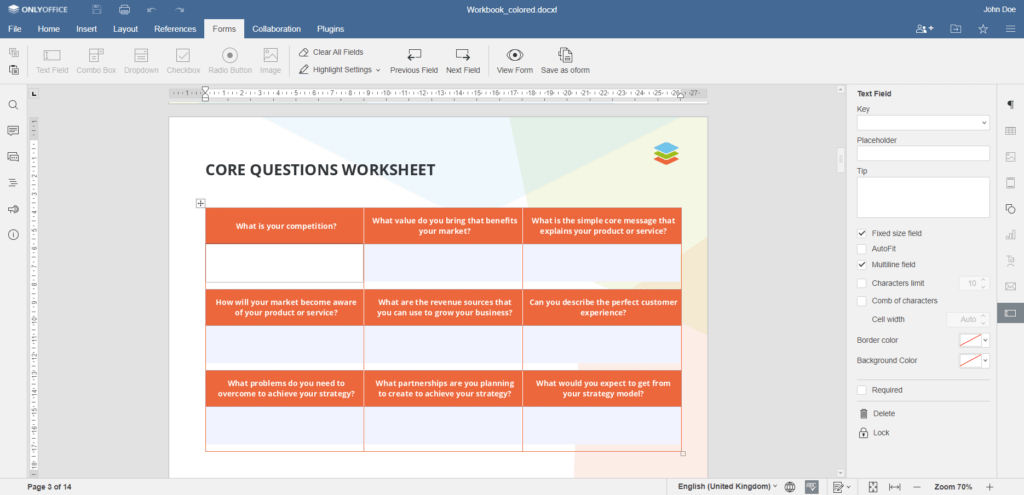 When you add a text field by clicking the corresponding icon on the Forms tab, you will see the field properties on the right sidebar. Here you can set a limit of characters to be entered, enable multi-line text input, fix the field size, or divide the field into separate cells for each character. Also, you can specify a placeholder for instructions and a tip that will appear when you hover your cursor over the field.
If you need to make a checklist in your workbook, please use the Checkbox option on the Forms tab. Add as many options as you need, enter text descriptions, and your readers will be able to check what is relevant to them.
However, if you want your readers to select only one option from a list, you can use radio buttons. In this case, one group of items should have the same key so that no one can select several options.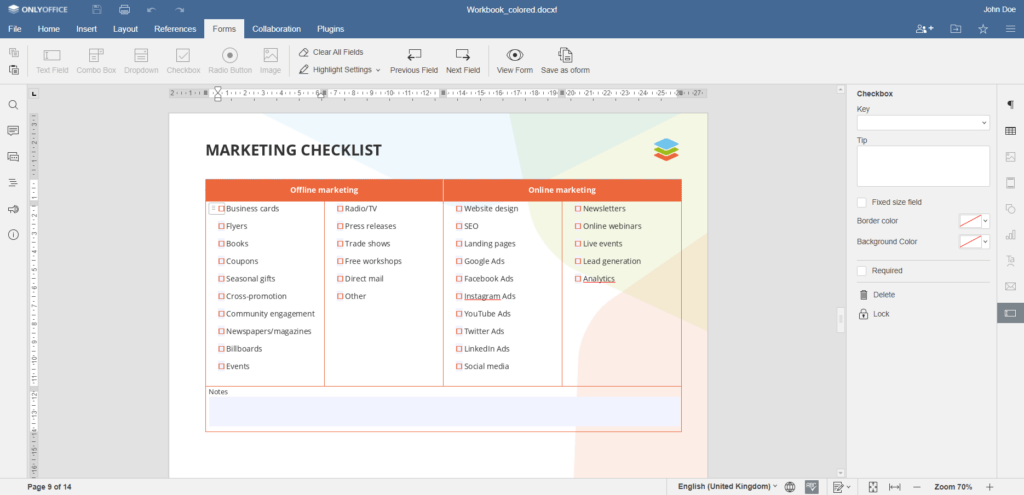 If you expect your readers to add pictures in your workbooks, add the corresponding fields where necessary. This also works for drop-down lists, radio buttons, and combo boxes — feel free to add as many fields as you want and adjust their properties.
After adding all the required fields, you can click the View Form option on the Forms tab to see what your fillable workbook will look like. If you notice any mistake or want to change something in the workbook layout, click View Form again and get back to the editing process.
3. How to share your document for collaborative work
If you prefer working as part of a team, ONLYOFFICE Docs allows you to share your documents with others and collaborate in real-time.
To invite somebody to co-edit your workbook, go to the Collaboration tab and click Sharing. In the Sharing settings window, you will be able to enable document editing for external users or grant the required access permission to an internal user or a whole group. The available options are:
Full access makes it possible to edit the document without limitations;
Review allows a user to leave suggestions that can be accepted or rejected by the owner of the file;
Comment means an opportunity to leave comments without being able to edit anything;
Read only lets others open the file for viewing only;
Deny access is used to refuse permission to open and edit the document.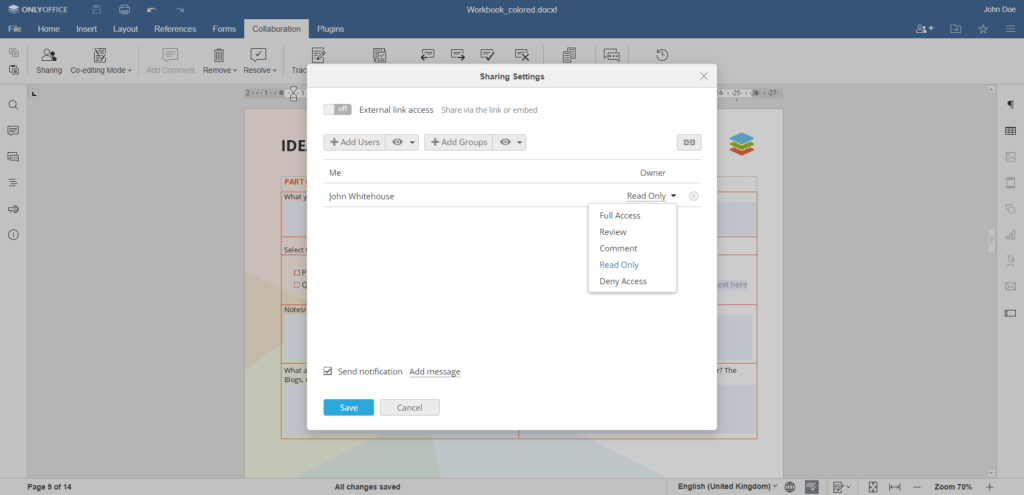 If you share the workbook, your co-authors will be able to open the workbook and edit it in accordance with the granted access permission. During the collaborative process, you can switch between the Fast and Strict co-editing modes, accept or reject edits made by someone else, write comments, send text messages via the built-in chat, make audio and video calls via the Jitsi plugin and browse the document drafts using the Version History feature to get the job done quickly.
4. How to make your workbook editable
When all the editing work is done, and your workbook looks as it is supposed to, it's time to save the document to PDF. To do so, open the File tab. You will see all the available options. Select PDF and save the workbook to a folder on your PC or laptop.
Share your workbook with your followers or clients, and they will be able to fill in all the fields using a PDF editor or a web browser, like Google Chrome.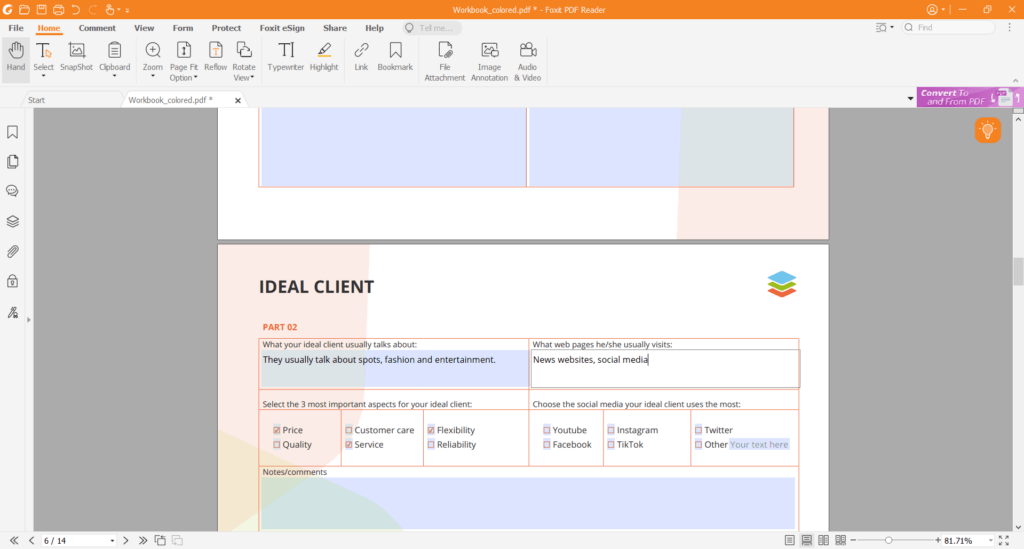 5. How to fill out your workbook online
Alternatively, you don't have to save your interactive workbook as a PDF. You can also save it as OFORM, ONLYOFFICE's native format for online forms. This format makes it possible to keep and share ready-to-use fillable documents so that others can open and fill them out in real-time using their browser. In this case, no additional software is needed.
Just open the Forms tab and choose Save as oform. The newly created OFORM file can be shared with others in the same manner as any template. However, here you can select new permission right — Form filling. This option enables other users to fill out fields and doesn't allow them to make any edits.
While working with the OFROM file, the recipient can use the arrows to navigate between the existing fields, enter the required information or clear all the fields with a click if necessary. When everything is completed, he or she can save the file as DOCX or PDF or print it out by choosing the corresponding option in the upper right corner.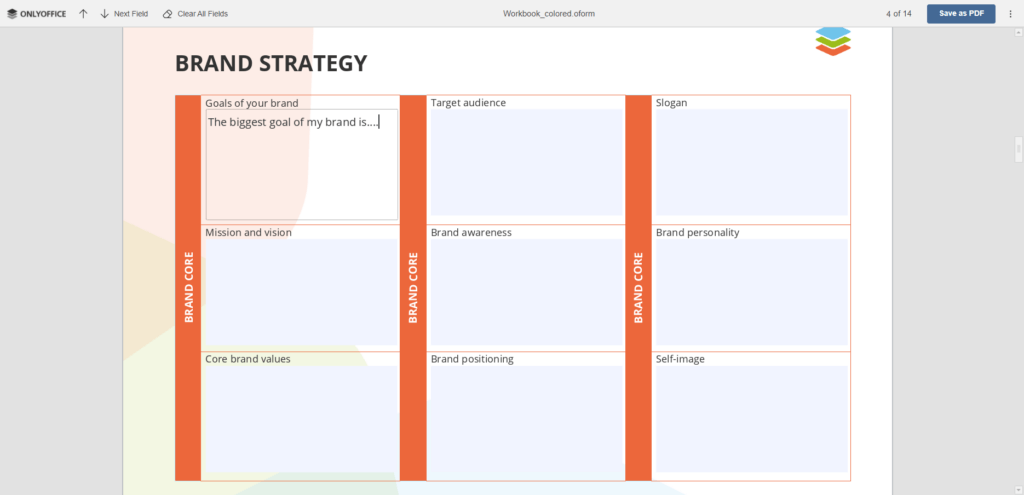 Conclusion
You have successfully gone through the process of creating a fillable PDF workbook with interactive fields right in your browser. As you can see, a word processor like ONLYOFFICE Docs is quite enough to create simple engaging content of this type.
ONLYOFFICE Docs is not only about creating fillable forms. It's also good at creating sophisticated text documents, professional Excel worksheets, and stunning presentations. You can deploy ONLYOFFICE Docs on your own server for free or implement it within the IT infrastructure of your company by purchasing a scalable commercial version with a 30-day free trial period.
For personal use, there is a free cloud version of the ONLYOFFICE editors and a desktop client for Windows, macOS, and Linux that offer the same editing experience and interface. Free mobile apps for iOS and Android let you access your document wherever you are. Find more information about ONLYOFFICE on the official website.
Getting started with hand lettering?
Free lettering worksheets
Download these worksheets and start practicing with simple instructions and tracing exercises.
Download now!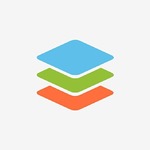 ONLYOFFICE Team
ONLYOFFICE offers a complete productivity suite with document management, project management, CRM, calendar, mail, and corporate network. Designed to make collaboration easy.
View More Posts