How to Create Your Very Own WordPress Menu
When you create a new page, WordPress automatically generates menu links. However, you may be interested in making your own customized menu to jazz things up and give it your own unique touch. Knowing how to create your own WordPress menus really helps to give you more control over your website. This guide will walk you through the process of creating your own customized menu.
It's actually a lot easier than it sounds, so let's get started!
Step 1 – Login To Your Dashboard
This seems obvious, but hey, it is in fact the fist step needed to be able to create your own menu. You can login to your dashboard by going to http://www.domain-name.com/wp-admin and entering your username and password.
Step 2 – Navigate to Appearance > Menus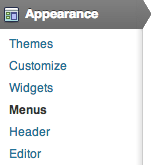 Step 3 – Name and Create the Menu
Under Menu Name, enter the name of the menu you would like to create. Then, click on Create Menu.
It's best to give it a descriptive name, so that you (or other administrators) know exactly what it means if you come back to it many months later.

Step 4 – Choose a Location
Depending on your version of WordPress, you may see the Theme Locations on the same page that you created your new menu, or you may have to select the tab labeled Manage Locations.
Here we are going to add My Custom Menu to the Navigation Menu. Different themes may have muliple locations to choose from.

Don't forget to click Save Changes.
Step 5 – Assign Links
Go to the Pages area (if you have a newer version, this will be on the Edit Menus tab) and assign the links you want to include in that menu that you just created.
You can add Pages, Links, or Categories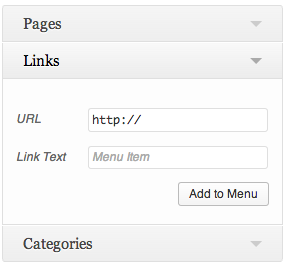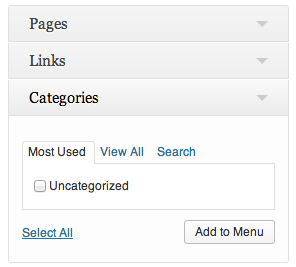 Click Add to Menu. You will now see the links appear to the right.
You can then grab the links with your cursor and rearrange them to the order you would like for them to appear on your site. It's that easy!!!

Step 5.1 – Change the Name of the URL Label (Optional)
Next to the links, you will see a 

 to expand the link for more options. Here you will be able to change the name of the Navigation label that will appear on screen or remove the link completely.
Note: this will keep the full headline title on the web page, it will just change the url title. For example, if your page was named About Our Company, you could change the Navigation Label to About. This is the equivalent of changing the url to www.domain-name.com/about.
Step 5.2 – Submenus (also Optional)
Making Submenus with drop downs has never been easier!
Under Menu Structure, all you need to do is select the link you want to be a drop down menu. Then, drag and place the item slightly to the right underneath its parent.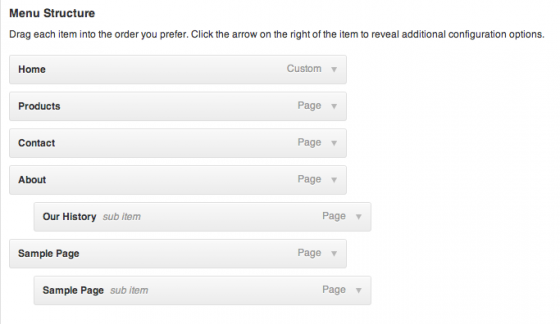 As always, don't forget to click the

WordPress automatically knows how to treat that link as a 'child' to its 'parent' link and will be treated as a drop down. Go ahead and view your site to check it out!

Next Up – Multiple Menus on a Page
You may also want to create more than one menu on your page. For example, many sites, may have their main navigation at the top of their page, which includes just a few of the most important pages. However, you may want a different menu with fewer (or more) links in another area of the page.

Top Menu

Footer menu

If this is the case, simply follow the steps above.

Then, navigate to Appearance > Widgets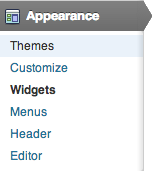 Select the Custom Menu widget.

And drag and drop it to the Widget Area on the right side of your dashboard you want it to display. From here, include a title and select the menu you want to display. Then, click Save.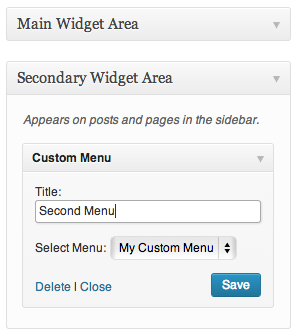 Where this appears on your page will depend on how your theme is structured.
And that's it! You're done! Congratulations on now knowing how to create your own WordPress Menus! I told you it was easier than it sounds!
Our WordPress Theme collection showcases a plethora of different menus. Take a look around and feel confident knowing that you are now able to make your own customizations to the design that you choose.
Getting started with hand lettering?
Free lettering worksheets
Download these worksheets and start practicing with simple instructions and tracing exercises.
Download now!