10 Design Elements Every Landing Page Needs
There are certain best practices that have been shown to increase conversion rates on landing pages and leveraging these to your advantage is a great way to hedge your bets and boost your landing pages conversions. Along with these design and content elements, there are some behind the scene SEO related devices and strategies that should be coupled with these best practices. Firstly, consider your URL structure and craft it to be inline with your SEO and landing page goals. Secondly encourage the use of your keywords through your content and especially on the higher level headers. Lastly, write your metadata to support your content, utilizing your tools like alt tags and header metadata. Landing pages will tend to have high bounce rates, so be sure to put your best foot forward because you may only get a moment of their attention. Get an advantage by trying to incorporate some or all of the following best practices.

1. Enticing Headline
This is your elevator pitch, your chance to capture a viewer's attention and encourage them to learn more about your service or product. Take a chance to editorialize your company but avoid being vague, let your viewer know immediately what you do and how your service or product will benefit them.
2. Lead Capturing Form
Not always needed, depending on your landing page's goals it can be replaced by a number of elements that encourage conversions. For example, in some cases a product shot may be more effective in this valuable, above-the-fold, real estate. Be transparent with why you are collecting the user's information and what value it will give to them in return. People don't generally like giving out their information, so if you are not reselling their emails, be sure to reassure their confidence in filling out your form. Additionally, keep this brief and to the point, restrict the amount of fields you require and are asking for here, the less there are the more likely you are to receive submissions.
3. List of Benefits
Present a list of benefits that highlight how your product or service will affect your consumer in a positive way. Consider what your Unique Selling Point is and leverage that to encourage engagement on your website. How will your product or service benefit the user better than any other competition?
4. Distinguished Buttons
Use contrast to boost the attractiveness of your buttons that are intended to get the most attention. It is a big help to always build a hierarchy of elements so that focus remains where you want it too. Determine your most important CTA's (Call To Action's) and use purposeful design to boost their attractiveness.
5. Affiliated Brands
Showcasing brands that interact and use your products or services will increase the chances of a user engaging with your website by encouraging trust through social proofing. By letting your viewers know that established companies also trust your product or service, they are more likely to feel safe when interacting with your brand.
6. Value Statements
Value statements are a good way to further show some of your products and services benefits or features. Keep these a little more visual or interactive and focus key points that divide you from the competition.
7. Testimonials
A powerful tool for social proofing, use endorsements from your users to boost trust and encourage conversions. Simply said, testimonials communicate the quality of your product or service directly from current users to potential users.
8. Pricing or Services Offered
Be transparent with your pricing and how your services are structured. This can help filter conversions and avoid dead ends leads by qualifying users before they contact you. This may sound a tad counterintuitive but your time is valuable, and you should be putting the most amount of effort into the most valuable leads.
9. Reinforcing Lead Capture CTA
Don't expect someone to scroll back to the top of your page to use the form or submit their information, give them an additional space to do this with another enticing heading.
10. Product or Service Shot
Continue to be decisive with what content you use, choose images that tell a story and shine a positive light onto your product or service. If you have a quality video, especially if you need to explain a new concept, show this to your users if it's appropriate for your landing pages goals.
11. Trust Badges
These are any badges that lend additional trust to your brand by ensuring your quality and dedication to a particular standard. Examples: BBB (Better Business Bureau), Verisign, payment options like Visa, MasterCard and Paypal, and various online security badges boasting a website's transaction security.
---
Products Seen In This Post:
---

Getting started with hand lettering?
Free lettering worksheets
Download these worksheets and start practicing with simple instructions and tracing exercises.
Download now!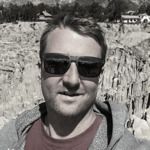 Marshall Taylor
True North Creative is fonts and designs created and cared for by Marshall Taylor. Fun to make and fun to use. Thanks for the support!
View More Posts