How to Design a Wax Seal From Scratch
Wax seals were once popular with royalty and aristocrats who put their mark — literally, either a family crest or individual monogram — on everything from official decrees to personal correspondence. Now, anyone can make an impression using their own monogram wax seal, thanks to custom stamp engraving services. Instead of sealing royal pronouncements, modern wax seals are used to spruce up ordinary stationery and add decorative flair to wedding invitations, product packaging, and gift wrapping. Creating an elegant wax seal monogram is as easy as designing a one-color logo — all you need is a solid typeface and vector graphics software. In this tutorial, we'll show you step-by-step how to prepare a monogram design for a bespoke wax seal stamp. You will need:
Sketchbook or drawing paper
Pencil
Adobe Illustrator CC (or vector graphic app)
Font library
Monogram design kit
Step 1: Develop Your Concept
Monogram styles run the gamut from Victorian traditionalist to modern minimalist. Even a single-initial monogram can have countless variations. Grab your sketchbook, and work up several rough design concepts to get an idea of overall shape, size, and style. Don't feel limited by the stamp die's circular shape — your design can be hexagonal, triangular, square or oval. The monogram design for your wax seal can be as complex or minimal as you want; however, you will need to factor in the limitations of the engraving process. Delicate details and script flourishes that look great in print or on screen may not transfer to the seal's engraving or wax impression. Think of your monogram design as a stencil. Plan for slightly heavier line weights in your font and filigree choices, and avoid any gradient, drop shadows or three-dimensional design elements.
Step 2: Choose Your Elements
Unless you create a completely original design by hand, you'll need to compile the design elements and fonts you want to use. Browse through your personal font and shape libraries, or save time by downloading a themed monogram design kit. These kits let you quickly and easily create or customize a monogram design with a selection of typefaces and handcrafted letters, ready-made templates with Celtic style or elegant simplicity, and pre-made decorative design elements that infuse traditional flourish with a modern twist.
Step 3: Create Your Vector Document
Open a new document in Adobe Illustrator (or your preferred vector graphic software). Your monogram will need to be submitted as a single-color (black), high-resolution vector, so you should set your resolution to 300 dpi and color profile to grayscale. The black area of your artwork is what will be engraved into the seal and appear raised when pressed in wax.
Step 4: Set Your Type
Begin building your monogram with the initials. Type each initial in its own layer, using the same font, weight and point size. When choosing a typeface, remember to avoid delicate serifs, distressed or textured typefaces, and ultra-light line weights. If your design includes a slogan or motto, consider setting the type in a bold sans serif. Here are some great fonts and creator packs to help you create an elegant monogram for the wax seal:
When it comes to arranging initials, traditional monogram design follows a few simple guidelines:
For a single initial, choose the first letter of either the first name or the surname
Keep the initials sequential for a monogram using first and last name — or a two-word business name or a three-letter monogram where all the initials are the same size
Use the initials of the first names in a two-letter monogram incorporating initials of two people
For a single person with three initials, the surname initial goes to the center and in a larger point size, with the first initial placed to the left and the middle initial to the right.
Arrange the letters in order and adjust size, position, and weight as needed. Group your initials into one layer, but do not merge or rasterize. When you're ready to finalize your design, convert your text to outlines to avoid potential font compatibility issues.
Step 5: Add a Border and Decorative Elements
With your initials in place, draw your border and adjust the size and proportion until you get the desired shape. Import and position your filigree, ornaments or other decorative elements in and around your design. If using multiple shapes, put them into a group layer before applying any masks or alterations.
Step 6: Prepare File for Output
Once you're satisfied with your design, transfer your layers to a new document and create your print-ready file. Each wax seal printer has its own set of guidelines regarding the file formats and sizes it accepts. Stamptitude accepts files in AI legacy format (Illustrator 8), while Nostalgic Impressions accepts AI files as well as EPS, TIFF, PSD, PDF and more. Some printers even offer their own templates for designers to paste their work into before submission. Download the template for the die size you've chosen, and scale your design within the document. Before finalizing your file for output, check your printer's guidelines for requirements regarding minimum text size and stroke width, and adjust your design as necessary. Legibility on a smaller die size may be a concern, so print a proof of your design at actual size. If it passes your inspection, export the file for upload. Stock up on sealing wax because you'll soon be making your own mark on official documents and casual correspondence. If you need wax seals in mass quantities and don't have time to play with fire, you can order self-adhesive wax seal stickers of your design. You'll get the same effect with none of the mess.
---
Products Seen In This Post:
Getting started with hand lettering?
Free lettering worksheets
Download these worksheets and start practicing with simple instructions and tracing exercises.
Download now!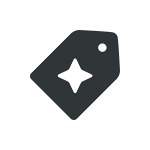 Creative Market