How to Earn Money With the Creative Market Affiliate Program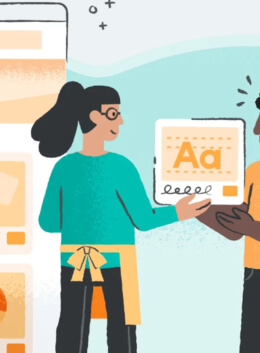 On June 6, 2022, we introduced changes to our Affiliate Program. This article has been updated to reflect those changes.
---
Creative Market provides thousands of creatives around the world with an opportunity to earn money doing what they love. Our shop owners are the most talented people we know and they surprise us every single day with amazing new products.
If you're a Creative Market fan, you probably already know all this. What you may not know though is that anyone can make money with Creative Market, even if they don't have a shop! All you have to do is share your favorite products and when people buy them, you'll earn a chunk of that purchase. Read on to learn more about how it works or head over to our Affiliate Program page to get started.
How Does The Affiliate Program Work?
By now, you're interested in this partner thing, but need to know the facts, so let's cut to the chase. You'll earn a 15% cut of any new customer's first purchase, and a 5% cut of any returning customer's purchase made within 30 days of clicking on your referral link. It's as easy as that. How much you earn depends on how much you share. Some of our more successful partners are earning thousands of dollars every single month.
Joining the Program
Signing up for the Affiliate program is super easy. Over at the Affiliates page, click on the button that says "Become an Affiliate." From here, you'll see a window that asks a few simple questions.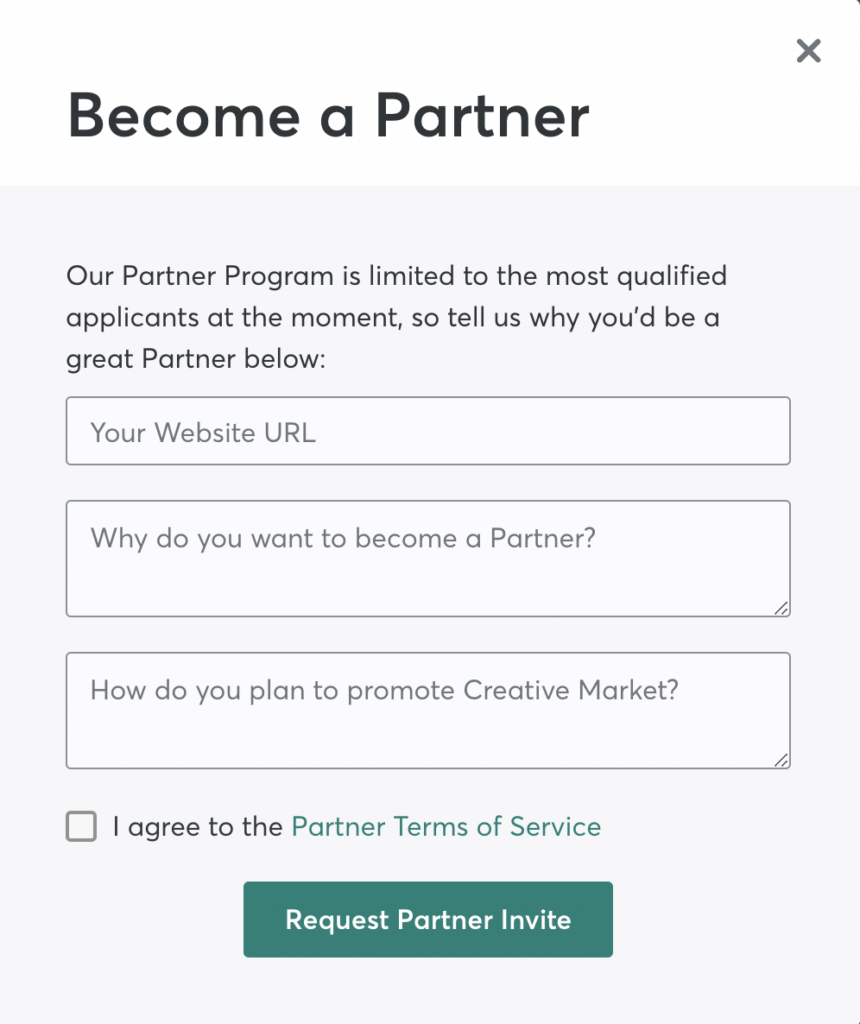 Why Do I Have to Answer Questions?
We use this as a way to filter out nasty spammers, so don't sweat the answers too much. We're not looking for The Grapes of Wrath, just a sentence or two on how and why you'll be sharing Creative Market with the world. As long as you're a real person with genuine intentions, you should do just fine.
Tip: If you're a Creative Market shop owner, mention it in your application.
Sharing With Your Affiliate Link
Once you're in, what's next? Obviously, it's time to share some products on your social channels or blog. To do this though, you have to make sure you're using your partner link.
Fortunately, we help you out with this by making sure that your Affiliate Program information is baked into every one of our sharing buttons all across the site. For instance, at the bottom of every product screenshot, you should see a strip of buttons like this: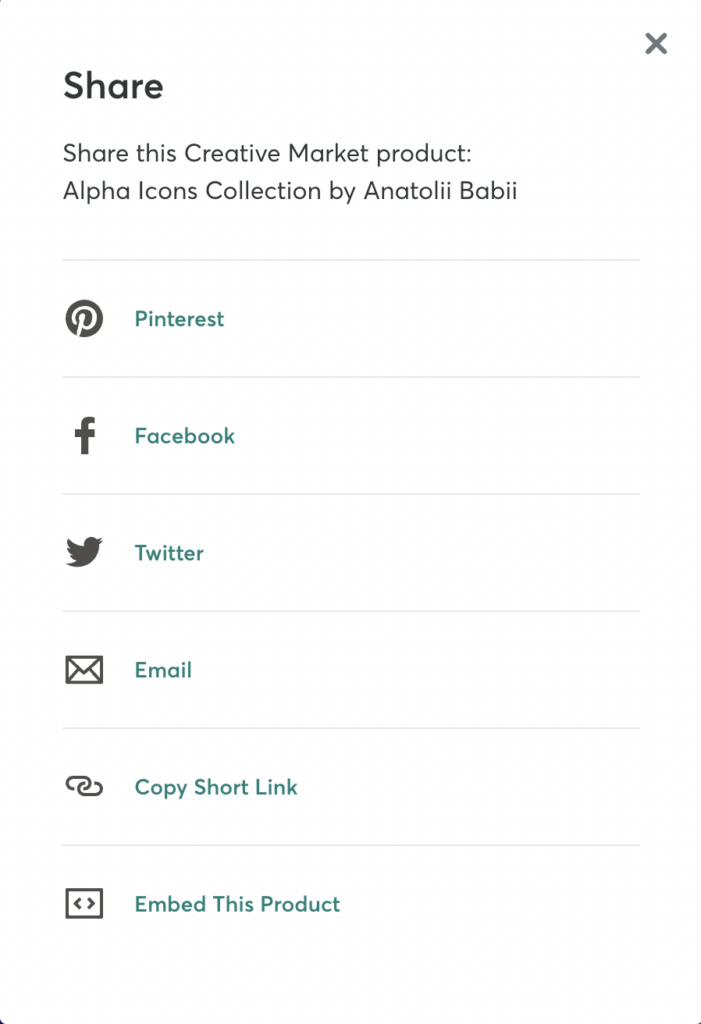 If you're signed up for our Affiliate Program, we'll track any links that you share with these buttons.

Make Any URL a Partner Link
To create a partner link from any page on Creative Market, simply append "?u=username" to the URL (where "username" = your personal Creative Market username).
Share in Style With Our Banners and Buttons
In addition to simple link generation tools, we offer our partners some great visual/code resources to help you spread the word. Check out our Affiliate Program page for some great banners that you can drop into the sidebar on your site.

If you want to embed a specific product onto a web page, check out the following tool at the bottom right of every product page. Here you can generate an embed code for a nice little widget, a buy button, or a simple link, all with your affiliate tracking attached.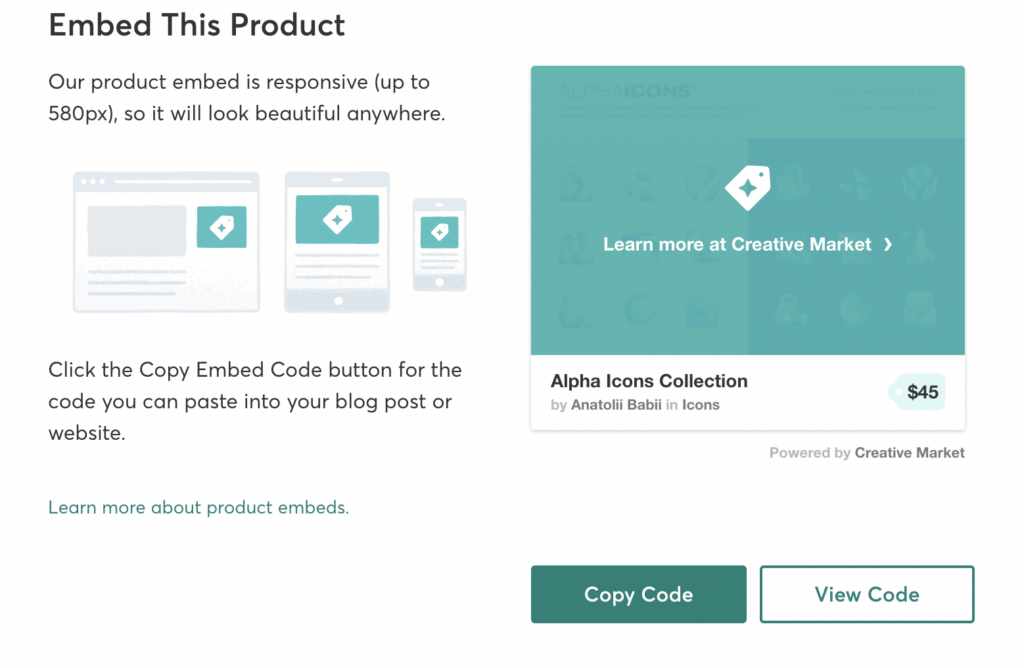 How Do I Know if Someone Buys Something?
After you've been regularly sharing links for a few weeks, it's time to check in and see if that cash is pouring in. To do this, go to your sales page and filter down to "referral commissions."

Get To It!
The information above is everything you need to get started with our Partner program. To sum up: join the program, share products that you love, and earn cash. It's a pretty sweet perk!
Now that you know all about how our Partner program works, it's time to head over to the Partners page and get started. Check back soon for some great tips on how our top partners are finding success.
Getting started with hand lettering?
Free lettering worksheets
Download these worksheets and start practicing with simple instructions and tracing exercises.
Download now!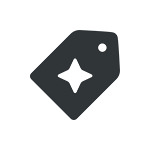 Creative Market