How to Install And Use Procreate Brushes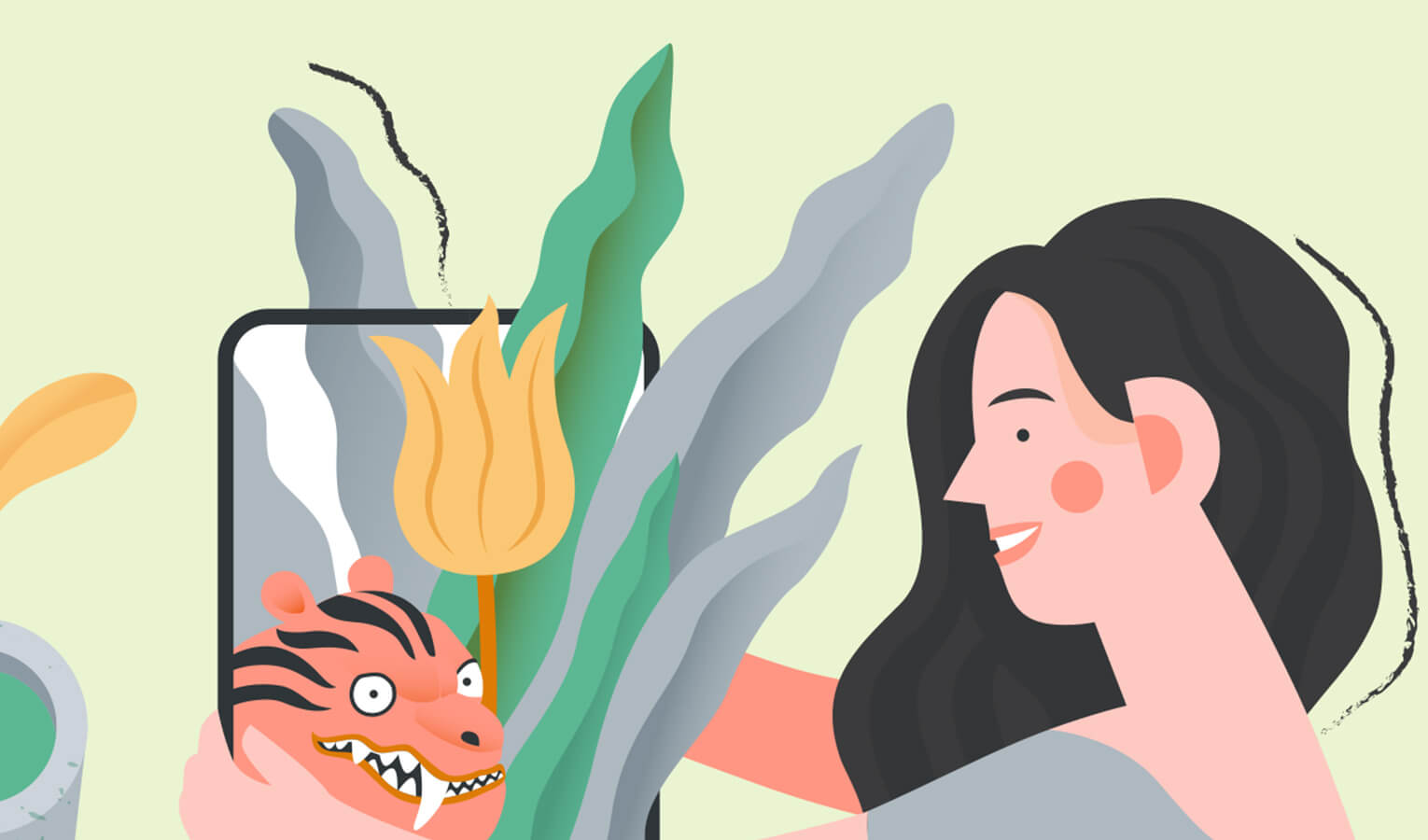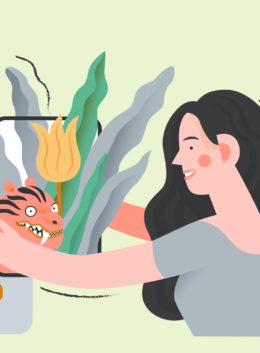 With increased mobility and remote work options, our need for productivity away from our desks has created a new generation of drawing tools. We now have tablets like the iPad with the Apple Pencil catering to artists and drawing on the go. Gone are the days of relying on a desktop computer, drawing tablet, and tons of unruly cables to get your work done.
Even the software side has been overhauled and Photoshop is no longer the de facto software for artists. Procreate is the award-winning app for iOS that has taken over this new generation of drawing software. It's so convenient and easy to use that many illustrators have switched over to using it for their professional work.
Procreate also allows you to use custom brushes which are helpful for efficiently creating art in any style you choose. Brushes are an essential component to any workflow because they make achieving certain looks possible by using custom textures and brush shapes. Looking for realistic oil paints on canvas? No problem. Graphite pencils on paper? Got that too. Creative Market is home to thousands of Procreate brushes that suit your style so there is something for everyone.
Are you ready to make the switch to Procreate and find brushes that suit your style? Here's what you need to know for downloading, installing, and using Procreate brushes from Creative Market.
Downloading Procreate Brushes
On your iPad, open the Safari app and navigate to Creative Market. Log in to your Creative Market account. Select the Add-Ons tab on the top navigation and then select Procreate Brushes. You can use the sort dropdown or the filters to find what you need easily. Once you find the brushes you want to view, select them and then the product page will open. I will be using my Pencil Pack as an example.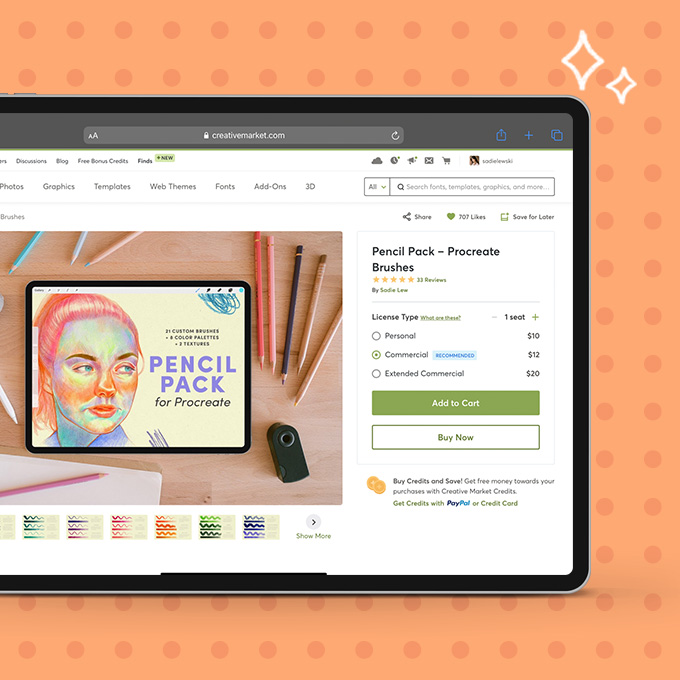 On the product page, you will see a series of licenses that you can purchase. Depending on how you will be using the brushes you may want to purchase the Personal, Commercial, or Extended Commercial license. If you need more clarity on which to purchase you can select the "What are these?" link.
Once you have your license selected, use the Buy Now button if you'd like to go straight to checkout. When viewing the checkout page you will have the option to add credits with PayPal or a credit card or use the credits already in your account.
After purchasing you will be given the option to download your purchase on the receipt page, all you have to do is select the "Download" button. Your iPad will ask you if you want to download the file, so select the Download on the prompt.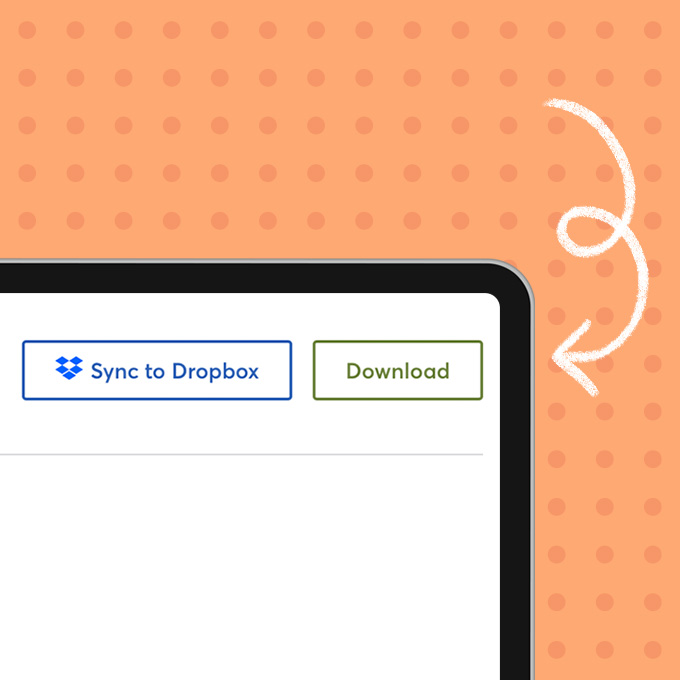 Installing Procreate Brushes
The download will be a ZIP file. If you're on a newer version of iOS (iOS 13 and above), unzipping the file is very easy. Once the download is finished, select Safari's "Downloads" button which is the down arrow with the circle around it on the top right. A menu will pop up showing all of your recent downloads. Select the ZIP file and your iPad will open the Files app.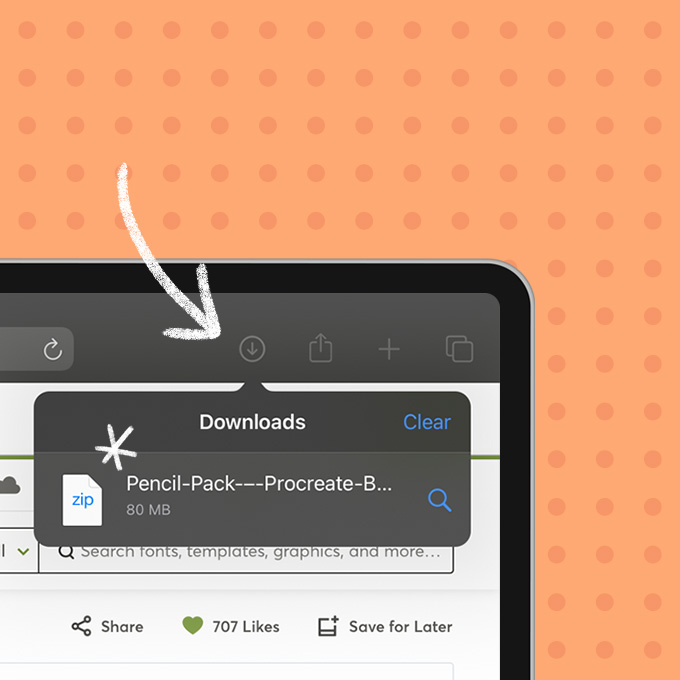 Click the ZIP file and then Files will create a folder with the same name. Open the folder and you will find the contents of your download. The file is officially unzipped!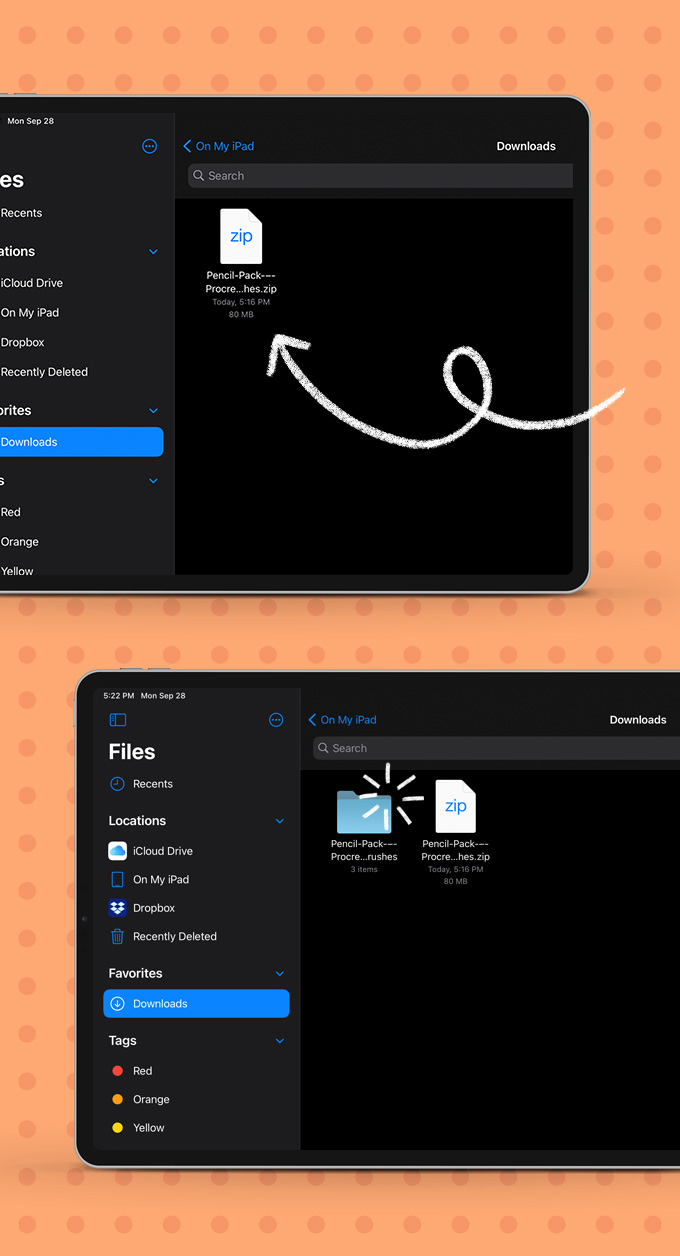 Depending on the brushes you purchase there may be multiple files in multiple folders. In my Pencil Pack set, I have 3 different folders for easy organization—1 for the brushes, 1 for color palettes, and 1 for textures. Open the Brush Set folder and you will see a file ending in .brushset. When you click the file, Procreate will automatically open and install the brushes. You will see the text "Importing" in Procreate for a second while they install. Now the brushes will appear at the top of your brush library and they are ready to use! The same process can be used for Procreate color palettes too.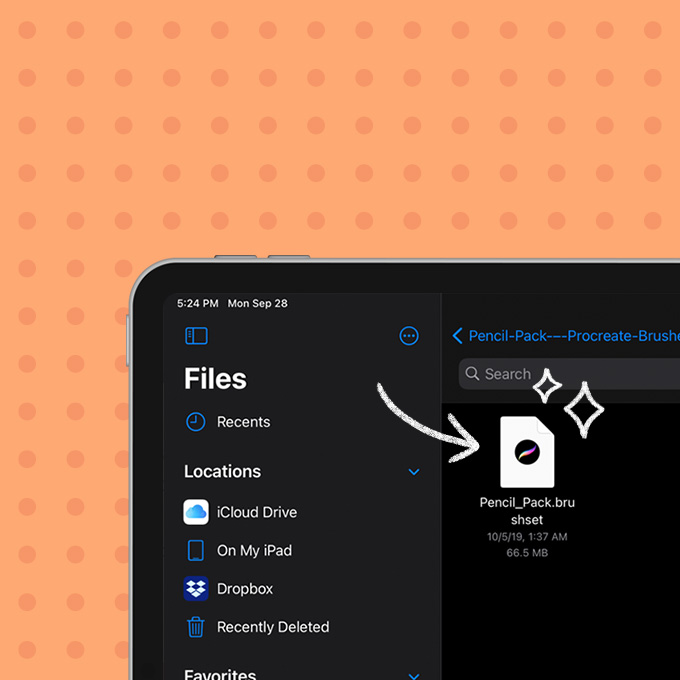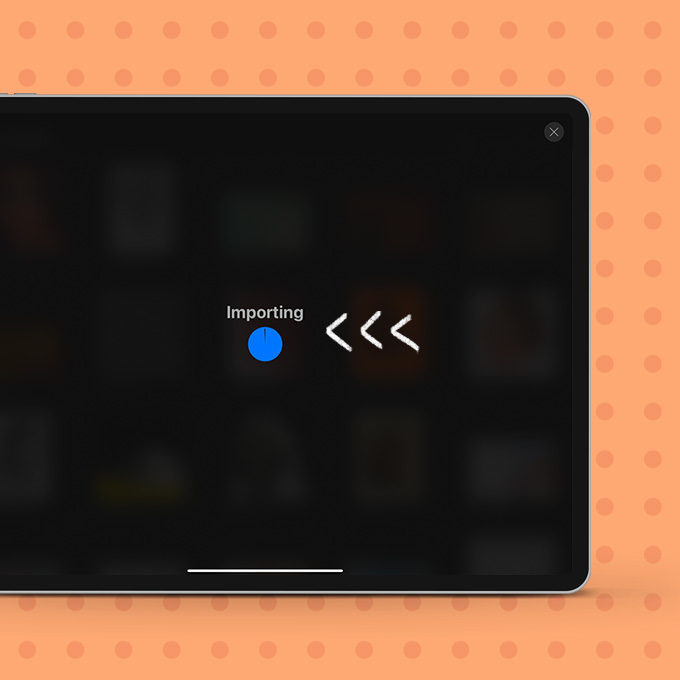 Using Procreate Brushes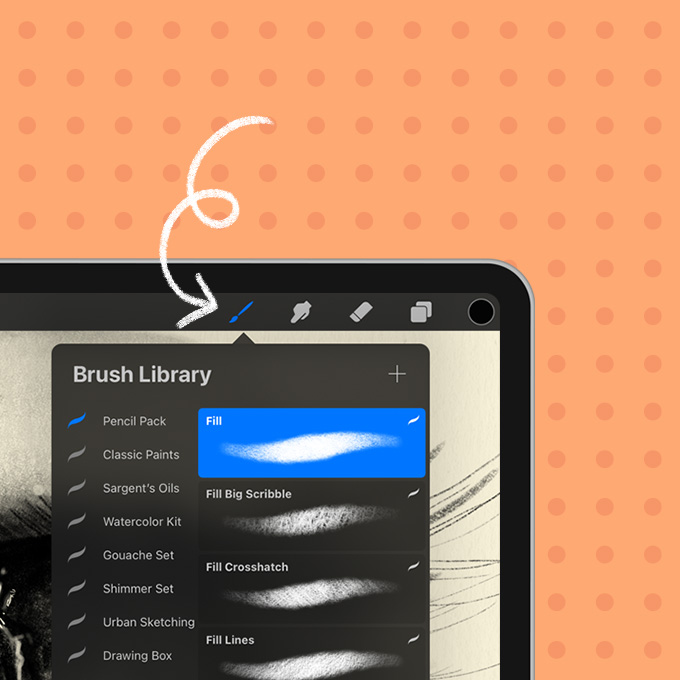 Brushes are very straightforward and easy to use in Procreate. When you select the brush icon you will see the sets you have on the left of the menu and the brushes within that set on the right. Select the brush you want to use and get to creating! The interface to the left of your canvas is for changing the size of your brush and the opacity of the brush. You can also view this quick guide to understand Procreate's workspace. If you need to install brushes on mobile using Procreate Pocket you can follow this guide.
Most brush sets, like my own, come with many different brushes. This can be intimidating because there are so many to choose from, but let it be a fun process of experimenting! There are no right or wrong ways to use brushes. Do what works best for you. You may find some brushes work best with certain aspects of your workflow. You will probably develop favorites after using the same brushes for a while. And occasionally, when you feel like your workflow is stale or boring, you may want to add more brushes to your collection. Experimenting with new brushes is a great way to stay inspired!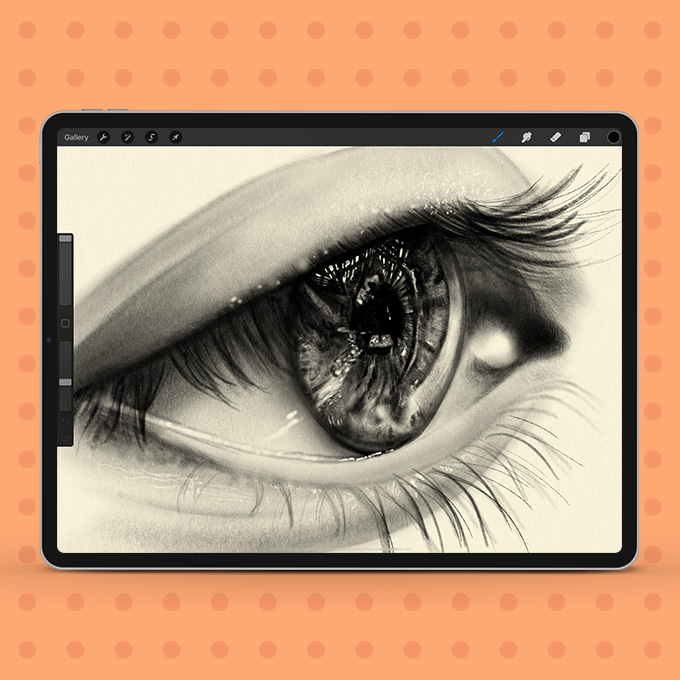 Overview
Whether you're a professional illustrator who has been drawing for years or a hobbyist who wants to pick up drawing for fun, Procreate is one of the best drawings apps out there. It's affordable and easy to use. And there is no better time to pick it up, especially with so many Procreate brushes available to purchase and even more being added every day.
---
Products Seen In This Post: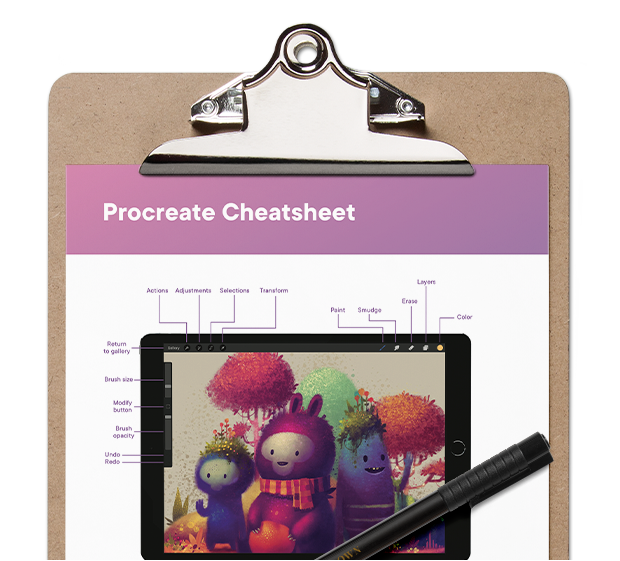 Learn the basics
Free Procreate Cheatsheet
A handy PDF guide listing tools, shortcuts, and unique Procreate features.
Download it here
Sadie Lew
Artist & Graphic Designer. I create resources for fellow artists.
View More Posts