How to Kickstart Any Design Project in Minutes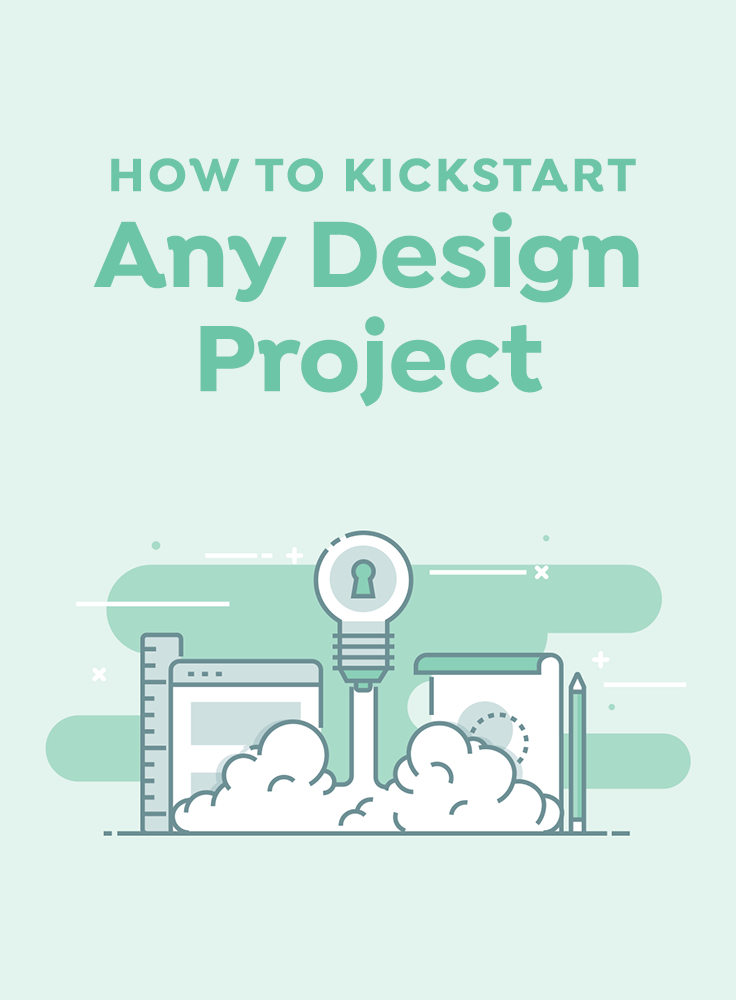 Starting a new design project from scratch can seem a little daunting at first. When you consider the various stages of design — brainstorming ideas, sketching ideas, iterating over ideas, exchanging feedback, prototyping, finally drafting it up in Photoshop or Sketch — it sounds like a huge undertaking when you consider it all at once. It can be very overwhelming.
But aside from drinking copious amounts of coffee, how can we get our design projects off to a smashing start, while feeling both motivated and genuinely excited at the same time?
Let's take a look.
1. Breakdown Your Workflow Into Less-Daunting Steps
Breaking down my workflow into steps is the first thing I do when I start a new design. It reminds me that my project isn't due in the next 5 minutes, and that there's plenty of time to take a reasonable amount of care at each stage.
After doing this I feel a massive sigh of relief, and this motivates me to crack on with the first step, which usually involves brainstorming ideas and sketching on paper. If you're spending a lot of time worrying, then you're wasting valuable time, and in turn, causing yourself more worry. It's a dangerous cycle!
2. Sketch Ideas to Boost Your Confidence
"What if I can't come up with any ideas?"
We've all been there, trust me. My advice? Don't worry about problems that you don't necessarily have. Jump straight into a brainstorming session and then assess whether or not your creative flow is working optimally (they probably are, you're just being a worry-wort!). Design is about solving problems, don't add more of them to your list out of anxiety!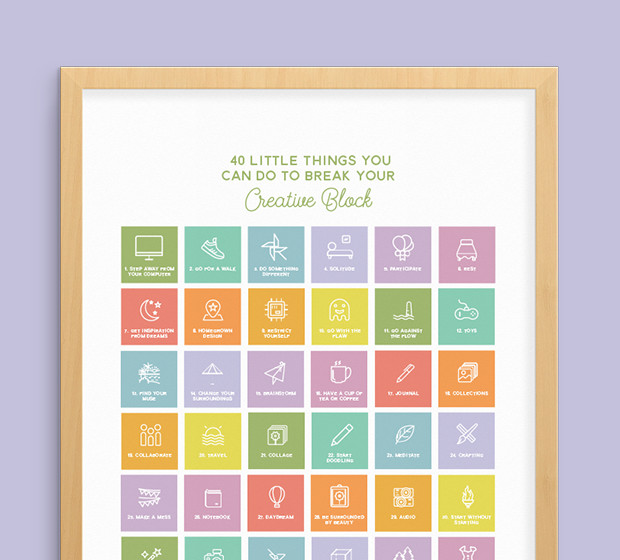 Break your creative block now.
Feeling blocked?
Say goodbye to that awful creative slump. Download this printable with 40 little things you can do to break it.
Download your free print
3. Browse Design Assets to Help You Visualize the End Product
Visual aesthetics should come in second behind exceptional user experience (even though the two can sometimes go hand-in-hand), but let's be fair here: designing the visuals is the fun part right? Choosing fonts, experimenting with color schemes — there's nothing wrong with visualizing the end result as long as you're not spending too much time on it (and of course, not letting the visuals dictate the layout/user experience too).
When browsing through design resources, think about how they factor into the issues that your design aims to solve. Loving that 3-column email template? Great, but as well as the beautiful graphics, think about how the 3-columns help you display more content above-the-fold while being responsive.
4. Discuss the Project with Others to Get You Hyped
When nothing seems to be working, I find that discussing the design with my workmates, friends, and even family really lifts my mood and helps the ideas begin to flow. Sometimes you need a little help to hype yourself up about a project, and chatting away is the quickest and easiest way of doing that.
It's always useful to have another set of eyes, two minds are better than one; in fact, some of my best ideas were not really my ideas (shhh, don't tell anyone, *wink*). As a designer, it can be hard to think like a user/customer.
5. Consider the Problem Your Design Actually Solves
Problems: that's what design is all about, really, isn't it? While thinking about the visual aesthetics can be more fun sometimes, it's actually the easiest step to complete in the design process. Coming up with creative ways to solve user experiences, on the other hand, will get you closer to the finish line. Dive straight in and let your creativity and sketches take over, and then assess your progress at the end of the day. Believe me, you'll be pleasantly surprised at how far you've gotten at the end of the day!
If that isn't motivation, what is?
6. Brainstorm in the Morning, Email in the Evening
Leaving emails until the end of the day, rather than reading them first thing in the morning; honestly, this is something I still struggle with, even though I see instant results when I do it! Your best ideas will happen when you're not suffering from attention fatigue; that is, when you're mentally exhausted from focusing on too many things.
You only have a certain amount of brainpower before your productivity will start to diminish, do not waste it on emails! If you spend half the day replying to "important messages", you'll feel lethargic when it comes to the real work.
Conclusion
Starting a side-project from scratch is super easy because there's nobody that you need to impress, no responsibilities, and you can pretty much take your time with it. Client projects on the other hand are a whole other kettle of fish, especially when you're dealing with Imposter Syndrome (not a myth!).
Rest assured, these 6 tips will give you the confidence and motivation to kickstart your design project with ease!
---
Products Seen In This Post: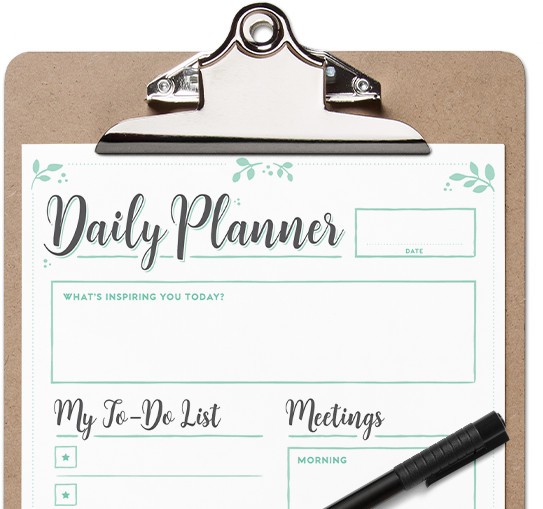 What's inspiring you today?
Time to reach your goals.
A daily planner can help you stay inspired, focused, and productive. Download and print this page to turn inspiration into reality.
Download it here