How to Lay Out Hand-Lettered Typography
If you're new to doing typography layouts with hand-lettered fonts, you may not know some of the tricks of the trade that experienced layout people often recommend and use to their advantage on graphic design projects. Yes, typography layout is an art, but it's also a science, and there are some fundamental rules to help you to put together pages that look and feel right to readers.
Here are some of the basics of getting various kinds of hand-lettered fonts onto a page so that everything shows up well and looks good.
Adopt Typography Metrics
One of the basic rules of doing typography layout is to understand the physical dimensions of each letter and number. First, you can establish a base height for the fonts. Then, you can look at the relative width of different numbers and letters on the page.
Lots of pros use a physical ruler and make the lines around a font alphabet to show the exact width and height. Then, they use these calculations on a blank page to start roughing in letters and words.
Use Shapes for Text Layout Components
Another thing that lots of pros do involves placing different kinds of shapes on a page to show where pieces of text belong. Whether it's a letterhead, slogan or other type of text, experienced designers construct different kinds of "containers" for their text to live in. For example, a designer might rough out a letterhead with a long rectangle or create a kind of bubble for a centered text. Another popular strategy is creating a parabolic curve within a rectangle to give a dynamic script effect where letters shrink and grow across a horizontal line or nestle in the corners.
Evaluate Word Strength
Another big tip that professionals give beginners is to consider making different words different sizes. Not every word carries the same importance, and one of the big cheats that pros use when they come up against concrete space limitations is to simply shrink small connecting words like "and," "or" and "but" while making top-level branding words larger.
Sketch In and Adjust
Along with these layout rules, designers often work on a layout by using a sketching process. A professional adjusts everything on the page, then goes in and works with different elements, resizing them as necessary. This requires a good old pencil and eraser and a gradual progression toward a cleaner, tighter page.
Look at Consistency
Across a larger project, there's often a need to make sure different components are consistent. A good example is a brand logo; even a slight deviation is going to make the project look like a mess. To counter this, designers use templating. For identical elements, designers can use stencils to ensure the right effect; for nearly identical pieces, the designer has to reference what's been done already. This is a big issue that has a dramatic impact on results. It also helps with the overall "flow" of the eye across pages, but more importantly, it shows there's been an eye toward top-level, consistent design.
Conclusion
Use all of these helpful design tips to get good results with hand-lettered fonts to give authenticity and impact to your graphic design pages.
---
Header image created using Custom Scene – Artist Ed. – Vol. 1, Hipsteria + Bonus, and The Sketchnote Typeface: Full Family.
---
Getting started with hand lettering?
Free lettering worksheets
Download these worksheets and start practicing with simple instructions and tracing exercises.
Download now!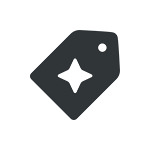 Creative Market