How to Make Your Own Newspaper: Templates & Tips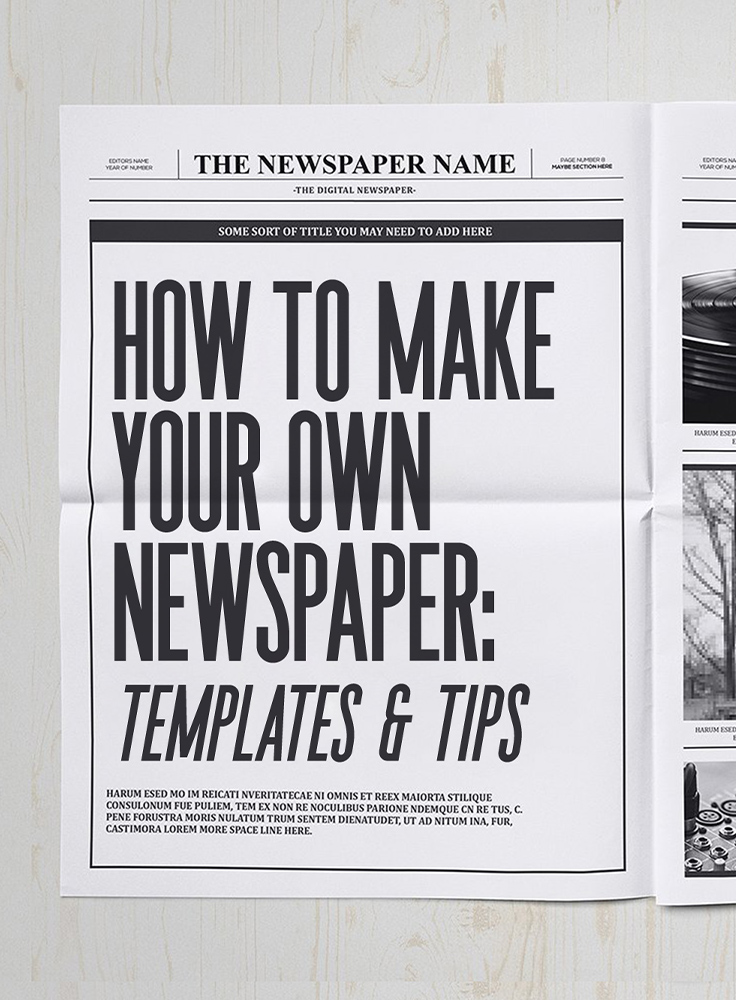 So you've just been tasked with starting a company newspaper, or it's on you to whip up a student newspaper project: where do you start? Of course you could always make something from scratch, creating your own InDesign project and going from there, but if (like me) you are not used to working with InDesign, you might want to look at a quicker way to get your newspaper up and running that involves little more than just editing a few options here and there and placing in your own content. Why re-invent the wheel?
Save Time with InDesign Templates
What seems like a hugely daunting task on paper can actually be quite a straightforward process as long as you make use of pre-made InDesign templates, so today I'll be able to walk you through some of the basic and common steps required to take a newspaper template and fine-tune it that little bit to make it your own. There isn't much to it, as the hard work is done for you with the templates, but I'll focus on the common first steps involved in quickly changing out content for your own and making some small style tweaks and you'll pick up some InDesign basics along the way.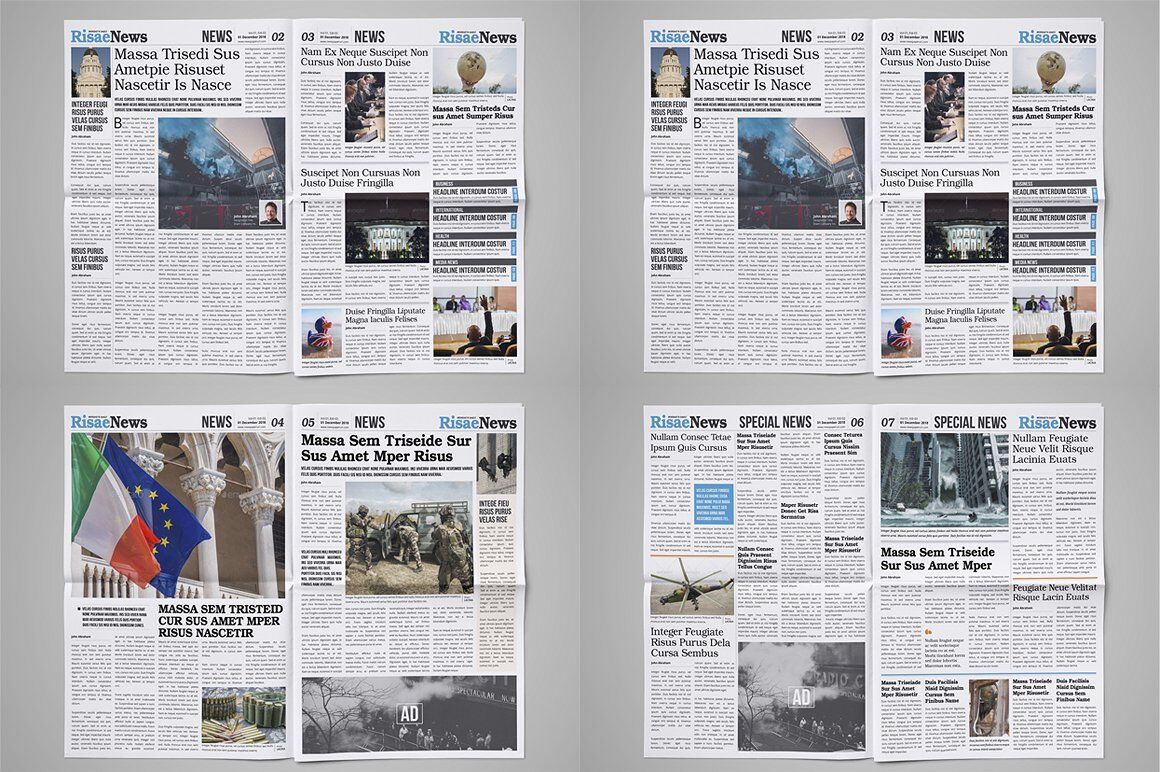 Finding Newspaper Templates
There are a number of different apps that you could work in to create a print-ready newspaper, but as InDesign is the industry leader for print projects such as this, we will focus solely on newspaper Templates made for InDesign. Most templates come packed full of different grid based layouts, all created with a consistent style throughout and typographic system in place, essentially meaning you have all of the building blocks to quickly piece together a finished newspaper of your own.
When looking for a template to work with you usually have to make certain sacrifices, as it's unlikely that you'll find something that resembles exactly what you had in mind. Instead, you want to look for the template that is the closest to what you need, and then be prepared to make the small changes needed to make it your own and bring it to where you need it. For my purpose of creating this very article, I used this Newspaper Bundle by Omega Labs which you will see in use throughout this walkthrough as it included 4 different newspapers in one package, giving me a few options as a starting point. A quick search on Creative Market shows hundreds of potential other InDesign Newspaper Templates for you to browse through, or you can have a look through this quick collection of handpicked templates I put together to help you along.
Place & Fit Images
One of the most common tasks you'll be doing when working with newspaper templates in InDesign is 'placing' images. Assuming your template comes with placeholders, or frames as they are known in InDesign, this can be done a couple of different ways and couldn't be easier. The concept of frames has been part of InDesign for some time and recently has made it's way into other Adobe apps too.
Place an Individual Image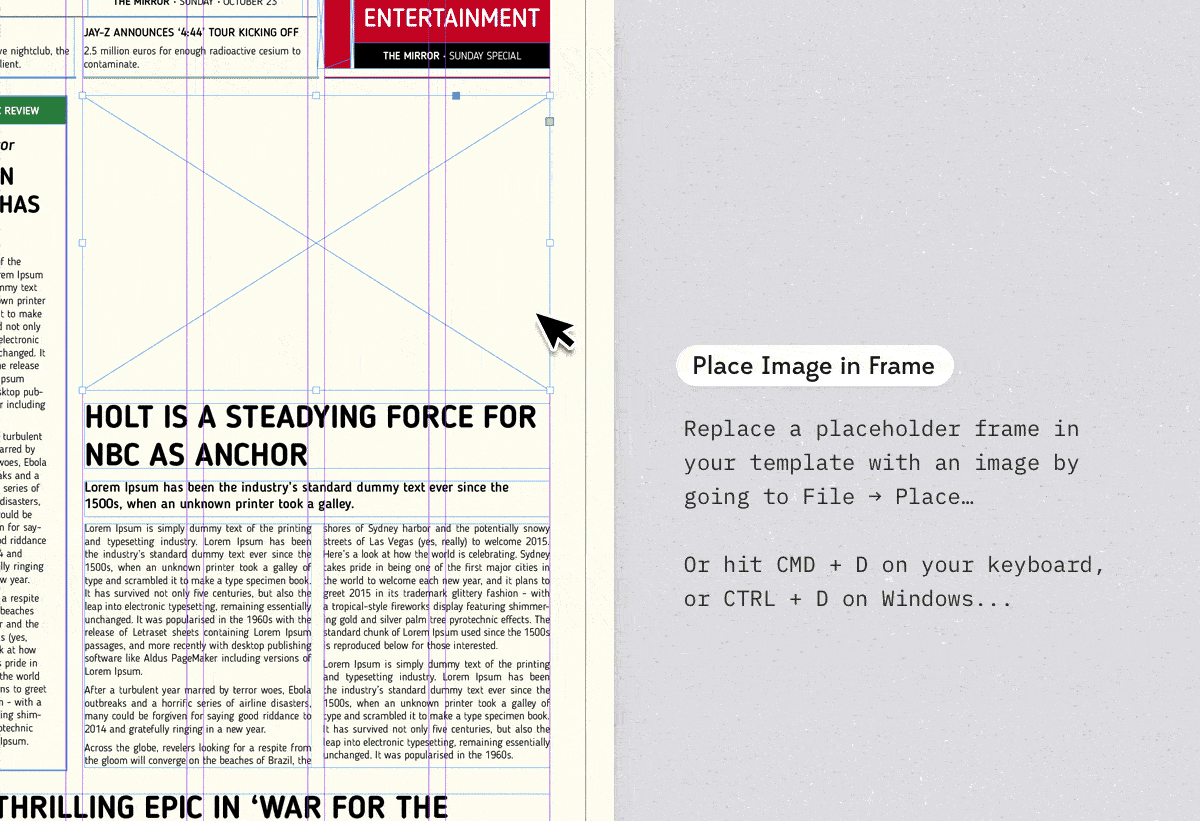 To place an individual image, simply select an image then go to File → Place… or by hitting CMD + D on your Keyboard, or CTRL + D on Windows, this will replace the selected placeholder with your new image. The best thing about placing images inside frames is that you don't have to worry about aligning or cropping the image, the frame template does that for you.
Place Multiple Images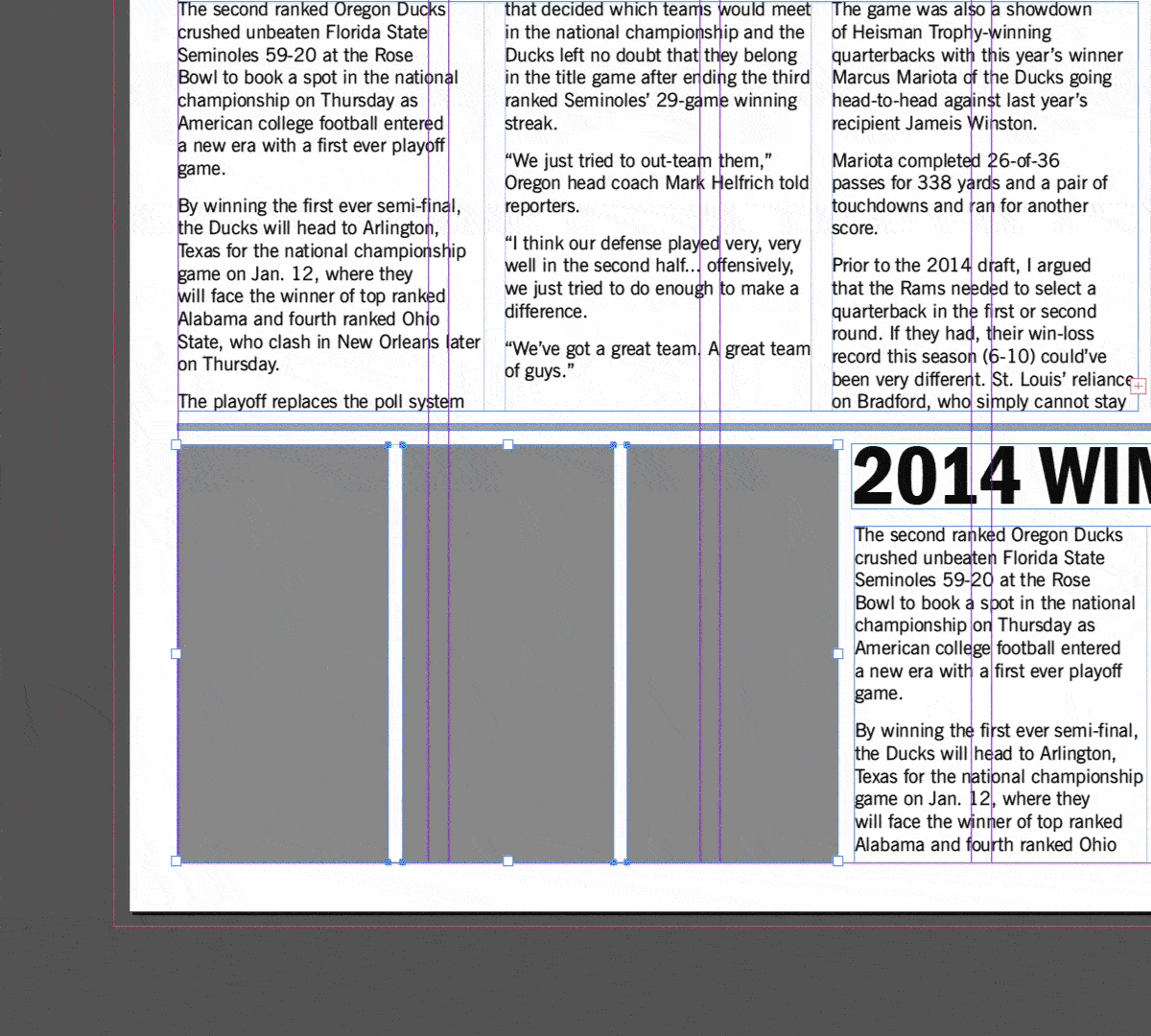 If you are want to place multiple images all at once you just need to make sure you have nothing selected and then go to File → Place… once again. This time however, you can select multiple images all at once then press okay. InDesign has a very awesome way of placing multiple images into image frames all at once, essentially the whole stack of images you selected are put under your cursor and you are asked to point click to paste the top image exactly where you want it. This makes replacing lots of images in large documents incredibly fast.
Fit Your Images

To make sure your placed image fit their frame in the best way possible it's a good idea to Object → Fitting → Fit Frame Proportionally… with the image(s) you want to fix selected. This will crop, zoom and re-size the image automatically so that it best fills the frame you selected. Other options are available for you to play with, but in my quick time experimenting this seems to work best 90% of the time, and manual adjustments can be made afterwards to perfect the placement. You can always find these Fitting options in the properties panel on the right of InDesign when your image is selected.
Image Performance Tip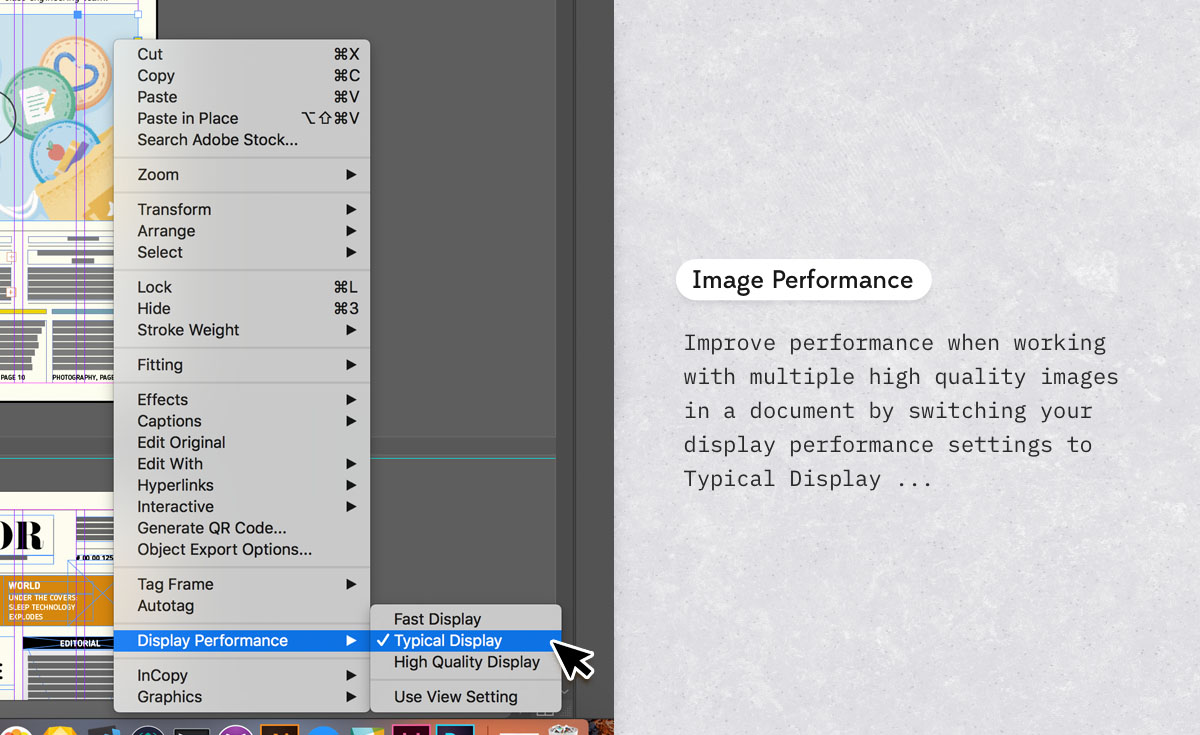 If you are working with lots of pages / images you might find it useful to lower the preview quality of the images in your document to increase your performance when editing. To do this, simply Right Click an image and go to → Display Performance → Typical Display…
Or you can set all images to display like this by default by going to InDesign > Preferences then go to the Display Performance panel and changing the default view to Typical.
Black & White Images
One of the first things you'll notice about InDesign is that you don't really have the same set of tools for editing images and such, and that's okay, it's a good idea to prepare and edit images in advance using other tools before importing them into InDesign, but here's a quick trick I found to quickly apply an easy Black & White effect to your photos…
1. Select your image and Copy it, then go to Edit → Paste in Place… this will create an exact copy of your image and placeholder right on top of the image.
2. Next you want to click the image on top, which should show a circle in the center of the frame, indicating that you have the image inside of the frame selected, with this you delete the top image (backspace, or delete key) – leaving just the frame, to the exact dimensions of the image below.
3. In the shape properties you can change the Fill colour to black.
4. Right Click this black shape go to Effects → Transparency.
5. Look for Blend Mode and change this to "Colour" and enjoy your new B&W image. (If you want to remove the effect at any time, just remove the black shape overlay to reveal the full colour image below.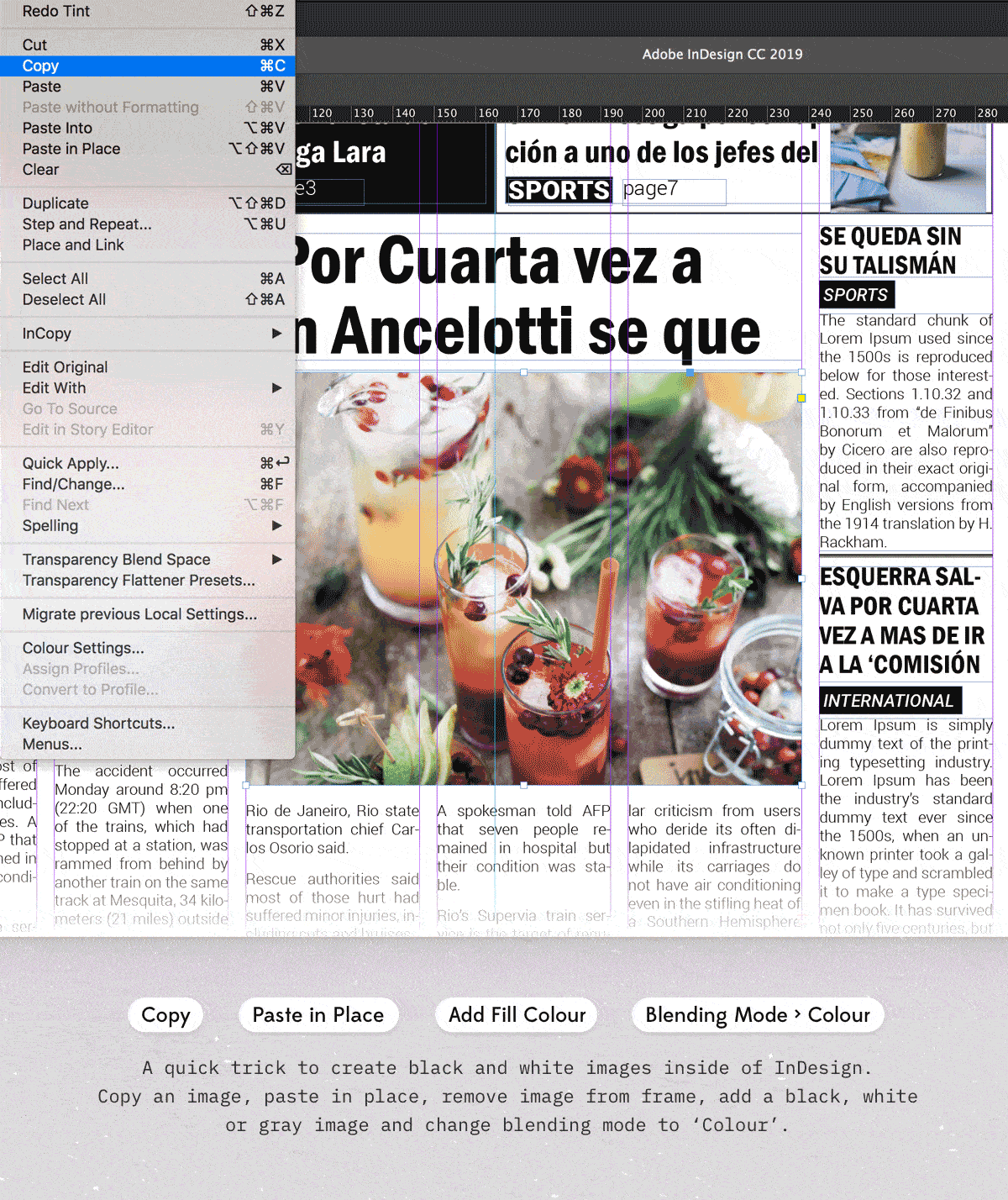 Text Layout & Styles
Text Frames & Columns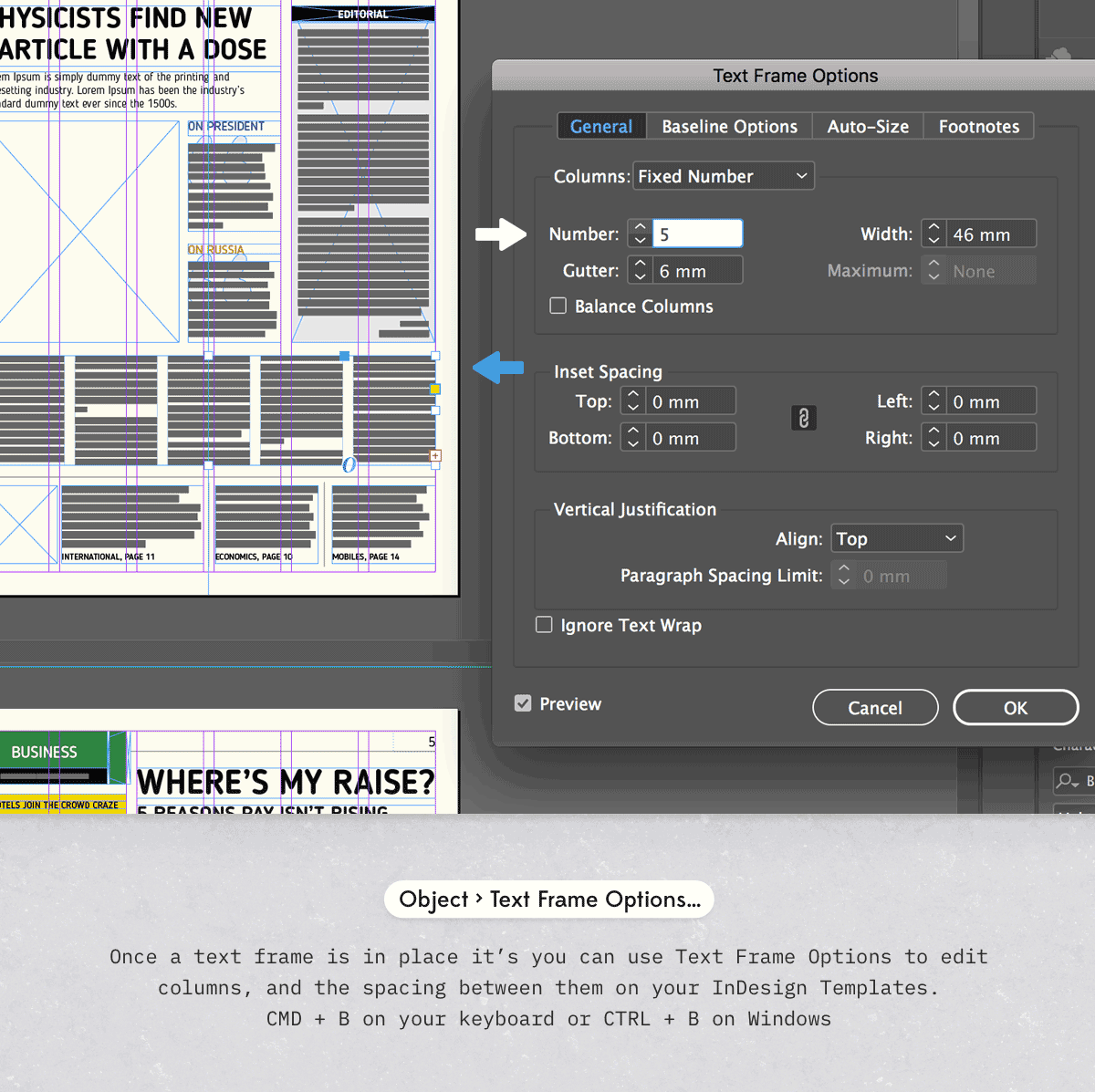 When it comes to editing text it's important to know that just like with images, text lives inside of 'frames' in InDesign too. Essentially you have a block of text to start with, then you can control how your columns, spacing, and baseline are all set up by selecting a text frame and going to Object → Text Frame Options or by hitting CMD + B on your keyboard or CTRL + B on Windows. Once there the most common edit you'll likely make is to simply change the number of columns. Be sure to turn on 'Preview' to see your changes live too.
Text Styles
When it comes to your styling your actual text, your main tasks will fall into two categories… Paragraph Styles and Character Styles. People often confuse the two, or skip one out of their process all together, but your InDesign life becomes easier once you pick up and understand the difference.
Paragraph Styles give you control the overall look of entire blocks of text, essentially this is where you set up the main body style for the text frame(s) you have selected. You can of-course create multiple paragraph styles, and most templates come with a number of paragraph styles available for you right out of the box.
Character styles on the other hand are used to define individual parts within your paragraph such as titles, headings, bold text, colours, callouts or more — this allows you to define a flexible, re-usable type system that will help keep your text consistent across a lot of pages. You can define a number of different styles to re-use throughout your document.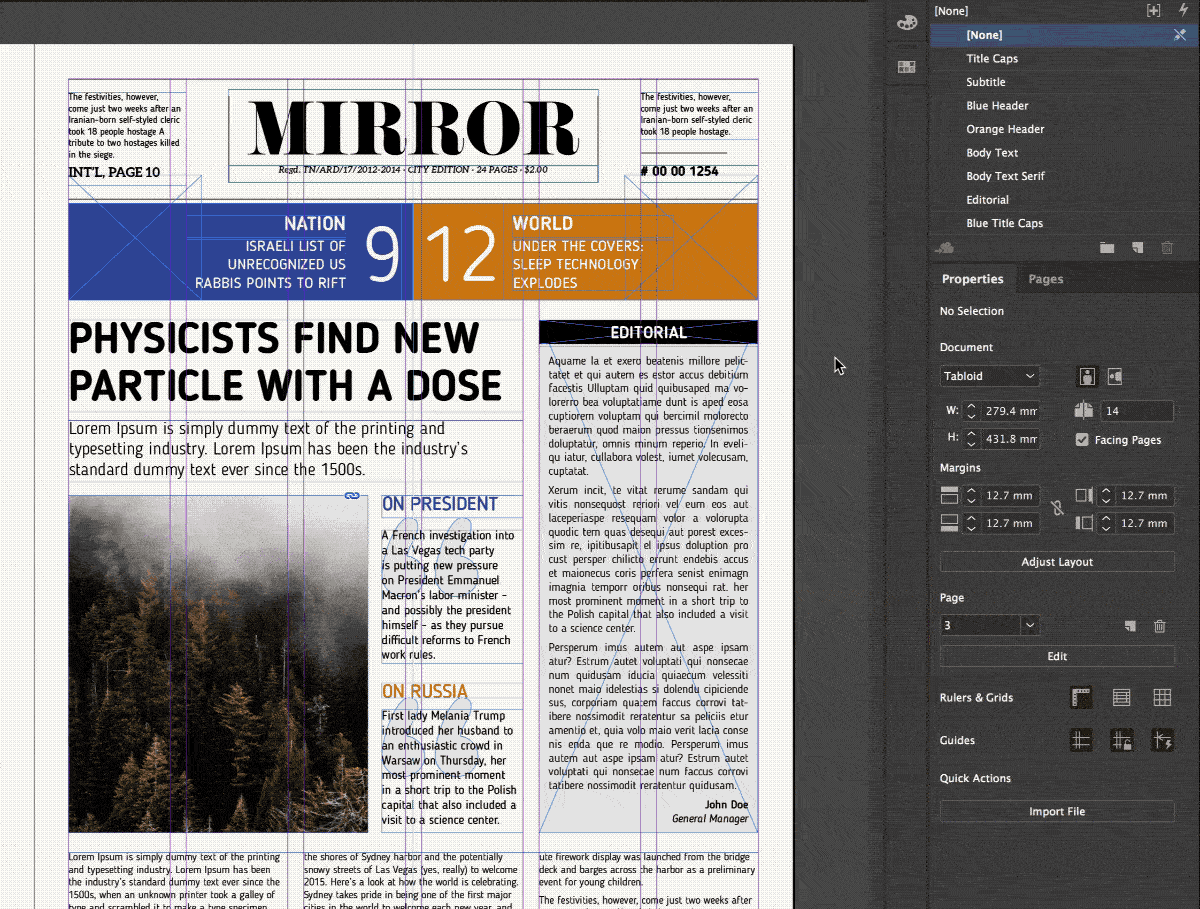 Quick timelapse demonstrating Character Styles presets being used to quickly change text styles
When working with an existing newspaper template, there's a good chance your Paragraph styles & Character Styles are already defined for you, so it's important to understand that you can go in and edit these styles and have them apply to all instances throughout the whole document all at once. This saves you having to go though lots of pages editing text frames individually over and over. To browse and edit existing styles you just need to Choose Type > Character Styles or Choose Type > Paragraph Styles from your menu and double clicking the style you wish to edit.
If there are no styles set, you can create re-usable styles yourself using the content that is already in your template, select the text from a title for example, then head over to Window > Styles > Character Styles and hit Create New Style from the panel of options, then simply re-name to "Title" for example. Setting up these re-usable styles will save you a lot of time when making big changes to your design in the future.
Recommended Templates
I've took the time to put together a growing collection of Newspaper templates for InDesign that would be an ideal starting point for following along the pointers in this article, check out the Collection here or browse some of my favourites below.
Hopefully with these resources and tips you'll have a much better idea of how to get going with your upcoming newspaper project.
If you are looking to dive deeper into the capabilities of InDesign I highly recommend you check out the articles on InDesignSecrets to fine tune your publishing design skills, or if you are after more templates quick jump to the InDesign Templates available here on Creative Market.
---
Products Seen In This Post: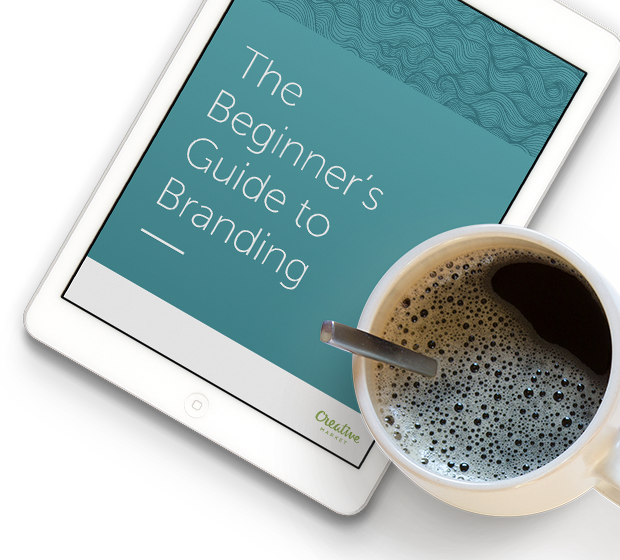 Free Beginner's Guide to Branding
Designing your own brand?
A fun, friendly, FREE guide to build a stellar brand identity.
Download now!