How to Start a Graphic Design Business in 2020: Entrepreneurs Share Advice
Because there are so many variables to consider on the road to how to start a graphic design business, we reached out to numerous graphic design entrepreneurs who are already made it there. Here's what these thought leaders had to say.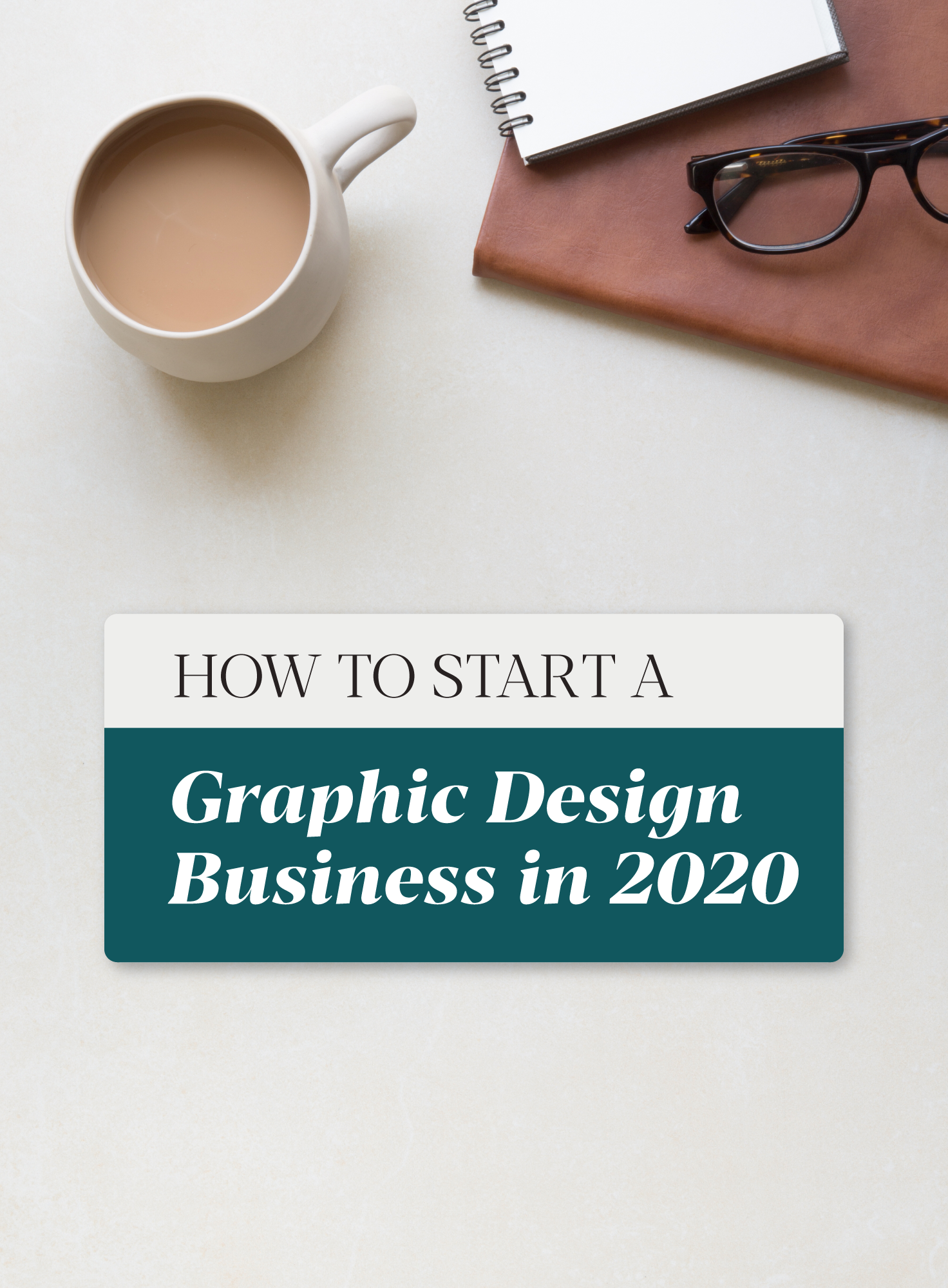 So you're curious about how to start a graphic design business in 2020? As we enter a new decade, the graphic design industry is filled with more opportunities than ever, thanks to the web. However, that's not to say that starting your own graphic design business won't take old-fashioned, hard work.
Graphic design is still as vital to branding, communication, and messaging today as it was decades ago. The big difference today is that the Internet has given graphic designers a new marketplace in which to work and thrive. There are also more roads available to start your own graphic design business, whether it's as a solopreneur or freelancer, starting your own agency (either as a brick and mortar or online), or making a remote setup your calling card.
Because there are so many variables to consider on the road to how to start a graphic design business, we reached out to numerous graphic design entrepreneurs who are already made it there. Here's what these thought leaders had to say.
1. Be Prepared for the End…From the Beginning
This may sound a bit confusing, but hear us out. All this means is that you should have a reasonably clear plan before you start out on your business journey. This is something Carolyn McHale—Creative Director for Boldface Design Group, Inc.—learned the hard way when she was just starting out.
"Is your goal to have a small, part-time, freelance business or build an agency to eventually sell? Do you have a partner or investors? Each of these scenarios requires companies that are structured (LLC versus corporations), managed and exited with different strategies," Carolyn said. "As all things come to an end, sometimes in unexpected ways, it's much easier to navigate an exit when there's a "pre-nup" that was agreed upon when everyone was most agreeable."
It's definitely something she wished she gave more thought to when she founded her firm early on in her career.
"When I started my design firm in 1996, I was young and without a plan. I partnered with a woman I had worked with for several years and had become friends with. 10 years later, our partnership had broken down, and I was desperate to move to the mountains. I wanted to keep the business, so I went through the fiscally and emotionally draining process of buying out my partner, contacting clients, exiting our business agreement, and reestablishing my business. This process would have been much smoother for all concerned if we had a plan already in place.
Knowing up front where you want to end up will also help you and your team define your vision as you move toward your end goal. This knowledge should be the base for your business plan and corporate brand," she said.
2. Incorporate Balance Into Your Business
We've all heard that balance is vital to a successful life. We often hear of work-life balance, which is elusive to many, though desired by all. Balance is an ingredient that'll help you in your quest of how to start a graphic design business in 2020, specifically, looking at balance in a new way.
According to graphic design entrepreneur, Maura McMahon, it comes down to understanding how balance relates to your graphic design work and beyond.
"Starting your own graphic design business in 2020 requires a new level of balance. First and most importantly, we need to balance technology with being human. Email, texting and messaging are not substitutes for a real, live conversation. 93% of communication is non-verbal. Let that sink in. When you're tempted to send an email or text because it's fast and easy, consider the possibility that it may not be the most efficient way to communicate, and could actually end up complicating the issue," Maura said.
"You also need to balance being a creative with being a business owner. The best thing about being a graphic designer is the freedom to create, but that's only about 1/3 of your business. You need to have functional processes in place for bringing in clients and guiding them smoothly through a project. Have a website with clearly defined offerings, easy-to-understand navigation, and easy-to-find contact information. Build your email list. Follow up on everything," she said.
It also doesn't hurt to have some well-defined boundaries, both in your professional and personal lives.
"With everyone having 24/7 access to pretty much everything, a business owner can get burned out pretty quickly if they're not putting up their own boundaries of self-care. That means balancing out your daily routine with time for yourself, time for marketing, and time for project work. Strategic time management is essential to being successful. Come up with a system that works for you, so you can be at your best each and every day."
3. Patience + Persistence
We've heard that old saying numerous times: patience is a virtue. That's easier said than done, of course, but one graphic designer strongly believes this is part of the recipe you'll have to follow to start a graphic design business.
Aaron Meurer is the owner and sole designer at Meurer Graphics. While he's been freelancing for 10 years, he's only recently been able to make it his sole source of income. What's Aaron's secret to building a successful design business? Patience and persistence, of course.
"My experience thus far has taught me that patience and persistence are key. Starting out, it often feels like you are spinning your wheels. You face doubts that you can make it on your own. This is especially true if you have a family depending on your income," Aaron revealed.
Here's how he breaks down using both qualities to start your graphic design business.
"Patience is key. Starting out, it may feel like you have to give your work away to get gigs. That can feel frustrating and make you want to give up. However, if your work is of good quality, delivered on time, and you maintain good communication with the client, those gigs, although not initially lucrative, can turn into loyal clients. Those clients will, in turn, generate other clients through referrals and testimonials.
Persistence is needed in finding those initial clients. I started out looking at every freelance and design tournament site I could find. With the miracle of the Internet, the world is at your fingertips. It's not bad to look for local clients that you can connect with in person, but don't feel like you are tied to your immediate market area. Social media is a key tool, especially when you start getting testimonials. I always ask every customer to leave me a review upon the successful completion of a gig. Share your projects (with the client's permission) with friends and family on social media. You will be surprised how many leads that can generate."
4. Get a Business Coach or Advisor
Thinking about how to start a graphic design business in 2020 probably won't lead straightaway to business coaching. After all, you're in charge now as the head of your own business, so who needs coaching?
Not so fast.
As one successful graphic designer found out, business coaching can be the game-changer that makes all the pieces fall into place for you.
Dana Stillman, founder of Inspire Graphic Design, struggled to juggle numerous roles in the early days of her business. Thanks to the right business coach, she was able to get organized and grow.
"The business side of it is where things might fall apart. When I started my business, I describe it like taking a bag of marbles and dropping them onto your kitchen table. They all roll off and land in all corners of the room. Suddenly you are the sales and marketing force, the accounting team, the head decision-maker, the legal department…and you still have to do the work! My golden advice is to engage in some sort of business coaching. There are lots of coaches out there, both online and most likely in your local community, that offer coaching on how to grow a successful business," Dana said.
"Through a few different coaching programs, I was able to pick up all of those marbles and put them back into the bag. I learned how to package my work and present my value proposition effectively, giving me 100% confidence when at the sales table. It gave me the skills to organize my calendar and create a solid work agreement. It taught me how to be profitable and not trade time for money. Although coaching can be expensive, if you find a good coach, the investment will be more than worth it. I now run a successful business with increased productivity, organization and efficiency."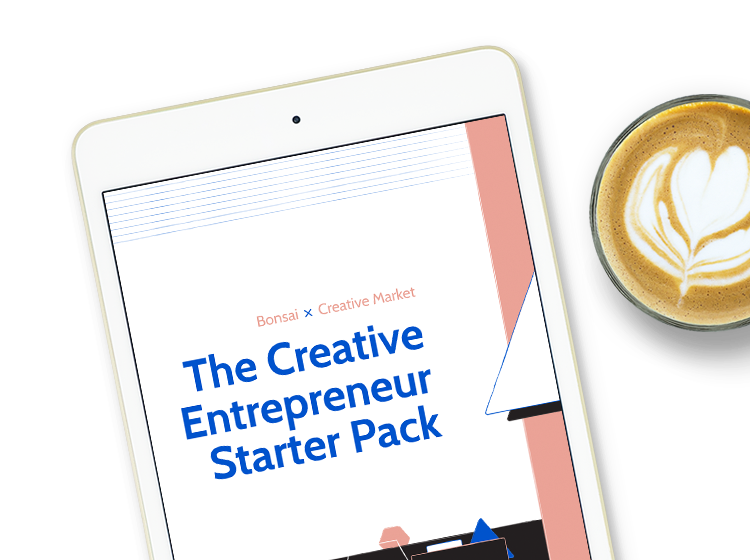 An ebook by Creative Market and Bonsai
Start and grow your creative business
Get a head start on your creative business with this friendly handbook.
Download our free guide
5. Be Well-Rounded
Anyone can start a graphic design business, but if you want to know how to start a graphic design business that's going to be successful in 2020, it pays to look at things from all angles. Though this may seem overwhelming at first, it's really a practical way to go about things.
Shawn O'Mara, president of ocreations, a boutique graphic design studio founded in 2007, understands what it takes to grow (along with having a trusted business partner as a vital component). He recommends the following Top Ten list of actionable tips that can get you there faster:
6. Be Wise With Your Money (Don't Burn Through Capital)
You need to be careful with your money when you're just beginning your design business journey. Before you have an established client base and regular income, spending money too fast can be counterproductive, even if it's done in the service of figuring out how to start a graphic design business.
sixMK design's founder, Chantal Crews, realized this firsthand.
"As soon as I started my first business, I was inundated with people trying to sell me services to help my business—everything from email marketing, SEO and advertising to merchant card services and lead generators. I have found almost all of it to be a complete waste of money. You can pay for leads, or clicks, and try to get your name in front of people, but the truth is that what works for other industries doesn't tend to work for graphic designers. Think like a person who needs a graphic designer. What would you do to find one? How would you determine which designer to hire?" Chantal relayed.
Pro Tip: Keep in mind a lot of your business expenses may be tax deductible! That's why it's so important that you track your finances and learn how to write off business expenses so you save money in the long run.
Other pragmatic tips also apply to keeping more of your money…longer.
"Don't go out and rent an expensive office space or storefront since graphic designers don't really get walk-ins. You could end up owing money on a lease long after you've gone out of business. If you run your business from home, you could deduct certain things from your taxes, and you won't be going further into the red each month. If you need a meeting space, rent it. It's much less expensive, and you won't have to spend that money unless you actually have a meeting that day. Coworking spaces are great for that," she said.
7. Time = Money: Track Your Time
When you work as a freelancer, consultant, or contractor, you generally bill by the hour or project. If you're not used to making a habit out of billing your clients by the hour, though, you'd be surprised at how much of your day is spent on activities for which you can't bill your clients.
All that time you spend doing supportive work that's not directly related to projects you work on actually adds up, nonetheless. As you learn how to start a graphic design business in 2020, this is one of the most crucial lessons.
As Candy Phelps, Bizzy Bizzy's founder, realized, failing to track your time can lead to situations where you're quite busy…but not necessarily making the money you envisioned.
"Time is money. That old cliché is especially true when you're in a service-based business. In order to figure out how much your hourly rate should be, how many billable hours you normally do in a week, or how much you should bid on each project or service you offer, the first step is tracking your time. You might be surprised how little, 'actual' work you're getting done. A lot of your day is probably spent writing emails, cruising social media, working on marketing projects, and meeting with clients. In other words, doing non-billable things! I was shocked when I first started tracking my time. All those emails really add up," Candy stated.
"If you don't know exactly how you're spending your work time, you're likely to underbid projects and have a hard time making money, despite being constantly busy. Now we track practically everything because that data is really valuable."
8. Position Your Graphic Design Business Properly
Simply wondering how to start a graphic design business in 2020 isn't going to help you. You have to realize that you'll be running a business, so you'll need something concrete to sell, with a big, fat, juicy value proposition attached to it.
CODO Design co-founder Isaac Arthur brings it back to the basics with advice that's straight out of Marketing 101: You have to determine what you specialize in to build a consistent client base.
"Positioning is king. If you're founding a design firm (or any company, for that matter), you need to understand how important positioning is for cutting through the noise and succeeding as a business. Essentially, you're determining 1) what type of service you will provide, 2) how you will deliver this service, and 3) who your ideal audience is," Isaac remarked.
At the same time, perhaps what entrepreneurs of all stripes don't spend nearly enough time developing is their value proposition. This is your unique offer of value to prospects, telling them what you do better than all of your competitors.
"We graduated and founded CODO in 2009. That first year was spent working with nonprofits and any random project that would come up around town. This put us in competition with every other designer and firm in town (this was fine when we were smaller and lower-priced, but that's not a path towards growth). In 2010, we made a decision to begin focusing on the food and beverage industry, moving from generalist firm to specialist," Isaac continued.
"Tactically, this involves putting out content tailored for the audience (like our new book), speaking at conferences, and learning as much as you can about the industry so that you can provide real value to everyone you work with. Strategically, it requires taking on work that will, once done, allow you to promote back to that vertical to get more work in the industry. This creates a cycle that you can repeat forever.
Today, CODO does a lot of work in craft beer, and we work with breweries all over the world. Because of our positioning as brewery branding experts, we receive an outsized number of new business inquiries because people want to work with an expert."
9. Find Mentorship in Various Ways
Finding a mentor is invaluable. You're getting sage advice from someone who's ahead of the game and accomplished a lot of what you want to eventually accomplish.
The trick here is understanding that mentorship can manifest itself in numerous ways, not just strictly in a person. Understanding this is vital on the road to how to start a graphic design business.
Tanya Gagnon of Miss Details knows what she's talking about. As a mentor herself, she has firsthand experience and knowledge of how powerful insight can be to someone just starting out.
"I highly recommend finding a mentor who is 5 to 10 years ahead of where you are. Learn from those who have already done it," Tanya said.
"Even if you don't personally have a connection to a person, it's helpful to find those companies that you would like to be like in the future. Study what they are doing, how they are marketing, what they say on social media, etc.
I also highly recommend finding a business mastermind or support group. There are tons of creative and designer groups out there, but I recommend finding a group of business owners who are just starting out or slightly ahead of you, so you can support each other with knowledge and resources. I coach new and growing businesses on all things marketing, and sometimes a recommendation of an app or process that I use makes the biggest difference," she said.
10. Always Keep Learning (Even if That Means Taking a Bit of Criticism)
One of the absolute worst things that designers, creatives, and business owners (and, really, just about everyone) can do is to develop a thin skin when it comes to taking critique. We stay in a comfort zone, which never leads to growth. Just the opposite, actually.
So how do you get around this pitfall of thinking you know everything? Make a conscious effort to want to always learn, no matter how far in your career you already are.
Second Street Creative's Ryan Hunley doesn't need advice on how to start a graphic design business in 2020. He's been running his business for more than a decade. However, he's put himself in the zone of learning something new all the time.
"Second Street Creative has been around for over 10 years, and I feel as though I am learning something new about running a design shop every day. Perhaps that is one of the keys to longevity: Never being so committed to the way things are that you are unwilling or too stubborn to learn something new," Ryan explained.
This takes a bit of open-mindedness, but it's well worth it in the knowledge you'll always pick up.
"To do this, you must surround yourself with people who are smarter, more talented, or better communicators than you. As creatives, we sometimes feel threatened by being close to folks who may be better than us at one thing or another, yet this is the only way to grow. No one develops a more successful or more rewarding business by being only around people who tell them how great they are. Go out and find the people who will poke holes in your ideas, people who will challenge your assumptions and habits—this is what leads to growth as a human and as a business."
Start Your Graphic Design Business Today
There's no time like the present to make your dreams of starting your own freelance graphic design business come true. While your journey is bound to be full of ups and downs, it's something you owe yourself if you've thought about doing this for some time.
We With these actionable tips from our thought leaders, your journey there is bound to be much smoother.
---
Products Seen In This Post: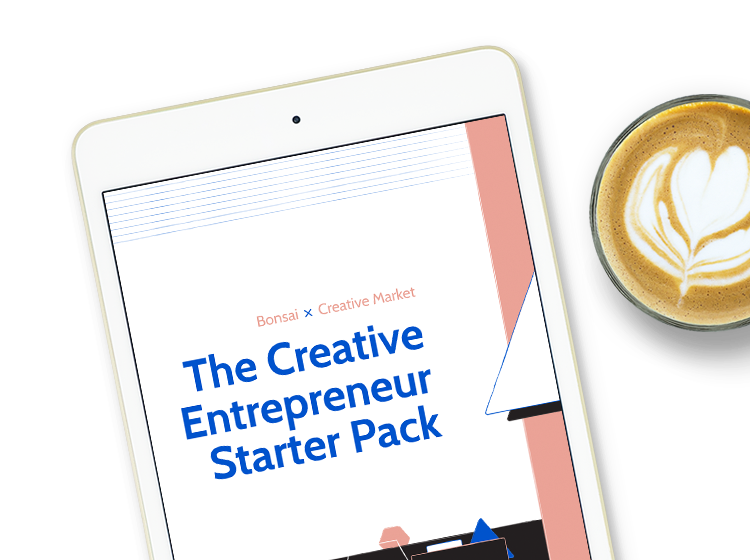 An ebook by Creative Market and Bonsai
Start and grow your creative business
Get a head start on your creative business with this friendly handbook.
Download our free guide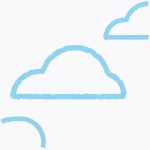 Marc Schenker
Marc is a copywriter and marketer who runs The Glorious Company, a marketing agency. An expert in business and marketing, he helps businesses and companies of all sizes get the most bang for their ad bucks.
View More Posts