How to Use Adobe InDesign: Essential Tools & Tips for Beginners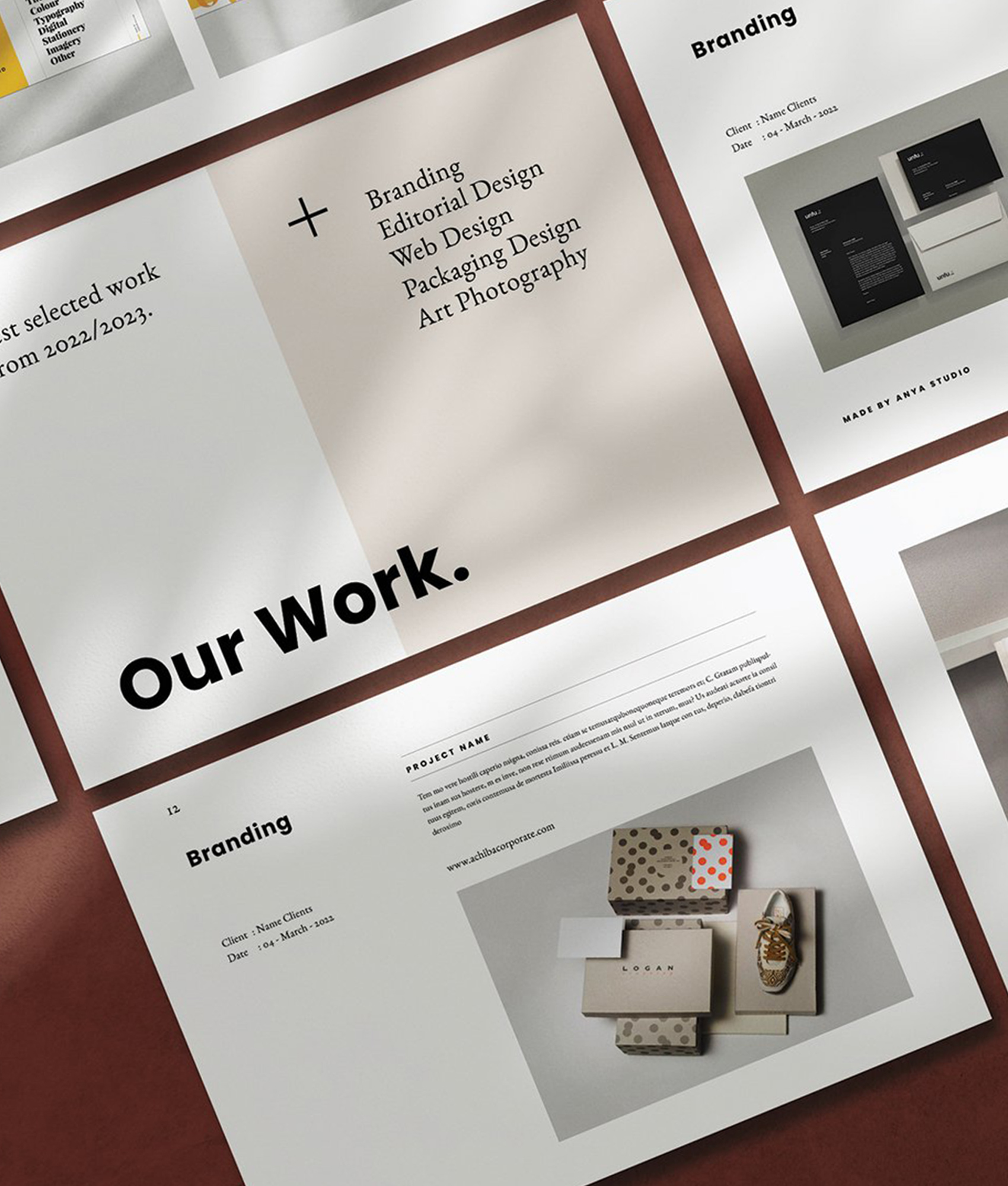 Adobe's applications are known the world over, with Photoshop accounting for a lot of the recognition that the company has earned. But there's a whole lot more to Adobe than just Photoshop. A wide number of apps are available for different creative purposes, with some applications proving more popular than others, and one program that is often misunderstood or overlooked by users is Adobe InDesign. Let's take a look at what InDesign can do and also run over some essential tips and tools that will make it easier for anyone to use for the first time.
What is InDesign used for?
While Photoshop has extensive tools that give you full control over image creation and manipulation, InDesign, on the other hand, skips a lot of those heavy features to focus on its core strength which is its powerful page structure and layout options.
Originating from a print design background, InDesign has an incredible number of tools, options, and preview options when it comes to layouts that can become pretty useful even for digital design intended for the screen. These options, for me, make InDesign the perfect tool to compose your design projects with assets that you've created elsewhere.
What can be made with InDesign?
InDesign was designed to be a powerful print publishing tool, initially created to make it easy to design booklets, flyers, posters, and magazines, etc. intended for print, but over the years, InDesign has evolved to also be useful for more modern digital design projects such as e-books, infographics, online advertisements, and social media graphics, etc. Here's a quick list of items that are commonly designed with InDesign to give you some ideas: Newsletters, Business Cards, eBooks, Presentations, Brochures, Portfolios, Invoices, Social Media Graphics, and Flyers, to name a few.
Realistically anything can be designed with InDesign, but it is better suited as a tool to organize layouts, manage assets and create text and paragraph styles that you want to re-use over several different pages or documents. Here's a quick look at a range of unique products that give you an idea of just what is possible with InDesign…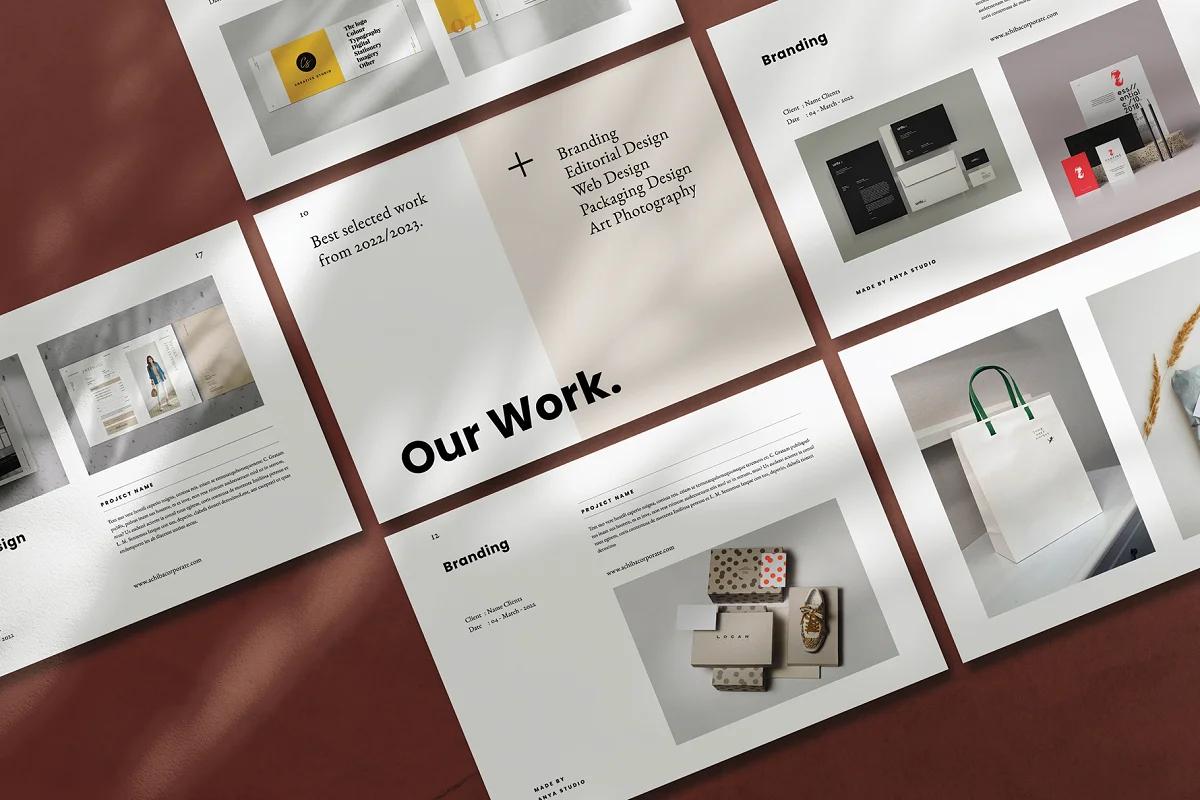 InDesign Basic Introduction & Essentials
The goal here is to explore and understand some of the essential features of InDesign that you might need to know when launching InDesign for the first time. A simple few steps and suggestions that might improve your quality of life when working with InDesign.
If you have used any other Adobe software in the past, you will be glad to know InDesign has a very familiar feel about it; because of that, diving into the app for the first time to experiment with some layout design is friendly for newcomers.
Pages
InDesign uses Pages rather than an 'Artboard' or 'Canvas,' so it's important to set up your new document with the correct paper size and number of pages for your project when you first launch the app.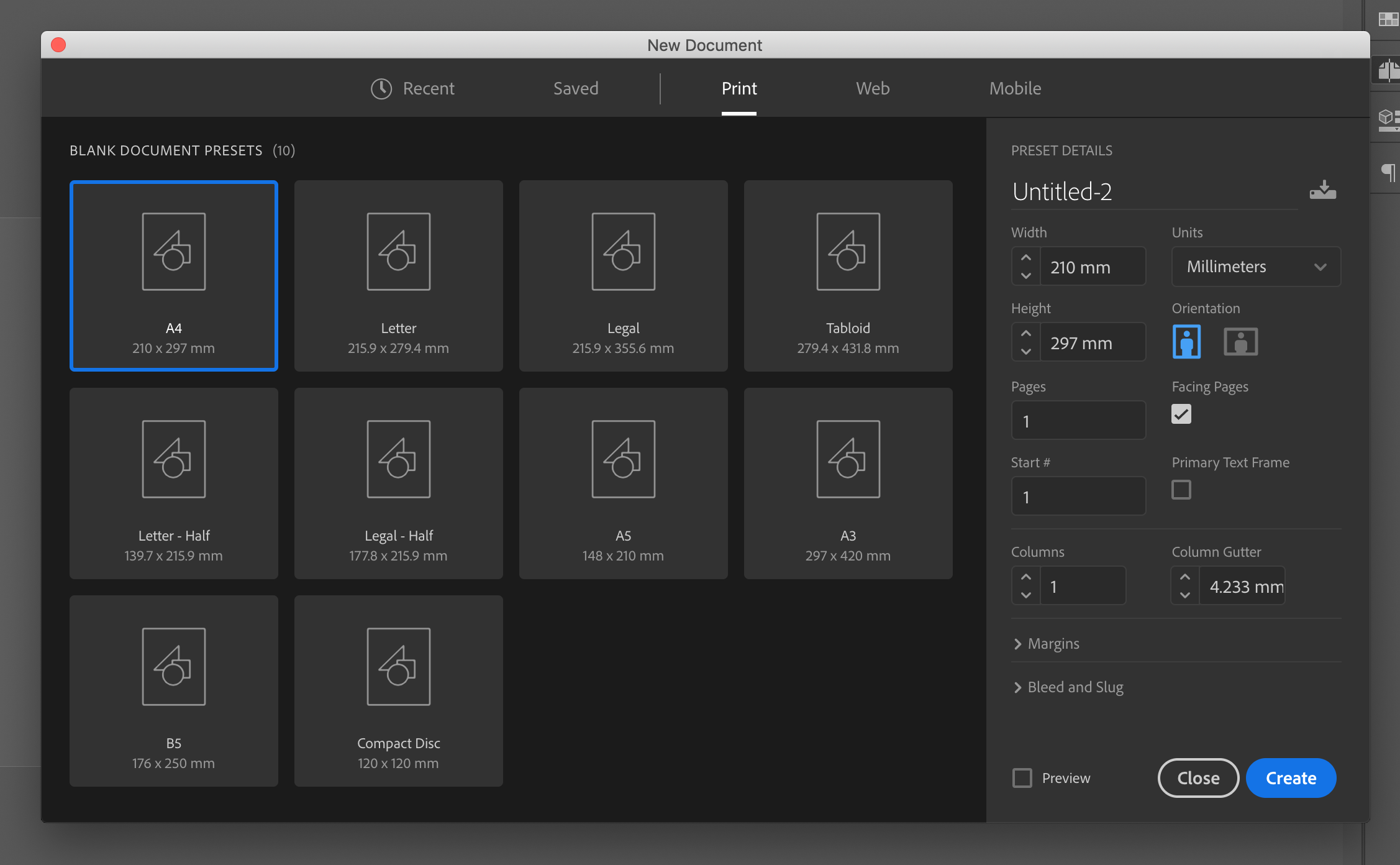 InDesign has several preset templates for you to choose from. If you don't have a specific project size in mind, when you create a new document, look for the Print, Web & Mobile Preset tabs to find common page sizes to start with.
Once your document has been created, you can navigate your pages via the Pages panel, which you can finder under Window > Pages.
Master Pages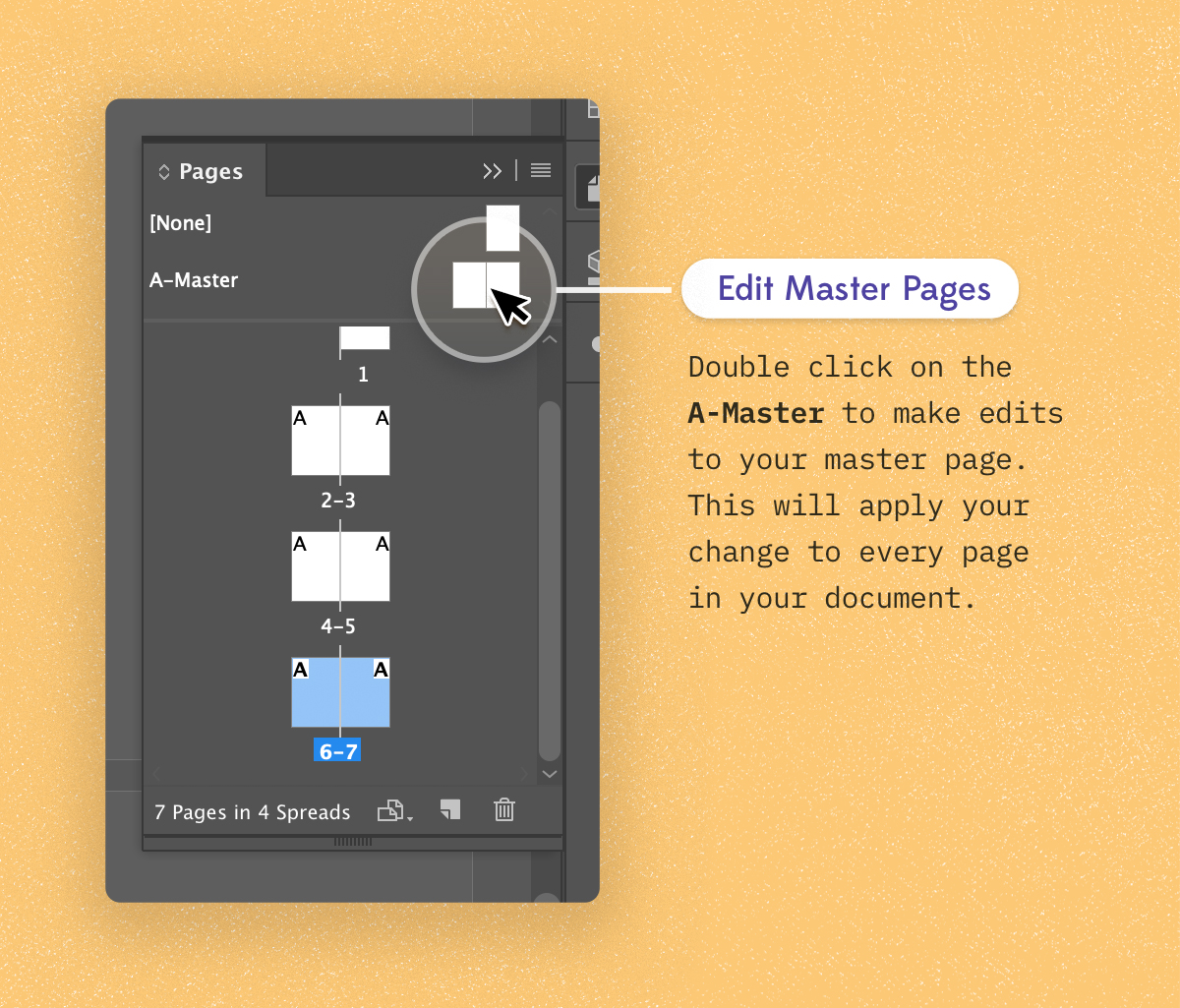 Master Pages allow you to add elements to your page that you want to appear on every single page. So if you have a recurring layout, graphic, or piece of text that you need to display on every page, you can apply those elements to your master page instead of duplicating them across multiple pages. To do this, in your Pages panel (Window > Pages), you should spot the A-Master Page at the top; double-clicking this will allow you to edit the Master page and quickly apply that element to every single page of your document.
Fill Shapes with Images
InDesign allows you to create placeholder shapes and fill those at a later date with images, this makes it a breeze to set up and experiment with your page structure and layout, using very basic placeholder rectangles (or any other shape) instead of heavy images to get things just right, and when you are ready, you can drag and drop images from your computer on to those shapes to fill the shape with the image. Or, with a shape selected, you can go to File > Place and select the image you want to fill that shape.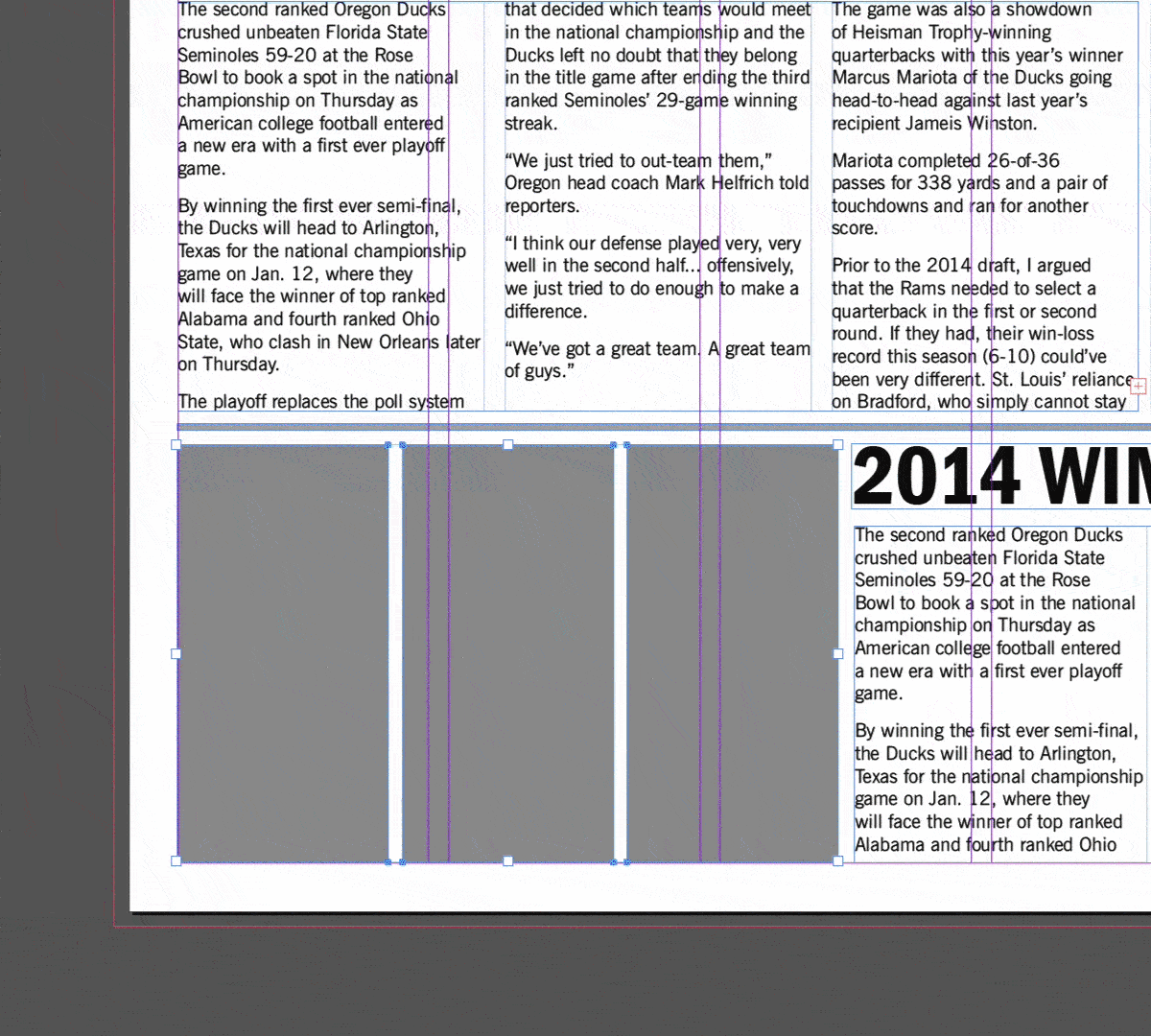 These shapes essentially function as a mask, keeping your image inside the shape bounds, and you can alter the size, scale, and placement of the image itself or the shape at any time.
Paragraph Styles & Character Styles
InDesign allows you to define text styles and paragraph styles that you can re-use across your document. This makes it easy for you to define the look of common elements on your pages and ensure that the styles stay consistent across your whole document.
The handiest use for this feature is to define your heading styles and paragraph text styles that will make up the majority of your written content, and once done, you can make changes to the style that will apply across your entire document, so if your client requests a different font, or heading color, you can make all necessary changes in one click.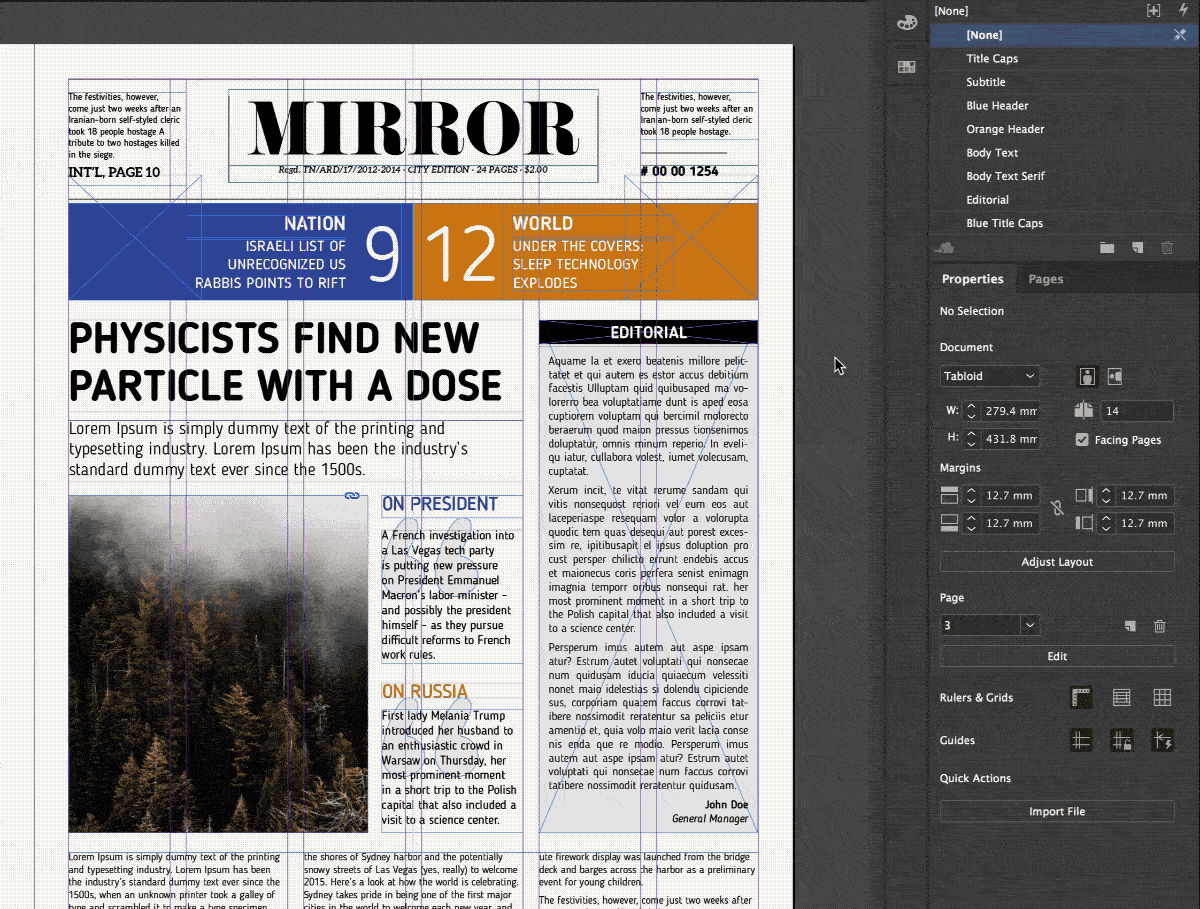 Character styles are ideal for defining simple text styles, so great for headings and your main text style, but for larger chunks of text, you might want to create custom paragraph styles instead as this allows you to also define parameters such as columns, text justification, indents, and margins, etc.
To create a new Character Style, make sure you first set up a piece of text with the style you want to save and then go to Window > Styles > Character Style. Select the text you created before, and then in the Character Style panel, select Create New Style and then give your style a name. Repeat this process to create any number of unique text styles that you will want to use across your document.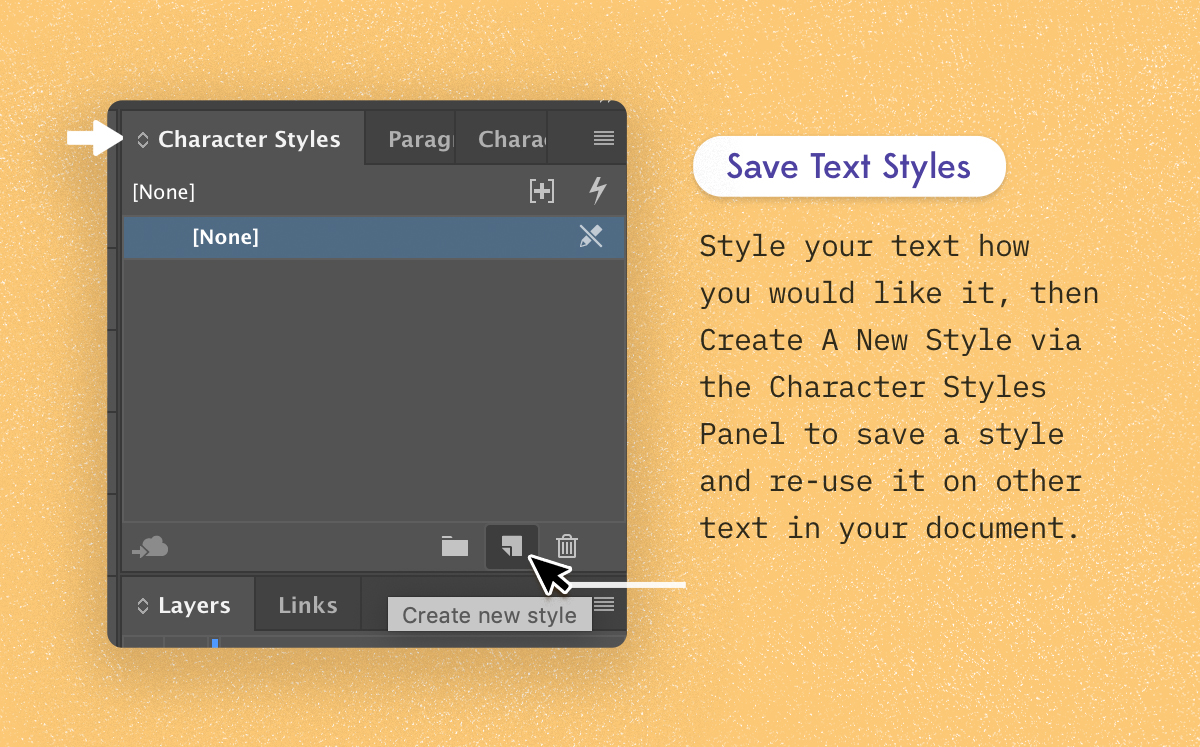 Once you have this defined, you can select any piece of text in your document. Then, using the Character Style Panel apply this same style to your text simply by clicking the name of the style you defined earlier.
The same process applies to Paragraph Styles. Once you've set up your paragraph in the way you want it, head to Window > Styles > Paragraph Styles, and with the paragraph selected, hit the Create New Style button in the panel and give your new paragraph style a name. The two features are very similar. Paragraph Styles allow for more customization of your paragraph layout, whereas Character Styles are more intended for styling smaller blocks or pieces of text.
Disable Paragraph Hyphenation
One quick and simple quality of life tip when using InDesign is to turn off auto hyphens. To do this, in your Paragraph Panel (Window > Paragraph), simply uncheck the 'Hyphenate' option.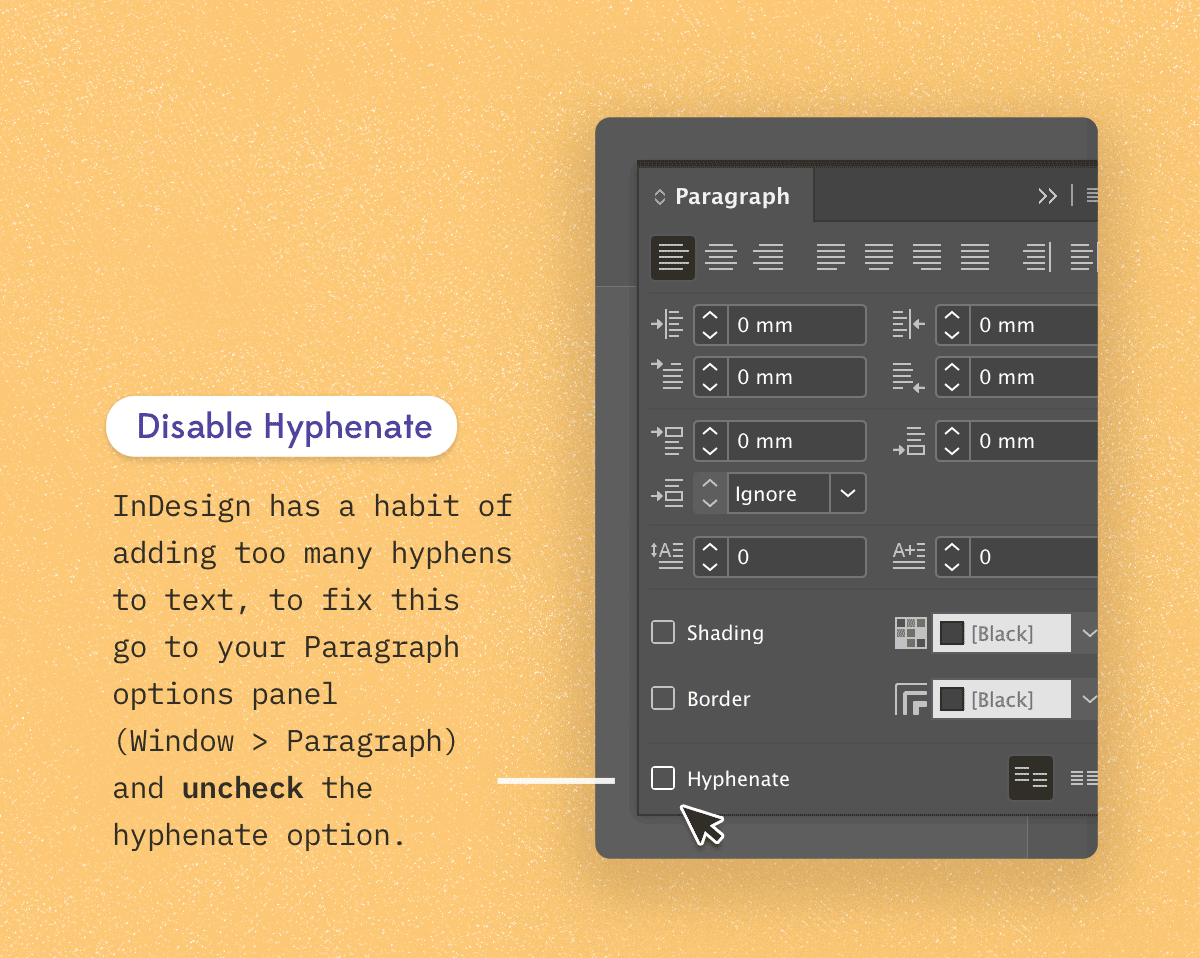 By default, InDesign will insert hyphens when a piece of text is too long for a text box. By turning this setting off, it will instead push the word to the next line. Of course, this always depends on your preference or project requirements, but more often than not, turning this feature off will save an over-hyphenated paragraph from looking messy.
Links, Layers, & Swatches
We've already talked about how InDesign makes use of Pages, but some other common features that you might recognize from other design apps also have a place in InDesign.
You can use the Layers panel (Window > Layers) to organize the order in which elements stack on top of each other, pulling text or graphics in front or behind other elements as required.
Swatches (Window > Swatches) can be used to save commonly used colors so that you can easily select and apply them to other elements in your document.
The Links panel (Window > Links) in InDesign is a little more unique and less recognizable from other design apps, but essentially links are more like a handy library of assets that are being used in your document.
It is important to know that InDesign doesn't embed images into the project file itself, so images essentially reference images of the full version of the image that you have saved elsewhere on your computer. This can mean that opening existing projects or pre-made templates may lead to some broken and missing links. Still, you can simply replace any missing links with your own new content or re-locate missing links by pointing InDesign to missing the file that might be saved elsewhere on your computer.
Links are used to keep the document file size lighter and to improve performance while designing. Because of this, moving the location or editing the original image on your hard drive can result in issues with your InDesign template, so you need to ensure that the images you use remain in the same location on your computer if you hope to use that template over a long period of time. It's often a good idea to place all your images into a new project folder alongside your InDesign template file before importing them to keep them all neatly organized.
One workaround to this would be to embed your links into the document itself, essentially attaching the source image to the document itself, so you don't have to be concerned about image locations on your computer. This can be done once you've added the image to your page by navigating to the Links (Window > Links) panel and selecting the image you want to attach to the document, Right Mouse Clicking on it, and then selecting Embed Link.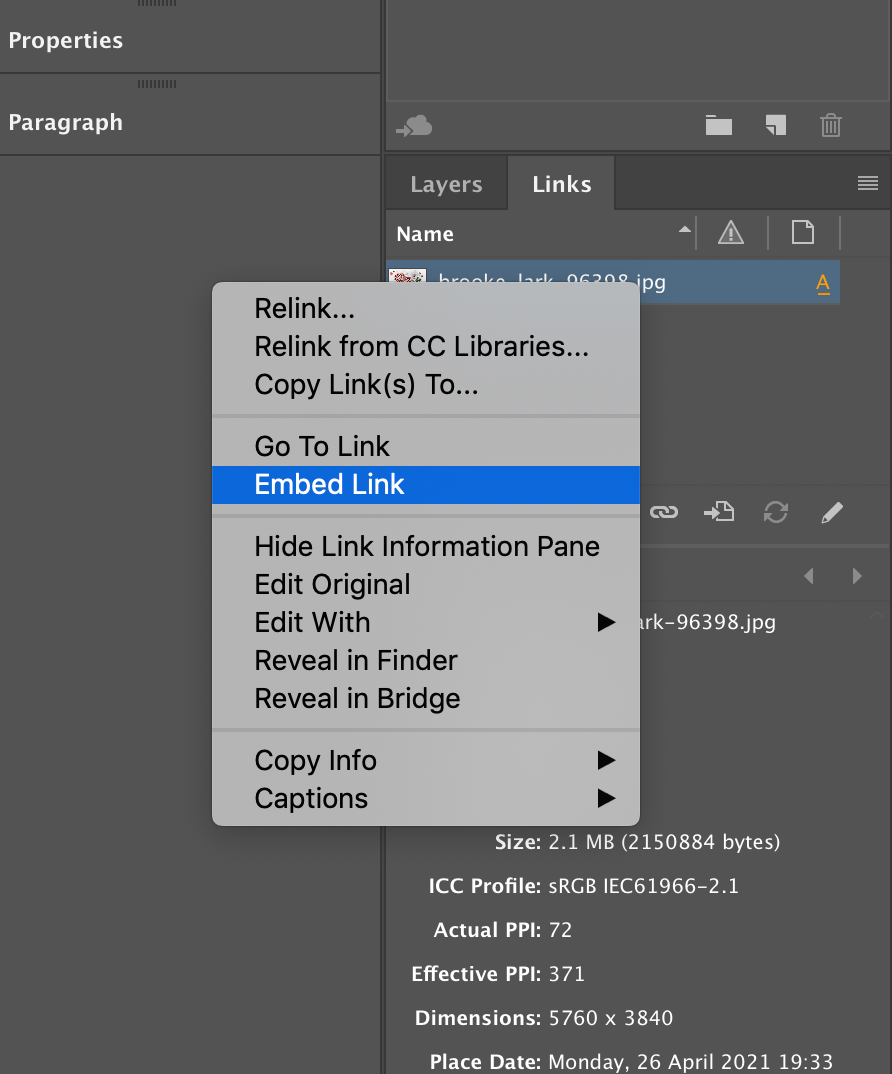 Embedding and attaching the image will make your file larger and harder to work with, so if you intend on using many images in your document, this method is not recommended at all, and it's always better to Links as intended.
Margins & Guides
Setting up layout guides is one of the best things to do with InDesign, and this is what makes it an ideal program for composing any kind of digital design work, in my opinion. Having the ability to add and edit the number of columns, rows, and spacing of gutters and margins on the fly makes it a breeze to add structure to any project you work on without relying on templates or instincts.
You can use the Layout > Create Guides option to quickly set up new guides on your document. Simple columns usually do the trick to give you something to work on when adding new shapes and paragraphs. Guides can be turned off and on easily when designing by hitting the W key.
The margins around the edge of your document are important to set up, too, especially on print projects. Head to Layout > Margins and Columns… to define your page margins. InDesign even has a handy option to automatically adjust elements on your page so that they don't go outside of the margins, even as you change the margin size. To make use of this, in the Margins and Columns modal, select the Adjust Layout option.
Object Effects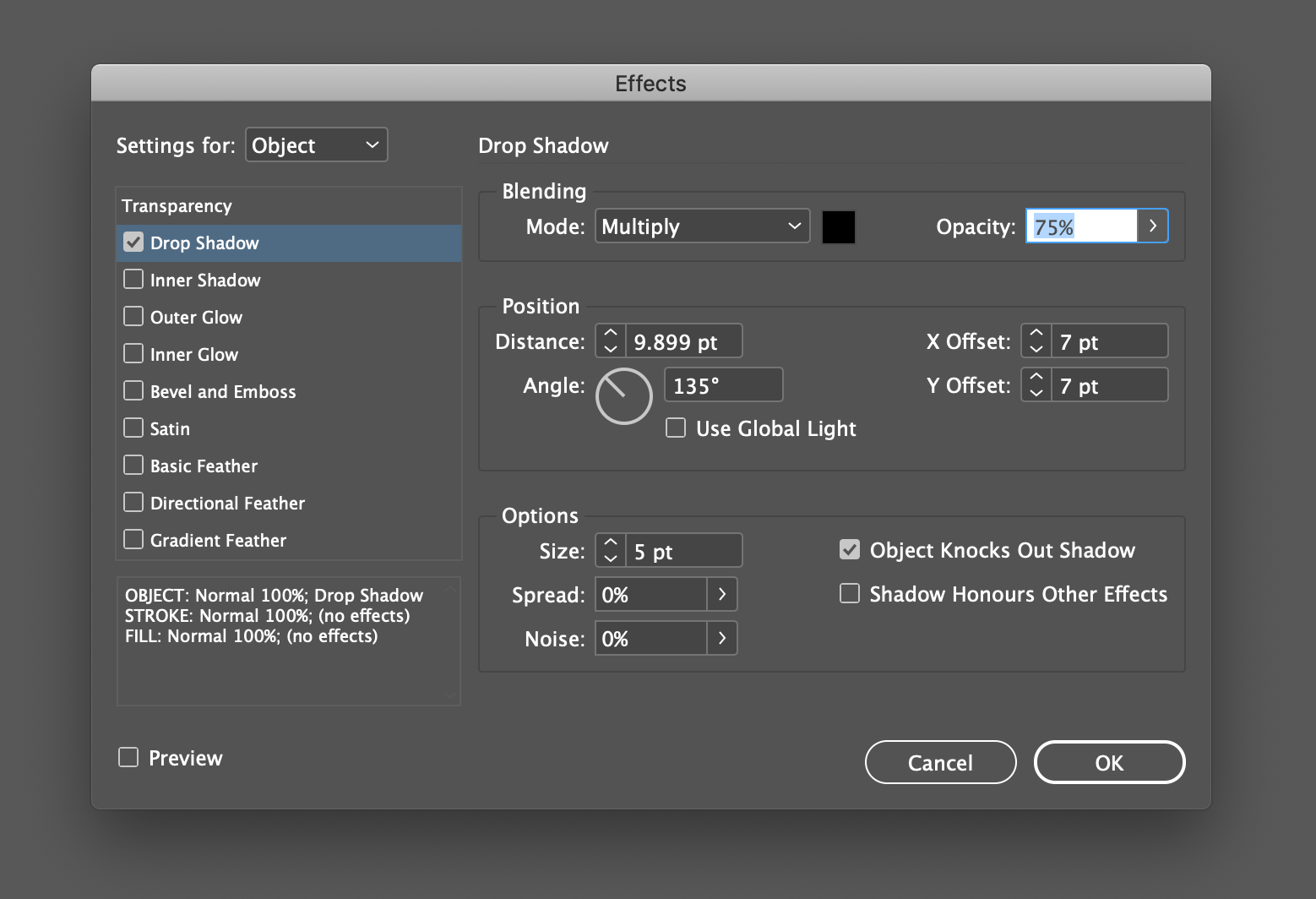 For those familiar with Photoshop who might be looking to add layer style options such as drop-shadows and glows, InDesign does have something similar but with a different name. To bring up these options, select the element you want to style, then head to Object > Effects… and select the effect you'd like to apply. This is also where you can control the transparency of an object.
Display Performance
Another fantastic feature of InDesign, which I wish was more common in other design apps, is the ability to change the quality of the images in your document to improve your computer's performance; this is particularly useful when you have a very image-heavy document.
To alter the preview quality of your images, simply select the image you want to optimize and head to Object > Display Performance and select either Typical or Fast. The Typical option will give you a lower-res image, while Fast will replace your image with a completely grey placeholder box for optimum performance.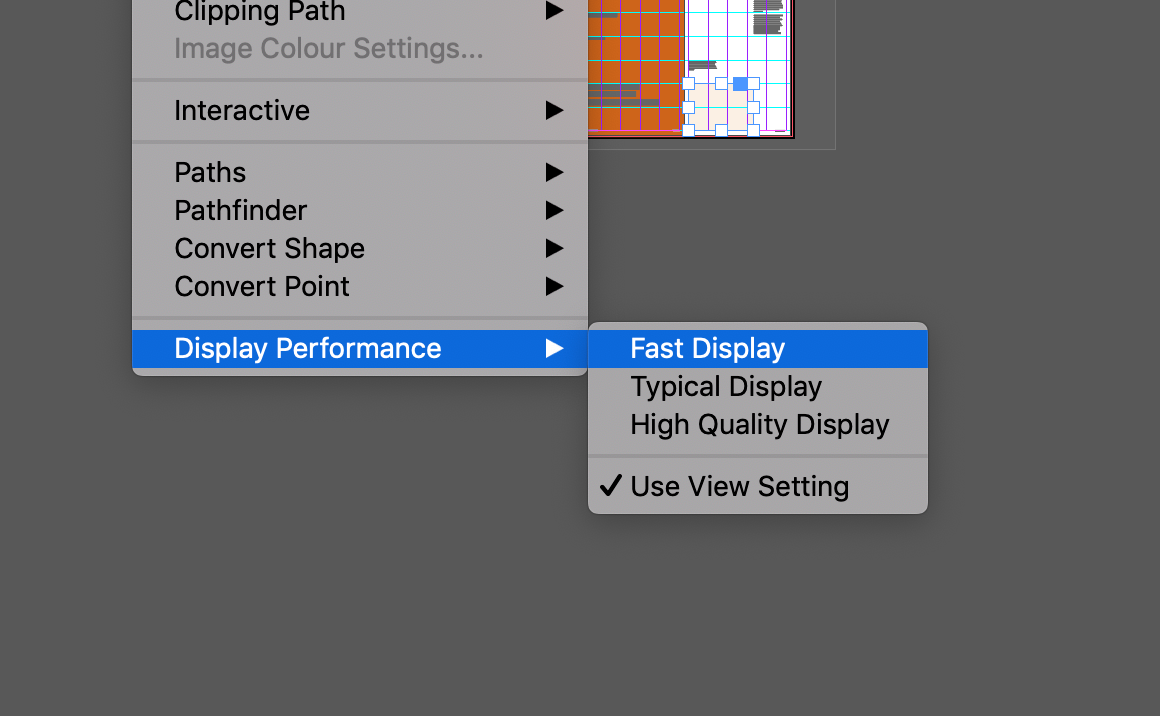 It's a good idea to use the display performance settings after you already have set up and positioned your images as you wish. Don't worry about how these previews look on the app, as when it comes time to export your document, the full HD versions of your original images will still be used in the final product.
Text Frame Options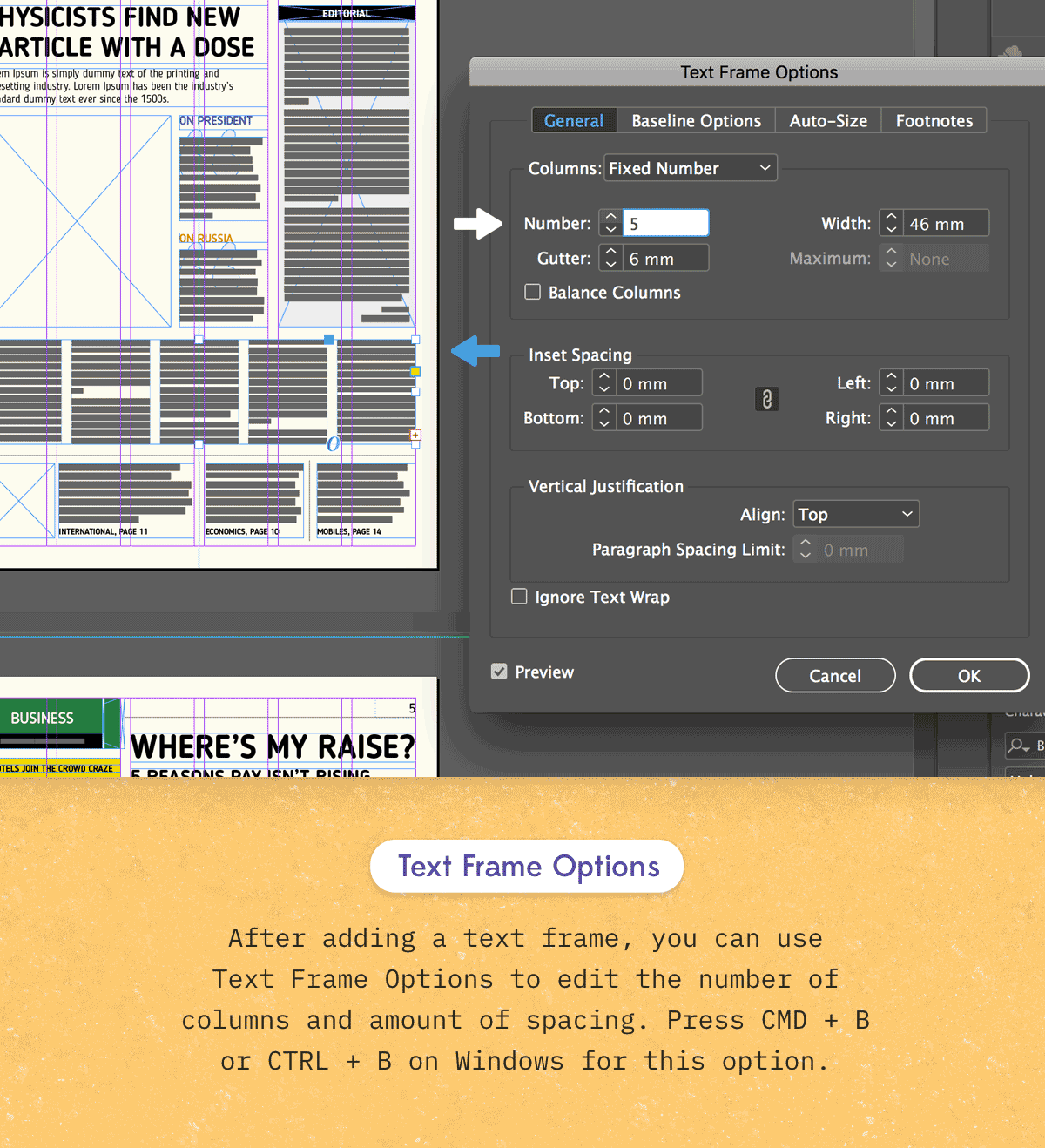 With a text frame in place, you can use Text Frame Options to quickly adjust the number of columns that your text will display in. Pressing CMD + B on Mac or CTRL + B on Windows with your text frame selected will bring up the Text Frame Options for you to make your adjustments on the fly.
Essential Templates for InDesign
When you are new to any design application, one great way to get comfortable with the features and possibilities of the app is to explore pre-made templates. By opening up and experimenting with an existing template, you often get a better feel for the app rather than staring at a blank page.
Likewise, if you are comfortable with the basics of InDesign and want to save some time, pre-made templates can give you a great starting point for your own projects, so you can often get a head start on all of the structure and layout of a page and just begin to customize the content and final polish of the design to suit your own needs. Here's a handpicked selection of high-quality InDesign templates that should prove useful for a variety of purposes.
If you enjoyed this introduction to InDesign and are looking for more articles on this topic, please head to our blog to read more posts related to InDesign. If you are looking for more templates and products made for InDesign, I have put together a growing selection of some of my favorite InDesign templates on my InDesign Templates Collection or Explore InDesign Templates on Creative Market.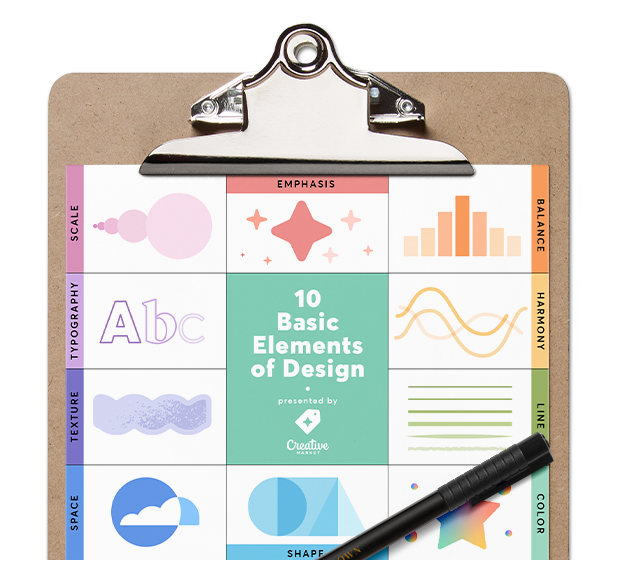 10 design fundamentals, summarized
Free Design Poster
Download this printable PDF poster and hang these 10 design principles on your favorite wall.
Get the file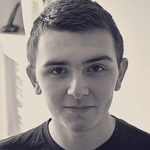 Liam McKay
Try some of my FREE goods: https://liammckay.lemonsqueezy.com - Designer with a love for beautiful Icons, Textures, Brushes and WordPress Themes.
View More Posts