Are you looking for a new job or internship? If so, it may be time to make a new resume, or make your very first resume. Your resume is the first impression you get to make with your potential future employer, so you want to make it count. It should be clear, concise, easy to read, while presenting all of the reasons why you're the ideal candidate for the job. You only get one first impression, so it's important to make sure that your resume stands our to the hiring manager in a positive way.
Understand the Goal of a Resume
The purpose of a resume is to show the value that you will bring to the table with your new position. While you may have a wealth of knowledge and expertise, a hiring manager may receive hundreds of resumes and won't want to read 5 full pages that are jam-packed with paragraphs. Every piece of information you have on your resume should directly relate to the job you're applying for, so you need to tailor your skills and experience to each job application.
Start with a Brainstorming Session
Get out a blank piece of paper and write down your job goals, hopes, dreams, and desires. In addition, write down any skills that you have you think would be useful for the job you're applying for, and any skills you feel you need to acquire to better perform at your new job. This brainstorming session can help you get everything you need together to write your resume. After you've done some brainstorming, review your previous resumes.
How current is your previous resume? Is is straight and to the point? Is it missing any key pieces of experience? If you don't have a resume start with a basic timeline. Write down everything you've done or accomplished every year. From there, you can narrow down specific skills and experiences that relate to the job you're applying for.
I found the table below that shows how you can translate your volunteer experience into a job skill. This is the way that you need to think while your brainstorming. That is to say, you need to think about things to include in your resume only if they relate to the job you're applying for.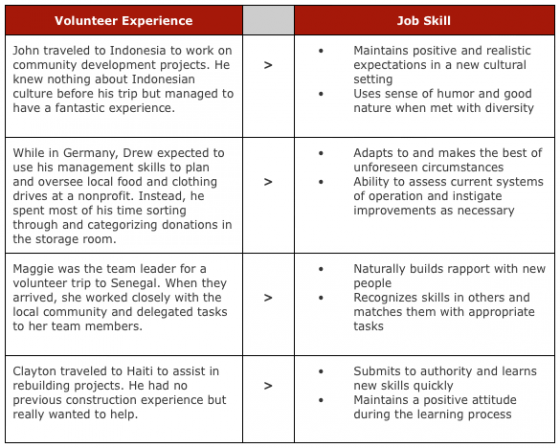 What to Include in Your Résumé
Contact Information: Include you full name, email address, physical address or post office box, phone number, blog or website, and social profiles. Make it easy for anyone to get in contact with you through a variety of channels. For example, see below. If you wanted to include social profiles I would insert them under the "home URL" section, or at the bottom of the entire resume.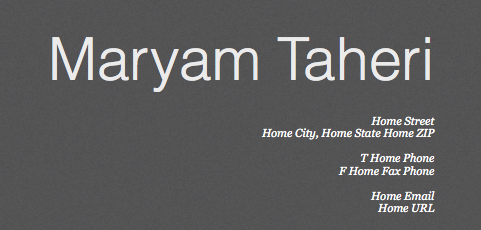 Objective: This can be a simple one or two sentence piece of information that expresses your goals in terms of your career and job. This can be one of the hardest parts of your resume. It's such a short statement, but it needs to pack a powerful punch. Check out these resources to help you write a fantastic resume objective: What's Your Resume Objective?, Sample Resume Objectives. In addition, WikiHow has an amazing list of sample resume objectives. I've included a short preview of some of their sample objectives below: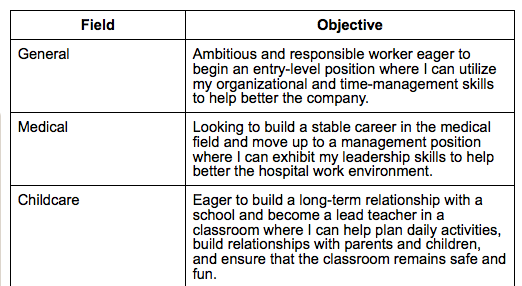 Education: Include the degrees you've received, along with the year you received the degree or information. Make sure to include your school or department rank if you attended a school known for a certain degree. In addition, it can be advantageous to show if you graduated with honors or received special awards during your college career. In some cases you may want to highlight any specific courses that you attended that a recruiter or hiring manager may see as beneficial in completing the job. Unless you are a current high school student, do not include your high school or high school degree.

Work Experience & Internships: For your work experience everything should have your job title and then a sub-header that is a job description. This description should be something like "Managerial Experience," or "Management Experience."

Volunteer Experience: This section is specifically dedicated to un-paid experience. Anything you did in your free time that benefited other people.
Skills: This section is dedicated to expressing any specific skills that you've acquired that can help you with your job. Do you know how to use Photoshop and InDesign? Are you able to use Microsoft Word? You don't want this section to go on forever, but you do want to include all of the skills that pertain to the job you want. Think of all the skills you've gained through your work and volunteer experiences, make a really long list and then start to cut it down. The Purdue Online Writing Lab, recommends that your skills section look something like the one they feature on their site (depicted below):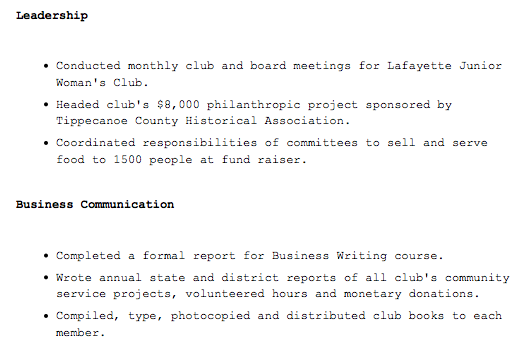 If you're looking for more help writing the skills section of your resume check out these resources: Showcase Marketable Skills in Your Resume, Skills to Put on a Job Application, List of Resume Skills, and Differences Between Technical and Transferable Skills.
Awards/Special Recognition: Have you received any specific awards or some special recognition for your work before? If so, that may add a little gold star to your resume.
As I said before, you're going to want to tailor your resume to the job you're applying. You probably have a lot of experience that doesn't apply to the job you're applying for, or you may need to re-word your experience so that it makes sense in the scope of the job. The same goes for certain skills, they may not all apply to the job that you're applying for, or you may need to transition your skill set to match the job description.
If you want to check out a few resume samples, here are some resources to help get you started: About.com Resume Samples, Monster.com Resume Samples, and 65 Resume Samples for Non-Management Jobs.
Résumé Guidelines and Page Formating

Limit Page Length: Don't go over two full pages. Someone doesn't want to read a novel, they want all the information presented to them in a clear and concise format.
Choose a Format Type: There are a variety of ways to structure your resume.
Don't Include Certain Information: Do not include your height, weight, marital status, or any personal information unless the position directly requires it.
Include Action and Positive Keywords: Incorporate keywords that accentuate your experience and features. Some of these include: achieved, accomplished, adapted, budgeted, built, developed, designed, demonstrated, doubled, earned, engaged, employed, edited, exchanged, endorsed, enforced, explained, guided, generated, hired, handled, improved, identified, implemented, innovated, launched, managed, minimized, modeled, negotiated, operated, oversaw, organized, pursued, persuaded, performed, pioneered, ranked, resolved, revamped, responded, retained, trained, utilized, and verified.
Include Optional Information: You can include optional testimonials, and reviews if they are short enough and pertain to the job. These might best fit on a platform like LinkedIn.
If you're looking for help getting started with your resume, and don't have a template in mind check out some of our awesome resume templates. You can tweak and change them to fit your needs. Here are some of my favorites: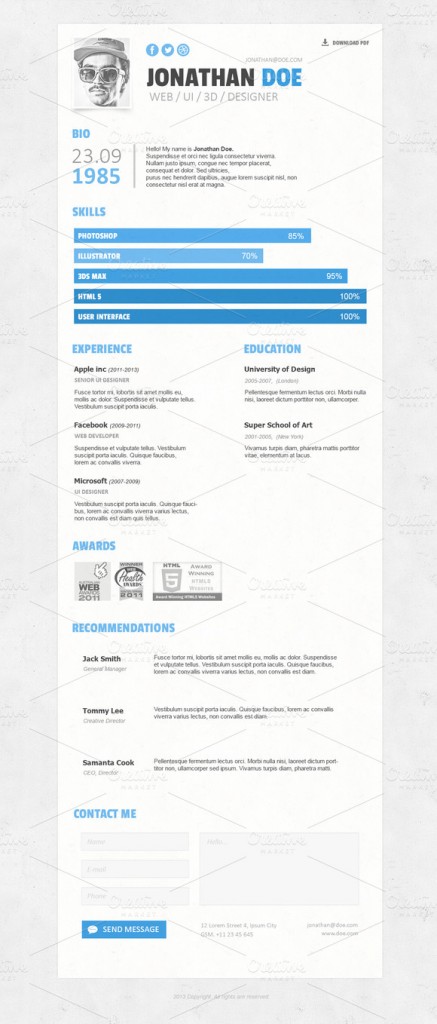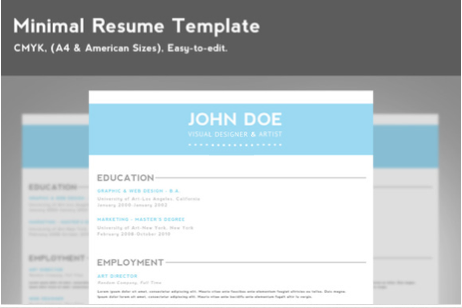 Before You Send Off Your Resume
Proofread, Proofread, Proofread. It's important to make sure that you have no grammatical or punctuation errors before you send off your resume. If you misspell a basic word or say something the wrong way, you're already off to a bad start. It's easy enough to take an extra ten minutes and make sure you've spelled everything correctly. You want your first impression to be memorable, but for the right reasons..not because of a spelling error.
Boost Your Resume
It's great if you already have a wealth of experience, tons of specialized skills, and portfolios of your work, but sometimes your resume may need a little something extra. If you don't have a lot on your resume right now, or you're just looking to add something that will help you stand out amongst the competition check out these tips for boosting and vamping up your resume:

The Final Word: I hope that these tips and tricks for writing a fantastic résumé have helped you. It can be very overwhelming finding a new job or internship, so take it one day at a time and put your best foot forward with an awesome resume. I wish you the best of luck in all your endeavors, and hoped that this has helped you.
Getting started with hand lettering?
Free lettering worksheets
Download these worksheets and start practicing with simple instructions and tracing exercises.
Download now!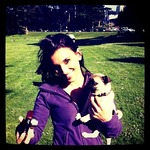 Maryam Taheri
I'm a recent graduate of the University of San Francisco with a degree in Biology and a passion for the creative arts. I love building websites, trying new things, and I have a passion for social media.
View More Posts