Illustrator Tricks Designers Wish They'd Learned Sooner
Adobe Illustrator is one of the frequently used programs among the graphic design community. Suitable for both professional designers and beginners alike, Illustrator offers a powerful range of tools and settings that can help bring design visions to life.
However, Illustrator is such an in-depth application that quick and easy shortcuts that could simplify your design process aren't always obvious. To help expand your Adobe Illustrator expertise, we asked design experts to share tips and tricks they wish they'd learn sooner. Whether you're just getting started or further along in your design career, we hope that these tips will help you along the way!
1. The Width Tool
"Very often I must redraw lines in Adobe Illustrator when cleaning up my artwork. Maintaining the characteristics of hand-drawn linework can be a challenge. Where a line is long and requires a lot of variation, rather than using a variable-width profile for the brush, I use the width tool which is accessed via the keyboard shortcut Shift + W.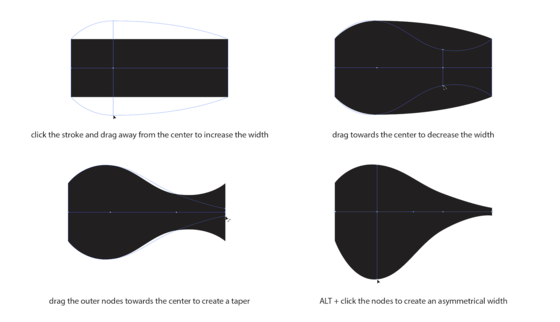 Combining this with one of Illustrator's default artistic brushes creates a truly authentic hand-drawn feel. The width tool gives me more control versus using the Touch Calligraphic brush and my Wacom Tablet and the width profiles can be saved for future use. Keeping the line 'live' means that it's fully editable until I'm ready to export, which is another benefit of using this tool." —Sophia J. Caldwell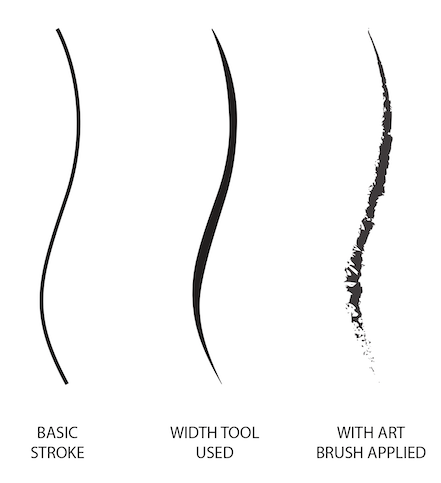 "I can remember a specific 'how the heck did you do that!' moment. I've spent years converting strokes to outlines and manually adjusting their width only to watch a fellow freelancer using the Stroke Width tool. Something that used to take me ages (and was so boring) could have been avoided with this simple tool that I'd successfully ignored for most of my career." —Christopher King, Wing's Art Studio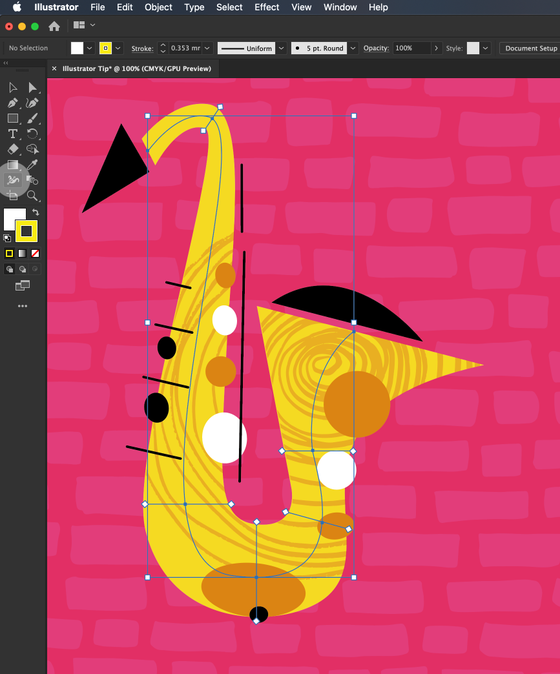 2. The Warp Tool
"The warp tool is an essential tool in my workflow. After live tracing my artwork, I use it to push back points where my shading has strayed outside of the outline, for example. I also use it to lighten or darken my shaded areas where it requires adjustment.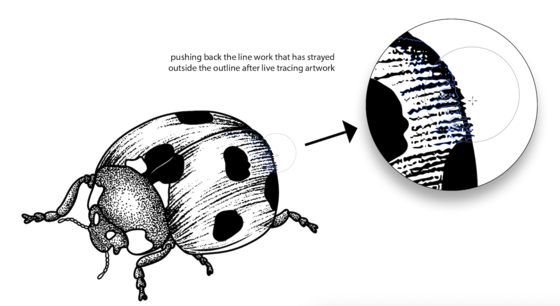 To adjust the settings for the warp tool, open the warp tool options panel. After selecting the keyboard shortcut Shift + R, double-click the warp tool icon in the main toolbar. To maintain the integrity of the original artwork and prevent distortion of the pixels, I uncheck the 'Detail' and 'Simplify' checkboxes. This is where I also set my brush sizes for the tool." —Sophia J. Caldwell

3. The Recolor Artwork Tool
"This is a game-changer! I used to spend hours recoloring my artwork one object at a time to create different colorways until I found out how to use the "Edit or Apply Colors" tool. You just select the objects that you want to recolor, click on the tool and start setting new colors to replace each of the current colors. When you're happy with the results you press 'ok'. How easy is that? This tool is perfect for presenting clients with different options."—Sandra Bowers, Sandra Bowers Art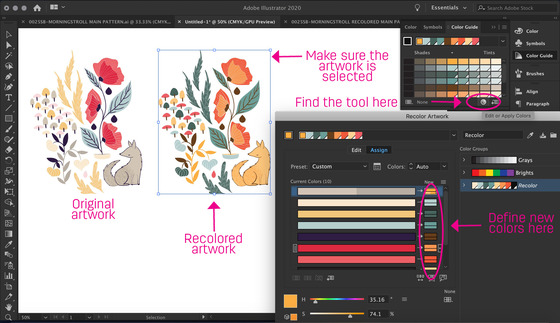 4. Using Symbols
"Symbols are your friends when you need to reuse icons in your project because they reduce the file size, you can easily modify the symbol, and the changes get applied to all the instances in the file. For example, let's say you want to use the fox in this pattern 10 times. If you drag your icon to the 'symbols' section, name it, and click 'ok', you can now create 9 more instances of the original icon. So if you have 10 foxes in the pattern and the client wants to make the eyes smaller, you only need to make that change in the original symbol, and the change will be applied to all instances! After the symbol is added to the symbols panel, you just drag it into the document as many times as you want– and that's it!" —Sandra Bowers, Sandra Bowers Art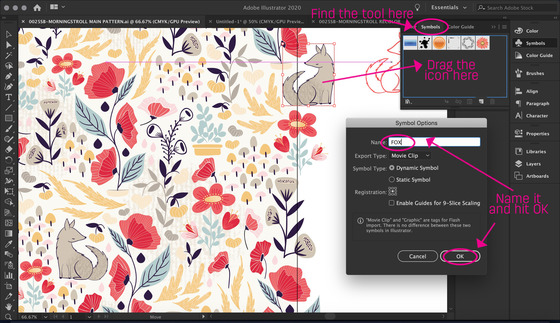 5. The Transparency Panel
"The Transparency Panel (Window > Transparency) allows you to create editable, layered masks. This tool allows you to losslessly cut away areas of your design in a way that is always editable. It gives you even more control than Photoshop masks because it allows you to layer masks and more easily edit paths of areas you want to cut away." —Beth Rufener, Ornaments of Grace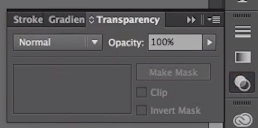 ---
More tips from our community
A few days ago, we asked our Instagram followers to share their best Illustrator tricks, and they had a lot to say! Here are some of our favorite tips:
Scissors! It changed my life and I have no idea how I was splitting paths before that.
-kelsomac4
Not a trick, but discovering the Blob Brush saved me loads of time. Also keyboard shortcuts - apart from saving time - also seem to work, when the same option is greyed out on the menus. Fave shortcuts - CTRL + [ (Send Backward) - CTRL + ] (Bring Forward) - CTRL + G (Group) - CTRL + 7 (Clipping mask).
-tinadevinsdesign
Command 6 to select same fill color.
-heberpelayo
Being able to copy and paste with layer remembrance. Saves so much time!
-alicia_marie_art
The keyboard shortcut for art boards, Shift+O.
- viva.la.lida
Using the baseline shift instead of resizing a circle (and therefore changing the size of your type) when using type on path for arcs and such.
-coteybucket
The original post, with many more useful shortcuts, is right here:
---
Products Seen In This Post:
Free Illustrator Cheatsheet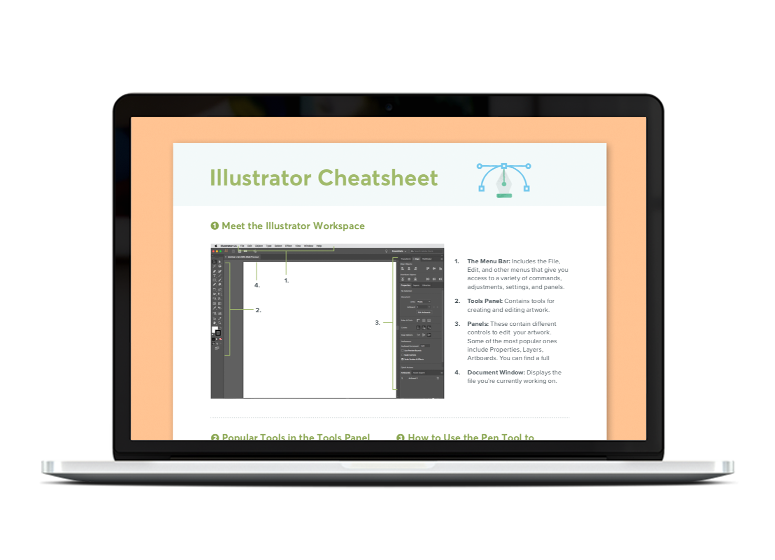 Download it here

Learn the basics of this powerful design tool.

A handy PDF guide listing tools, shortcuts, and unique Illustrator features.
Download 6 Products for Free
Making beautiful design simple & accessible to all.