15 Infographic Templates You Won't Believe are Microsoft PowerPoint
Infographics are one of the most popular and powerful ways to communicate information today. Infographics work because they display dense data or information visually, which make it easier for readers to comprehend and digest; studies show that an infographic is 30 times more likely to be read than something that is purely text.
If you want to create an infographic of your own, try using one of the following templates. They're easy to customize and make your own— and you won't even believe that they are customizable in Microsoft PowerPoint!
Medical infographics
Abert created Medical Infographics, a set of templates that are perfect to use if you're delivering data related to healthcare. It contains 12 templates that can be edited in PowerPoint, and it only uses free fonts.
Infographic Best Sellers
Look through Infographics - Shop Best Sellers for the best PowerPoint infographic templates from Infographic Templates. This set contains 50 unique templates, including the most popular of the designer's shop (so you know they'll land well with audiences!).
Mega Food PowerPoint Infographic Set
RENURE created the Mega Food PowerPoint Infographic Set. It is a good PowerPoint infographic template to use if you want to make an infographic about diet, grocery shopping, nutrition, weight loss, medical care, and other health-related topics.
PPT, KEY, PSD, EPS. Cycle Elements.
PPT, KEY, PSD, EPS. Cycle Elements. was created by Infographic templates, and it contains 6 unique templates that want to arrange complex data in a very straightforward, simple layout. If you buy the product, you get all updated versions of it (in the future) for free.
Sales Dashboard PowerPoint
Do you work in sales and want to report on how you're doing? Use Sales Dashboard PowerPoint by BrandEarth. It has templates with more than 20 color themes and more than 1,000 unique slides.
(PPT, AI) Infographic Diagram 009
Lunik Studio created (PPT, AI) Infographic Diagram 009, which is a file editable in PowerPoint and useful for brochures, banners, diagrams, and web design. It's also a great template if you want to create a SWOT analysis infographic for your company.
Mega Environment PowerPoint Pack
Create an infographic about the environment with Mega Environment PowerPoint Pack, created by RENURE. This set contains templates for more than 60 infographics, and it's a good choice for anyone that needs to relay information about green products and services, environmentally friendly movements, ecology, and other Earth-related topics.
Ultimate Flat Style Bundle
Creative Fox created Ultimate Flat Style Bundle, which is packed full of infographic templates that are designed with flat design. You can find more than 170 unique slides in the bundle.
Smart Chart Infographic PowerPoint
Do you want to display numbers and data in a visual way, that is easily digestible by any person, expert or not? Then choose Smart Chart Infographic PowerPoint. BrandEarth created this set of infographic templates for personal or corporate use, and it has more than 800 slides in it, which you can use for a range of infographic designs.
Investment PowerPoint
Use this Investment PowerPoint template to by binangkit to create an infographic about money and finances. It has 120 unique slides so you'll be able to find a template that suits your infographic's needs, and all elements are editable in it -- so you can make your image completely your own.
Infographic Diagram 017
Lunik Studio created Infographic Diagram 017, which is a business infographic template created with flat design. You can change the color and size of all elements in the template.
Business Proposal PowerPoint Design
If you want to communicate numbers and facts about your business or a potential business, then choose Business Proposal PowerPoint Design by SlideSalad. It has 117 unique slides where you can find templates for infographics, as well as 90 premade theme colors and more than 5,000 vector icons.
PowerPoint Presentation Template
ContestDesign created PowerPoint Presentation Template, which contains clean and minimalistic templates that you can use to create your own infographics. The set has more than 189 slides, as well as 5 color schemes (in Mac and PC versions).
Gears Infographics PowerPoint
Gears Infographics PowerPoint by OneGraph uses different-colored gears as the basic visual element in infographic design. It has 24 unique slide templates you can browse, only uses free fonts, and it has more than 3,000 icons in it.
Infographic Elements for PowerPoint
Do you need specific elements for your infographic design — like icons about finance, social icons, or general illustrations? Choose INFOGRAPH ELEMENTS FOR POWERPOINT, created by Yes Presentations. You can use any of the basic shapes included to spice up an infographic, to make it more visually interested or clearer.
If you have interesting or complex data to communicate to an audience, try delivering it by creating your own infographic. You can use a professionally-designed infographic template to make sure your design looks good--then enjoy as your informative image gets posted and shared on social media, via email, on blogs and websites, and beyond!
---
Products Seen In This Post:
Make your next presentation your best presentation.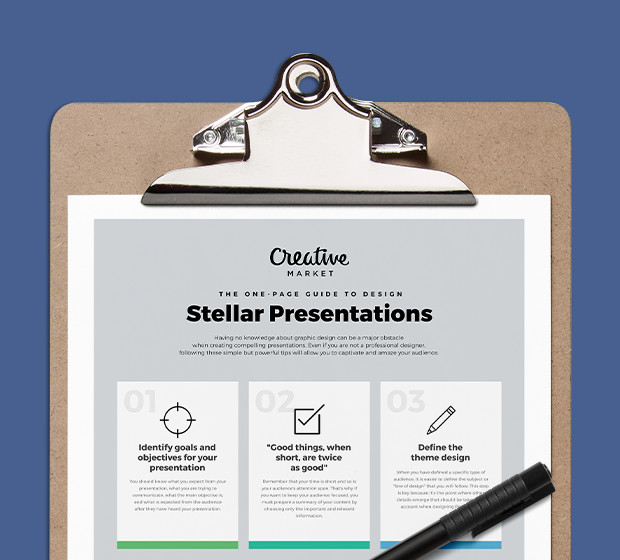 Download now!

Here's the free guide you need

Grab this one pager with a summary of key tips to create a powerful presentation from scratch.
Building a platform for handcrafted, mousemade design content from independent creatives around the world. We're passionate about making beautiful design simple and accessible to everyone.